"That's kind of cool, right?" Sandra Stuart sits at the round table inside her HSBC Bank Canada office in downtown Vancouver, summarizing her 36-year career with the company by using a single word: fun. "And I'm still having fun yet," she adds. "You have your days, but nine days out of 10, every morning I'm up smiling."
Stuart is something of a poster child for HSBC Canada, and not just because she has held the position of chief executive officer since 2015. Joining the company in 1982 as a teller, Stuart has since climbed its ranks, demonstrating the breadth of opportunities available and doing so with poise, savvy, and dedication at every turn.
"I work for a company where they've been really supportive of me, and it's been a very reciprocal relationship," she says. "What's really kept me in the company, honestly: it's the people. It's the customers and it's the people I work with. I work with amazing people every single day of my life." It's a declaration made by many, but there is resolve in Stuart's voice that makes it clear she really means it.
A British Columbia native, Stuart grew up in North Burnaby and began working part-time as an HSBC teller when she was still in high school. "It's really cool when you get to be a teller and you get to face customers," she says. "You had the responsibility of a cash drawer—I felt like I was on top of the world." Stuart kept working for the bank during her economics and business studies at Simon Fraser University, and after graduation, opportunities within the company continued presenting themselves to her; over the years, she has held various leadership positions at HSBC offices in Toronto, Chicago, Rio de Janeiro, and, of course, Vancouver.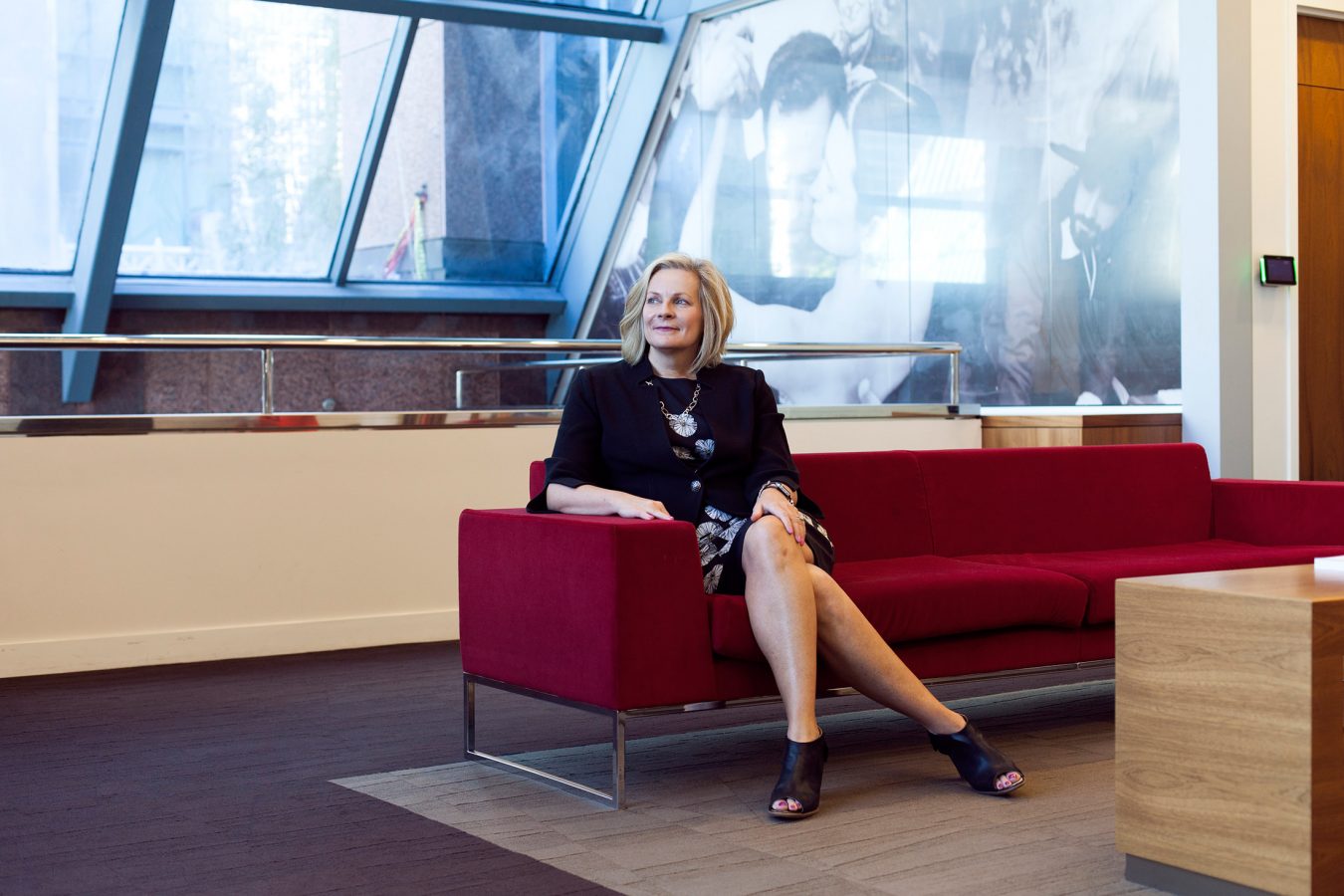 Headquartered in London, HSBC has nearly 4,000 offices in 67 countries and territories. The bank's comprehensive global scope—anchored by its Commercial Banking, Global Banking and Markets, and Retail Banking and Wealth Management services—is something Stuart sees as a major advantage in the Canadian marketplace. "No domestic bank has our international reach, and no international bank has our domestic presence," she says, adding that HSBC Canada is consistently one of the top five contributors to the parent HSBC Group's profits. "I like to say that HSBC bets big on Canada." HSBC is the largest international bank in the country, with $100.5 billion in assets.
Having been in the industry for so long (though she says it "goes by in a blink, all of those years")—and having witnessed technology's influence firsthand—Stuart is firm on banking's changes and its constants. In her eyes, the importance of viewing every customer as a unique and fruitful relationship, of focusing on those human connections, remains paramount. What has changed, she says, is the way in which those interactions are presented. "It's as important to speak to a customer, to be available to speak to a customer, whether it's in person in a branch, which is quite traditional, whether it's over the phone in a call centre, whether it's via live chat," she explains. "And customers will choose the path with which they want to come to you. But the core is absolutely the relationship and the conversation you can have with a customer."
There is also constant innovation, of course, and Stuart mentions that she is keeping an eye on open banking: a financial institution's use of application programming interfaces to share unbiased information with clients (both current and potential), with the intention that it creates transparency and thus more competition, in turn resulting in better service. "I think that will be a very positive thing for banking," she says, clearly confident in HSBC's position.
Some might think Stuart activated her career at the bottom of the company and worked her way to the top, but she prefers to say she began in an "entry-level position, because it certainly didn't feel like the bottom when I started." That's just her style: to be humble; to respect every facet of the business; to be a leader without being a dictator. To push her industry forward, and to have genuine fun along the way.
---
Let's talk Business.