At The Douglas hotel, even the elevator ride is an experience. The hypnotic disco-inspired lift—a favourite spot for selfies since the property opened in 2017—takes guests from the main floor of downtown Vancouver's Parq entertainment complex up to the sixth-floor hotel lobby, which is outfitted with a 25-foot reception desk of a replica Douglas fir encased in glass.
Beats from the adjoining D/6 Bar & Lounge beckon, tantalizing visitors with craft cocktails and a patio featuring intimate views of neighbouring BC Place—but first, one must drop off bags in the room. And while the hotel's standard suites are plenty comfortable, complete with Aesop bath amenities and contemporary Pacific Northwest-inspired decor, it is the three penthouses that truly offer accommodations unlike anything the city has seen before.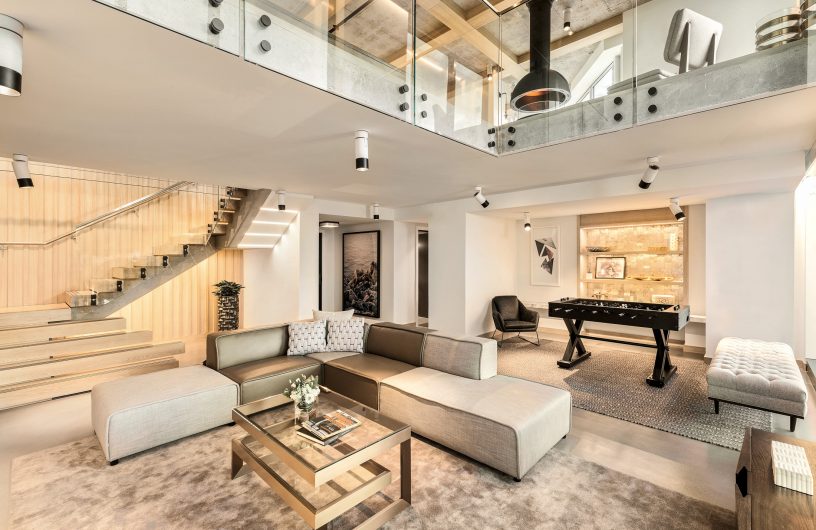 These manicured 16th- and 17th-floor spaces, each individually named and designed, offer something expansive and comprehensive to their guests. Brought to life by Toronto-raised Vincent Celano, the luxury suites emanate a true appreciation for the urban West Coast lifestyle. From eclectic furniture to novel art, the focus on Canada is commendable. "We sourced local," Celano says over the phone from New York, where his Celano Design Studio is based. "This was an important part of the project."
A personal favourite of Celano's, The Den easily stands out as the rockstar of the three. Characterized by a rebellious neon "Rock On" sign made in collaboration with Vancouver bender Andrew Hibbs of Endeavour Neon, this is an environment prime for socializing. Playing off a balance between contemporary and industrial with its exposed pipes and concrete ceilings, this 2,200-square-foot penthouse is both youthful and creative. The main floor features a rounded sectional warmed by a custom halo light fixture (made by Quebec's Illumination Lighting), while just a short distance away sits the wet bar and a state-of-the-art Bose sound system. A short climb to the second level reveals two grand bedrooms, each saturated by elements of the Pacific Northwest thanks to fine art photography.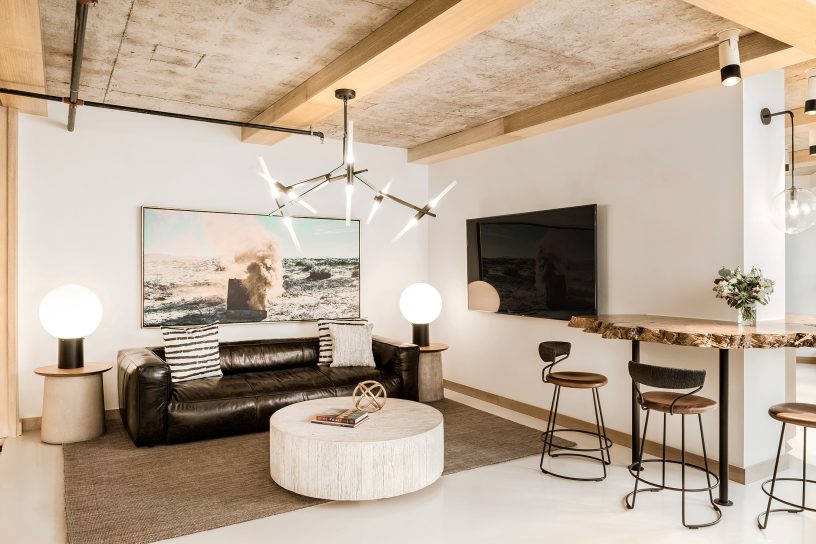 In contrast, The Loft returns to a classical definition of luxury. Behind a set of double doors, the main foyer greets visitors with a Johannes Seiler grand piano as heavenly lamps descend from a marble stairway. Grand artworks sourced from Vancouver's Farmboy Fine Arts provide inspiration next to brassy wall flashings, which elevate the space into one of 1920s decadence. While the stairs lead to a stately living area, a private elevator is also available to transport visitors to an exclusive rooftop patio. Western redcedar is the backdrop for this exterior space, made cozy by wicker lanterns and upholstered chairs. Once the day comes to a close, however, a retreat to the suite's single master bedroom is best; the plush bed harbours unspoiled views of a certain stadium glowing nearby.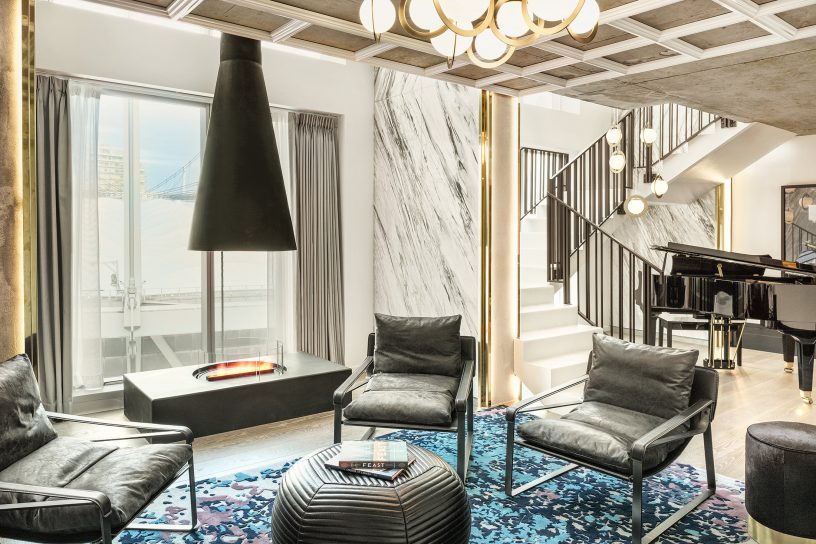 The biggest personality among this trio of penthouses undeniably belongs to Apartment 108. Here, the tension between feminine and masculine, and between urban and pastoral, plays out in entertaining ways. Though it is the smallest of the three at 1,850 square-feet, it stuns in amenities, boasting a foosball table, a pool table, and a private deck. Bright and calm, Apartment 108's neutral palette invites charm and relaxation, while the dramatic change in ceiling height from the ground floor evokes awe. From an embedded live-edge table—manufactured by Abbotsford's Towne Millwork—to an artificial flickering fireplace, this suite invites the mystique of the outdoors inside, staying true to the guiding natural motif of this Autograph Collection hotel.
With a prime location in one of the most dynamic cities in the world, the penthouses offer world-class escapes. The only effective way to pick a favourite is to try them all.
---