In a small pub in Kildare, Ireland, I find myself shouting at a television set. "C'mon!" I yell, shoulder to shoulder with the locals. I'm startled by my own ungraceful antics, but I pass them off as the copious amounts of Guinness talking (it's true what they say, it really does taste better in this country). Like those around me, I get lost in the moment, and for good reason: rugby. We're all rooting for the boys in green. A whistle is finally sounded and Kildare roars. They have done it: Ireland has sealed a Six Nations Championship win over England. The Guinness continues to flow, because it is St. Patrick's Day after all, and there's no better place to be than right here.
Unless that place is just down the road, at The K Club.
Basking on the banks of the River Liffey, The K Club is Ireland's hidden oasis, a timeless beauty that performs at the highest level of luxury. Widely recognized as one of the most spectacular properties in Europe, the member of Preferred Hotels & Resorts Legend and Preferred Residences Collections carries with it a deep history. Just 30 minutes from the heart of Dublin, The K Club sits on 550 acres of glorious domain. Once I'm checked in and my luggage is thrown on my traditional four-poster bed, I head outside and float down the avenue of clipped English yew trees that leads to a magnificent fountain. Here I stop and turn around, taking in the grandness of the hotel.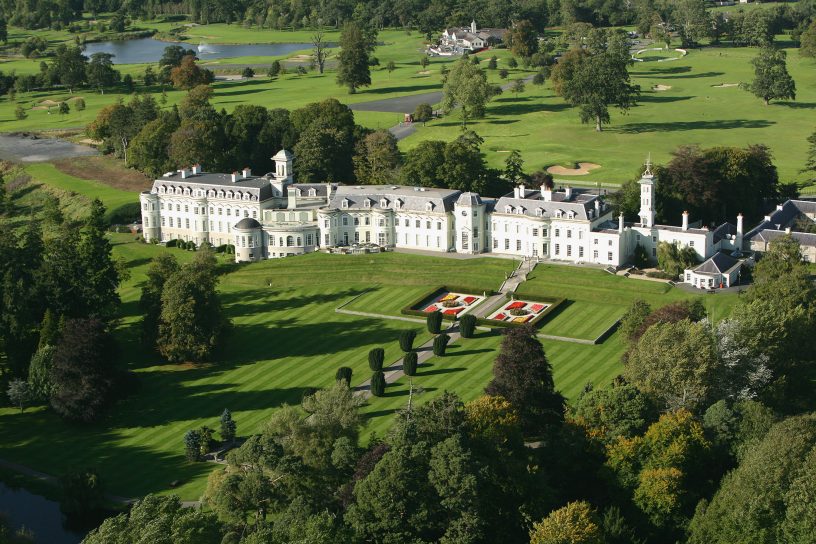 Built in 1832 by celebrated winemaker Hugh Barton, who was forced out of France during the notorious Reign of Terror, the original building was called Straffan House and was modelled after a French-style chateau (the sort that I previously assumed could only exist in fairy tales). Marvellous details, including an Italian-inspired campanile tower, remain today and have become the treasures of the property, which was converted into five-star luxury hotel and country club The K Club in 1991, complete with massive expansions built around the initial historic structure.
With 140 individually-designed rooms and suites overlooking running rivers that intertwine with the idyllic countryside, The K Club is a place where everyone can feel Irish. If it's not riding horses through the wet grounds of Abbeyfield Farm or admiring majestic birds of prey during falconry sessions on endless lawns, then it's the Irish Coffee, a warming mixture of Jameson whisky and sugar topped delicately with rich double cream. Legacy and history hang from each chandelier and run along each wall. Literally. The hotel is home to a private collection of art and antiques—including a room dedicated to Irish expressionist J.B. Yeats—as well as the country's most expensive bottle of wine: La Romanée-Conti 1990 from Domaine Romanée-Conti.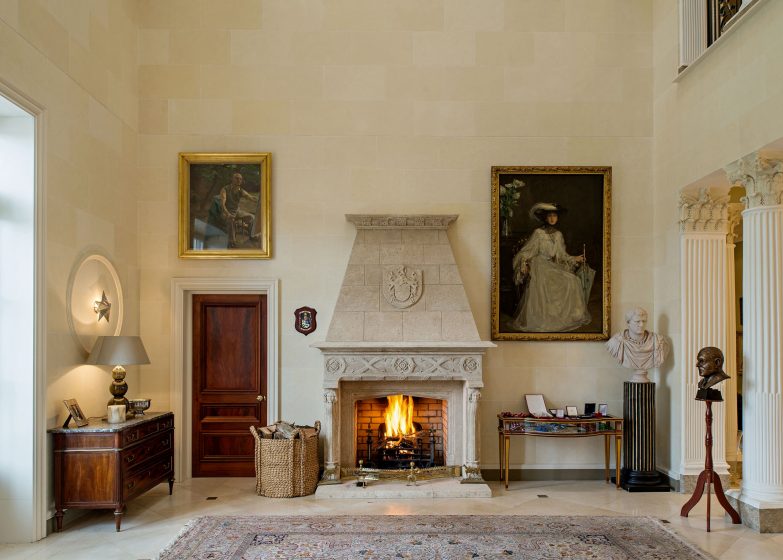 While the opulent country manor hotel is full of magical moments, it is the separate accommodation of the new Straffan House that truly stands as The K Club's centrepiece. An ode to the original, this private 10-room residence beams with extravagance: an indoor swimming pool, an 18-seat cinema, and a helicopter landing pad are all here. It is no wonder the mansion became an instant favourite for the likes of Prince Albert of Monaco and Canada's own Justin Bieber (find a relic of his stay here in the form of a lonely basketball hoop). If feeling cheeky, ready to hear more tales of the rich and famous, ask your very own personal butler and he might share a secret or two.
As St. Patrick's Day comes to an end, I trade Guinness for bubbly at Straffan House. After a long day of celebrations, I do not feel guilty kicking up my feet in front of the fire; this place feels like home, and that is a sentiment always welcomed in Ireland.
---