There's a little barbershop on Tel Aviv's trendy Lillenblum Street, its simple interior and stripped-down facade a holdout from the city's more innocent days. Wedged between a world-renowned chef's restaurant and an Instagram-friendly burger joint, it also sits facing The Vera, one of the Israeli city's newest boutique hotels and one of its most delightfully designed boltholes yet.
For Danny Tamari, who owns The Vera and singlehandedly oversaw its aesthetic, popping into that barbershop for his weekly shave offers a charming reminder of Lillenblum's blue-collar roots. The Vera, today a handsome ivy-blanketed building with 39 luxe rooms done up in eggshell and soft dove gray, was once Tel Aviv's first-ever maternity hospital. And the barber on Lillenblum, whose family has been shaving and shingling from the same storefront for nearly a century? Seventy years ago, he was born inside The Vera's very halls.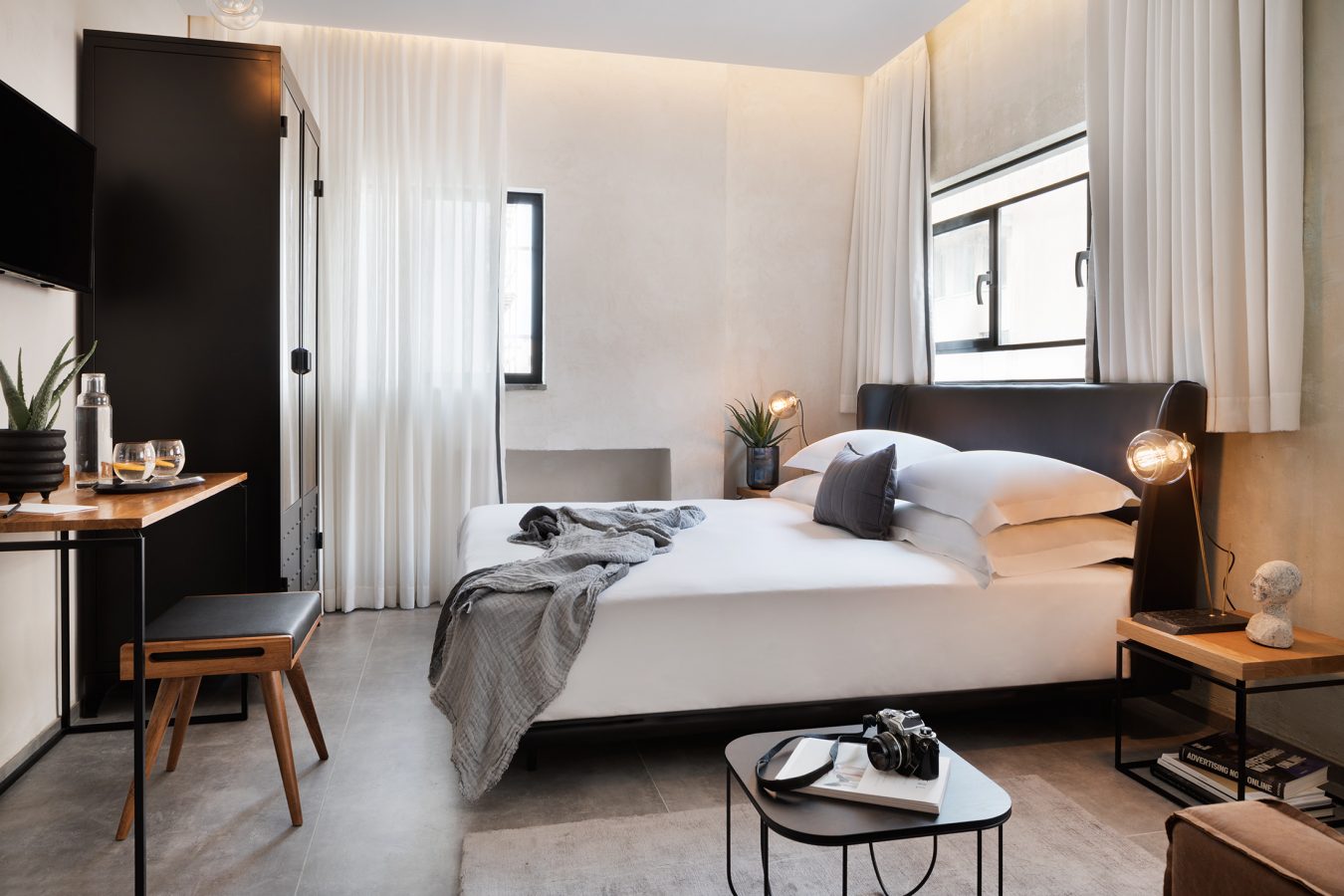 There are more layers to the story of this building. After shutting down the birthing ward, a bank took over one of its floors, and a slew of anonymous offices—staffed by number crunchers, tax appraisers, and rote representatives of customer service—set up desks above and below. When Tamari bought the building, much of it had been sitting vacant for nearly 30 years. The floors were patchy and crumbling; interior rooms were littered with papers and abandoned filing cabinets. But beneath the detritus of administrative grunt work, the structure had beautiful bones. And Tamari, in what can only be described as a sonnet written to industrial Tel Aviv, began fashioning his hotel around them.
"Every time somebody new came in they started adding layers, so what we did was try to keep it at its raw stage," says Tamari. "Our focus was that everything you saw would be rough, but that everything you touched would be soft and of the highest quality."
Under the guidance of local interior design house Yaron Tal Studio, Tamari began wandering through the workshops of Tel Aviv, visiting local woodworkers, metal artisans, and weavers. Ohad Benit, a self-declared "undesigner" whose work centres around elevating everyday household items into thought-provoking, functional works of art, was brought on board to create the custom light fixtures—raw glass globes and metal hinges buzzing with warm bulbs—that fill the guest rooms and common spaces. Benit also went on, thanks to a spark of inspiration from Tamari, to create the art installation that greets guests in the lobby. The maze of brass pistons, tubes, and bells looks like an army of unspooled trumpets.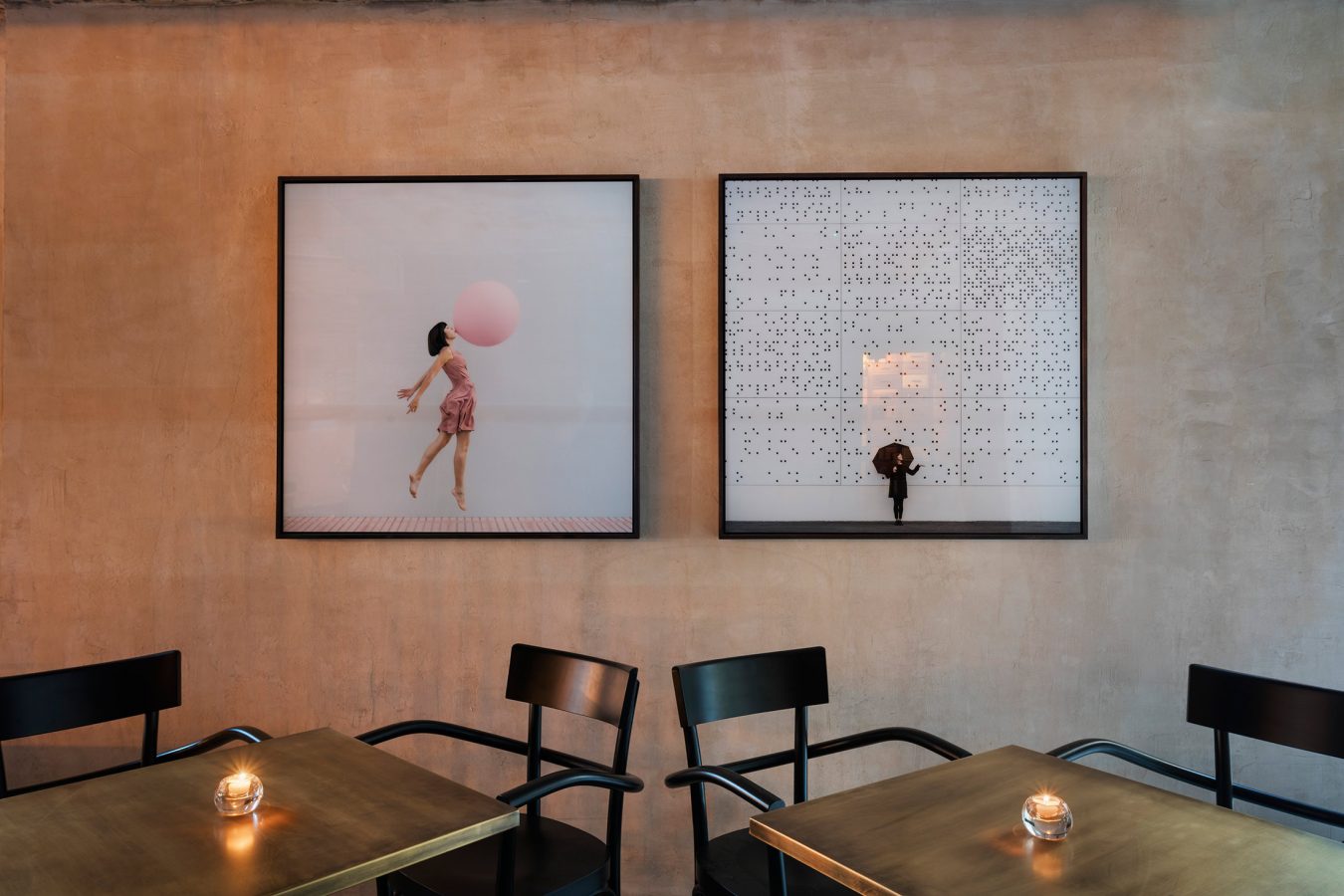 Furnishings—sturdy and sleek, with a clear mid-century influence—came courtesy of Tomer Nachshon, while the pillow-soft linens, which would beckon even the most straightjacketed guests to jump up and down on the bed upon check-in, are made of 400-thread-count Egyptian cotton sourced from historical Caesarea.
Just past the reception lies the property's sleek bar, where complimentary nibbles of croissants and pastries are laid out daily, custom cocktails and paired plates are available for order, and a self-service tasting machine offers a flight of wines from across Israel—such as Ella Winery, a vineyard in the same Judean Valley where David is said to have battled Goliath. Round the corner to the elevators and find filing cabinets (they can't actually be opened), offering a cheeky nod to the building's former workaday past.
And though the hotel offers a near obsession with its roots, it also encourages looking up. The first-floor ceiling is a delightful recreation of the original building's ornate tiles; the older cracked and moulding pieces were replaced by nearly identical handmade squares from a Jerusalem-area Arab family that has been metalworking for seven generations. Higher still on the roof, a neat dual-level perch provides panoramic views of the Tel Aviv skyline, the glistening Mediterranean Sea, and even the businesses—burgers and barbershops alike—of rapidly changing Lillenblum Street below.
---