Of all things you would expect to do at a luxury hotel, munching on grasshoppers probably isn't one of them. But if you're into tasting mezcal the way the locals do, the little critters will probably be on offer.
This is how it works: you take a grasshopper and a piece of cucumber, dip them in a salty mixture, and eat them between sips of tequila's strong, smoky sister. As perplexing as it may sound to some, it's tradition in Mexico and, here at the Thompson Playa del Carmen, customs are held dear—albeit modernized.
Two properties honour Playa del Carmen's history while weaving in design, gastronomy, and nightlife. Both exude distinctly different, yet complementary, experiences. The main hotel, with 92 rooms, is located in the middle of it all on the Quinta Avenida, where shops, restaurants, and too many clubs to count line the bustling pedestrian-only streets. The oceanfront Beach House of 27 rooms is located a few blocks away; it is admittedly more tranquil and intimate. Here, instead of partygoers, you'll hear crashing waves at night.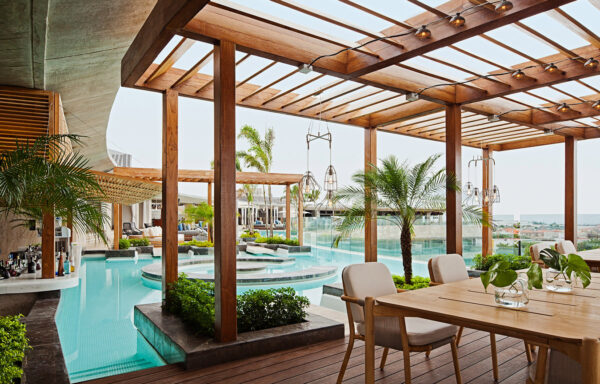 A team of native designers and architects selected mid-century Mexican accents with geometric patterns at the main hotel. The result is a 1950s-inspired oasis. Mexican marble, light-washed concrete, custom handmade furniture, and oxidized metal shelving are sprinkled throughout. While most rooms have outdoor patios, the Thompson Suites also flaunt outdoor fire pits and hot tubs.
Adhering to the same mid-century finish, an airy colour palette adds to the boho-chic vibe at the Beach House. Each room features locally-sourced materials, such as hand-pressed Guadalajara tiles, and they all come with a smartly dressed outdoor seating area—some overlooking the pool, others with views of the sea.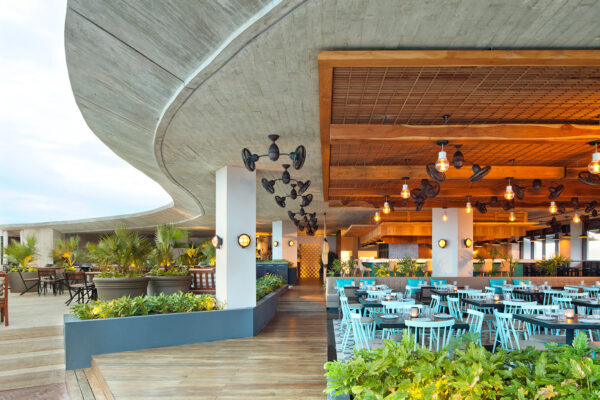 Guests can choose from three restaurants led by executive chef Pedro Abascal. The standout is Catch: perched atop the main hotel's 30,000-square-foot rooftop, this is Mexico's first franchise of New York's illustrious culinary-nightlife concept. Devour sushi, rock shrimp, and succulent fish of the day (caught a few kilometres away).
Playa del Carmen is peppered with art. The city is larger than expected, and it can be a trek by foot; luckily, there are complimentary bicycles for Thompson guests. Many of us won't stray far from the beach, and there is no harm in lying seaside in a cabana all day. If bobbing in the water is not quite enough, try stand-up paddle boarding. There is sunset yoga, too.
An hour's drive away is Tulum, where Mayan ruins overlook crystal green waters. We all know a friend who has been there, and yes, it is as fabulous as they say. Do yourself a favour: settle under a palm tree and watch the sailboats cruise by. With the gentle sounds of the water and warm seaside breeze, it is as if time hits the pause button.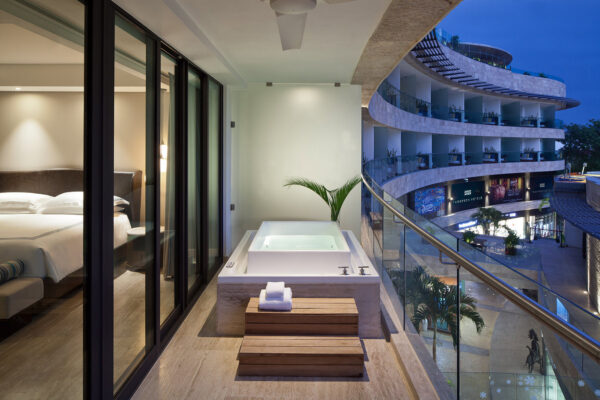 Guests can request a number of onsite culinary programs, too. (This author was learning the nuances between mezcals when those grasshoppers were offered.) A little less adventurous, and possibly more delicious, however, is an interactive lunch with chef Abascal. It might not mean making your own ceviche, but instead will have you happily watching the master chef prepare a number of dishes that only a master chef could dream up. Mango ceviche? It is glorious. With or without grasshoppers, the whole Thompson Playa del Carmen offering is glorious, too.
---