Every summer, my husband and I depart Vancouver and return to our house in a small village in France.
I know the image this evokes. You imagine a chateau of substance and charm under a perpetual sun—in Provence, of course—with its own vineyards, surrounded by fields of fragrant lavender and nodding sunflowers, and near a town kept stocked with colourful characters by production company Merchant Ivory's central casting department.
But that is not our house.
I'll start with a lesson in geography. If France were a clock, our house would be near the number three. We aren't in Provence at all, but in Central-Eastern France, in the rich historic region of Southern Burgundy.
The house is made of the local sandstone. Much of the structure is several hundred years old, and it shows every one of those years of use and wear. In addition to the house, there are several outbuildings and extensions, all gathered around a gravel courtyard secured with a large iron gate. It's more country cottage than grand house. But it is beloved.
My parents—the writer Carol Shields, and my engineer/academic father Don—bought the house in the 1990s to replace a smaller home, not much more than a cabin, that they had owned previously in the Jura region of France. They made very few changes. An old-fashioned toilet with a rusty overhead cistern and a dangling chain to operate the flush became part of the guesthouse. In the main house, a tiny kitchen with its original shallow stone sink was converted into a washroom, and part of the central dining room became a modern fitted kitchen. Several ancient horsehair mattresses and bug-infested rugs were tossed. The sturdy stone walls, close to a metre thick, have been repointed over the years by my handy father.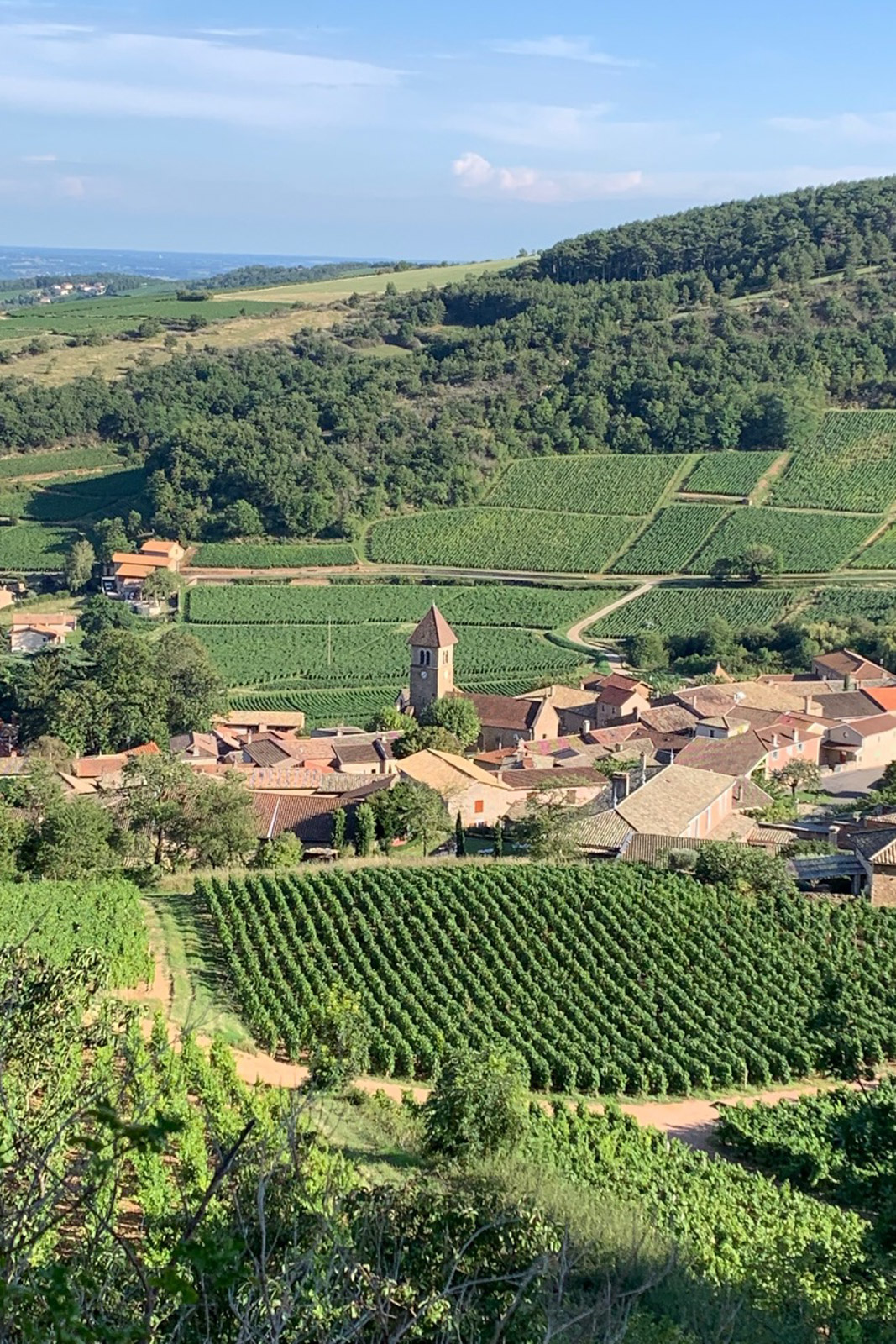 In the summer, the blonde walls are covered with deep green vines in which bumbling banded bees shelter from the sun. The roof is dark-grey slate, the shutters are white and in need of refinishing. The massed hydrangeas bob their ocean-blue heads. A lone olive tree bears its annual crop of stony fruit. We hang clay pots of red geraniums on the walls every year in memory of my mother, who died in 2003. She loved this house, and it remains our family's refuge. I feel my mother's presence here. Her books are still on the shelves, her portrait on the wall, her spirit in the air.
The village, La Roche-Vineuse, is comfortable in its history (undistinguished) and centrality (utterly peripheral). La Roche was formerly Saint-Sorlin, one of the surprisingly many saints who did not exist (Sorlin being a corruption of Saturn, the god who was worshiped here in Roman times). The church simply overtook an earlier temple with likely not much fuss. The town's one castle had been destroyed by the early 1500s, but there are still four or five large manors—real chateaux. These grand houses are tucked away behind walls and trees—oak, beech, cedar—and it is possible to visit La Roche without being made aware of their existence. (One is up for sale at present, 16th century, 10 bedrooms, with wine cellars, granaries, and woodlands, for about the price of a Vancouver bungalow.)
Our house is in a part of La Roche called En Linde, which, to our (faint) pride, a local historian has described as "an old, rather important district," although we have not the faintest idea why. We wonder too at the odd name of a hamlet a little further along the road toward the town of Mâcon (which savours its status as the birthplace of Alphonse de Lamartine, a much-admired romantic French poet and writer): Bout du Monde, or the End of the World.
Mâcon sits to the east, population 34,000; it is a provincial capital, pretty and quiet and determinedly dull. To the northwest is historic Cluny, once the power centre of the Christian world, now a collection of ruins and pretty hotels. A more modern religious destination is Taizé, just north of Cluny, which draws 100,000 pilgrims every summer, most of them young, all of them agleam with love and earnest goodness.
Immediately to the south is the Beaujolais, a string of villages built of golden stones (les pierres dorées), each town more beautiful than the last. On the steep slopes of the Beaujolais, grapes grow fat and sleek, rooted in well-drained granite soil, so the wines taste of sun and flint and hard work and history. When The New York Times sampled the 10 crus of the region—Brouilly, Côte de Brouilly, Chénas, Chiroubles, Fleurie, Juliénas, Morgon, Moulin-à-Vent, Régnié, and St.-Amour—it declared them "imbued with the sense of joy that seems inherent in good gamay." We can buy a good bottle from the local farmers for about a euro or two, and miss few chances to do so.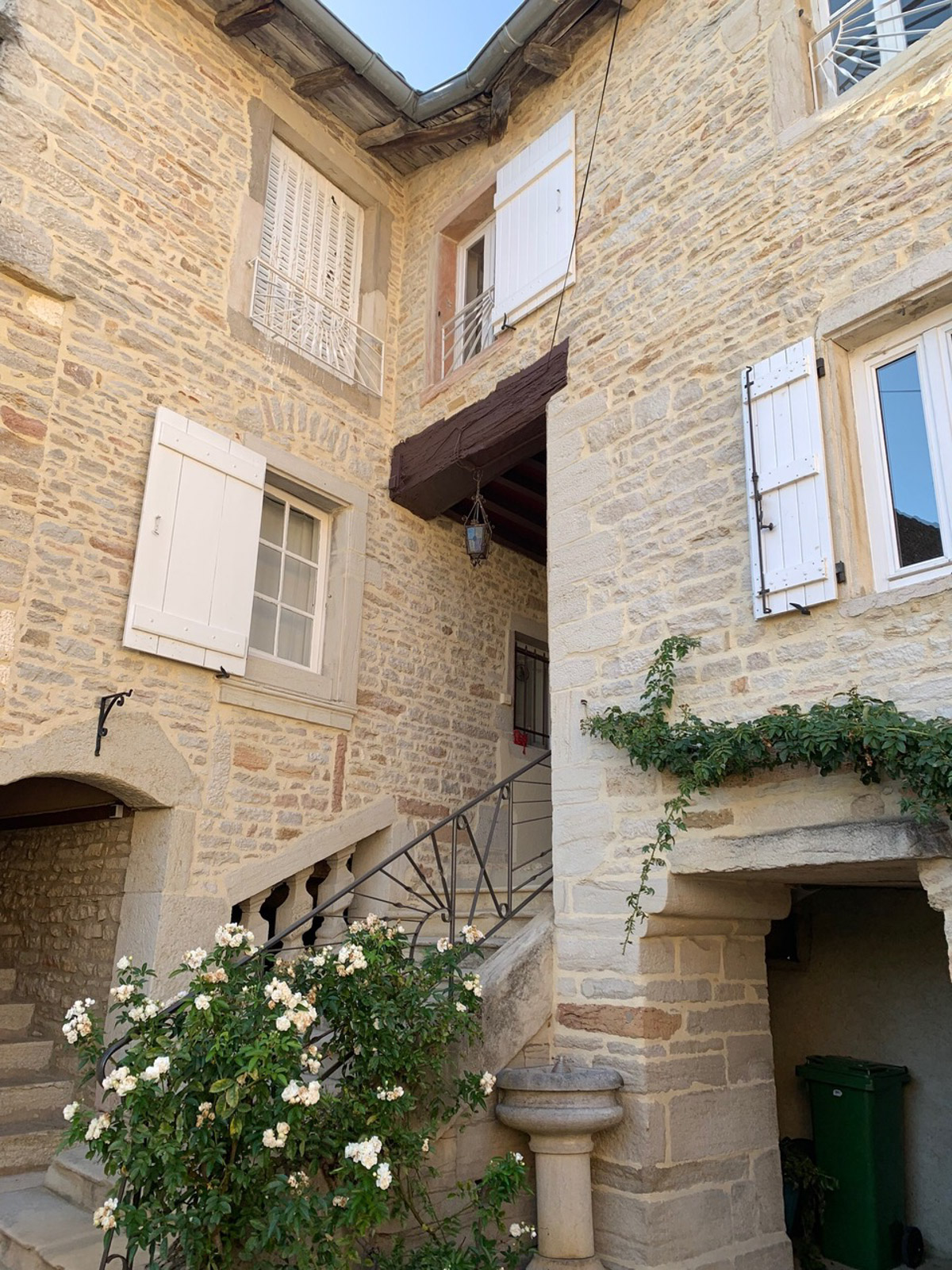 An easy drive takes us to Charolles, where white cows pasture scenically; to the wine trading centre Beaune, with its medieval walls and ramparts; to the vast, well-ordered wine estates of the Côte de Nuits; to the confections of Dijon; to the prehistoric Solutrean escarpment; and to market towns such as Louhans and Bourg-en-Bresse, where a brisk trade is carried on in large-breasted, blue-footed chickens—which, unfortunately for them, are delicious. When lapped in cream and tarragon and shallots and wine they make a perfect Sunday dinner. (Live birds are snapped up by eager shoppers at the Louhans market on Monday mornings and borne away squawking. When our children were small we reassured them the birds were being taken to nice homes, which is not demonstrably false.)
Along each route, in every direction, there are too many castles to count, many of them open to visitors curious about the splendours and rigours of days gone by. Great wine and food and scenery. Plenty of fresh air. No central heat. Constant threats of attack. Dysentery, plague, and smallpox.
I am happiest in our own little house, which my father gave to my siblings and me several years ago. I work at the antique double desk where my mother wrote her books and stories to the tick-tock of the clocks my father collects (tic-tac is what they say in French). Planning the evening meal means either cooking something simple to eat along with a chilled local wine, or making a booking at one of the dozens of local restaurants that astonish us over and over with the careful attention paid to turning unpretentious local ingredients into what Julia Child called, referring to her first meal in France, "the most exciting meal of my life."
Even my Italian-Canadian husband is a convert. When we were first married, we lived for two years in gorgeous, hectic Florence. Burgundy, he says, is every bit as good as Tuscany—but without the drama.
---
This essay from our archives was originally published in our Spring 2018 issue. Read more Essays.