High on the mist-shrouded slopes of the Pyrenees, Ryder Hesjedal was poised to make his mark on Canadian professional road cycling. Stage 17 of the 2010 Tour de France had him pushing hard up the western side of the Col de Tourmalet, one of the race's most torturous ascents. As the newly minted front man for Garmin-Transitions—team leaders Christian Vande Velde and Tyler Farrar withdrew due to injuries suffered in stage two—Hesjedal steeled his resolve and met the punishing 18.6 kilometres climb head on.
Canadian cycling fans a continent away held their breath as they watched him battle cold, rain and fog to reach the summit in fourth place, just behind frontrunners Andy Schleck and Alberto Contador. His finish vaulted him from tenth to eighth spot in the overall standings. Three days later, he would sprint down the Champs-Élysées to complete the Tour in seventh spot, the highest finish by a Canadian since Steve Bauer's fourth place in 1988.
Headlines touting Hesjedal's monumental Tour de France showing were splashed across the front pages of Canadian newspapers last summer, easily the most media attention that any homegrown professional cyclist has received in over two decades. "A lot of people thought I came out of nowhere," he says. "It was only my third consecutive Tour. I'd finished 49th, 47th—and then all of a sudden, seventh." Yet despite the recent accolades, his much-feted Tour de France finish was but the latest in a long list of accomplishments over the course of his 15-year cycling career.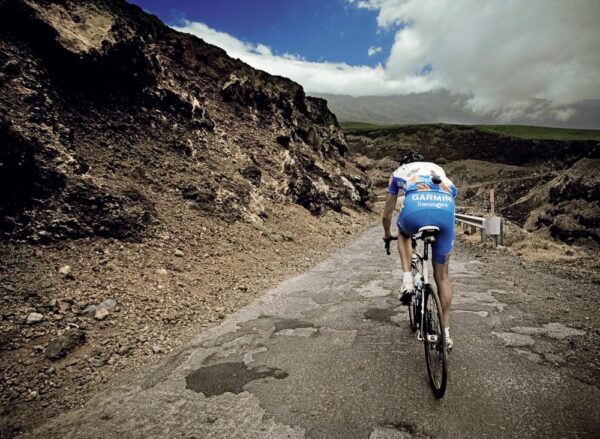 Born and raised in Victoria, B.C., Hesjedal cut his teeth on the Vancouver Island mountain bike racing circuit at the tender age of 12. His first foray into elite-level international competition was in 1996, followed swiftly by a silver medal in the 1998 Junior Mountain Bike (MTB) World Championships. Hesjedal turned pro in 1999 and notched win after win, amassing a total of seven MTB World Championship medals over the next six years. And a 2002 World Cup final victory in Les Gets, France, set him up for the Under-23 World Cup Overall that year. Clearly, he was at the top of his game.
Hesjedal was a heavy medal favourite at the 2004 Summer Olympics in Athens. It was the worst possible time for his winning streak to come to an inopportune end. "I was in the best shape of my life and knew I was capable of winning the Olympics," he says. "I put everything into it only to get a flat five minutes into the race. I didn't even get a chance to compete." Stunned and disappointed, he focused on winning that year's MTB Worlds as a consolation. Yet it was not to be. "I crashed in Spain on the last training ride before the Worlds. [The accident] left me with a huge hematoma on my quad and I had to drop out."
The sobering events of 2004 were a turning point for him, motivating his transition to full-time professional road racing. "I had already seen the highest level of mountain biking, but there was still so much to go for on the road," Hesjedal reflects. "When things kind of came apart in the Olympics and the Worlds that year, I decided to focus solely on the road in 2005." It didn't take long for Hesjedal to establish himself as a talented climber and strong time trialist. He took third and fourth spots for time trial (TT) and road racing respectively in his first crack at the Canadian National Championship, eventually winning Canada's TT title in 2007. And he's one of a select few Canadian riders who have competed in all three of cycling's Grand Tour races, notching first-place finishes with his team in the 2008 Giro d'Italia Team TT and solo in one of the most mountainous sections, stage 12 of the 2009 Vuelta a España. Yet securing a place in the limelight isn't his only motivation.
Hesjedal recognizes the role of Canadian cycling ambassador that accompanies his cycling success, striving "to do his best for the sport both on and off [his] bike." "I'm committed to cycling as my profession but also as my passion," he affirms, "and I do what I can to help people get excited about getting on their bikes." To raise awareness of and generate enthusiasm for his hometown's cycling culture, he led a field of over 1,500 cyclists on the inaugural Ryder Hesjedal's Tour de Victoria in late May. The gran fondo–style ride was the marquee event of the Victoria International Cycling Festival, and allows participants to tour their choice of three courses—140 kilometres, 90 kilometres and a 20 kilometre community ride—along the roads Hesjedal grew up riding on, through Victoria and the Saanich Peninsula. "I'm pretty proud and honoured to be a part of this ride and support my city's cycling community," he says. "Cycling as a sport is more popular than ever now, and mass-participation rides like this one are a fun, casual way for everyone to take part."
All proceeds from the Tour de Victoria's community ride benefitted the Power To Be Adventure Therapy Society, a program facilitating outdoor education for youth, adults and families facing significant life challenges. Hesjedal also backs an initiative called Wheelmen Ride Bicycles supporting the development of young competitive cyclists in Canada. "I came up from a junior-level cyclist to where I am now. I know what I needed to get to this point in my career, and I want to help that cause. If I'm motivating kids to get into biking, there needs to be opportunities available to them, and I'm doing what I can to open those doors. The more kids we can get excited about biking, the more chances we have of developing future Canadian cyclists to cheer for."
Hesjedal cautiously looks ahead to this year's Tour de France and speculates on what lies beyond. "I'm trying to be in good shape. Just making it to the start line is huge, and then the rest just kind of sorts itself out after that. A few years back, I thought that if I could get to the Tour de France and do it five times, that'd be pretty decent as far as my personal timeline was concerned. I'm close to accomplishing that already—I'll see where it goes from there." He acknowledges that he's at the top level of his sport and in the best years of his physical conditioning. And obstacles be damned, it's not in his nature to succumb. "There's not really that option to not push through or give up or whatever you call it," he says. "It's just who I am. This is what I've chosen to do, what I work towards. Being in the hardest of moments, when I'm at my absolute limit, is almost a comfort zone for me."
And so Hesjedal bears the cycling hopes of a nation on his shoulders. Because "It's where I know I've been working to be," he says. "It's what it's supposed to be." Allez, allez, allez!
Photos: Mike Adrian.