The love of wine lures many people into the clutches of the wine business, and many of those already captured now know better. To leave a successful career, forgoing an easy, relaxed retirement, to take on the gruelling work of farming is completely crazy. Still, many jump headlong into their passion for wine regardless of better judgment; the attraction is simply too dazzling to ignore. That is how Andy Johnston, a successful physician, ended up making wine on his own little piece of paradise in the Cowichan Valley on Vancouver Island.
It often takes success in another business to be able to fulfill one's vinous dreams, and the story of how Johnston and his wife, Wendy, got into the wine business with Averill Creek Vineyard is no different. Johnston was born in the U.K., and began practising as a physician in Edmonton, Alberta, in the 1970s before founding Medicentres, Canada's first group of health care walk-in clinics. But that aside, it's where the Johnstons chose to live and grow grapes that makes Averill an even more interesting story. Growing grapes in the moderate climate of Vancouver Island is not an easy undertaking, and to do it at such a level where top-quality wines can be made year in, year out takes incredible commitment. For Johnston, though, he wouldn't be anywhere else. "I had a chance to buy some great vineyard land on the Gimblett Gravels in Hawke's Bay, New Zealand, in 2000," he says, "but my daughters insisted we stay close to them on the West Coast. I knew I wanted to make top-quality pinot noir, and I found these amazing black fruit characters in pinot noir from the Cowichan." For a moment he had considered the Okanagan, but wrote it off because of the land price and the risk of winter kill. "I just wasn't impressed with the flavours and high alcohol of Okanagan pinot noir," he adds. So, between 2002 and 2006, Johnston planted his 30-acre vineyard at Averill Creek.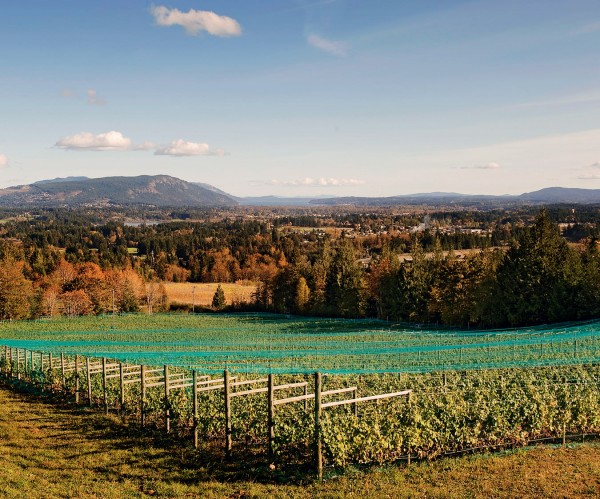 To do so, the Johnstons had to not only clear the site of brush and rocks but also rip through hardpan layers in the soil and then install a drainage system to provide the ideal conditions for the vine roots to grow. None of this is inexpensive or easy, but for quality, it's essential. A number of different varieties were planted including merlot, pinot gris, gewürztraminer, marechal foch, and cabernet foch (a hybrid). But the key to the whole venture for Johnston was pinot noir, and a number of different clones were planted with the goal to make a range of small-lot, high-quality wines from that variety.
The pinot noir is definitely the star of the line-up, achieving an intriguing and complex mix of black and red fruit, earthy notes, and a supple, silky texture, all with moderate alcohol. Johnston tents the vines at the beginning of the season with plastic to create somewhat greenhouse-like conditions that give them a head start. It truly is a labour of love, and amazingly, with all the effort and expense put into these vines, the wine still sells at just $26, jumping to $60 for the Pinot Noir Reserve, which was produced for the first time in 2009. Along with many good reviews, Averill Creek was selected to participate in the 2012 International Pinot Noir Celebration. Because of its success, Johnston is in the process of pulling out some of the marechal foch and replacing it with more clones of pinot noir.
Vancouver Island's Cowichan Valley is beautiful, and if that wasn't reason enough to visit, then the promise of committed, passionate wine lovers turning out great pinot noir must surely tip it. As Johnston says, "It gives me reason to get up in the morning, and I don't do anything in halves." This kind of willingness to go the extra mile is what makes so many wine stories special. And as oenophiles, we can be grateful that Johnston chose not to retire so we can enjoy the fruits of his hard labour.