There is no need to skirt around it, this will be one of the best tarts you've ever had. The crisped brown pâte sablée shaped in a perfect rectangle that houses a layer of both frangipane and pastry cream, all of which is hidden under some beautifully glazed berries and a smattering of candied oranges. It is impossibly pretty, with the fruit glimmering on the top, but it is also not so fussy looking one doesn't want to just bite into it.
This is the perfection of Beaucoup Bakery and Café, a gorgeous new offering at Fir and 6th Avenue that is at once chic and minimalist, but never so much you couldn't see yourself curling up in a soft chair and reading a book for an hour while bits of pain au chocolat crumble on the pages.
Owner Jackie Ellis, a graphic designer turned pastry chef, just wanted a place that felt like home, where people would be comfortable above all else. The shop is full of treasures, from Vietri flatware to shelves full of locally made goods, not to mention the treats themselves. Pastries and viennoiseries, cakes, seasonal tarts, cookies, and sandwiches. The bright and minimalist aesthetic—with one bright red wall and bar stools at the window—is a collaboration between Ellis and her designer Patti Kantymir-Harcsh.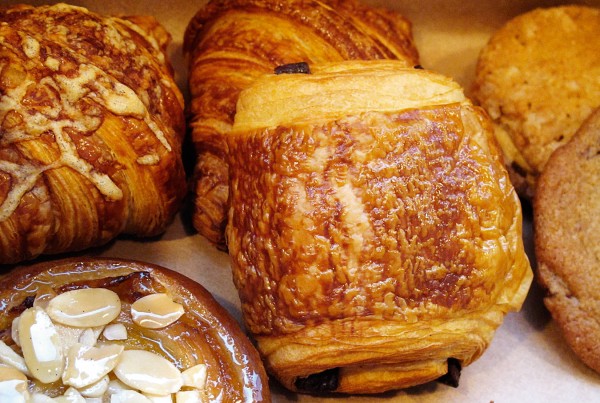 Ellis owned a successful graphic design company when she started up a baking stand at the Vancouver Farmers Market in 2008, later participating in the Shangri-La Farmers Market, too. But after two years of weekend markets, and encouraged by the feedback, she began looking for a new challenge. So, instead of adhering to what some might call common sense, she took a risk and flew to Paris.
It was there that she went to studied pastry arts at the Ecole Gastronomique Bellouet Conseil, tasted some of the best pastries in the world, and fell in love with things made of butter, flour, and sugar.
She returned home with a closet full of dresses and a vision. She wanted to have a bakery where treats were abundant and never seemed to run out, much like a Thanksgiving dinner table.
Ellis then secured her location, and painstakingly attended to every detail, not the least of which was her pastries. "Once my values aligned with my actions, life became very fulfilling," she explains.
Her perfectionism pays off; she now boasts a croissant to rival any you've had anywhere, (she spent 6 months making 60 different doughs working on it, one day making eight different prototypes!), some of the best espresso in the city, and a room that is as warm and inviting as one could hope for. It is a proper bakery and cafe, in the European sense of the word, and it is a much needed addition to the smattering of pastry shops in Vancouver—one where you could sit and eat those flawless tarts all day.
EDIT, April 2018: Jackie Ellis has sold the bakery to brother-sister team Betty and Jacky Hung.