The sun shines on a blustery day during New York Fashion Week as windswept editors, bloggers, and celebrities huddle in Coach's Pier 76 tent—mostly complaining about how difficult it was to get a cab, to make that great migration from the Meatpacking District to downtown. As the lights dim, the familiar notes from Windy City band The Smashing Pumpkins hit "1979" begin to warm the crowd. The models emerge from a derelict barn wearing shearling and suede jackets—recognizable silhouettes from Coach 1941, the brand's debut ready-to-wear collection (newly anointed house face Selena Gomez sits front-row with one such jacket pulled over her shoulders). Little House on the Prairie dresses march down, demure and past the knee; they avoid looking prim with the help of heavy varsity jackets (another house signature). Sneakers, flatforms, floral puffers, embroidered skulls, and flowers reference 1980s hip-hop, grunge, the Summer of Love, and London street style. It's both a summation and expansion of the line's first four years, all designed by Coach's celebrated creative director Stuart Vevers.
The following afternoon at Coach's new headquarters (which takes up 23 floors) in downtown Manhattan, Vevers is clear-eyed and well-rested, looking trim and precise in a navy jumper, jeans, and sneakers. Just like the show, Vevers steps in perfectly on time. Born in Doncaster, England, he and his prairie references are far from home. Like many Brits, his perception of America was formed by cinema. "I have a nostalgia that comes from when I was growing up—a lot of my Americana references come through film, so they always have that kind of Hollywood glow to them," he says contemplatively. For this Fall 2017 collection, Vevers found some inspiration in Peter Bogdanovich's classic Paper Moon, and specifically in Tatum O'Neal's Academy Award-winning performance as the tomboy Addie—a reference seen in the borrowed-from-the-boys shearling jackets. "[Movies] are able to transport you and take you, kind of unlock your head to creativity. It's about escapism," he says, adding that a similar type of creativity exists when he is putting together a runway show. "Yes, it's a story about our guy and girl, but also it's a chance for me to explore a vision and explore new ideas in a very kind of protected environment."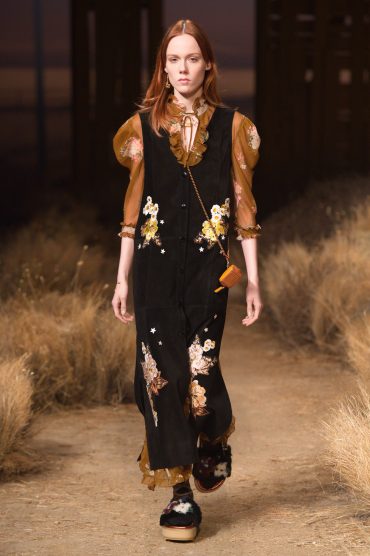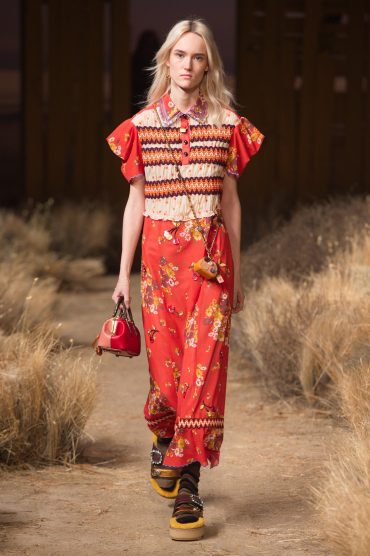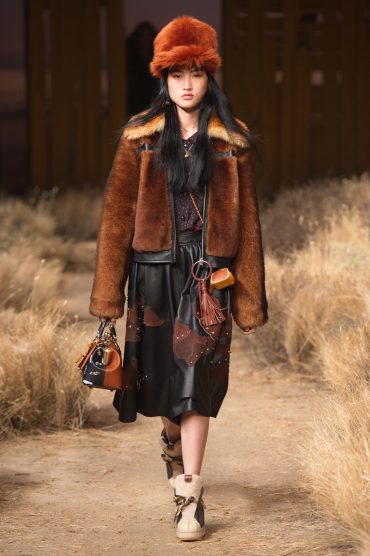 Since joining the company in 2013, Vevers has presented a vision for a more robust Coach—and it has proven to be incredibly successful. Breaking away from the logo mania that consumed the house in the mid-2000s, Vevers, who spent time at some of fashion's biggest houses including Louis Vuitton and Mulberry, has not only led Coach to above-projected earnings, but has also re-established the classic American style that the brand was built on.
His first ready-to-wear collection, which debuted in 2014, was met with a great deal of anticipation and expectation: what did an American leather goods company have to say about fashion in a larger sense? Like Tom Ford at Gucci or Phoebe Philo at Céline, the burden on Vevers was heavy. "I knew it was going to be one of the biggest challenges, and it was honestly one of the things that excited me most," Vevers says. "To be able to, yes, create a clothing collection, but also, to define one." In the clothing, as well as accessories, Vevers riffs on classic silhouettes and styles while adding a sheen of pop-art irreverence—it is Americana, without all the messy nostalgia.
"One of the things I think that makes Coach different in the world of luxury is that it's a down-to-earth luxury."
What is repeated with careful diligence is Vevers's use of the signature Coach codes, many established by legendary house designer Bonny Cashin in the 1960s and '70s—turn locks, baseball glove leather, and logo patches, all now featured prominently in the accessories, and often in the clothing. "[Cashin] brought colour and humour and proportion. She took traditional ideas and turned them on their head. I think what really struck me is that a lot of the things that we now know and love about Coach, she really introduced," Vevers says. "So, I felt in many ways it showed me that creativity was absolutely vital to push our boundaries, to try new things, and to learn what we can be moving forward." To the already-defined heritage symbols, Vevers has added his own stamp with a dinosaur mascot named Rexy, who appears often on sweaters, jacket patches, and leather charms.
The youthful exuberance exhibited by Rexy is more than an aesthetic treatment—it's also about embracing the historically uncool concept of approachability. "Coach has always been an optimistic house," Vevers says, relaxing back into his chair. "It's about making you smile. You know, I think fashion can be warm and friendly, and I like to explore that." It's a powerful statement about where the industry is going. As terms like "social engagement" and "followers" become more commonplace than "exclusive," the luxury market is shifting towards a more democratic strategy, based on a concept of inclusion and openness. "I don't think fashion needs to be intimidating or elitist," Vevers says. "And I think that's a big part of what Coach is." The fall runway models embraced this: people of colour, natural hair, the gender-fluid Vincent Beier Kaspersen, and Canadian vitiligo belle Winnie Harlow displayed not just a vibrant collection, but also a step away from rigid beauty standards that feel dated to the under-35 crowd. The show opened the door to an even more diverse audience, allowing everyone to see themselves in Coach's world.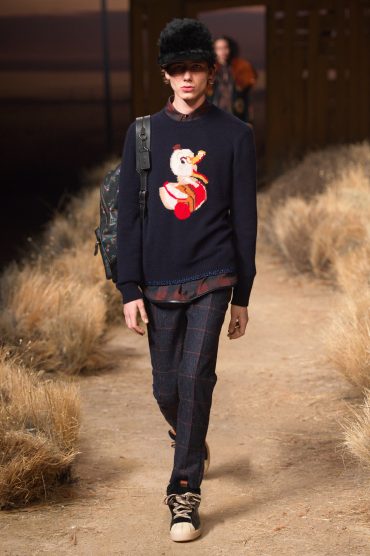 Coach is a brand that lives on the street; you can find it on girls on the subway and guys in the grocery store, wrapped around the wrists of teenagers, or slung on the shoulders of the most fastidious of dressers. Cross-body bags, backpacks, and sturdy flat boots make up a good deal of the current Coach look—putting wearability and utility at the forefront. But Coach pieces aren't just influenced by the street, they're designed for it as well. In Vevers's world, fashion need not be unattainable to be desirable. He sees the line's autonomous standing as being at the frontier of a new aspirational lifestyle. "It's interesting: one of the things I think that makes Coach different in the world of luxury is that it's a down-to-earth luxury, it's an honest luxury," says Vevers. "And that charms me. That's why the girl is often hanging out in a parking lot, or on the prairies, or by a gas station, because I like that we reference the everyday."
Vevers appears to be just the right fit for Coach—he is respectful of its history, he delivers higher than projected profits, he's always polite. And with each collection, he continues to push the brand forward with extra zippers, stronger silhouettes, wilder prints. After all, as Vevers says, "I think, at the end of the day, Coach isn't about anything being too perfect, or too formal, and that actually, to me, that just feels relevant for now." A rebel in a shearling jacket—how Coach.
---