For his first large-scale interior design project, Romney Shipway decided to go all in: a penthouse apartment in downtown Vancouver, renovated with the smallest carbon footprint possible. And his client, Mayor Gregor Robertson, as Vancouverites may know, is pretty emphatic about that sustainability part. It makes sense; if the mayor wants Vancouver to be the greenest city in the world by 2020, the best place to start is at home.
"There's a strong focus on sustainability, local makers, local producers, and so every little component had to be considered," Shipway says, seated at a bench outside of Prado Cafe on Commercial Drive, in between sips of his soy latte. "Every item had a kind of evaluation: 'Can we get it locally? If not, where is the closest place we can get it?'" Before this commission, the designer split his career into two areas: home builder (he constructed the kitchen in the mayor's previous abode) and furniture maker. For Robertson's new two-bedroom, two-storey, 1400-square-foot penthouse, which was staged for photography by Flow Home Staging, Shipway was tasked with ensuring the entire project was not only beautiful, but met the mayor's exacting environmental standards. "It was a quick learning curve," Shipway laughs. "A lot of Googling."
West Coast modern is the fitting theme, taken even further with hyper-clean lines and minimal design elements. "We kept it down to as low an amount of materials as possible," Shipway says. "Those were wood, stone, and concrete, which were really the only materials that we used." The wood, which accents the entire home, notably the handsome planked bathroom, is all sourced from Cortes Island Community Forest, a sustainable project managed and cultivated by its members. The stone used in the kitchen is a speckled salt-and-pepper granite from Hardy Island.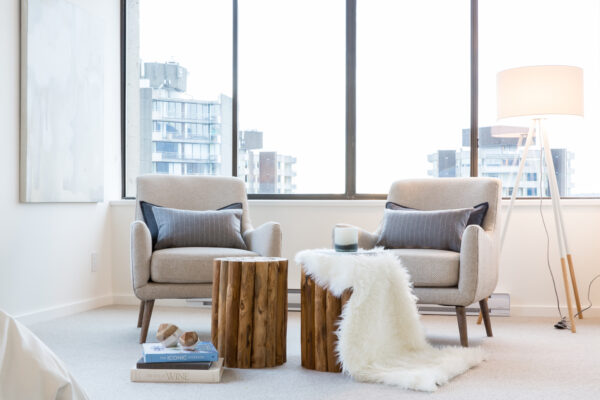 Sourcing from such small producers had its challenges, namely in the range of options available. "It was a blessing in disguise," says Shipway, who worked on the penthouse with general contractor Gregg Enterprises. "It limits your palette. It makes my job easier but it also forces other decisions in the project, because now you're kind of committed to that. So, it gives you good anchors to build off of." The result is an expression of terroir, of the region we live in. The local stone and wood, paired with the expansive ocean views, creates a harmonious sense of place.
The pièce de résistance is the wood-burning stove at the heart of the space. "It's just that sense of family and home," Shipway says. "We could have put a fireplace in but I was like, 'No, a wood stove,' because you never get the opportunity to do that." Thanks to an old building stipulation that had been grandfathered in, Shipway was able to re-install a stove into the downtown apartment. For the designer, it's another element that is not only green (wood is the most carbon-neutral form of energy, and this stove is fitted with a re-burner to limit smoke output), but also a way to stay grounded, even in a penthouse. "It's kind of funny because he has to bring up all his wood in the elevator," Shipways laughs (knowing our active mayor, though, he is perhaps more likely to carry it up the stairs). "But there's something about getting firewood and providing your own heat like that."
So much of the city lifestyle is beginning to respond to our surroundings that building and design seem to be the next logical steps. "Throughout history you always build with what you have; in the desert, you build with adobe and you build with sand," Shipway says. "In forested areas, you use wood; in Europe, you use a lot of brick and stone." And in Vancouver, you use our wood and our stone. A vision of things to come for the rest of the city? We'll have to wait and see.
---
Support independent media. Buy your copy of our Summer 2017 issue.