The anticipated first match of the Vancouver Whitecaps FC 2017 season, against cross-country rivals Toronto FC, kicks off at 1 p.m. on March 18. It's the day "after the night before" for many St. Patrick's Day revelers, so the crowd at BC Place could be forgiven for being a bit sedate. But forgiveness, it turns out, is not required. A boisterous fan group known as the Southsiders—the two other armies of dedicated enthusiasts being Rain City Brigade and Curva Collective—has commandeered the southeast quadrant of the stadium, leading a series of cheers, chants, and, for Toronto, friendly jeers. The crowd clocks in at just 20,438, yet, despite a smattering of empty seats, an observer might guess nearly twice as many in attendance.
While the soccer-specific "roof"—a series of fabric panels draped from the upper level—helps create a sense of intimacy in the 54,000-seat stadium, it's no design sleight-of-hand that makes going to a Whitecaps game such a singular experience. Watching the city's trademark sports franchise, the NHL's Vancouver Canucks, in Rogers Arena nearby can often feel like stepping into a Howe Street boardroom. Here, though, people clap their hands or stomp their feet in rhythm with the unofficial Whitecaps band. That enthusiasm for Vancouver's only professional soccer team extends even when the home team loses, as they do today. "I hate Toronto," says one Southsider to another as they file out of the stadium. "They play like a bunch of heels."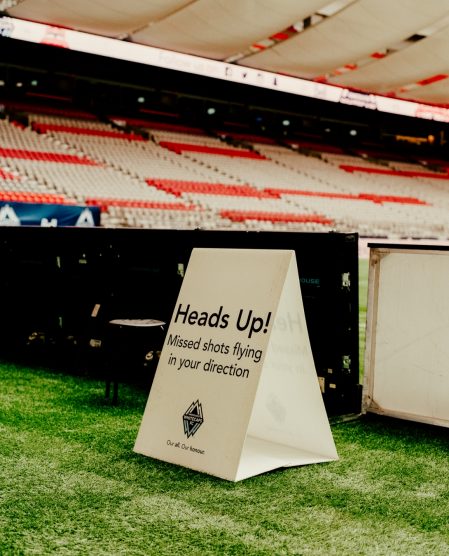 While wins on the soccer pitch are paramount, Vancouver fans have also come to expect a winning attitude from their Whitecaps. It's a code of conduct that can also be seen in the team's advertising (Our All. Our Honour.), out in the community, and at the Gastown headquarters for the team. "Really the product on the field is what everybody zeros in on," explains team president Bob Lenarduzzi from the Whitecaps boardroom, as he and chief operating officer Rachel Lewis discuss the team's rise in popularity. "We're going to strive to do the best that we can; ideally along the way, there's championships that we achieve. But beyond that, it's what we do off the field as well—our commitment to the community, to all the registered soccer players. We'd like to achieve success, but we like to do it in an honourable way." Lenarduzzi says that the club's honour code is unique within MLS, and that it comes straight from the top: majority Whitecaps owner Greg Kerfoot and his minority partners Jeff Mallett, Steve Nash, and Steve Luzco. "It's not like they have to tell us that this is important, however," adds Lenarduzzi. "We believe that it is."
In the annals of Whitecaps history, Lenarduzzi and Kerfoot play pivotal roles. Lenarduzzi was a player with the inaugural Whitecaps club in 1974, and central to their 1979 North American Soccer League (NASL) championship win. After the NASL folded in 1984, Lenarduzzi served as general manager and director of soccer operations for what would become the Canadian Soccer League's Vancouver 86ers—which would in turn be renamed the Whitecaps once again in 2001.
"When people look at world-class cities, professional sports are part of the fabric of the community."
It was also around that time that Kerfoot, then-CEO of software company Crystal Decisions Inc., swooped in to save the Whitecaps from further turmoil, taking ownership from David Stadnyk in 2002 by assuming the club's $100,000 in debts, and moving the then-three-person staff into his West Vancouver home. "[Kerfoot] bought the club at a time when he thought it would be bad for the city to lose one more professional sports team," says Lewis, who joined the Whitecaps in 2003 after three years as tournament director for Vancouver's PGA Tour stop. "We had seen the [Molson] Indy leave, the PGA Tour event leave, the Grizzlies leave. When people look at world-class cities, professional sports are part of the fabric of the community."
When Kerfoot took the reins, the Whitecaps were playing in a second-tier league called the United Soccer League, but his goal—and Lenarduzzi's—was always to join the MLS: a resurgent organization founded in 1993 as part of the USA's successful bid for the 1994 FIFA World Cup. When the MLS announced plans to expand for the 2011 season, Kerfoot and his partners put together a $35-million bid for one of those teams—and on March 19, 2011, the Whitecaps played their inaugural MLS game, beating Toronto FC four to two.
It's a match etched in Lenarduzzi's mind. "I can remember the morning of: the forecast was terrible, it was pissing down," he recalls. "I was on my drive from the North Shore to Empire Stadium"—where the Whitecaps played the first two-thirds of the 2011 season, waiting for the refurbished BC Place to open—"and I started to see some blue skies. There are photos of that day: fluffy white clouds and blue skies, us scoring the fourth goal—you can see that the stadium is packed. I am a firm believer of, 'How you start is how you go.' And the fact that there we were, that many people out—well, we were back."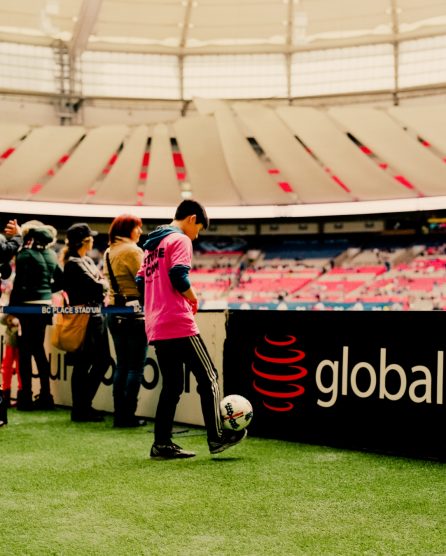 While the new Vancouver Whitecaps FC reached second place in their conference in 2015, they have yet to win an MLS championship. Both Lewis and Lenarduzzi are confident that the team, led by coach Carl Robinson, will get there soon, and that the continued success of the league—now at 22 teams, up from 17 when they joined, and with expansion fees now topping $150 million—is helping to build excitement. In the meantime, Lewis is focused on producing what she calls "the best sporting experience" at BC Place. "We've built a great foundation in our first half-dozen years, and now it's up to us to lift it one more level—to fill that lower bowl on a regular basis, to grow the audience, and to continue to drive the community investment across the country," she says. The team now averages about 22,000 fans a game; Lewis hopes to expand that to 25,000 or 27,000 "in the not-too-distant future." Part of that means bringing in new talent, such as 16-year-old attacking midfielder Alphonso Davies—the league's second-youngest starter ever.
For Lenarduzzi—who has been part of professional soccer since leaving home in East Vancouver to play for Redding, in England, in 1969—there is another thing that would help immeasurably. "We need to get back to the World Cup. Nineteen-eighty-six, when I was there with them, was the last time," he says, staring out the boardroom window at a passing container ship. "I would never have believed that it's been 31 years and we haven't been back."
Win or lose, says Lewis, today's Whitecaps—unlike the championship team of 1979—is here to stay. "When you think of teams like the Green Bay Packers or Boston Red Sox or Manchester United, it's literally in your DNA when you're born," she explains. "To me, we had a big generation gap between the peak of the late '70s and the Whitecaps of Major League Soccer. We're bringing those fans back, and success for us is now building that next generation of fans, one by one."
---
Read our other articles about sports.