From the W Punta de Mita's runway-style outdoor walkway—an ideal place to take a photo of the setting sun over the ocean—turn back towards the resort. There, to the left, a large wooden table can be seen glowing softly with candles a short distance away. This, it turns out, is the hotel's most exclusive and secretive dining experience.
Walking around the expansive lawn, guests are led to a pathway enclosed with lush greenery. A little decorative pool blocks the final steps to this private island, but concrete slabs ensure safe passage. Enchantingly, once all of the diners have reached the table, the water raises over the path, creating a completely secluded enclave.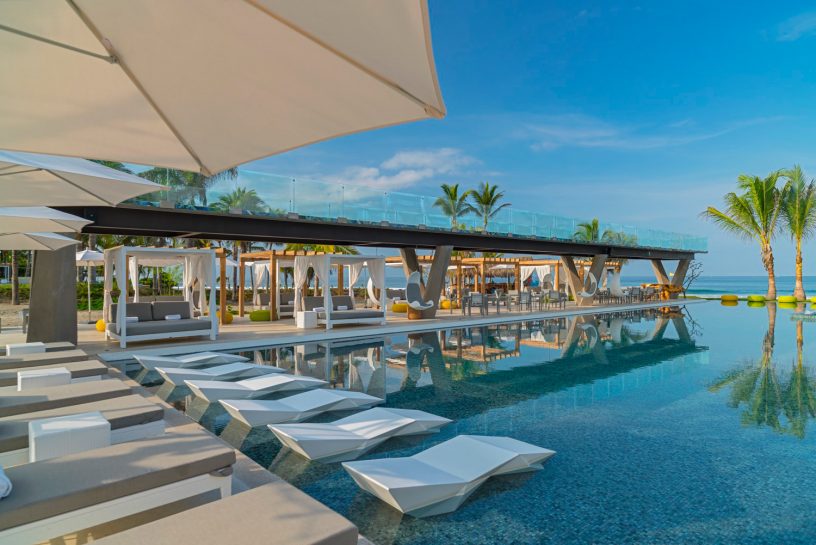 This is Mesa1, the W Punta de Mita's special chef's table that hosts just one seating per evening (it must be booked 24 hours in advance). Accommodating up to 12 people, the outdoor dinner features a seven-course tasting menu catered to each night's guests.
Things might begin with tuna tartare and goat cheese mousse on crisps, followed perhaps by an heirloom salad with tomatoes, burrata, baby vegetables, and pesto. Other courses range from a standout cauliflower cream soup with Mexican vanilla, roasted pears, and gorgonzola, to an incredibly fresh catch-of-the-day fish fillet (tonight, it's mahi mahi) with grilled vegetables and celeriac puree.
Of course, Mesa1 is not the only dining option at the W. There is Spice Market, the Mexican outpost of Jean-Georges Vongerichten's celebrated Asian restaurant, for one thing. And fans of seafood can pull up a seat at the funky Chevycheria, where ceviche is served at the beach bar that was cutely converted from a blue 1950s Chevy. Order a mezcal cocktail and converse with the bar staff, perhaps encountering beverage manager Alejandro Montes de Oca, who can give a five-minute lesson on the origins of tequila's more adventurous sister.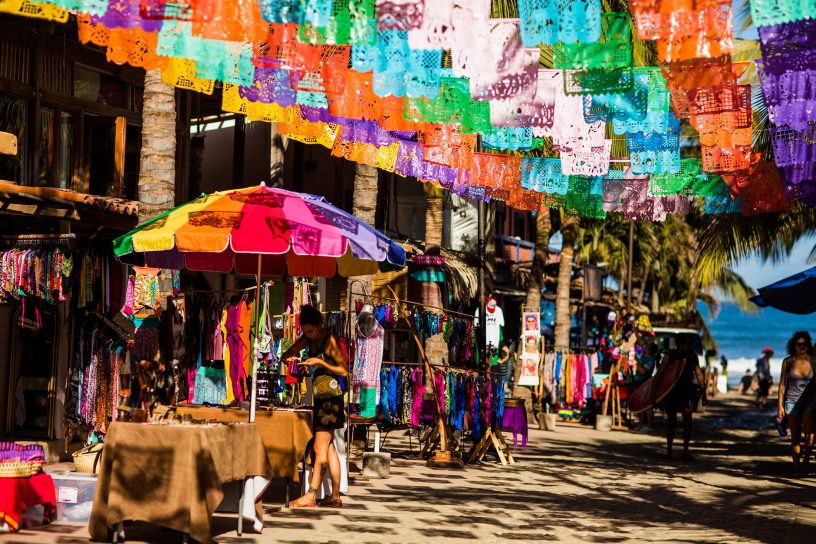 "Mezcal is still very local and craft," he says. "It's not like tequila which is so commercialized." One of his favourites is tobala, which comes from a specific agave plant of the same name that takes 20 years to grow in the wild.
No matter the time of day, the beach calls; and lucky for W guests, it feeds right onto the property. With some of the softest sand and nicest waves in the area, Punta de Mita is a hot spot for surfers. The hotel's Wave shop has friendly instructors ready to take newbies out, or surfboards can be rented for the more experienced.
The property opened in 2016 and has already become popular for weddings and honeymoons. Though sophisticated and luxurious enough to host any lover's retreat, the W Punta de Mita is also charmingly youthful and downright playful, making it an ideal spot for groups of friends. Everything has been thought out here, from the neon pink to-go coffee cup sleeves to the skulls filled with mix at the stunning lobby bar; from the multicoloured hanging swing in each guestroom's private entranceway, to the surfboard headboards behind each bed.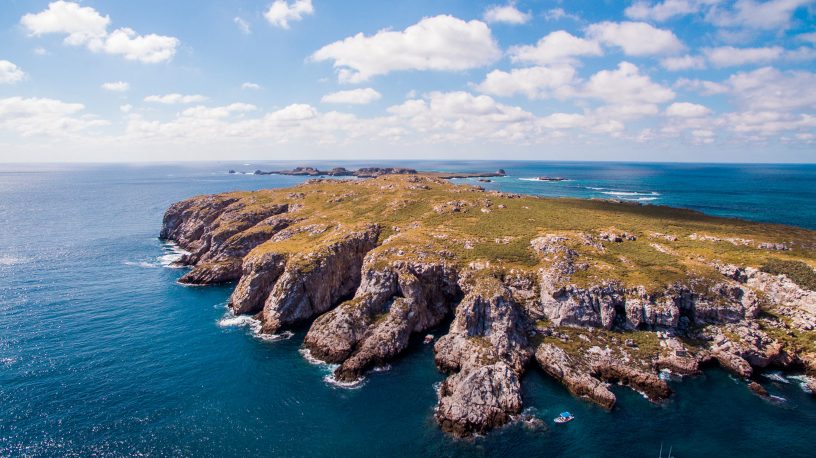 Those looking to explore Mexico's Riviera Nayarit region can find Sayulita, a popular tourist and expat town, and neighbouring San Pancho, a calmer version of Sayulita, each about half an hour from the hotel. Wander the streets and poke into shops, such as Sayulita's Evoke the Spirit, which hawks a beautiful selection of rugs and ceramics.
Back at the W after a day spent exploring, a break might best be had at the onsite Away spa, where treatments include a tequila and agave facial, and the facilities boast a beautiful set of plunge pools surrounded by towering foliage.
Plant life is an important aspect of this property, with designers ASET/AOMA and Mister Important Design envisioning a hotel eventually completely covered in green vines. "You can see it's already starting," says the W's public relations and marketing manager Javier Puente, pointing to the creepers beginning to take over the facade of Spice Market. Each time guests come back to this hotel, it will look a little different—but the quality of service, food, and atmosphere will remain unchanged.
---
Keep exploring the world.