"Whoa, did you see that squirt?" chef Lisa Ahier of Tofino's SoBo restaurant hovers over a bucket filled to the brim with a radiant fuchsia liquid. Holding a massive collection of gooseneck barnacles, she slowly pulls the tube-like creatures apart, and they secrete an unpredictable spray of juices. "Put a raincoat on, or even one of those cheesy lobster bibs," she says as I hide behind the kitchen counter. "Still, these things give lobster a run for their money."
A Texas native, Ahier has called SoBo and Tofino home for the last 18 years. She is a profound chef, mixing up flavours of the Pacific Northwest with a Southern twist, and is amongst just a small collection of cooks in British Columbia willing to prepare goosenecks. Growing along the roughest of shores on the Pacific Ocean, anywhere from Alaska to the Baja of California, these bad boys are a specialty seafood. They are rather terrifying to look at, but unexpectedly, are brilliantly sweet in taste. As many locals say in Tough City, they are the closest thing to eating the ocean.
"It's a labour of love. It's a very long, tedious job. So, you just have to enjoy the monotony of it, the rhythm," explains Ahier, dancing about the kitchen, as she outlines the four-hour process of rinsing, shucking, blanching, and cooking the delicacy. "I call it a dinosaur toe," she adds, showing off the gooseneck's head and beginning to draw back the dark pink, shell-like reptilian casing that reveals the edible meaty tube inside.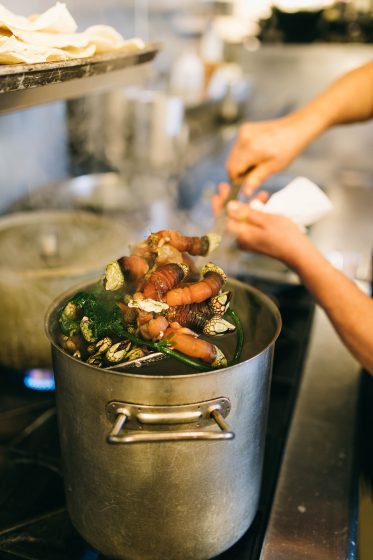 For generations, goosenecks have been enjoyed here in Tofino, and in 2009, the five First Nations groups of the Clayoquot Sound acquired the sole rights to harvest them in the T'aaq-wiihak fishing area. Located 10 kilometres off the shoreline of Tofino's picturesque marina, the fishery is made up of 48 gooseneck sites. As filter-feeding crustaceans, goosenecks sit roughly 100 metres above the ocean's floor; they can only be picked during low tide, and flourish among the windy tendencies of Vancouver Island's western coast.
Ahier grabs her shucked goosenecks and dumps them into a rumbling pot of highly salted water (to resemble the ocean). "This was harvested in exactly the same area," she says, throwing in a bundle of seaweed. After two minutes, the goosenecks are drained and placed on a bed of ice before being transferred into a creamy bright green sauce warming up on the stove.
I soon discover that consuming them is as complicated as preparing them. "When you're eating them, you use your teeth very mindfully, and scrape it, and you get the membrane of the feather," Ahier instructs. "That's the part you don't eat." She glides her mouth along a gooseneck, never biting down, engulfing the meat, and then showing off the wilted "feather" that remains latched to the "dinosaur foot." It's a process much like sucking on a freezie.
At SoBo, Ahier will only serve goosenecks as an occasional feature on the menu, partly because they are expensive (they go for $15 a pound), but also because they don't keep for more than two days. Another reason is that the harvesting industry is unreliable. "There's only a few people who are willing to go out and get them now," says Ahier. I find this is very much the case later that day as I meet with one of the two well-known gooseneck harvesters in the area, Billy George. George is a member of the Nuu-chah-nulth and resides in Ahousaht, the largest First Nations settlement on the West Coast of Vancouver Island.
"It's a very dangerous job," says George, who, at the age of 12, started his fishing career alongside his coast guard grandfather and father. We are sitting in the iconic Wickaninnish Inn on Chesterman Beach; the hotel's Pointe Restaurant is one of George's biggest customers. He has just dropped off a few pounds of goosenecks, and executive chef Warren Barr will likely add them to a seafood salad or a tasting menu. "I still smell like them. I came in just now," says George gleefully. "I go out when the tide's low. So, if it's two, three in the morning, I use a headlight, and I'll go out anyway."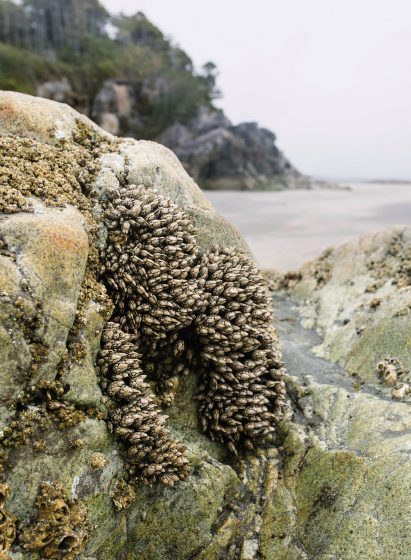 Roughly every week, George heads out on his aluminum boat, determined to gather up to 100 pounds of goosenecks per trip. It is a hazardous task, especially at night. "I've had occasions where I've been picked right up by a wave," says George. "You disappear. And land right on the rock." He says the treacherous working conditions mean there's a loss of interest in the younger generations to participate, and quietly mentions losing three friends at sea.
The following day, as rain pelts down, I travel with Ahier to the private Stubbs Island, just a few kilometres northwest of Tofino by boat. Owned by the Bloom family, it is maintained by husband and wife Chris Taylor and Sharon Whalen, founders of local skin care brand Sea Wench Naturals. The pair often source and eat the goosenecks growing on the edge of the island. I trudge with Whalen for 15 minutes through the brush, eventually spilling out onto a beautiful untouched beige beach. "Grab a sharp clam shell!" she yells out. I return after a determined search only to find her already cutting some goosenecks at the base with one found close by. Back at their home, I sit with Taylor and he describes the perfect gooseneck evening spent amongst friends and family. "Some people say it's a bit like lobster, but I think its different," he says. "It's really special. And very delicious. You eat it like popcorn."
After waving goodbye to Stubbs Island, I find myself in the famous Wolf in the Fog restaurant for the evening. Two plates of goosenecks arrive in front of me. Next to me at the bar, a couple from England stares down at my dinner, dumbfounded by the peculiar sight. "Bite it like this with your teeth," I say, offering them a gooseneck. And then I glide one carefully into my mouth, the feather still in place.
UPDATE, January 2019: Barr has left The Pointe Restaurant to open a spot called Pluvio in nearby Ucluelet. He is replaced by Carmen Ingham.
---
Find the best Food and Drink around.