"Don't look!" Laurence Li yells fervently from across the basement of Leisure Center, Vancouver's concept store in Yaletown. Li, who is one part of fashion label Laurence & Chico, is hiding in a corner dressing room, preparing for the brand's trunk show this evening. Members of his team orbit around him with a storm of dresses and tops. Like a celebrity at the Met Gala, he wants his outfit, and his entrance, to be a surprise.
After I find the comforts of Leisure Center's onsite cafe, Li finally emerges from the basement, strutting one stilettoed foot in front of another. "They hurt, though," he laughs, adjusting his black lace dress, which is pulled over a crisp white Laurence & Chico t-shirt, before settling his tall frame into a plush pink chair. He shows me his hot-pink heels and brushes his bright blonde hair out of his eyes, revealing vintage gold Chanel hoop earrings and black-framed eyeglasses.
Li is what I expect of any successful creative: charming, confident, alluring. Just over his shoulder, his business partner, Chico Wang, can be seen swiftly moving about the edges of the room, organizing and planning—all the while looking tremendously chic in a well-cut suit and sturdy frames. "This trunk show is very special," says Li. "It's our first homecoming event since we established the brand."
Behind us, the designers' close friends sift through garments from Laurence & Chico's collections, including the newest Fall/Winter 2018 line, all of which encompass a playful, avant-garde style. "I'll say a Laurence & Chico girl is a person who's not afraid to make an entrance. And she loves the attention to detail," buzzes Li. He and Wang have just returned from market week in Paris, the two splitting their time between New York, their hometown of Vancouver, and Shenzhen, China, where Wang leads a studio team in their five-storey atelier. "Everything is hand-sewn, hand-beaded, and creatively directed by Chico," adds Li. "I just draw."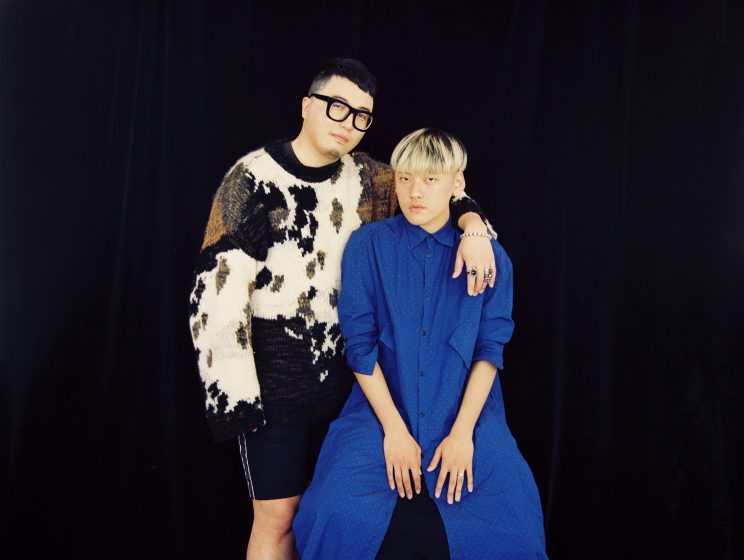 He is referring to the illustrations he has made since he was a student in New York. Both Li and Wang attended the influential Parsons School of Design; Li was a student of fashion marketing, and Wang got a full scholarship for fashion design. "It first got started was when I was drawing our daily life. Chico saw it and wanted to print it on postcards," recalls Li. Selling the postcards on the street across from Miu Miu's boutique in Soho, they received a very positive response. "We sold over a thousand on the first day," says Li. Wang then began placing Li's illustrations on tees and sweatshirts; in 2015, the two returned to Vancouver, where they began to turn it all into a full-fledged line.
In an almost childlike manner, Li reveals the pages of two illustration books that sit in his lap. Titled Pets, one tells the story that inspired the Fall/Winter 2018 collection. "Every season, before it starts, we do drawings. Everything is inspired by a different story," he explains. He shows off illustrations of himself and Wang, who must take care of an egg before it hatches into a pet. "There are six pets. They will be shown on the garments as well," says Li. Playful and sweet, the other storybook shows Spring/Summer 2017's MU Factory (Make Up Factory), depicting Li and Wang with pastel makeup brushes and powders—which Wang brought to life in cotton-candy, sugary clothing with creamy pastels and luminescent textures.
Standing up gracefully, Li takes me over to get a feel for the clothing up-close: flowing silk blouses; tops embellished with beads, pearls, and glitter; beautiful tweed jackets. The selection is versatile and completely unique. "It's easy to mix with your own style," Li says. "But you can also wear avant-garde, crazy stuff." For him, the goal is to create something more than a womenswear brand. Makeup, furniture, a physical space—it's all on the horizon, he says. Whatever the endeavour, expect it to happen in Vancouver first. "Because that's where we're from," Li says. "And we love to be back." And we love having them.
---
Browse our Style section.