When Thomas Hobbs and partner Brent Beattie ran out of garden space after two decades in their Point Grey home, they spent a year looking in the Fraser Valley for a wider canvas. There, close to the United States border, they found it: a 20-acre farm now known as, simply, The Farm. They transformed the former illegal marijuana grow-op site into a glorious estate of rolling lawns, complete with a man-made lake with views of Mount Baker in one direction, and Hereford calves gamboling in the spring of the neighbour's farm in another. For the past 10 years, The Farm has been Hobbs and Beattie's outdoor oasis.
"This, though, is the main reason we bought this place," says Hobbs, walking through a grove of gigantic cedars bending in a gust of wind that whistles across the Sumas Prairie. The trees overlook the lake, its banks dotted in spring with ruby-red cyclamen flowers.
"And people are so friendly in the valley," he adds. "On arrival, we were offered and accepted 18 loads of free turkey manure. And our realtor introduced us to the lake-builder." After arriving in Vancouver in 1968, Hobbs, born and raised in Regina, opened the city's first artistic florist shop in Kerrisdale in 1975, and now operates Southlands Nursery near Southwest Marine Drive. He is all about style and creating relaxed ambiances. Down here on The Farm, this entails clearing acres of blackberry bushes to create lush lawns. "We do," adds Beattie, "have some good brush pile fires in the spring."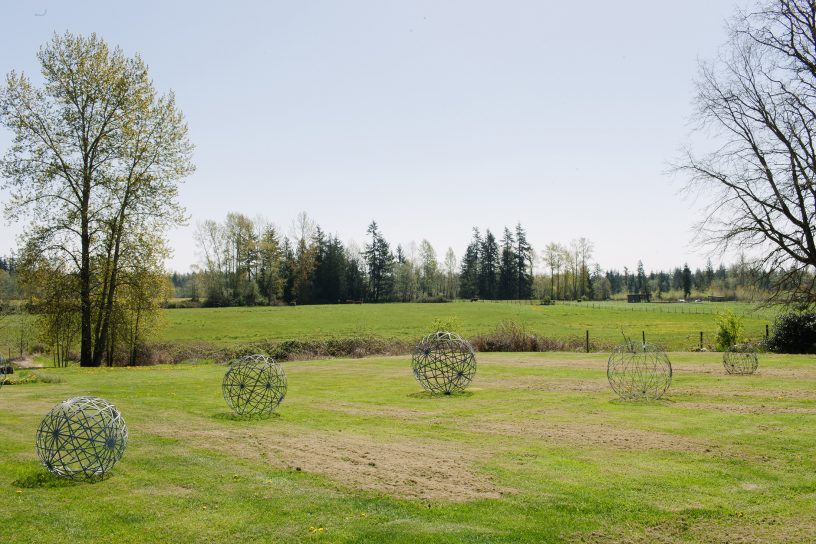 And just as accomplished artists go through phases—witness Picasso's Blue and Pink periods—Hobbs is in his hybrid iris blossom phase. "Done" with the day lilies that used to proliferate one lovely parterre of gravelled walkways and lavender borders, he has filled those beds with iris blossoms with evocative names like Ginger Ice, Girls Gone Wild, and I Hope You Dance, which shimmer in summer like ballerinas in frilly tutus. Of the more than 100 trees on the farm, some standouts include the silver weeping pears planted to resemble a grove of Mediterranean olive trees, and the Davidia involucrata (white handkerchief) that will one day soar to the sky.
Country life is not without its challenges, of course. In one massive workshop building sit several tractors; Beattie explains ruefully that he bought the biggest one only to discover it is too heavy to use when the clay ground is sodden, "because it would just sink."
Farm rewards are myriad, though, with the rhythm of the seasons filtering through the endless projects. Owls named Mercedes and Da'shon live in the 100-year-old pole barn where swallows fly back every April to nest on the defunct lighting fixtures. "The chicks are not at all afraid of humans," says Hobbs. Emerging out to a spot where Beattie is busy creating a "ruin" for more garden storage, Hobbs notices that their spherical garden decorations from Detroit are shifting with the force of the wind. "Sometimes we have to rescue them when they roll into the river," he says with a smile, surveying his 20-acre canvas.
---
Stay engaged in the Community.