Lisbon winds and curves like a flowing river, its streets spilling into one another over hills and along stairways. The multi-coloured pastel buildings cram together to create magic in everyday moments, when sunlight hits a doorframe or a potted plant just so. The cobblestone is slippery, as if wet; maybe it's just the shine of a place so embedded in a world all its own.
The first question to ask, then, is where to stay to make the most of this delightful Portuguese city. Two Kiwi Collection hotels (meaning they are vetted by Kiwi's team of experts), though different in aesthetic and delivery, paint equally luxurious portraits of darling Lisbon.
Those looking for a boutique experience should consider hanging their hats at the Memmo Príncipe Real—a place where the hat is a charming part the property's fantastic service. The headwear in question is a bowler, crafted by local artisans; it hangs on the wall during the day, but expect to find it in a different place upon returning to your room after an afternoon out and about. It might be on the plush armchair, with a box of truffles hiding underneath; or it could be on the credenza, revealing a note suggesting a nearby restaurant at which to grab a cocktail (with the offer of making a reservation, of course). Memmo Príncipe Real, named for the neighbourhood that it resides in, is all about subdued yet observant service—it's there without you knowing it, but it makes all the difference.
The cobblestone is slippery, as if wet; maybe it's just the shine of a place so embedded in a world all its own.
A do-it-yourself welcome Port tonic cocktail awaits guests in-room upon arrival; simply call down to the front desk and ask for ice. Superior City View Rooms truly have fantastic vistas of this rolling landscape, turning magical at night when bright lights make the buildings glow. Down below, the hotel's swimming pool shines with green lights; inside the room, Hermès bath amenities in green bottles have their own kind of gloss. It's the quirky and surprising details that stand out here, from the fuzzy accent blanket on the bed to the branded mannequin torso on which to hang a favourite garment.
Back downstairs, the onsite restaurant Café Príncipe Real serves delicious breakfast—featuring mini cake trays covered with bread and pastries, including the city's famous egg tarts, and hot a la carte dishes. But dinner here is memorable as well, with Portuguese plates getting flavourful international twists.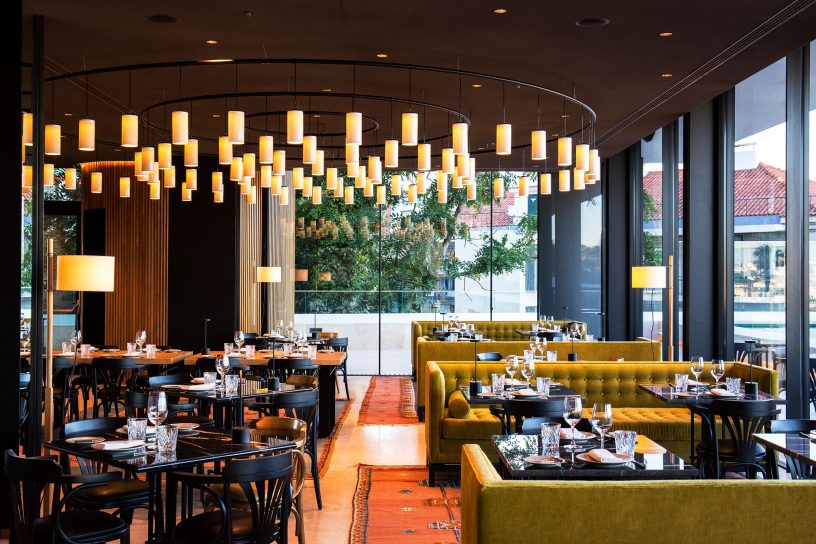 Príncipe Real is a small neighbourhood, with a few notable destinations including the restaurant Cevicheria (which, delightfully, has a takeout window for smaller snacks) and the shopping centre Embaixada, a former embassy building that now houses a selection of local shops. This area is quieter, a little more off the beaten path; alternatively, Tivoli Avenida Liberdade Lisboa's location is set in the heart of it all, right on the main luxury shopping thoroughfare and not far from São Jorge Castle.
Open since 1933, the historic Tivoli has undergone a recent renovation, and the results are simply stunning. A grand lobby covered in rich blue and gold is at once calming and extravagant, and proves to be a popular place for an afternoon cocktail. But the showstopper for drinks is Sky Bar, located, as one might guess, on the top floor of the hotel. Covered in whites (save for the washrooms painted by local artist Luio Zao) that seem to radiate as the sun goes down, this outdoor destination features craft cocktails, a live DJ, and some of the most breathtaking views of the rolling city and the water beyond.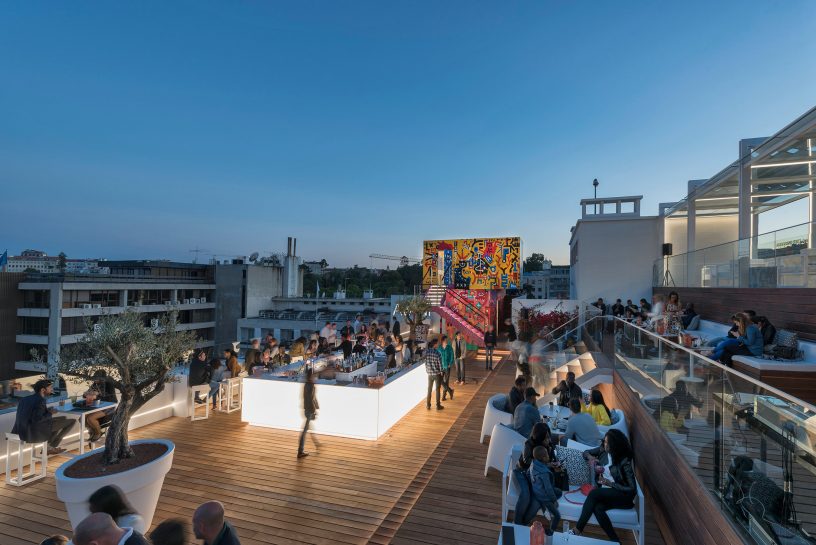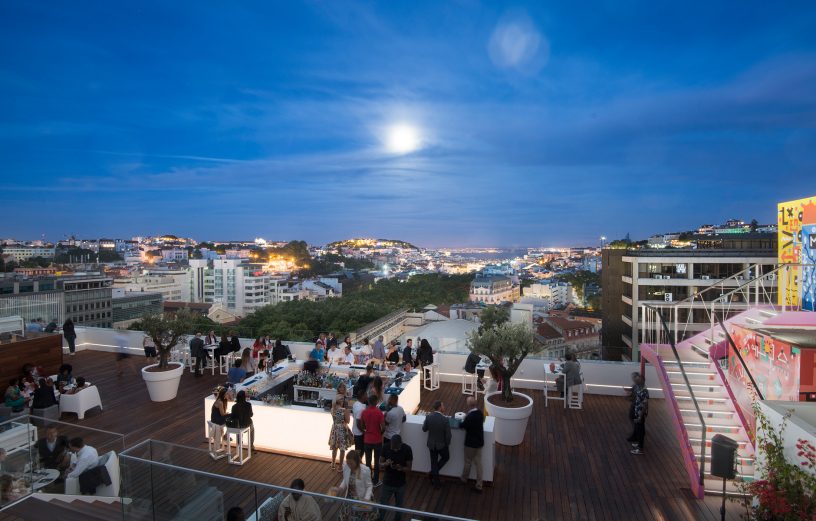 Speaking of water, Tivoli's pool is one for the books. Surrounded by tropical leafy plants, the circular pool's cold temperature makes it shockingly refreshing, if you can muster the bravery to get in. When it's time for a bite, the onsite Cervejaria Liberdade could do the trick, especially if craving seafood.
Suites are spacious, with generous washrooms and even more generous beds. Sleep will always come, but it sure comes easier here.
---