Amid a rough-hewn granite moonscape, the temporary carpet of red and green is most striking.
We're on remote Fogo Island, the proverbial island off an island, far away from far away, which sits off the coast of Newfoundland. The land—mainly barren and low-lying— has never had a reputation for abundant produce. (How do you escape the forest here? Stand up.) It's a place that will soon slip right on cue into Pack Ice, Fogo's so-called "seventh season": sea ice choking the harbour and Ski-doos ripping up the monochromatic landscape.
Which is what makes this fleeting moment all the more glorious. Welcome to September and October's berry season (sandwiched between summer and late fall)—a colourful celebration in which inhabitants bend double to comb gentle slopes and are rewarded with more than 20 different fruits, including blackberries, crowberries, marsh berries, and high-bush cranberries.
Today's red-and-green star attraction is the partridgeberry. Following forager Norm Foley, a seventh-generation Newfoundlander from the nearby Irish-heritage enclave of Tilting, we're scrambling over rocks and crouching in the "berry grounds." Swooping down with an expert eye for the shrublet's prize (barely a centimetre wide) while avoiding the juniper needles, he hymns, "There's nothing like that taste of Atlantic sea and air, almost sour—they are Fogo all in one mouthful."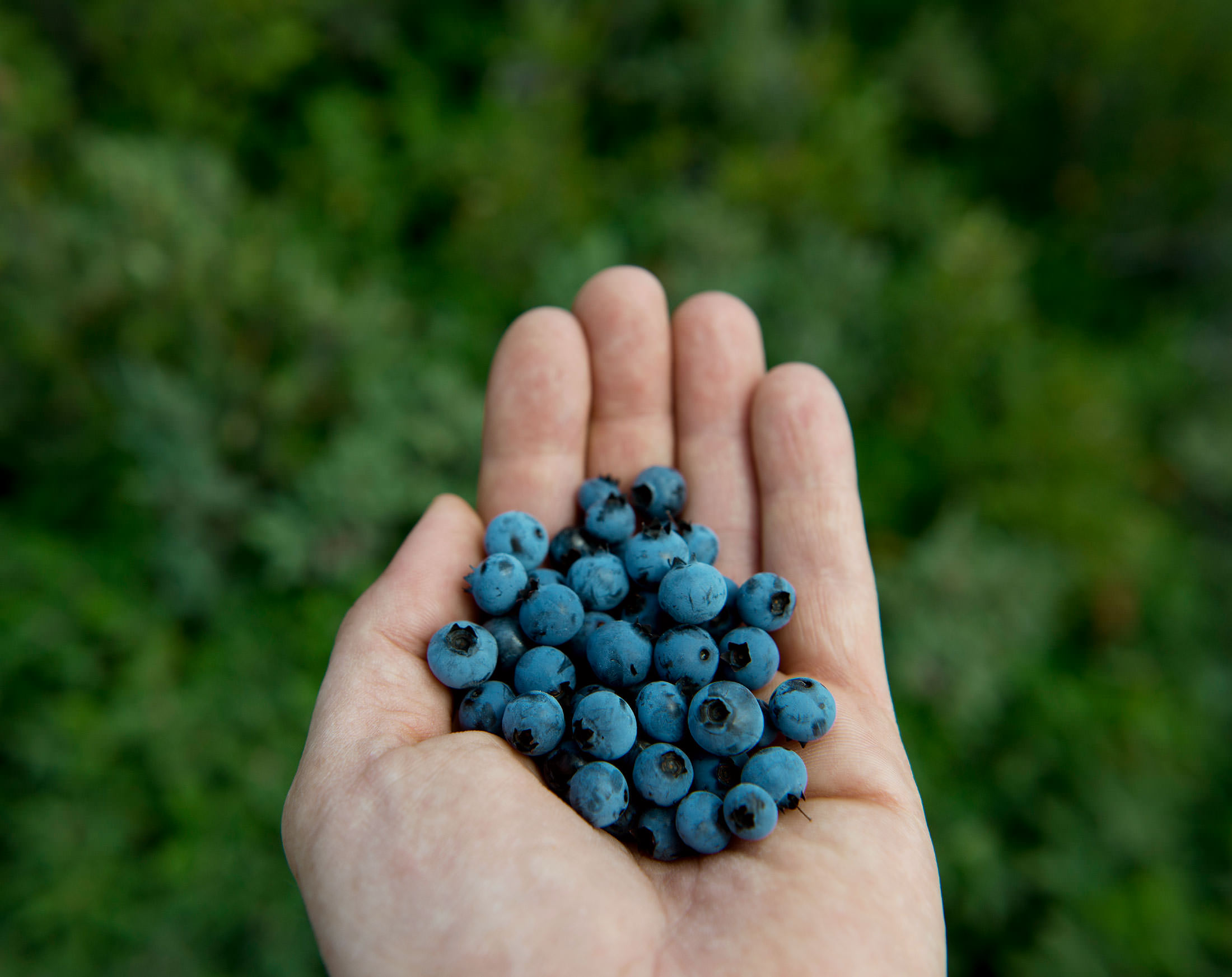 Beyond boiling bucketloads of them to turn into jam—fuelling his (and most islanders') household through the frozen times, bolstering dwindling food stocks in what has been dubbed the "hungry month of March"—these freely foraged foods weave their way through the menu of one of Fogo's most celebrated cultural exports: the Fogo Island Inn. With the partridgeberry's tartness and tannins, there's an effortless swing between sweet and savoury creations (from pâtes de fruits, kombucha, and fruit fools to mustard and chutneys). Little wonder the award-winning spaceship-esque hotel buys around two tonnes of partridgeberries and another four tonnes of assorted berries each year from local pickers (more than its moose intake by a quarter).
Offering guests of the inn hands-on experiences in November and December, forager Lori McCarthy explains that there are plants here, such as the Arctic bilberry, that she's never seen on the "big island" of Newfoundland. After all, Fogo is almost four times as large as Manhattan, with only some 2,200 residents. "Put simply, the sub-Arctic terrain paves the way for spectacular foraging," the former chef of Blue on Water in St. John's and founder of the culinary excursion company Cod Sounds tells me. "It's an amazingly untouched landscape."
The inn's executive chef, Jonathan Gushue, creates dishes that tell the traditional foraging story with a unique flavour—from local juniper in the pork breakfast sausage to a three-season trio of red cabbage salad (cellared in July) with rhubarb (June's trap berth season) and blueberries (berry season). But he isn't afraid to play with invasive species. Collected over just a few days as it sprouts at the start of spring, knotweed—a scourge of gardens across the globe that's even crept onto Fogo—deliciously speckles cured hook-and-line-caught cod cheeks.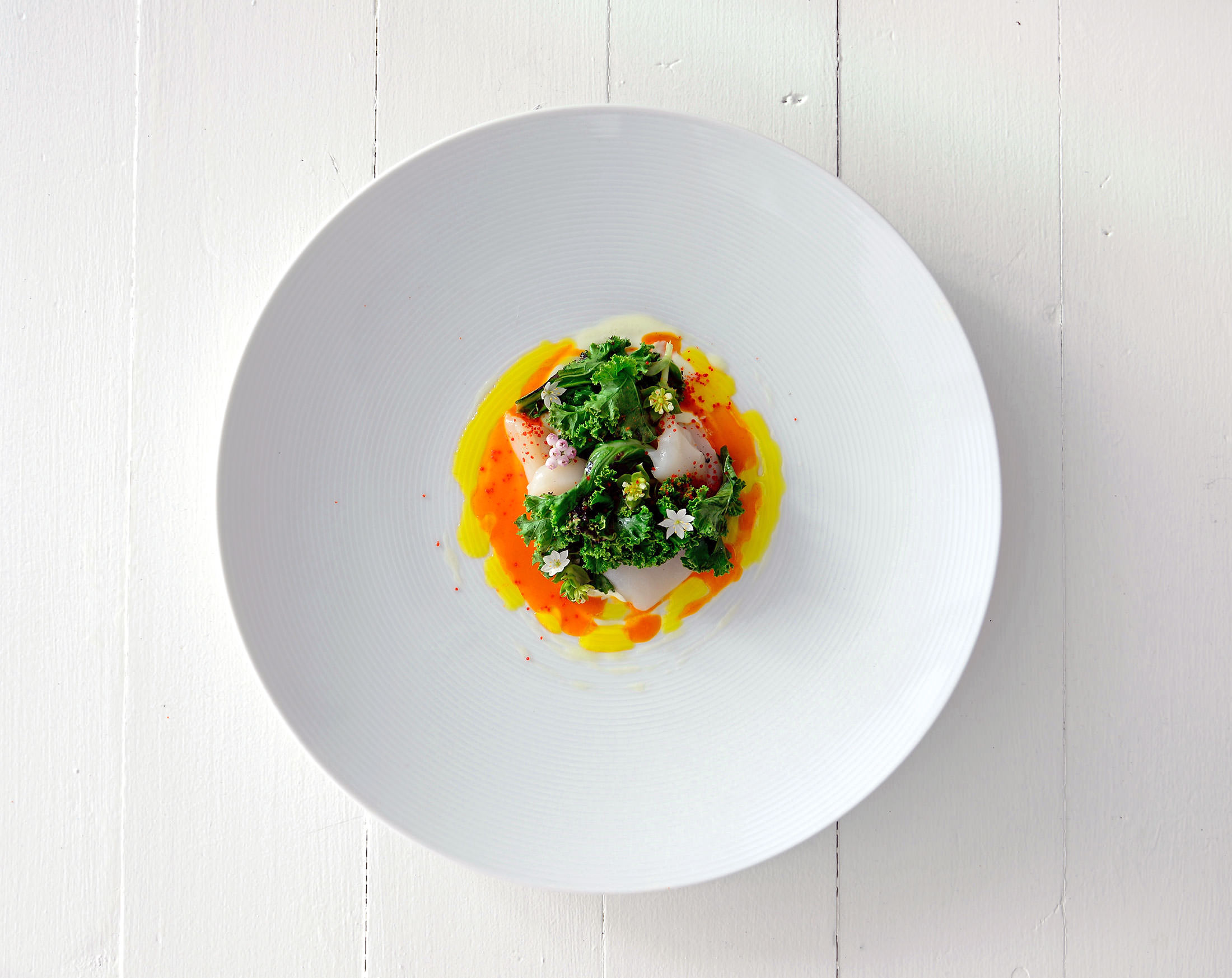 "Knotweed and fireweed have become our poor man's asparagus," he enthuses. "Each plate represents a commitment to place by the way we source. We always begin with a single ingredient from Fogo first, then the main island."
It's the embodiment of the inn's "economic nutrition" mantra, created when it opened in 2013. The masterpiece of entrepreneurial visionary and Fogo Island native Zita Cobb and Newfoundland (now Norway-based) architect Todd Saunders, this hotel's profits are channelled back into the charity that owns it: the Shorefast Foundation.
Lori McCarthy believes that, doubly far away from the "rushed world", there's a heightened sensory moment for visitors to this corner of the Earth. Taking the time to stop, sit, smell, and taste, she believes, creates a growing "appreciation for place".
"It's all about the anticipation of waiting for something in season—it becomes so damn special," she insists. "You only have two weeks to pick some of these things, and then that specific flavour at that specific time is gone for another year."
---
Join us as we travel the world.