Those who decide to make the leap and purchase a Porsche 911 are faced with two options: treat it with kid gloves like some sort of museum piece, or use it as intended and learn how to push it to the limits of its performance. The latter often starts with a track day.
A dealership or local club might invite owners to learn how to drive their new purchases more skillfully with the help of instructors in a controlled racetrack environment. For some, it's not much more than a fun day out, but for others it becomes an unforeseen gateway into the speed, competition, and raw adrenaline that is the Porsche 911 GT3 Cup car and Porsche GT3 Cup racing.
Next year's season will mark the 10th anniversary of the Porsche GT3 Cup Challenge Canada, presented by Yokohama, one of more than 20 single-make series facilitated by the automaker worldwide. From the beginning, it has attracted two types of competitors: young aspiring drivers on a path to professional racing at an international level, and some of Canada's most enthusiastic 911 owners, who want to put themselves to the test against them.
"I can only describe it as an addiction," says Marco Cirone, the driver of the No. 88 Porsche 911 GT3 Cup for Mark Motors Racing, who competes in the Masters class for drivers over 45 years of age. He has taken part in the series every year since it was founded in 2011.
"I've always loved racing, since I was a kid, but when I was a teen and in my 20s I couldn't afford it. Now that I can, I feel so incredibly privileged to be able to do it."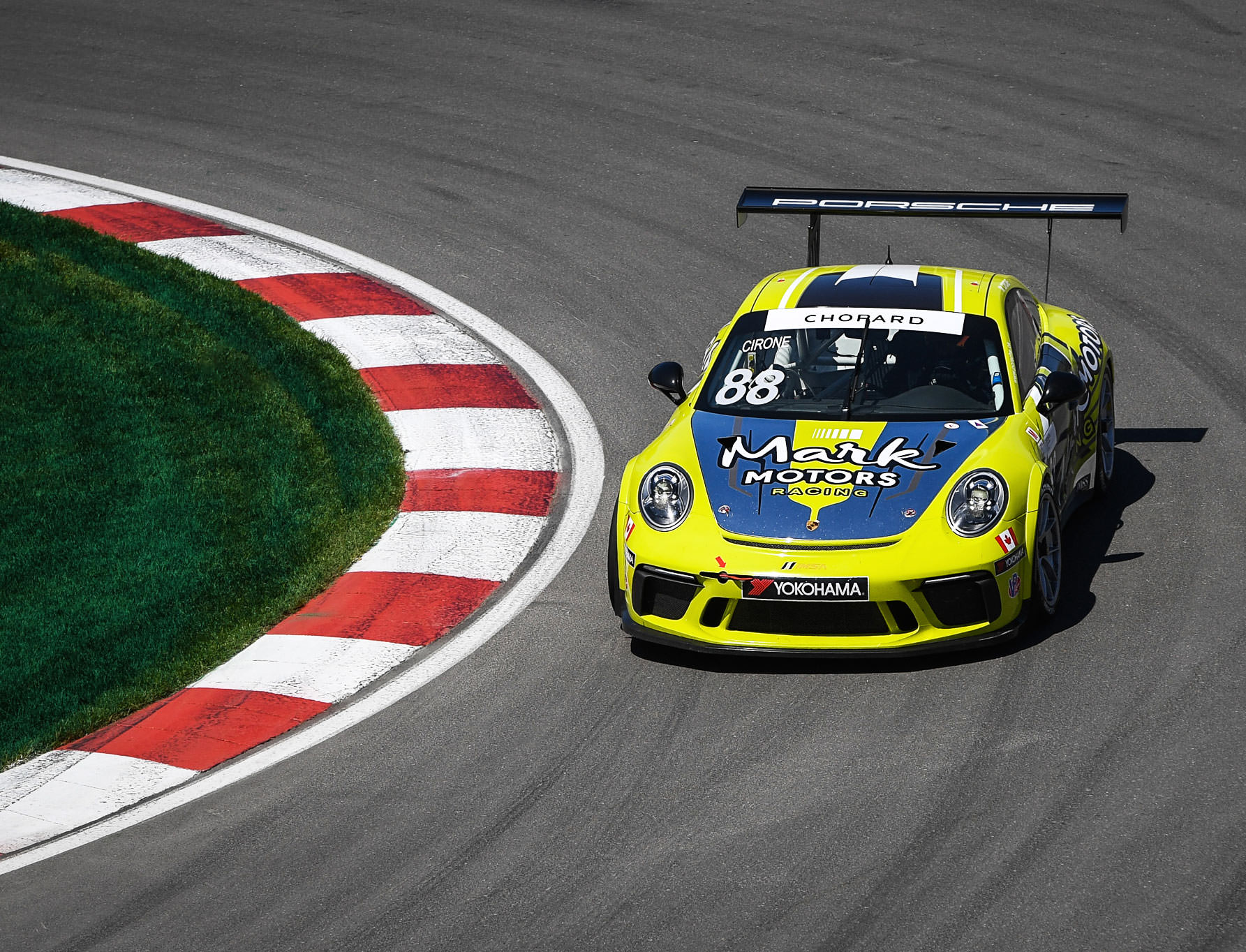 It sounds like fun and games, but the commitment is intense. The series visits six different venues during the season, including two of the premier motorsport events in Canada—the Formula 1 Canadian Grand Prix in Montreal and the Honda Indy Toronto at Exhibition Place—as well as Canadian Tire Motorsport Park and a cross-border stop at Road America, two of the most daunting natural-terrain road courses on the continent. The Montreal and Road America rounds are run jointly with Porsche GT3 Cup USA, attracting more drivers and teams, and extending the field of competition even further.
A stout budget is required: the cost of a track-ready 911 GT3 Cup car alone approaches $300,000, and drivers at every level need to physically train and spend time studying each course in advance to have a chance of being competitive.
One of the young Canadians who has taken full advantage of the opportunity presented by the series is Zacharie Robichon. The 27-year-old from Ottawa topped off a progression through the Porsche GT3 Cup Challenge Canada with a series championship in 2018, including a win in every single race he contested in the United States. This success allowed him to race in the premier sports-car racing series in North America—organized by the International Motor Sports Association (IMSA)—in 2018. In partnership with the Pfaff Motorsports racing team, Robichon claimed the first IMSA class victory of his career at Lime Rock Park in July. (Pfaff Porsche is based in Woodbridge, Ontario, and has captured the attention and imaginations of race fans across the country by sporting a red-and-black plaid livery that speaks to the high percentage of the team's engineering and administrative staff being Canadian.)
Robichon's first full-time IMSA season has seen him accomplish multiple firsts, including 24-hour endurance races involving multiple mid-race pit stops with driver changes. And these opportunities have come as a direct result of his 2018 win at the Porsche GT3 Cup Challenge Canada.
"When I was in Germany [for the Porsche Day of Champions last December], I spoke to them about the series in Canada," Robichon says. "They're all very impressed that out of such a small market we can actually produce some of the best drivers.
"The fastest guys in the Canadian series are almost always some of the fastest in the world."
Cirone was Robichon's teammate through his championship season, and he's also shared a garage with up-and-coming Canadian racers such as Roman De Angelis and Scott Hargrove. He says the opportunity to learn alongside these talented drivers, and the collaborative team environment that Mark Motors Racing provides, has helped him hone his race craft over the years.
"I was always fast, but I was a bit of a loose cannon in the beginning," Cirone says. "My awesome team taught me how to stay calm and focused."
For Porsche 911 aficionados specifically, sports car enthusiasts more generally, or even those who are simply enamoured with speed, the opportunity exists here in Canada to pursue this passion at a new level. With talent, determination, and a bit of luck, there's no telling how far you'll go.
---
Like this story? Read more in Transportation.