Tiffany & Co. has a long history with men. The men who shop in its stores (equal in number to women), the men who wear its classic signet rings and cufflinks, and—even if they don't know it—the men who follow football, baseball, basketball, and other professional sports, who cheer as Tiffany-made trophies are raised at the end of the season.
For Reed Krakoff, who took over the design reins at Tiffany & Co. in February 2017, reimagining the men's collection was a priority. "It's clear that men are taking a broader interest, not just in jewellery, but in accessories too," the chief artistic officer explains by phone from New York. "It was a good time for us to review what we were doing and start working on a fresh approach."
But before he looked to the future, Krakoff did his homework, researching past Tiffany men's collections, building a picture of what had done well, which pieces had achieved classic status, and where he saw opportunities for a new perspective.
"We had this incredible assortment of quite tailored, refined pieces," he notes, "but not many options that fell into a more casual category—those everyday pieces that work as much as part of a person's wardrobe as they do as a piece of jewellery."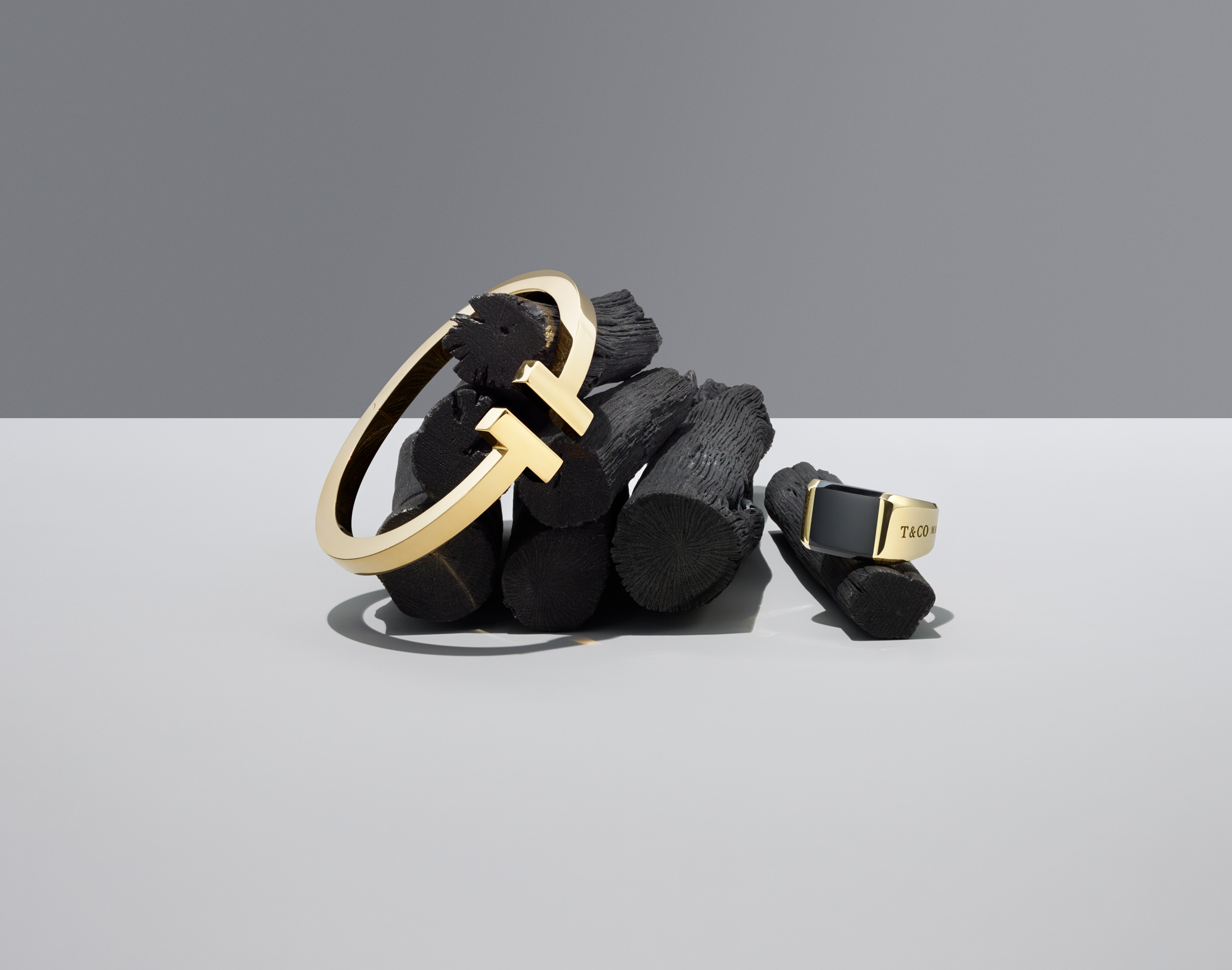 Krakoff sees this shift as more than simply generational: "I think it's rooted in a more holistic change," he suggests. "Social media has been a huge influence—people really are curating all aspects of their lives. And I think what we are doing is part of that—offering ways for people to show their personal style through how they choose to represent it, and how they live."
To that end, Tiffany Men's—which launches in October—is more than a reworking of classic jewellery silhouettes. With the Tiffany 1837 Makers collection, Krakoff honours the Tiffany silversmithing legacy by boldly stamping symbols such as T & CO MAKERS and AG925 (referencing the standard for sterling silver in the United States, originally set by Tiffany) to reflect a utilitarian edge. The Tiffany 1837 Makers Trophy Ring in sterling silver and yellow gold (a particular favourite of Krakoff's) is a direct nod to the design house's connection to sports.
With Diamond Point, he introduces a more elevated, mostly die-struck and hand-polished collection that, along with jewellery, includes barware, tools, and games. A beautiful cocktail bar spoon may not stray too far from what we might expect Tiffany to offer, but a tape measure? A protractor? These are surprises.
"We're really broadening the idea of Tiffany Men's to speak to the idea of everyday luxury," Krakoff counters. "The pieces are extraordinary and precious, but you can enjoy them every day.
"I feel that's the centre of true American luxury—something you can use, not something you put away and take out once a year."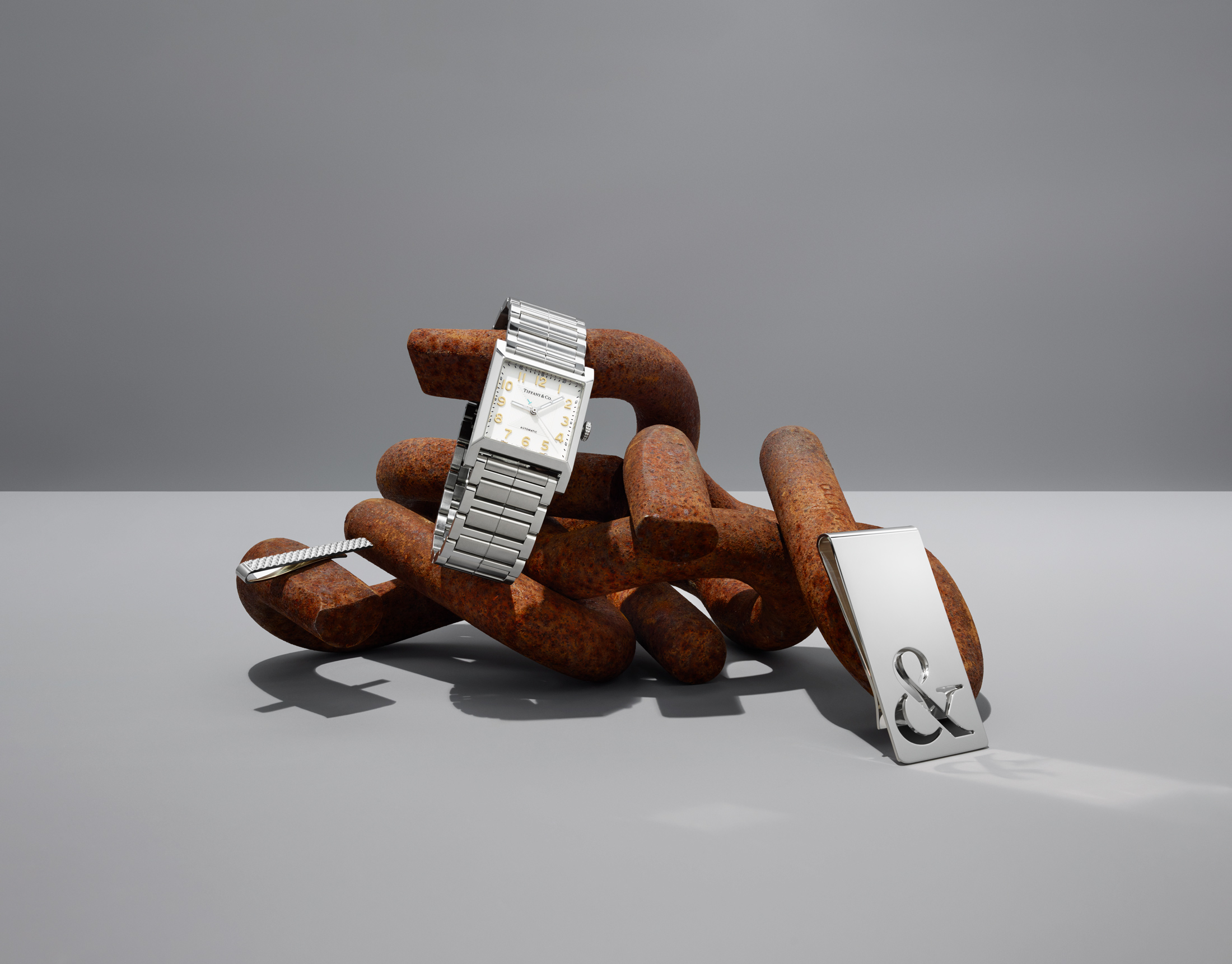 Although the collection puts Tiffany on trend, its designer is emphatic when he says, "We don't want to be trendy. Everything grows from the core of what we are known for, what we represent.
"We remain committed to quality and tradition, to making things the right way," he insists. "There are no shortcuts, no skimping on materials. We work with the best materials, artisans, and craftspeople available. That's non-negotiable."
There's also room to have some fun. A chess set was cut from corrugated cardboard before being cast in sterling silver—a difficult process that, Krakoff says, is evidence of the adventurous, innovative spirit of the Tiffany team. "It took some time to figure out how to keep that corrugated look in silver," he admits. "The idea was to create something with a bit of wit, a bit of irreverence to it, but undeniably luxurious."
And Krakoff is not yet done with men: he is already exploring a "high jewellery" concept. "We're looking at more precious stones, platinum—the rarefied end," he says. "We are discovering the possibilities of how luxury can play into a man's life."
---
Read more from our Autumn 2019 issue here.