When it was completed in 1910, Frank Lloyd Wright's Robie House would certainly have marked a departure from the more staid or traditional forms throughout Chicago at that time, says the house's operations manager, Joe Barrett. While some of Wright's contemporaries might have recognized his architecture as progressive and even found it inspiring, today his work is appreciated as a cornerstone of modern American building design.
During an $11-million restoration of the property concluded in March 2019, the home remained mostly open to the public—the property hosts between 35,000 and 44,000 visitors annually—and Robie House has since been designated a UNESCO World Heritage Site. Original sketches of the home, plus a diary kept by one of its previous owners, were invaluable in replicating some key features and preserving crucial aspects.
"When we first started the restoration, water was actively entering the building, the soffits had icicles during the winter, and bricks were spalling," says Karen Sweeney, preservation architect and facility director of the Frank Lloyd Wright Trust. "Our first work was structural stabilization, masonry repointing, and then installing a new reproduction roof—keeping the building watertight. Only when this and the electrical, mechanical, and life safety were updated did we start work on the interior finishes."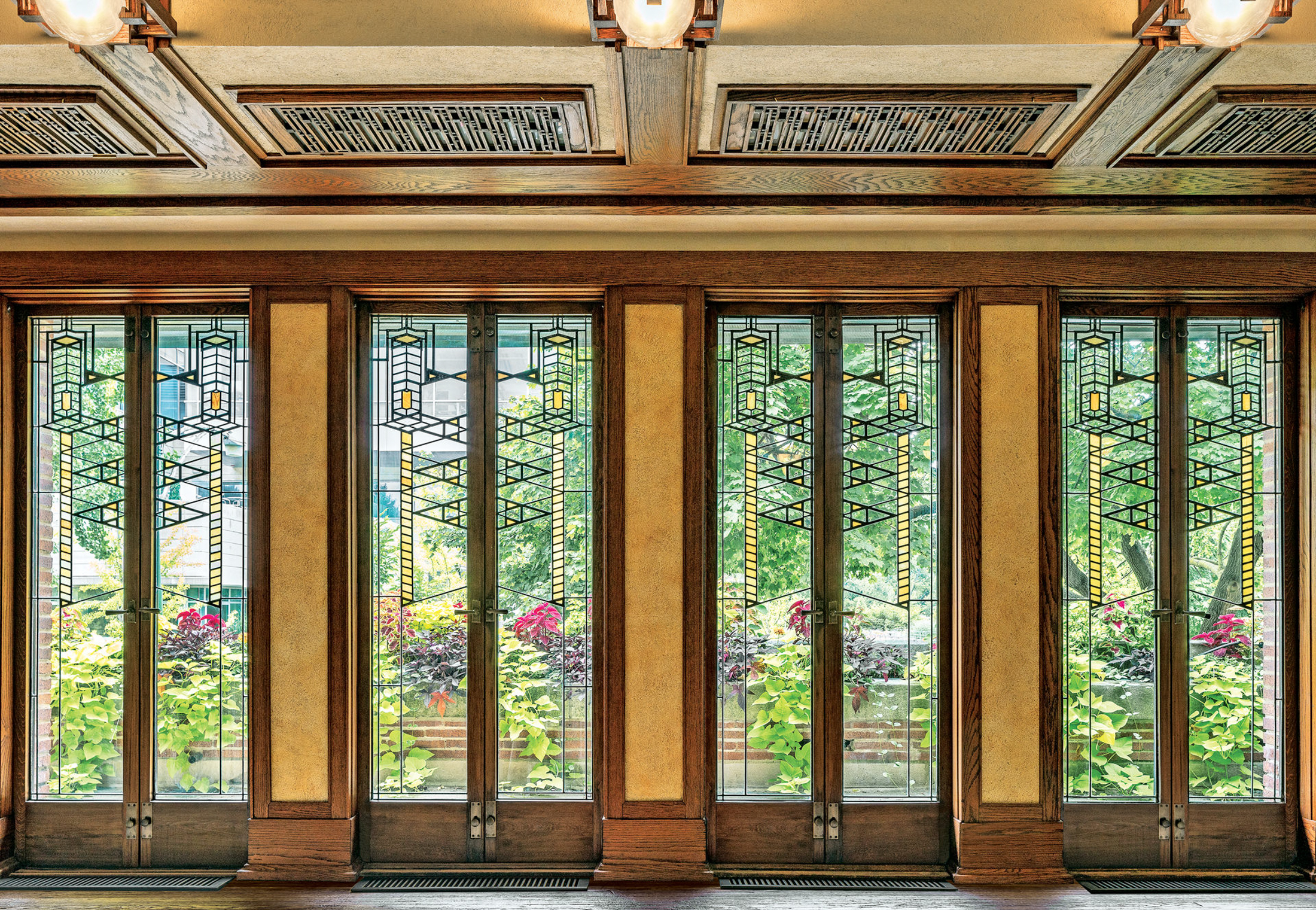 In 1907, Frederick and Lora Robie (a monied couple in their twenties) were looking to build a house, start a family, and throw fabulous parties. Lora, a University of Chicago graduate, had a soft spot for the affluent Hyde Park neighbourhood and wanted to build there. The couple interviewed several architectural firms that didn't see eye to eye with their modern design sensibilities, and each referred them to an architect who would likely be a better fit—Frank Lloyd Wright.
Wright had already established his Prairie style of American design through a series of residential projects in and around Illinois. With its horizontal lines, low, flat ceilings, and open floor plans, Robie House represented both the style's culmination and its consummate expression. "'Breaking the box' is what this was called," says Barrett. "Literally, a disruption of a more classic box-like construction."
Wright changed the way people live, says Chicago Architecture Centre docent Wayne Johnson. "Prior to the Prairie style movement, people were living in the parlour effect"—boxy, purpose-specific rooms, such as a front and back parlour, study, nursery—Johnson explains. "He is the reason we have loft living, mid-century modern homes. He created an American sensibility with his architecture."
Robie House combines many of Wright's signature touches, such as iridized exterior windows with copper-plated zinc panes that cast a soft, glowing quality of light indoors, and a central fireplace that is shared on both sides and separates the living and dining rooms. Magnesite stairs (imagine the feeling of leather under bare feet) feature throughout. Radiators are hidden, and Wright's signature Celtic cross logo appears in orb-like light fixtures, giving it a three-dimensional look. Pennsylvania iron-spot brick is used inside and out.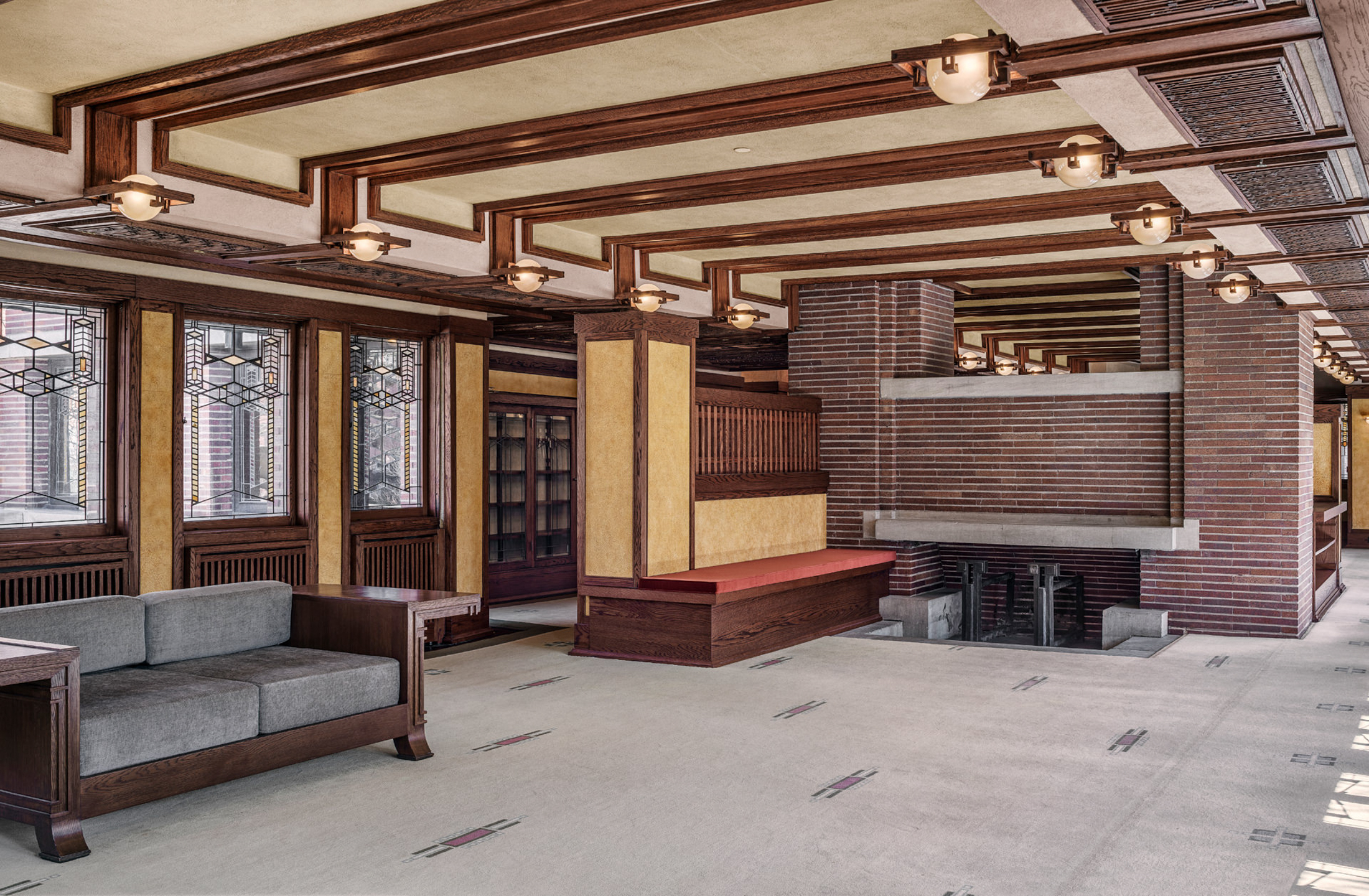 A key piece of furniture is the dining table—a masterpiece of form and function. There are no central light fittings in the dining room to disrupt sightlines or conversation; instead, the table's four corners each have slightly raised, wired light fixtures, operated by a button hidden underneath. There is also an intercom system, suspected to have been built into the table, or at least into the room itself. "We do not know for sure, but remnants remain within the wood floor and under the current carpet," Sweeney explains. "This was also most likely the location where power fed the light fixtures that sit in each corner of the table." Barrett smiles, noting, "It's basically a smart table, built in 1910."
Only 14 months after moving into their new home, the Robies had to sell due to the death of Frederick's father and some financial hardships. The Taylor family became the new owners in 1911, then the Wilburs in 1912, who sold it to the Chicago Theological Seminary in 1926. It operated as such until 1958, when it was bought by real estate developer Web & Knapp, which, four years later, gave it to the University of Chicago. It has survived several threats of demolition; Frank Lloyd Wright himself started a PR campaign in both 1941 and 1957 to save the house. "He cherished the Robie House and what it meant to the world. This was the only building to inspire such a reaction by him," Barrett says.
The UNESCO site listing is an incredible honour, Barrett says. "It establishes Wright's place on the global stage. People travel from all over the world to visit these sites." He recalls an architect from Argentina who was moved to tears witnessing Frank Lloyd Wright's work in person. "It touches people like that. Good design is meant to move people."
---
This article is from our Spring 2020 issue. Read more in Design.