"Can you do this one?"
Stan Douglas is attempting to demonstrate a complicated Hula Hoop move—without the hoops. He stands on one leg, the other stretched out behind him, his body perpendicular to the floor, arms spread wide. He tries to rotate his three airborne limbs but loses balance and, laughing, returns to the vertical.
Levity and playfulness are not characteristics one naturally associates with Douglas, one of Vancouver's most feted visual artists. He is notoriously private, a photographer resistant to his own image being captured, and produces work that is at once cerebral and technically complex. Yet here he is. Hard at it and clearly enjoying himself.
"Where's the frog?" Douglas is staring at two men, one all done up in an elaborate devil costume, complete with forked tail, the other in a sandy-coloured onesie, holding a large leonine head. "The lion isn't in this shot."
"We need the frog. Where is the frog?" a member of the production team yells, before a chap clad in skin-tight, bright green velour ambles down from the bleachers.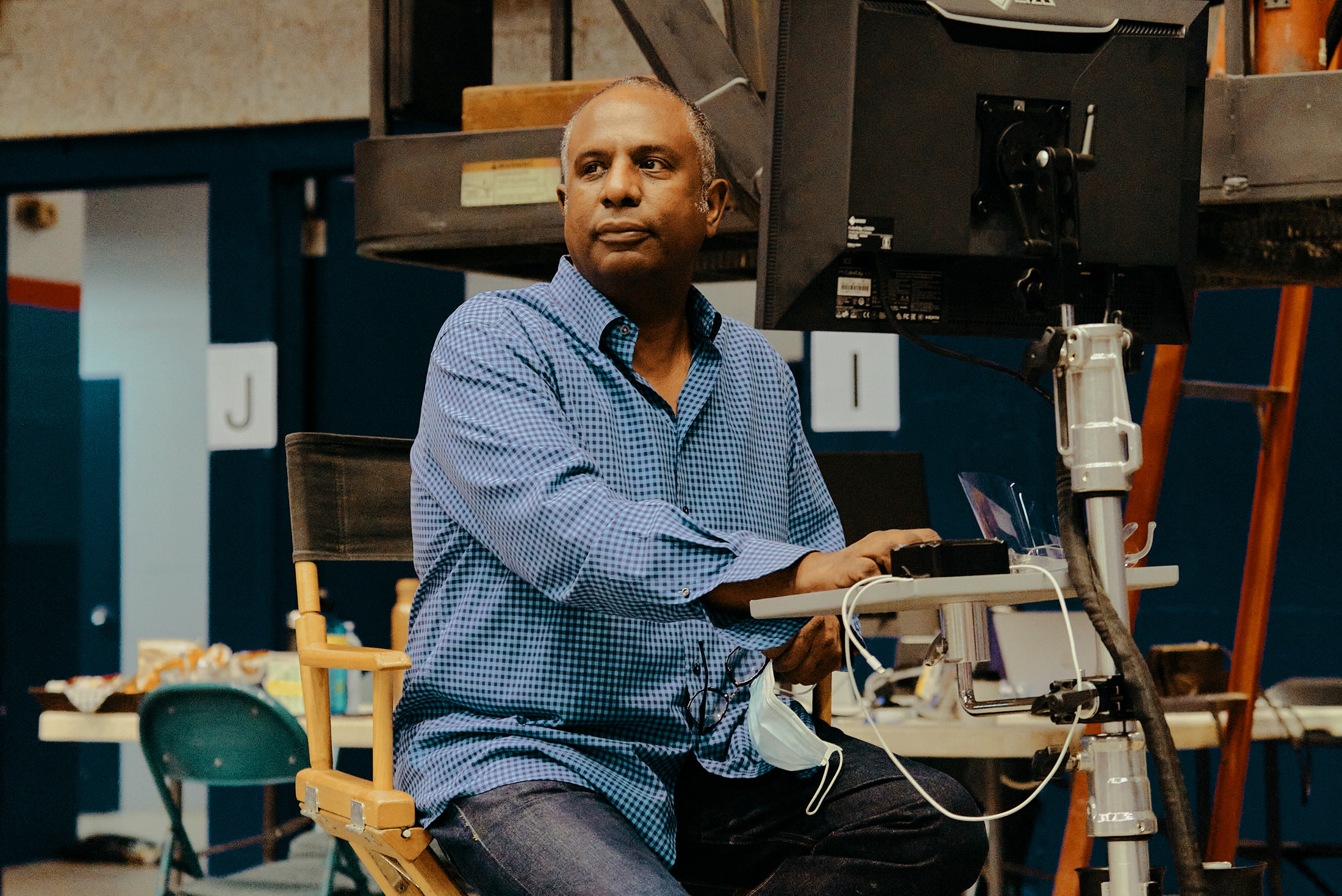 We are inside the PNE Agrodome on a sweltering July day. Douglas is on the final leg of a four-day shoot for a set of nine scenes on four murals commissioned for Moynihan Train Hall—a massive expansion of New York City's Penn Station complex being constructed across from the site of the original Pennsylvania Station, demolished in 1963.
With a working title of Penn Station's Half Century, the project was one Douglas was asked to pitch for along with two other selected artists. This is not something he would normally agree to—it's a lot of time and effort, and, frankly, he is successful enough to not need the hassle—but he was instantly attracted to the idea. "I saw an image of the original Penn Station, and I immediately recalled the opening scenes of Stanley Kubrick's The Killing, which were shot there," he explains. "I thought it would be amazing if I could show historical scenes pulled from real life."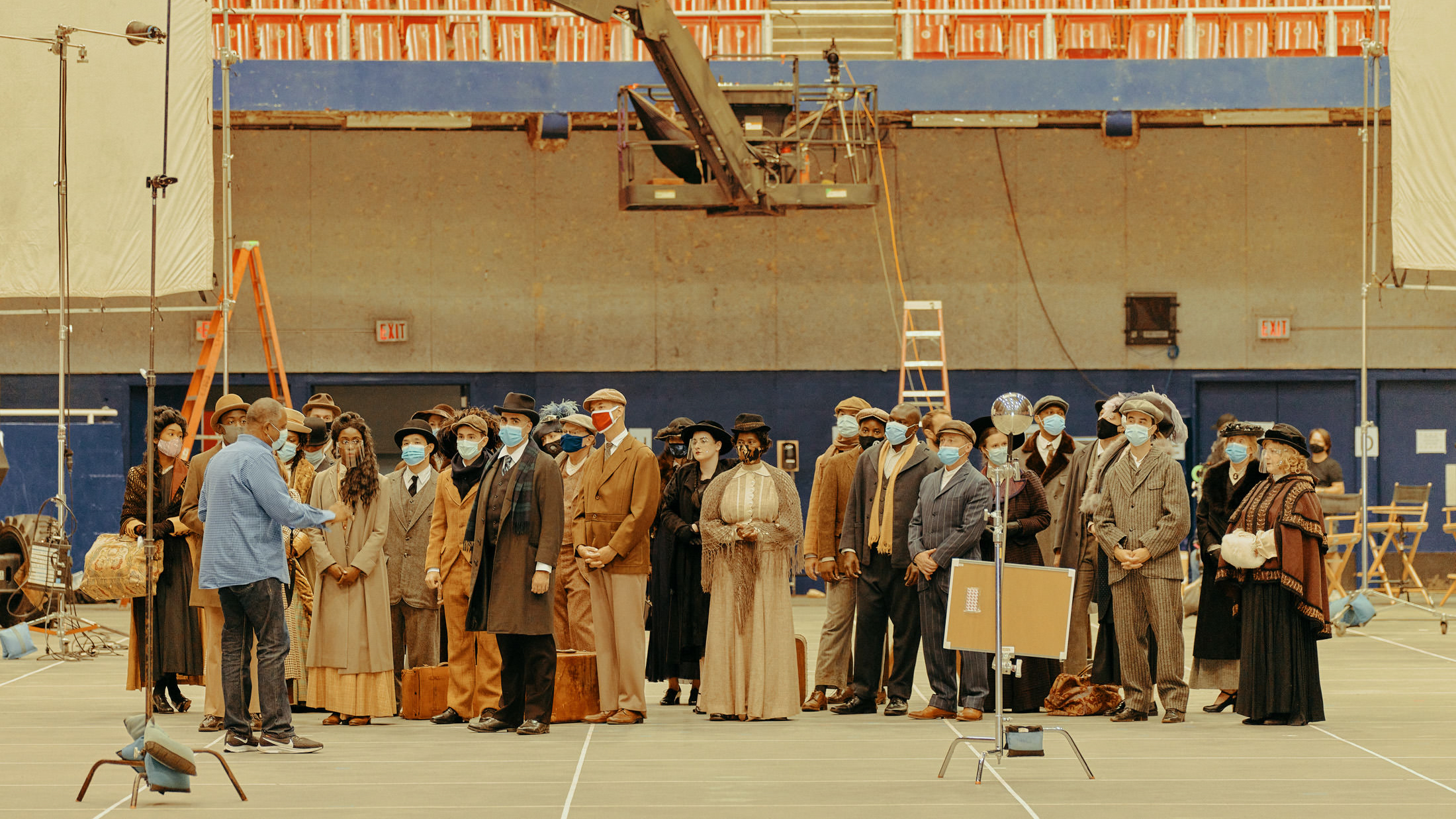 This is not new territory: much of his work involves a retelling or reimagining of the past, most often with the use of new technologies; art as dialectic, not documentary. He has run strips of archival Edison footage of the Rockies over a voice reading from what he calls "the last bourgeois novel," Marcel Proust's In Search of Lost Time (Overture, 1986) and refracted his impression of the Cuban revolution through a series of video elements built across two loops, the shifting and repeating nature of which he posits as an analog of a movement full of good intentions that were never fully realized (Inconsolable Memories, 2005). He has exhibited to acclaim around the world, and has shown at the Tate in London and New York's Museum of Modern Art. In 2019, he received the $100,000 Audain Prize, awarded to Canadian artists of distinction. He has been chosen to represent Canada (the first Black artist to do so) at the 59th Venice Biennale in 2022 (pushed on a year due to the COVID pandemic). Vancouverites only have to look up as they enter the atrium of the Woodward's Building to see his 2009 piece Abbott & Cordova, 7 August 1971, a 13-by-eight-metre photograph enclosed in glass depicting the Gastown Riot.
Douglas, who turns 60 in October, was born in Vancouver, growing up in Point Grey and attending Lord Byng high school. "It was a different neighbourhood back then," he tells me when we meet at Crab Park the week after the PNE shoot. "My friends were the children of UBC professors or bikers. There were these youth gangs that were present in the city, and they'd be selling marijuana at a place called the Brass Doors—where the theatre is now at Byng."
He was one of only two Black kids at the school. "The thing that annoyed me most was when people asked me where I was from and I would say Vancouver and they would say, 'No, where are you really from?' It was constant." (In his 1991 micro short I'm Not Gary, Douglas shows a white man passing a Black man on a Vancouver street. "Hi, Gary," says the former, becoming visibly agitated that his greeting is ignored. The Black man eventually turns and responds, "I'm not Gary.")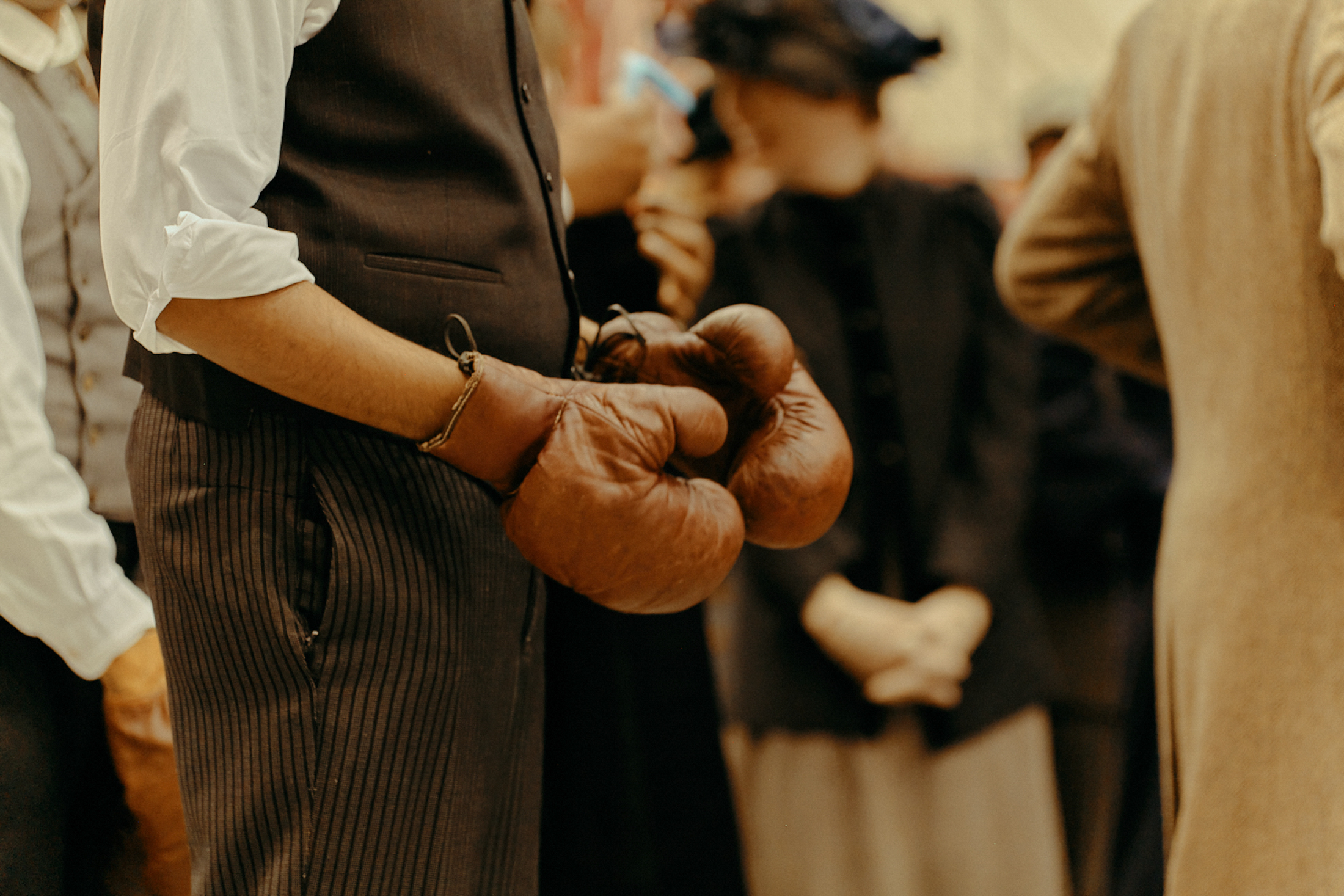 He is protective of his personal details, partly because he thinks the work should stand for itself and partly because he was burned early on. "Years ago, I was interviewed by Time magazine, and the interviewer asked about my parents and wondered if they were artistic," he recounts. He told them his father was a neurologist and that his mother always had books around, that perhaps looking at those books inspired him. When the interview was published, he was appalled.
"This turned into 'Stan Douglas, the son of a neurologist and a well-read housewife,'" he says, clearly still incredulous. "My mother was a single parent, raised me by herself, worked every day of her adult life, and was the first assistant to the dean of science at UBC. To be referred to as a well-read housewife was horrific."
And anyway, he reiterates, the conversation should be focused on the work.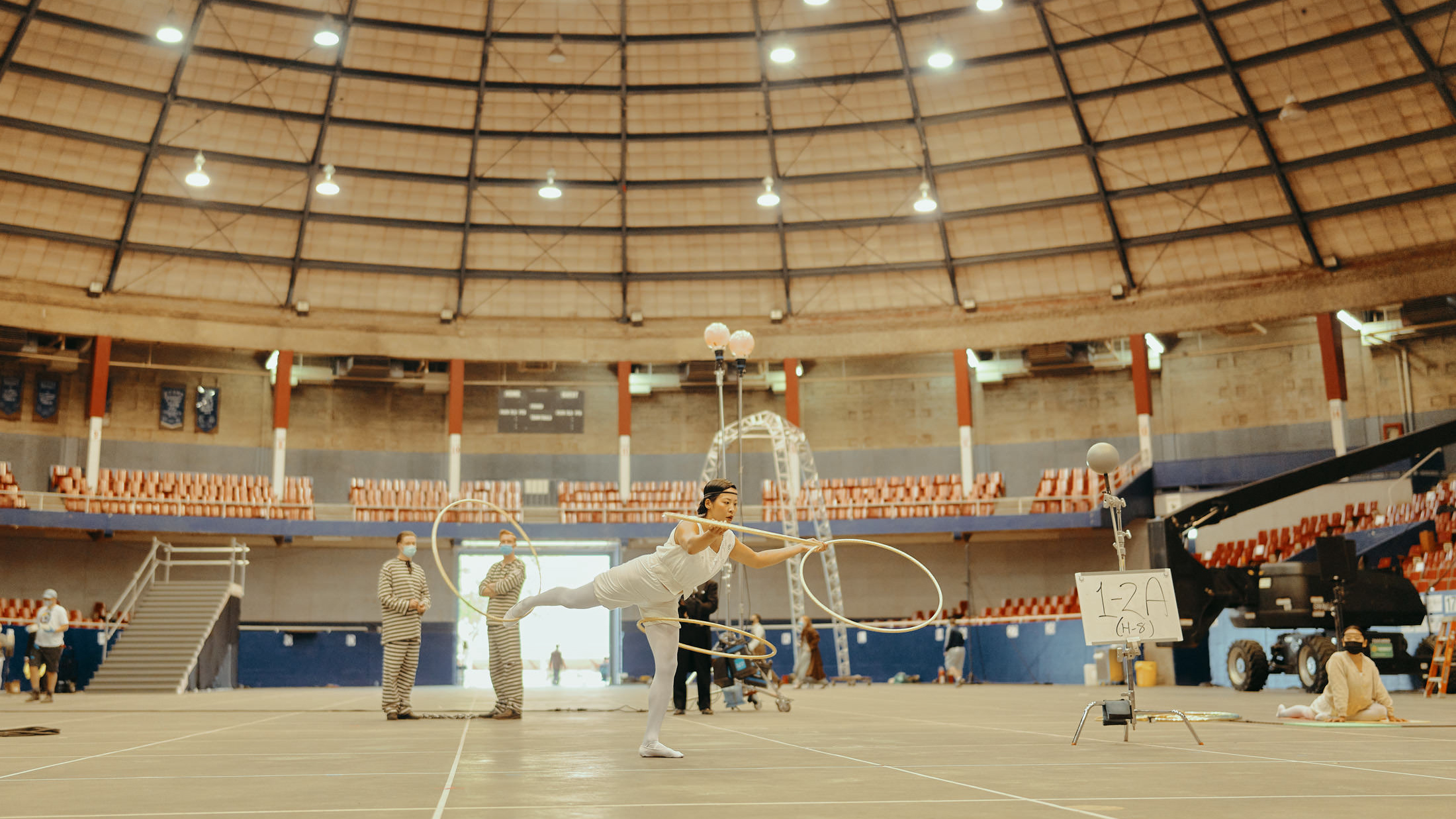 "I tell my students, unless your name is Malcolm X, I don't want to hear about your autobiography. Because all art is autobiographical, a priori, because you can't work on anything that's beyond your experience.
"My main problem," he continues, "is that people want to think that art is a symptom of the artist's personality, and their biography is the key to the work, whereas I think the work, when it enters into circulation, it becomes part of the social conversation, and it can change that conversation, transform that conversation, and the artist's intention is often only a small portion of what that conversation is."
So let's talk about the work. When his selection as Canada's representative at the Venice Biennale was announced, he says, it was noted that his work involves making structuralist films using the apparatus of commercial cinema.
"I had never thought about it in that way," he shrugs. "But that's exactly what I do."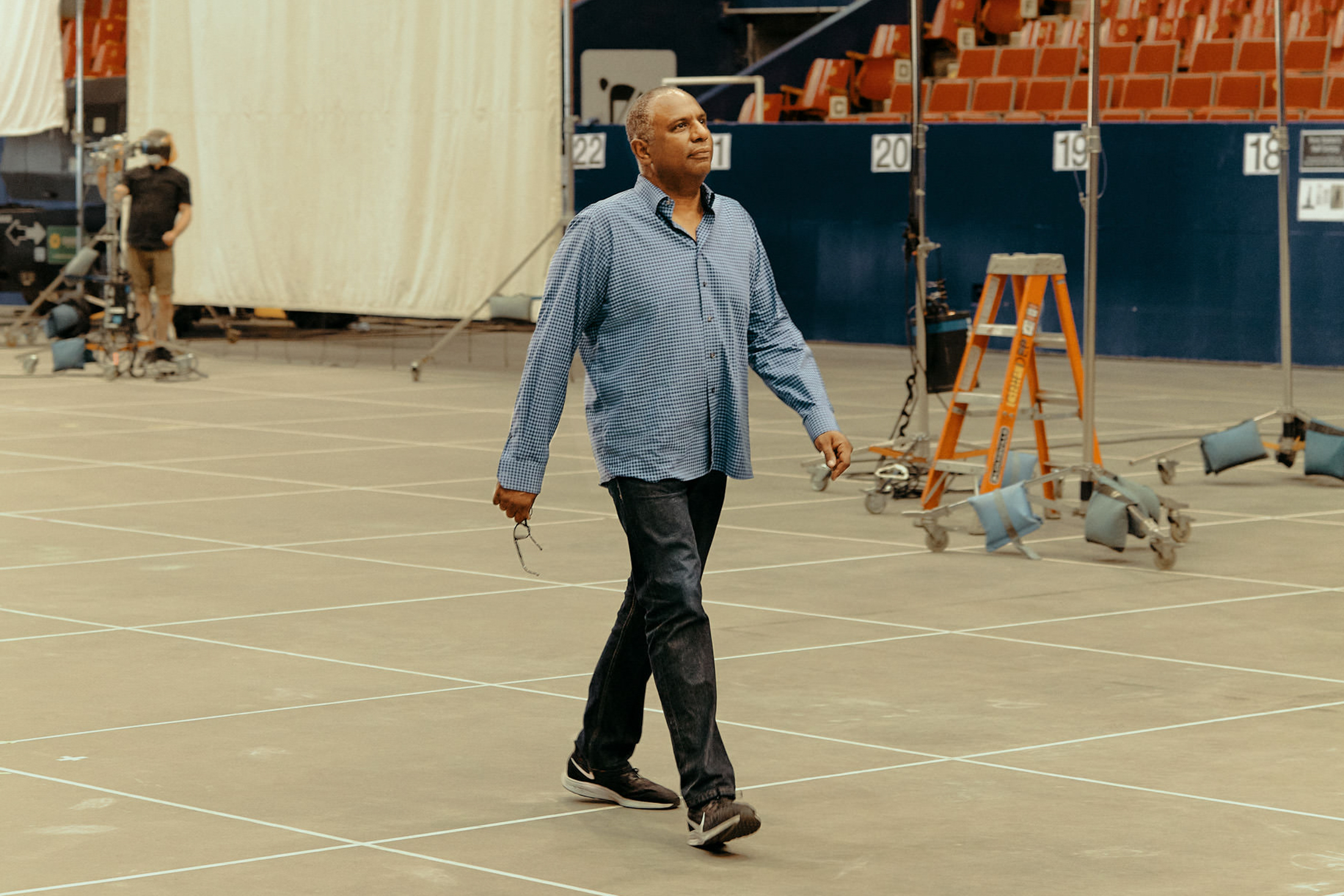 Inside the Agrodome, it does indeed feel like a movie set. There are cranes and massive overhead diffusers and a large technical crew, including a VFX specialist glued to a monitor, checking every tiny detail. I'm shown impenetrable drawings filled with numbers and lines of vision that relate to a grid marked out across the floor to help keep track of where characters are in relation to the camera. The space is so much smaller than the station it is standing in for, each image is being shot in three parts, the extras, camera, and lights having to be turned and moved around specific fixed points so things match up when they are composited. The complexity is mind-boggling.
Certainly, his fascination with technology—both as artistic expression and its effect on the way we perceive reality—permeates everything Douglas creates. It's not simply the means to turn an idea into art, it's part of the pulse of his thinking. But, while it is easy to become overwhelmed by the process behind his work, step back and you see a very particular world view: the form is front and centre, but the content is no less radical. Take this project: from 50 years of station concourse history, Douglas has pulled a handful of stories to depict. Yes, there are more general images of people arriving in the city for work, saying goodbye to loved ones, and—in truly meta fashion—a mock-up of behind the scenes on the Judy Garland picture The Clock, set in Penn Station and shot on a set in Hollywood.
But the other stories he is depicting perhaps say more about who Douglas is. Take Black vaudeville entertainer Bert Williams: "He was the first Black person to appear in the Ziegfeld Follies, the first Black man to direct a silent film, the first Black man to have a Broadway play produced. His whole project was to wipe out the use of blackface on Black people, and he did this by really anticipating the Harlem Renaissance and pan-Africanism by introducing various kinds of Blackness into his theatre—people from the Caribbean, people from Africa. He wanted to bring some nuance to the point of view in the States that you are Black or you're white."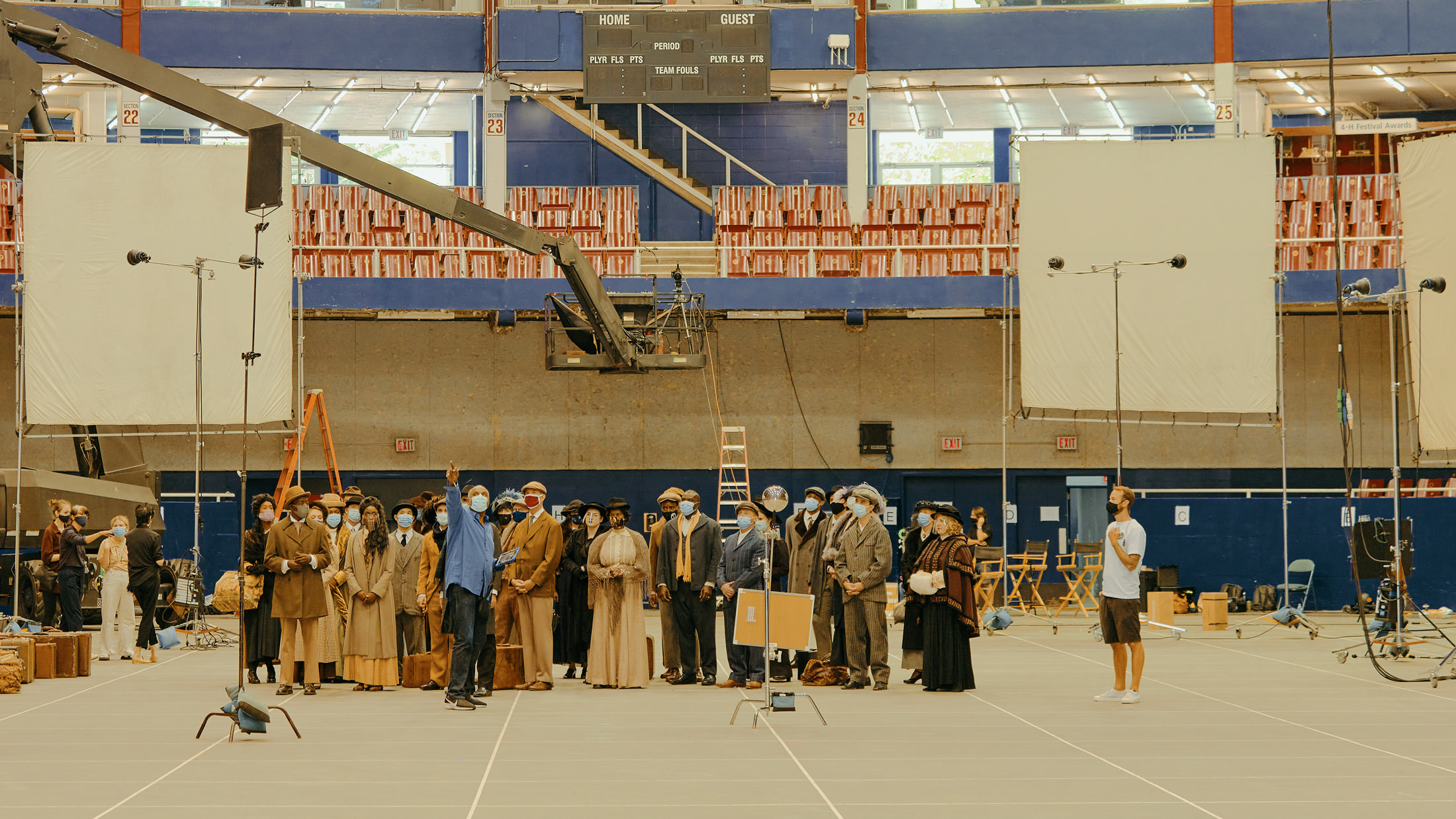 Then there's Angelo Herndon, an African American union organizer from Atlanta, charged with insurrection: "He was something of a folk hero. Bail was set at several thousands of dollars—an impossible sum in 1935—but there were so many contributions by the public, as low as 25 cents, he was able to get out. Five thousand people showed up to see him arrive in Penn Station."
That people had to physically journey to the station to catch a glimpse of a celebrity (Celia Cooney, the so-called Bobbed Haired Bandit, is another featured real-life character that the public swarmed there to spot) is interesting to Douglas. "That's a very different relationship to reality," he proffers. "We experience the world through technical images all the time, and we're not physically present. How does that affect our consciousness?"
As we wrap up, I ask him how much of the work is play for him, and he frowns slightly.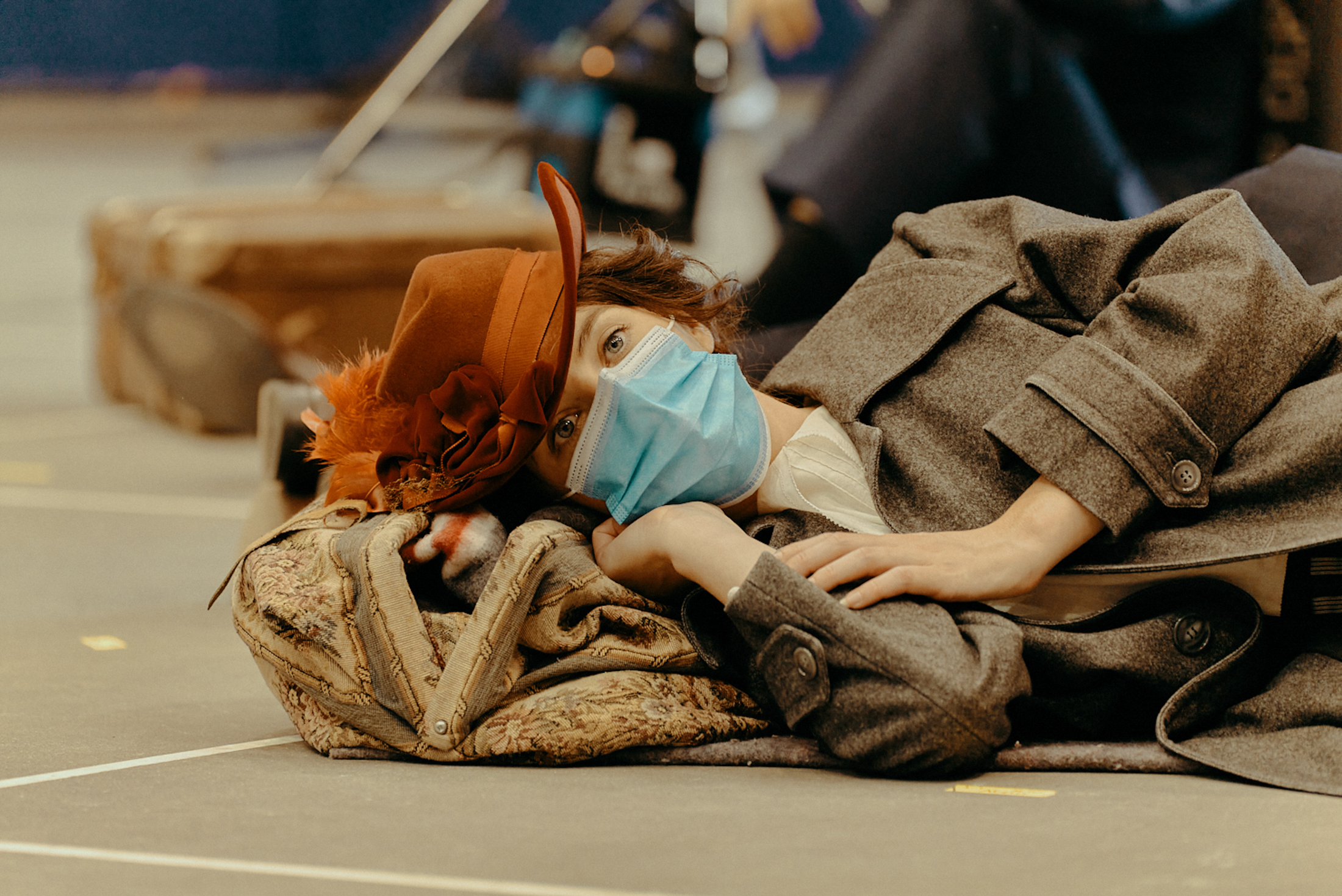 "It starts with an idea, which turns into some kind of road map, and a plan, and when I shoot, then it's play," he says after some thought. "I want to have something in place so I don't come away with nothing. Photography especially is a kind of collaboration with the real—you don't really know what is going to happen until you see the final product. Things are captured that you can't control—which is what is so amazing about it.
"But in the act of making, that's when I get to play," he smiles. "I can put things in motion that even surprise myself."
---
This article is from our Autumn 2020 issue. Read more from our Arts section here.