When Nicolai Ellitsgaard received his first Michelin star, he decided to not hang it up for all to see. It was early March 2020—almost a year after his restaurant Under had first opened—and the Norwegian government had just sent out the news: the country was going into lockdown.
"It didn't feel right that people should be looking into the window and see a Michelin sign when the restaurant is totally black. For me it was like a bad sign." After guests were notified and logistics finalized, "in the car driving home, it felt like a close family member had died," Ellitsgaard says. Leaving the restaurant felt like abandoning ship.
Under is located along Norway's southern coast in the quiet resort village of Lindesnes. Designed by the Norwegian architecture firm Snøhetta, the structure is partially submerged, impossibly, five and a half metres below sea level in the North Sea. Built of local oak and concrete, it all but liquefies into the space between land and water, like a grey whale in mid-dive.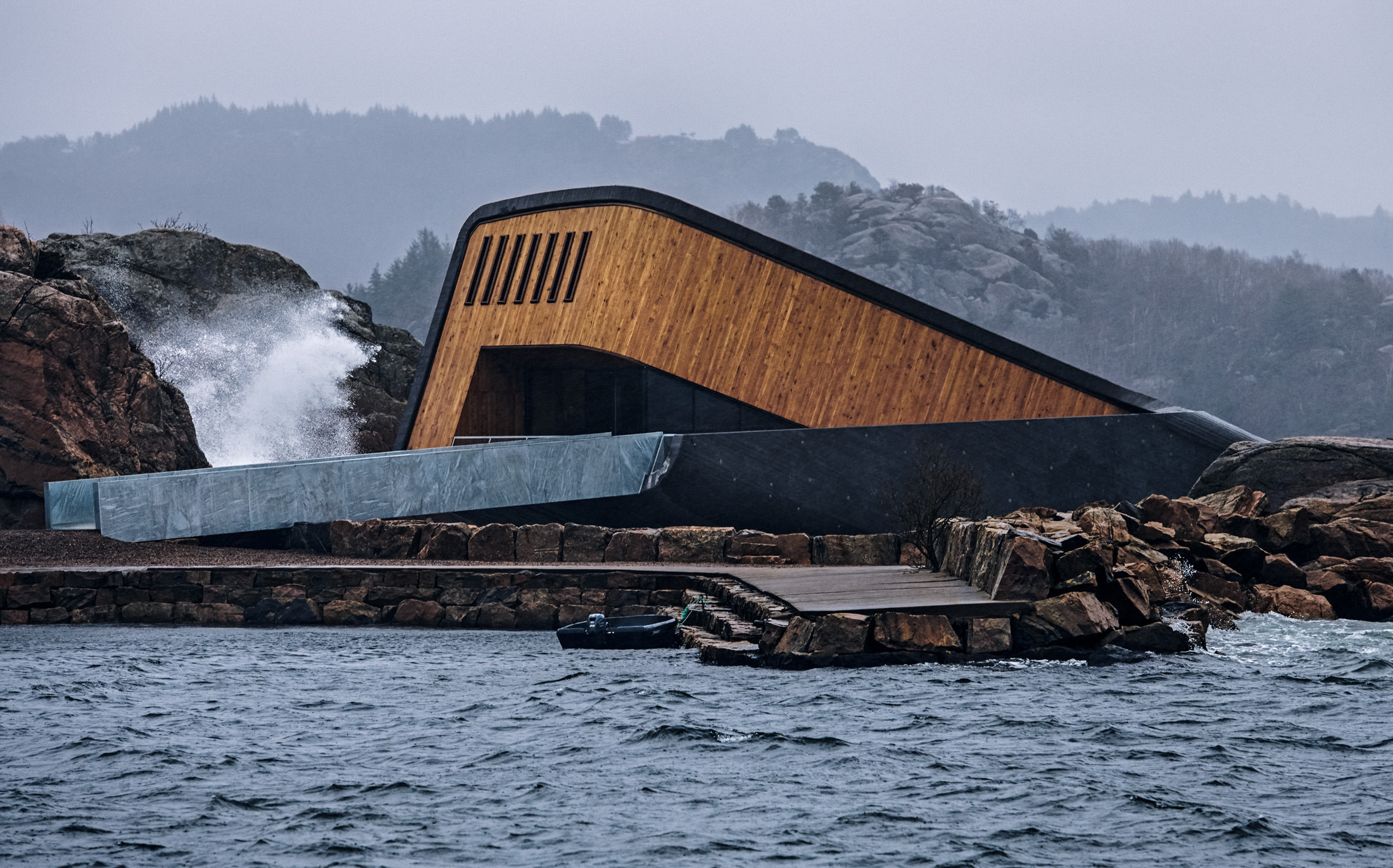 Descend into the belly of the beast, though, and everything is cast in an unearthly, bottle-green glow. All is quiet, the lapping of waves hushed above. Ellitsgaard sits in the dining hall in chef's whites and linen apron, his left arm outstretched and crawling with tattoos. He is framed by the 27-square-metre window that opens onto the wonders of the sea: sugar kelp forests, silvered pollack, and a lumpfish Ellitsgaard and his team affectionately call Ernie.
Forced to remain at home, the head chef grew restless after the first week. "I was building a garden, a project that would have taken me two years to finish but now I could do it in a week, and painting some stuff in the house. Then I didn't know what else to do." Like many businesses in Norway, the restaurant was buoyed up by a robust government support scheme. Staff stayed in the village and spent some days on Under's fishing boat, Knipseren, watching fishermen pull up stone crab and langoustine. Ellitsgaard dove for sea urchin, the restaurant manager foraged for sorrel leaves. The restaurant itself was transformed into a sub-sea stage for livestreamed concerts, including a music video collaboration between composer Hans Zimmer and Norwegian DJ Alan Walker.
Ellitsgaard started visiting the restaurant, too, in the same way one sits beside a loved one in the hospital. The undercurrent of uncertainty loomed—but it felt good to be back. With his sous-chef on the other line, they tested and tasted and sketched out menus, as if Under itself were daring them to push harder.
After a 55-day closure, the restaurant resurfaced in early May. "We were shaking almost—like if you've eaten too much sugar," Ellitsgaard says. On reopening night, he finally attached the scarlet Michelin plaque to the pale oak-clad walls.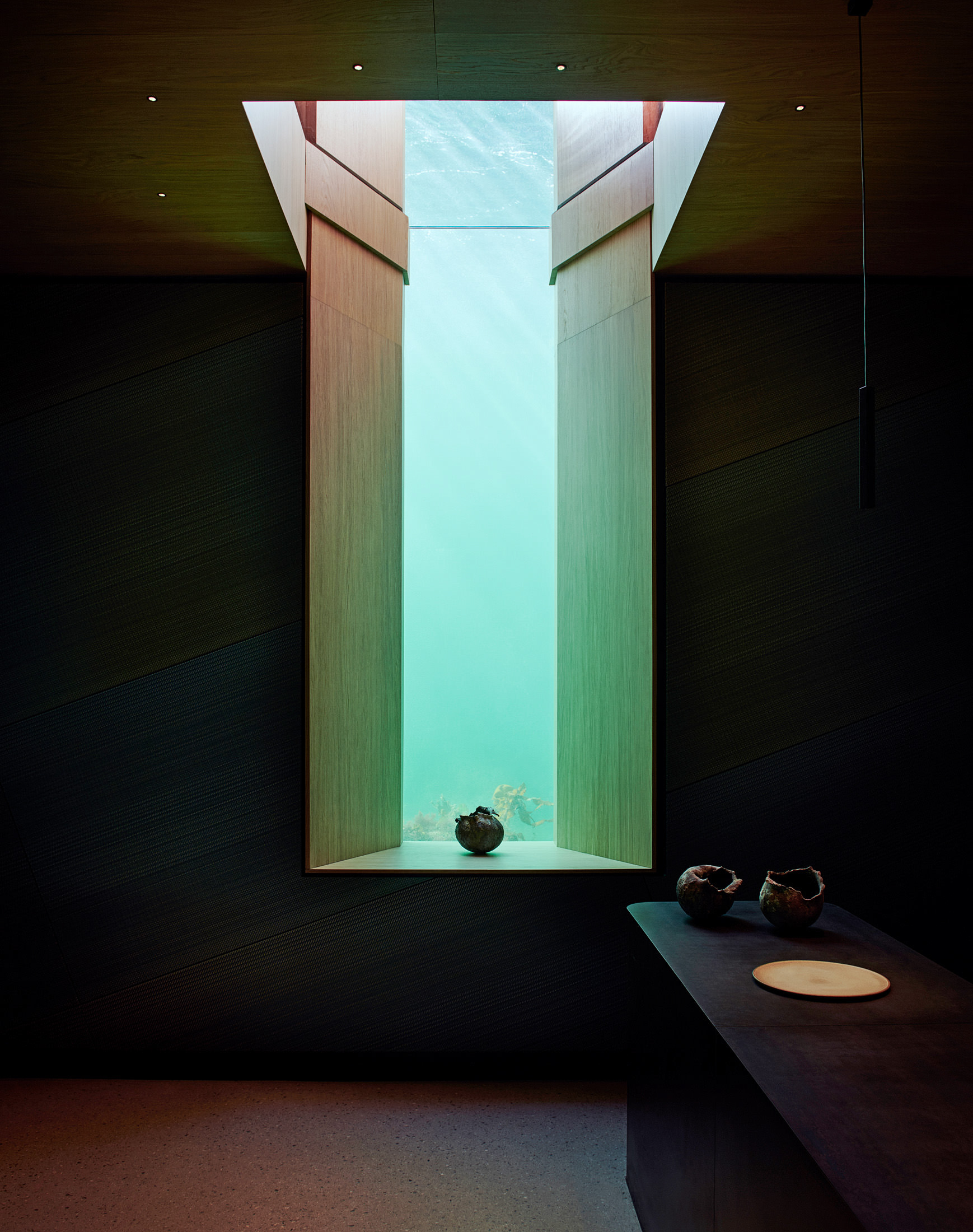 Before the pandemic, over half of Under's diners arrived from abroad. Now, guests were mainly Norwegian—the crisis proving an opportunity for locals who might not otherwise get a seat.
Dag Ingvar Jacobsen, a professor at the University of Agder in nearby Kristiansand and passionate gastronome, was among the locals to get a table. He had been skeptical before dining at Under for the first time in 2019. Southern Norway, known as Sørlandet, has never been a culinary region. "It was madness," Jacobsen says. "My first thought was it won't work, and my second was that it won't be good." He left, however, rather shocked. A year later, the meal and its progression to his tastes were "harmonic." Ellitsgaard, he thought, had even improved during lockdown.
Under's 18- to 21-course menu takes diners on a journey from shoreline to the ocean's murky depths. Service kicks off with limpets, the ruffled conical shells glued to rocks where the sea sloshes at the shore. A standout dish features a 100-year-old mahogany clam, its strong muscle thinly sliced over asparagus and fresh cheese. And no meal is complete without Norway's signature dish: pølse med lompe (hot dog wrapped in potato pancake) reimagined as fish sausage.
As the dining room hums once again, staff have had to remind guests with a tendency to wander off and forget the one-metre social distancing rule imposed in the country. "When people are here, they forget all about what's happening in the world," Ellitsgaard notes. The pandemic may be carving its chaotic path outside, but you would never know that below the ocean's surface.
As for worries about the absence of international clientele, Ellitsgaard credits Norway's community spirit of dugnad for helping Under stay afloat, a custom of coming together that dates back centuries. Not only does he feel his staff bonded during quarantine, but Ellitsgaard says that Norwegians feel a responsibility to support their fellow citizens.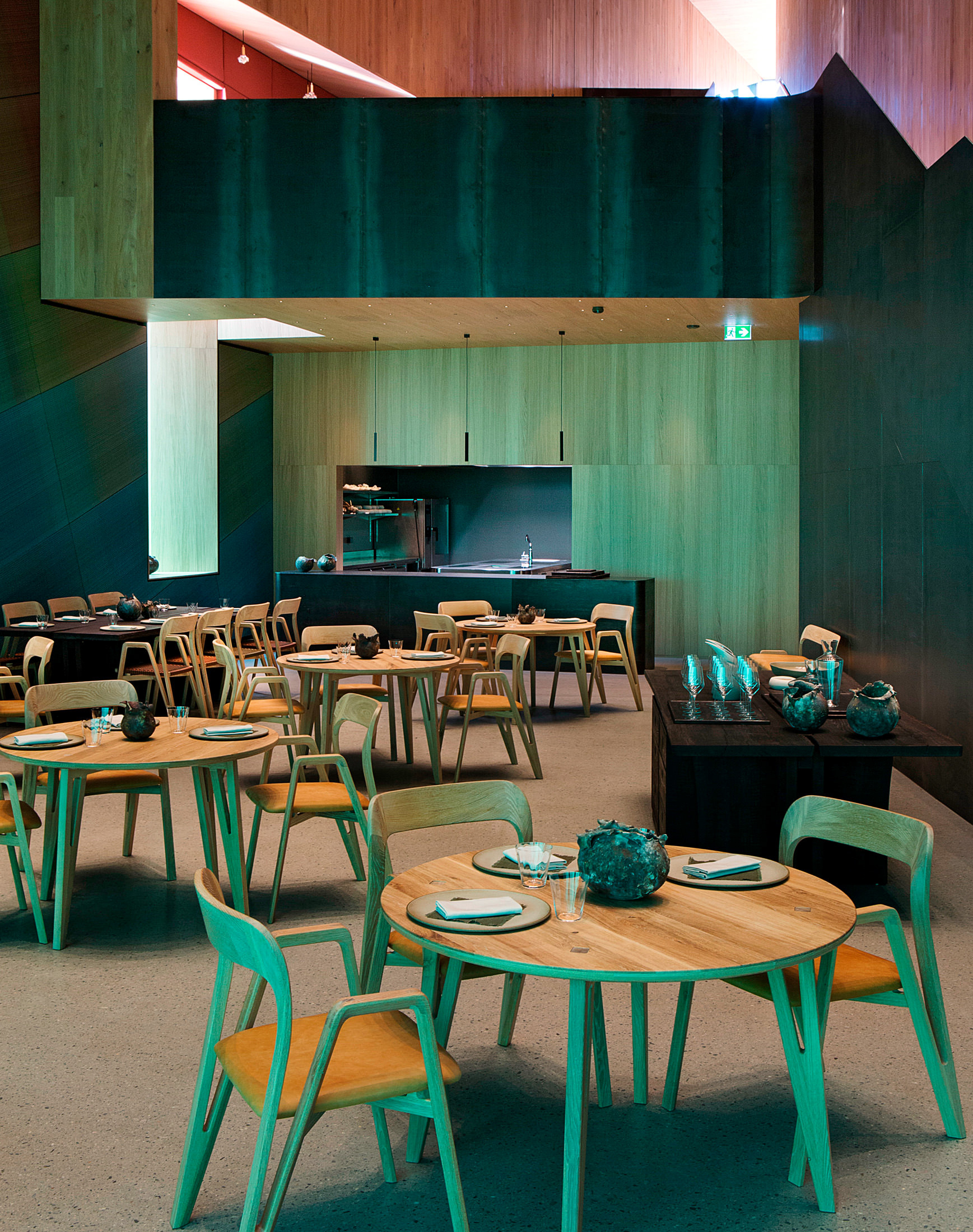 Under sets a good example for fine-dining restaurants as they work out how to survive in a new age. Its hyperlocal approach focuses on Norway's coastal ecosystem, on bycatch like squat lobster, or cuts of monkfish cheek that would otherwise go to waste. Whole dishes revolve around decomposing leaves, stinging nettles, and even hay. The restaurant's winter pantry of ferments could last the restaurant months if they needed to dip into it. Hyperlocal cuisine is not new, but the philosophy feels critical as the hospitality industry struggles, as border closures and labour shortages put pressure on food supply chains.
"When we talk about exclusive food, for some people it's foie gras or wagyu beef from Japan," says Ellitsgaard, speaking in soft, undulating waves. "I think it's much more exclusive to get langoustine caught from our own fishing boat. That's a super luxury."
I ask him if he's worried about a second surge. He says the restaurant has an emergency plan in place, but he's not thinking about it. "You have to focus on what is going on now, and you cannot worry about things that maybe will come." A jellyfish drifts languidly above Ellitsgaard's head. "Now we are starting," he says with a smile—"a new era, if you can say it like that."
---
This article is from our Autumn 2020 issue. Read more in Food and Drink.