Even to those fond of fizz, the concept of single-vineyard Champagne may come as a surprise: since Champagne is famous for blends, it doesn't seem unreasonable to presume all Champagnes are blended. And it might be more surprising still to discover that Krug, which may champion the delicate art of blending more than anyone else, sometimes makes Champagne from a single plot and a single year. Occasionally, it makes two.
Originally, Champagne makers' penchant for blending was a matter of survival. Weather can be unreliable in northern France. Grapes need rain, but not a deluge, even though that stretch of chalk, formed from the crushed remains of animals that once inhabited an ancient sea, acts like a sponge, absorbing excess water or releasing it to thirsty vine roots. Blending ensures quality and quantity, particularly in a year like 2021, when frost cut a cruel swath through the vineyards in April, and I almost drowned walking through them in mid-July. As Joseph Krug, who founded the House of Krug in 1843, put it when justifying his decision to blend the current vintage with wines held over from previous years, known as reserve wines: "I'm not waiting for a good year to make great Champagne."
That is how Krug's legendary Grande Cuvée works. Cellar master Julie Cavil has 400 possible ingredients: the reserve wines and the vins clairs, or young wines, each from a different plot. They may be pinot noir, chardonnay, or meunier (many Champagne houses look down on Champagne's third grape; Krug is more inclusive). All these wines are still. It is a legal requirement that the second fermentation, the one that produces bubbles, take place when the wine is already blended and bottled. Each lot of grapes is an ingredient, and the cellar master's job is to assemble those most suitable to make a dish that, while never exactly the same, should be recognizable as that dish and not another.
The Champenois have always cared about their land: you can't make a great dish from mediocre ingredients, after all. "In the vineyard, our obsession is to obtain the highest expression of each unique plot," Cavil says. "We need that individuality, that personality, so we do a lot of work to understand what makes one plot different from another, picking, tasting, and fermenting each one separately."
This makes the idea of a separate bottling for an especially outstanding plot seem obvious. I'm put in mind of Alice Waters, who pioneered farm-to-table eating at her California restaurant Chez Panisse, presenting a single peach for dessert because its flavour was too good to alter in any way. There is also, in a highly competitive luxury market where rarity is much sought after, the question of raising the bar. A blend offers quality and consistency to as many people as want to pay for it. A single vineyard has a narrower scope. There is, after all, only one of it.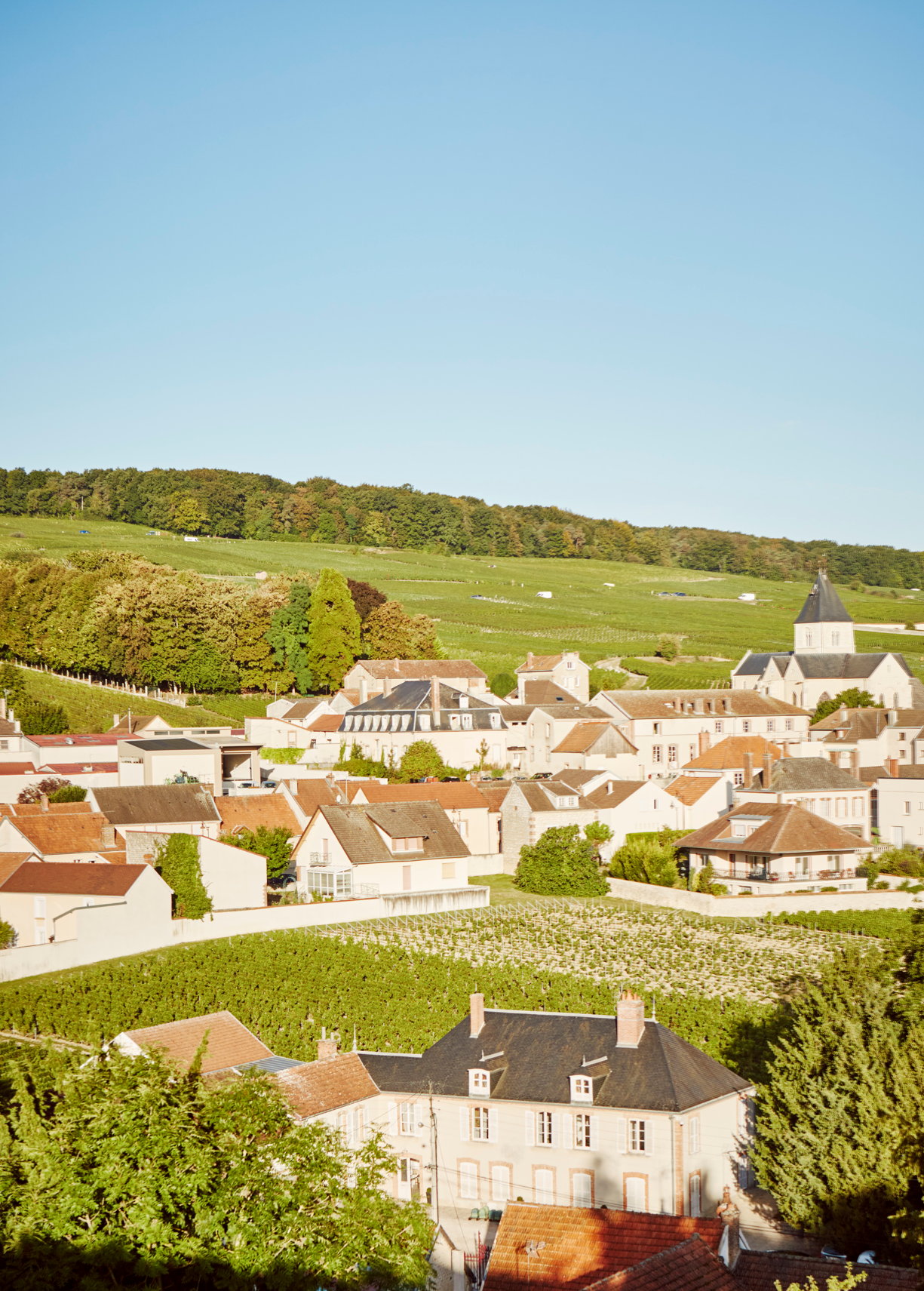 There have been Champagnes made from single vineyards since at least 1935, when the Philipponnat family bought an initial patch of vines in Mareuil-sur-Äy and decided to keep them separate and bottle them as Clos des Goisses. Krug bought Clos du Mesnil, a 1.84-hectare walled plot ("the same size as Romanée-Conti," notes Mylène Soulas of Krug, showing me round) in the little village of Le Mesnil-sur-Oger in 1971. How did they know how good it was? They didn't, she replies: they bought 15 parcels, and this one "was an astounding surprise." Every year, when Rémi Krug blind-tasted each plot, this one stood out. We unfurl umbrellas to protect our glasses of Clos du Mesnil 2006, the current vintage, from dilution as Soulas points out a sign dating the vineyard to 1698. The walls create a microclimate: even when frost spoils the surrounding vineyards, it rarely freezes here.
Blending is supposed to help withstand change, both short and long term, but inevitably, Champagne changes nonetheless. After the postwar doldrums, its reputation climbed until it floated like a bubble to the top of the drinking hierarchy. Champagne was exciting as well as delicious, had more prestige than other sparkling wines, and there was a lot of it available. Rising incomes made it more accessible, and the industry expanded to meet demand.
"The growers are more likely to want to feature a particular terroir, one that they are completely responsible for and know intimately."
Traditionally the thousands of small growers sold their grapes to the big names: Moët & Chandon, Veuve Clicquot, Louis Roederer. Recently, some of those growers have started making and bottling their own Champagne—in many cases, to great acclaim. These small producers resemble their winemaking neighbours in Burgundy just to the south more than the million-bottle-producing behemoths of Champagne. Their focus is less on consistency than on a pure expression of their land. ("It seems crazy to try for perfect consistency," grower and Champagne maker Raphaël Bérêche of Bérêche et Fils once told me. "Only the dead manage that. Life is change and fluctuation.") And because that land is not usually extensive, a disproportionate number make single-vineyard Champagnes. Olivier Collin of Ulysse Collin, Jérôme Prévost, and Fabrice Pouillon are just a few who now have their names on labels and are bottling their individualist philosophy.
The rise of single-vineyard Champagne "is definitely tied to the interest in grower Champagne," agrees Barbara Philip MW, European category manager for BC Liquor Stores and partner in Barbariain Wine Consulting. "The growers are more likely to want to feature a particular terroir, one that they are completely responsible for and know intimately."
In 2007, Krug released Clos d'Ambonnay 1995, a single-vineyard pinot noir from a village especially important to the estate: grapes from Ambonnay always feature in the Grande Cuvée. This is even rarer, with smaller production, than Clos du Mesnil. Perhaps coincidentally, in 2006 Philipponnat first produced Les Cintres, a single vineyard within a single vineyard: a patch of Clos des Goisses that has always stood out as exceptional. The year 2006 was also when Lanson (which will launch its Green Label Organic Brut in Canada this fall) first bottled Le Clos Lanson from an 18th-century vineyard in the heart of Reims. It's not just that these wines are rare, sought after, and expensive even by Champagne standards; nor that they are exceptionally good, although the few I have tried certainly are. "Consumers want to know what goes into the bottle," says Davy Zyw, senior buyer at Berry Bros. & Rudd in London, England. Neither Zyw nor Philips sees any conflict between making a great blend and singling out an individual plot.
Nor should they: the essence of terroir is the ability to differentiate between two contiguous grape-growing areas. For example, Burgundy makes sparkling wine, but I have yet to taste a crémant de Bourgogne as good as the best Champagnes. Change is inevitable, however carefully you plan—or blend. Champagne makers big and small realize that the better they understand their land, the more easily they can adapt, sometimes by blending ever more precisely—and sometimes, by not blending at all.
---
Read more from our Autumn 2021 issue.