To enter the confines of a tailor's shop, where a long cutting table sits at the centre and floor-to-ceiling shelves bear bolts of fine wool, is to cross into the realm of fable. What could be more archetypal and rarefied than the tailor? The butcher, the baker, and the candlestick maker you can find at the local farmers market. But the tailor—you may live out an entire 21st-century existence without ever having met a real one.
Admittedly, you can come across a good alterationist working in the back of select retail clothing stores. Then there's the able hemmer of pants at the local dry cleaner. But the occasion to step over the threshold of a sartorial establishment capable of constructing a fine suit, top to bottom, on premises, doesn't present itself every day. Sometimes it requires intent close to a quest—one that may lead you to the door at 5 West Pender on the edge of Vancouver's Chinatown where you will find Modernize Tailors.
The door is charcoal grey, and you have to ring to be buzzed in, but crossing the threshold transports you to another time or, more correctly, a place outside of time. Working Singer machines dating from the late-Victorian and Edwardian eras are tucked in corners. And those bolts of fabric? Some rolled off English looms that ceased to exist five decades ago. Once upon a time indeed.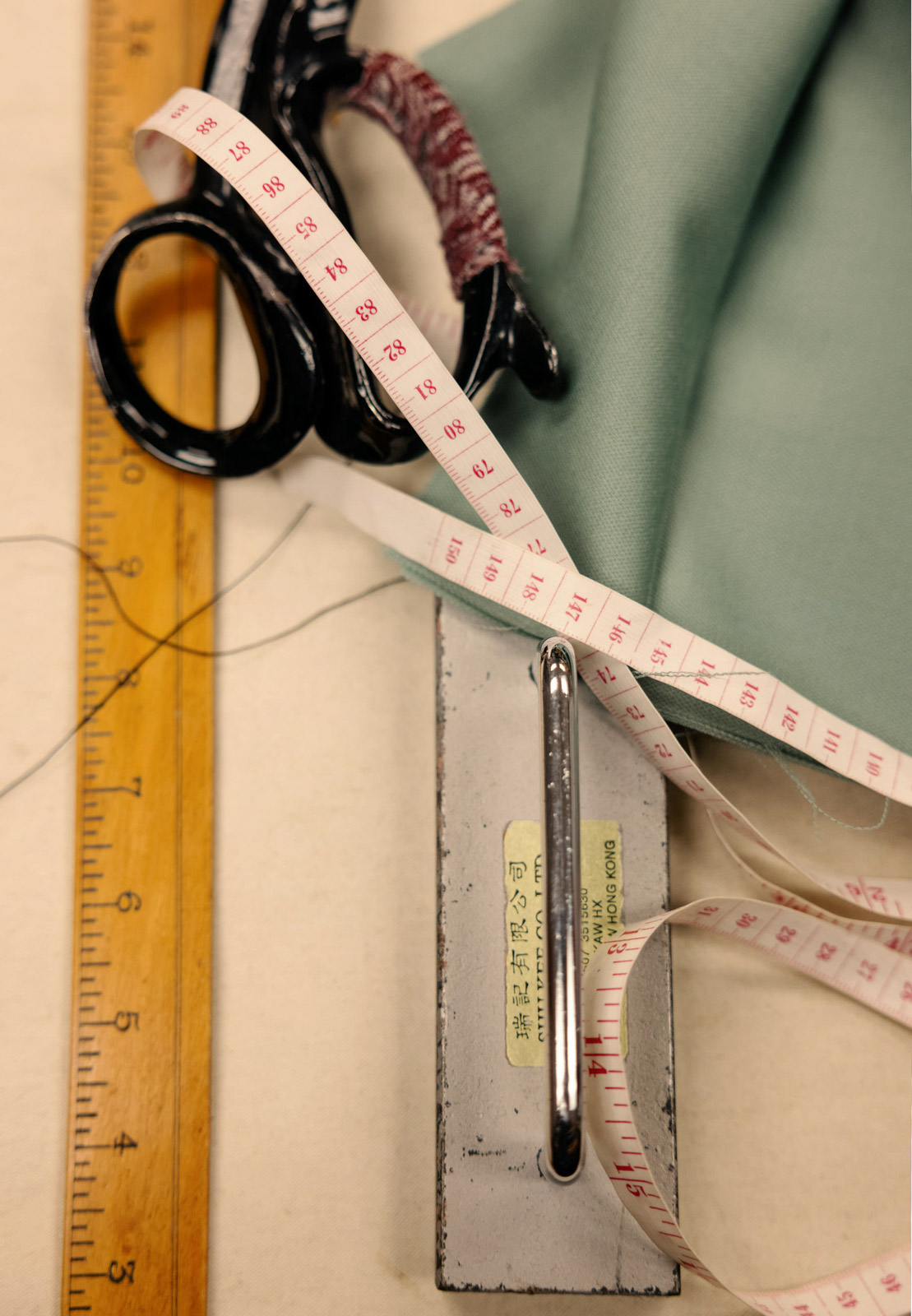 You might expect to encounter an old wizened man with snowy white hair, faded eyes behind thick eyeglasses, and a slight hunch from tens of thousands of hours hand sewing. But you won't. Instead, you will meet Mia Wu.
Her long, black hair falls past her shoulders and frames a face with strong cheekbones and keen, alert eyes. Her hands are suited to her trade. The fingers are strong and taper, needlelike, to tips, all the better when the fine work of hand-stitching is called for.
Wu first joined Modernize Tailors in 2014 as an apprentice. As a design student from Taiwan attending a local fashion college, she had visited the store needing buttonholes for a school project.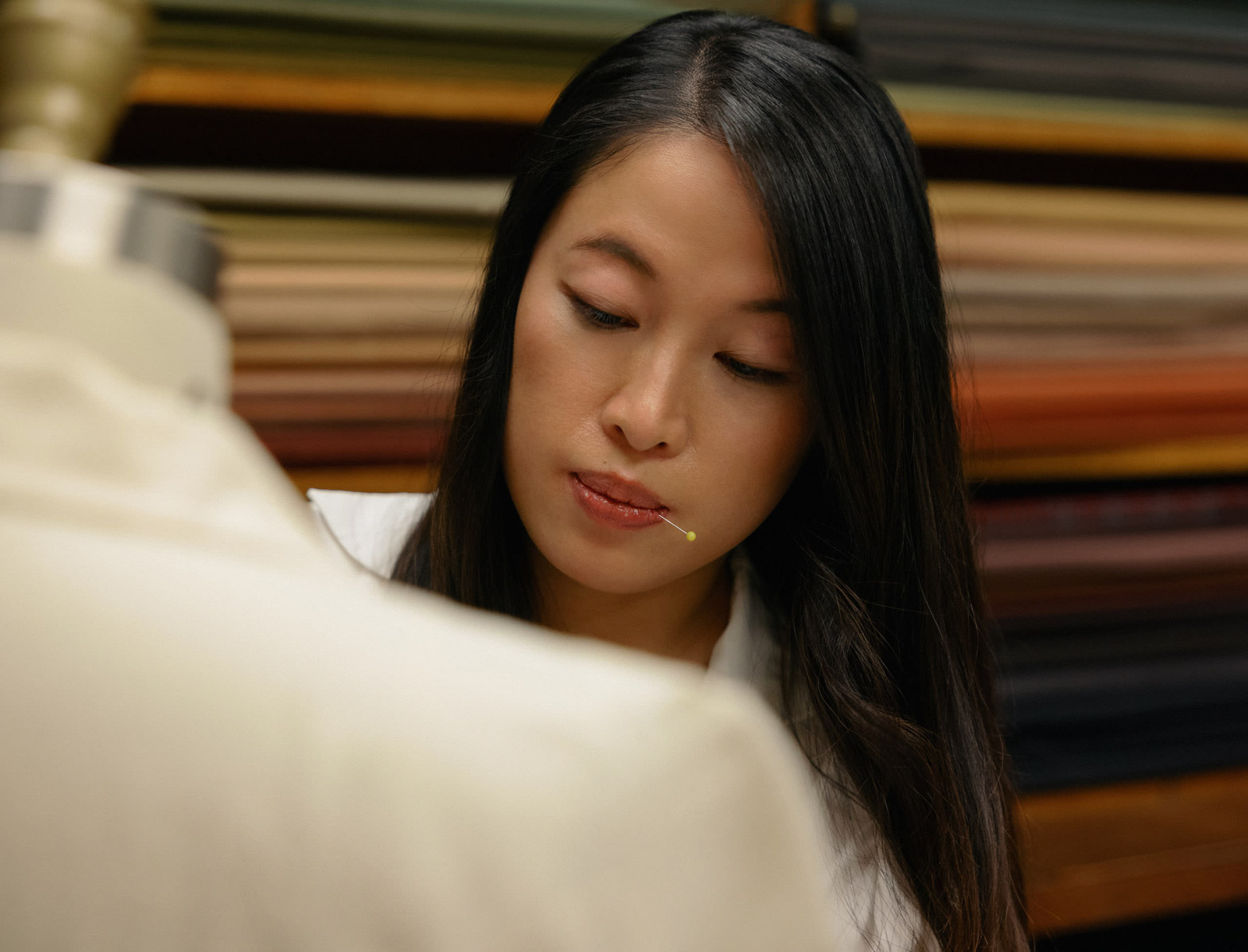 There she met Bill Wong, whose father, Kung Lai Wong, had started the business 100 years before (disclosure: in 2006–2007 I studied as an apprentice under Wong). Alongside his brother Jack, he had run the shop since the 1950s. While a buttonhole job only took five minutes on the venerable Singer, Wu fell into a two-hour conversation with the tailor. At the end, she says, "I asked Bill if I could come to learn from him, and he just welcomed me."
Up until then, her journey through the world of fashion had been conflicted. She says, "I was the only one to do traditional menswear in class. I really wanted to see how suits were made."
There were philosophical differences too. The fashion establishment demanded that Wu focus on "fashion trends, what's popular this year." But that work was "not me," she says. "I disagreed with why clothing consistently needs to change. Why do people need to change their wardrobe every season? It doesn't really make sense."
With Bill Wong, a nonagenarian tailor, Wu found a kindred spirit. She says, "We agreed we both didn't like fast fashion."
For the next three years, she took up the duties of a loyal apprentice, including cleaning the shop. Her labours were not much different from young trainees in London, the epicentre of bespoke tailoring. In 2009, in the basement workshop of Henry Poole and Co., whose clients have included Charles Dickens, Sir Winston Churchill, and Frank Lloyd Wright, I observed apprentices delivering tea, biscuits, and even needles to senior coatmakers. As far away as Vancouver's Chinatown was from Savile Row, Wu found herself steeped in the traditional ways of the craft.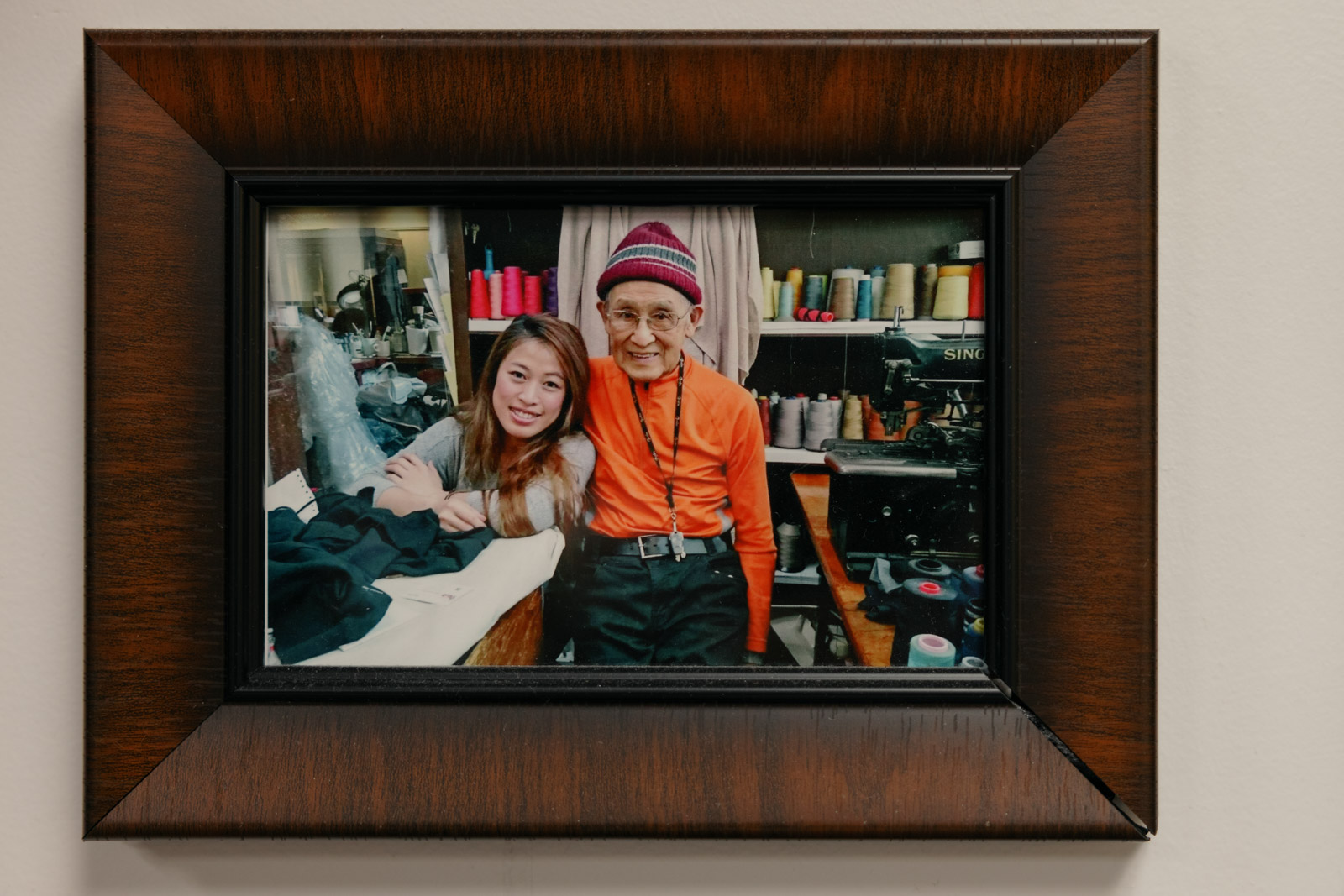 A large part of her work involved alterations—which may seem like uncreative drudgery—but she embraced it. "I could open every garment and see how different brands and different companies finished their pieces, and I would know how a good suit could be made, what technique should be done," Wu says. "I could distinguish between a good thing and bad."
The near forensic nature of her examinations of customers' suits led Wu to question the state of tailoring in Vancouver. For example, certain retailers remain comfortable using the word "bespoke" to suggest the degree of customization available. However, like Champagne or Cognac, bespoke is a particular designation of quality and provenance. In the tailoring world, bespoke is associated with Savile Row. It means the clothes are made on the premises rather than in a factory somewhere else. It means hand-sewing is prevalent. It means the pattern of the suit is cut exclusively for the customer and no other may use it.
Much of what was being pushed as bespoke, Wu felt, was actually made-to-measure, where a standardized suit pattern is adjusted to fit a customer. The process was factory-based and industrial, not artisanal, and while it could lead to a nice-looking outfit, it wasn't bespoke.
To be a great tailor, a master, she decided she had to adhere to authenticity. "Apprenticeship takes four or five years before you make your first jacket. I never called myself higher than what I deserved."
She was determined to rise from apprentice to junior, junior to senior, and finally senior to master tailor, but in 2017 the path to her goal took a turn. Bill Wong, her mentor, died.
There the tale could have ended. But she scrambled. Wu took over Modernize Tailors with the blessing of the Wong family. And with the legacy of Bill Wong and the history of the craft in mind these last three years, she grew as an artisan.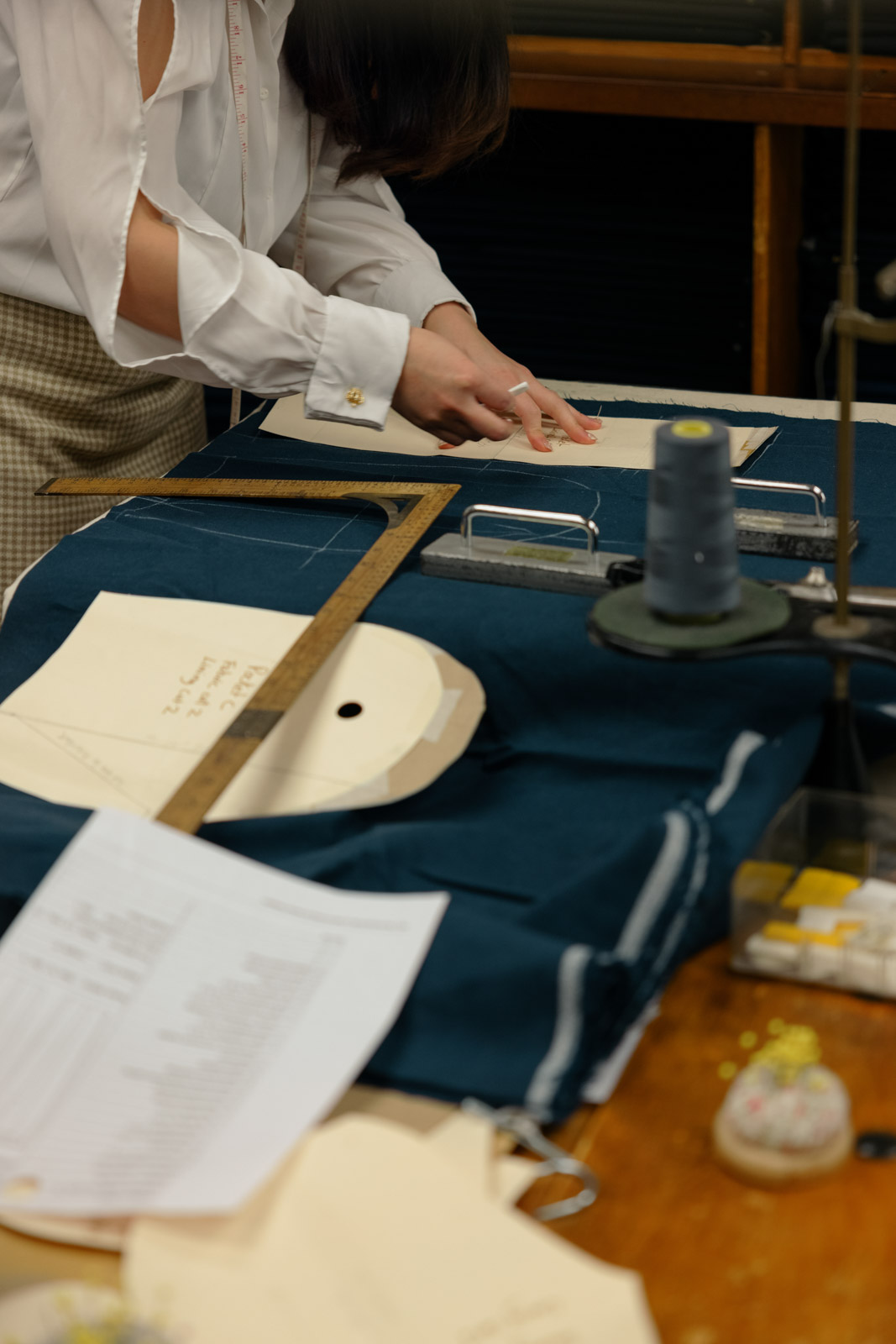 She set her sights on offering fully bespoke suits costing four or five thousand dollars that could stand alongside the garments of Savile Row. Though that is a long-term goal, in 2020, Wu delivered her first all-custom-made suit coat. It involved multiple try ons, pattern recuts, hand pick stitches at the lapels, and much more.
As a result of that success, Wu is now offering two suit-making paths. You can embark on the bespoke journey (which can take months), or you can elect a "tailor-made experience." (While more affordable than bespoke because it is sewn off-premises and involves less hand-sewing and fewer try ons, the latter avoids the cookie-cutter, multiple-choice limitations of most made-to-measure where the choice of surgeon's cuffs, side vents, and a hacking pocket are touted as bespoke work.)
Wu's hybrid method is more akin to working with an architect where nearly any detail is possible. "You walk in, you sit down, we chat. We discuss what you're looking for. What's your lifestyle and what's the purpose of your suit? And we're hand sketching what you want."
Modernize Tailors is no charade where front-of-house suit sellers with measuring tapes draped over their shoulders have not a thimble among them. Here it is the craft and the crafter. Wu adds: "Our tailors are all real tailors. They really know how to sew. How to draw."
When asked if she ranks herself as a master, senior, junior, or apprentice tailor, she reiterates: "I'll never call myself higher than what I deserve."
She pauses and nods. Her hand, so apt for working the needle, cuts the air, marking the levels, measuring the distance travelled on her quest, splitting truth from fable.
She answers, "Senior tailor."
---
Hair and makeup by Hyesoo Sohn. This story is from our Spring 2021 issue. Read more Style stories.