The six-year-old girl was adamant: "You should have a slide."
It was 2012, and Richard Pass, the CEO of Ronald McDonald House BC and Yukon (RMH BC), was meeting with Vancouver architect Michael Green to finalize plans for the $31-million RMH BC house that would replace the previous 13-bedroom Shaughnessy home the organization had outgrown. They didn't believe the child's request was frivolous: she was here because her short life had not been easy, and the pair were talking to her family to gain insight into their needs.
Immediately they locked eyes.
"Can we do that?" Pass asked.
"Yes!" No hesitation from Green.
It's been a hard year for families the world over, but for RMH BC families, it's been particularly tough. Most of the resident children are immunocompromised, and the pandemic forced them into further isolation with fewer volunteers and programs permitted. Nevertheless, for those families who were able to make use of the facility, RMH BC provided welcome respite. And as the building reaches its seven-year anniversary, Green still considers the little girl's demand for a slide key to the design's success.
"We knew it was exactly what we should do. Her idea was a connector of all the inspirations in the house for little ones to adults to teenagers to enjoy," Green recalls as we discuss the project, which was completed in 2014. "Kids know best what a home feels like. Children explore every corner of that space, and they know how to turn everything into a place of curiosity and fun and beauty."
Pass and Green dug deep into the idea of "home." How do you feel safe? How do you feel nurtured? How do you scale up to a 73-room property that serves over 2,000 families every year without overwhelming people or removing the sense of community?
"Children explore every corner of that space, and they know how to turn everything into a place of curiosity and fun and beauty."
When a B.C. child needs life-saving specialist medical treatment, families must travel to Vancouver and can be there for weeks, months, even a year. Hotels are expensive, siblings may need to be left at home, and staying at a hospital long-term can be damaging to the well-being of the child and their parents. RMH BC acts as accommodation and support, saving families $3,000–$6,000 a month in expenses and providing them with a community, food security, and resources to help them cope with their child's medical crisis. Families are eligible to stay at RMH BC if they live 50 kilometres or farther from the hospital. They are asked to pay $12 a night if they can, but (thanks to the larger space championed by Pass) no family is ever turned away.
"A lot of the families are coming from rural environments or smaller communities," Green says, "so we designed it with this idea that you would slowly get to know the building, get to know your community, get to know your neighbours, and not feel overwhelmed when you've just flown in with this terrible news that your child is sick."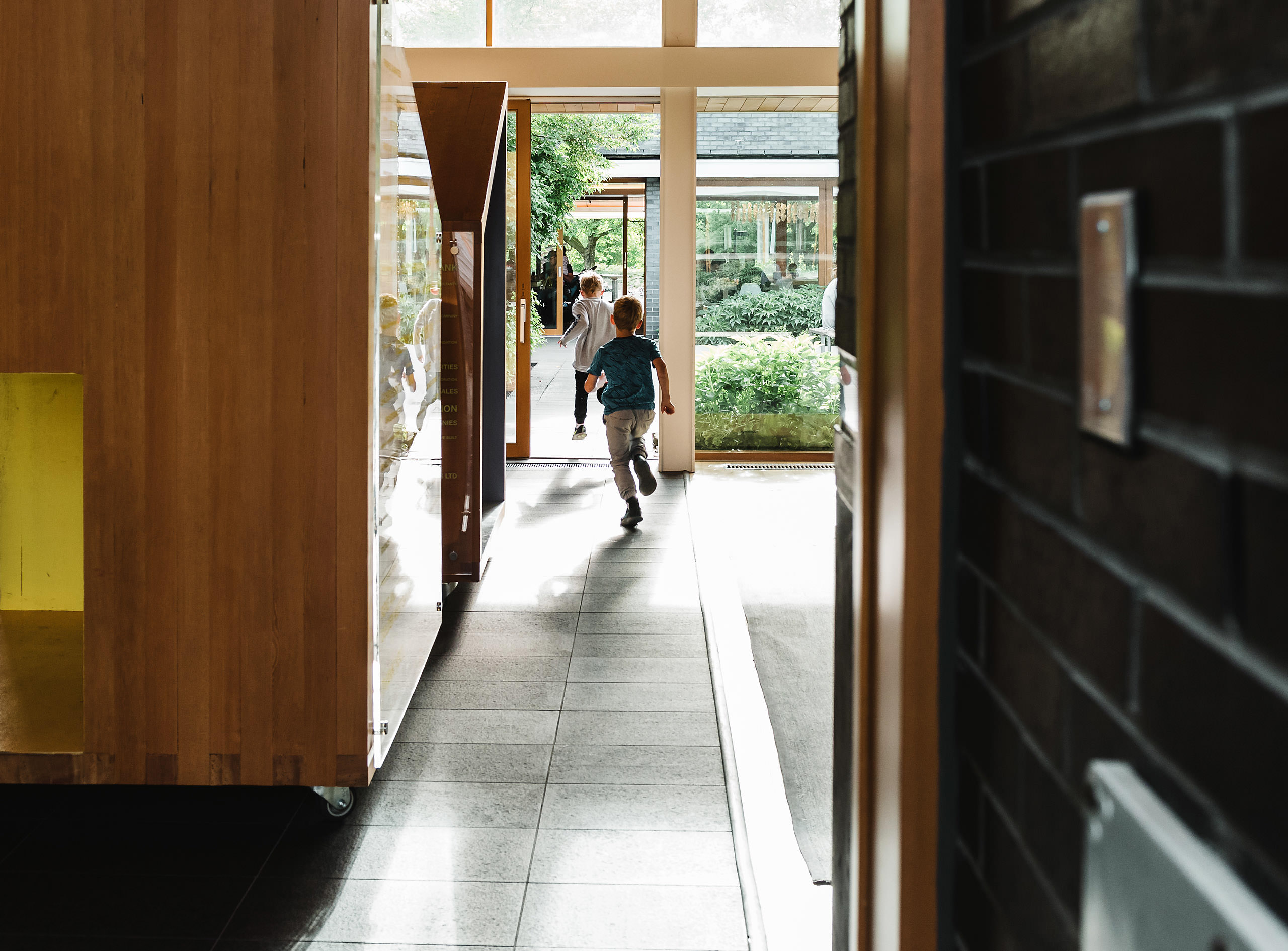 Instead of a hotel- or apartment-style building, Pass and Green created four houses connected by a common space known as the grand living room, with courtyards, a basketball court, and accordion glass doors that bathe the interior in natural light and create a seamless flow from inside to outside in each connecting hallway.
The house radiates incrementally from the private rooms outward. Green designed step-by-step from the perspective of a family: how they would arrive and then slowly get to know their neighbours and the rest of the house from that initial private safe space. This movement from room to room is the subject of his self-published 2013 children's book Alpenglow (which he wrote and illustrated). Its words greet new families on the entryway wall: "…the new meadow was finally complete. And in the middle of it all was Alpenglow. With the cold and wind sheltered by so many flowers. She was finally safe. She was warm. She was strong. And she grew."
A completely non-medical retreat, everything about the house consciously rejects the sterile institutionalism of hospitals with contemporary openness, wood beams, and green space. There's even a koi pond. It is also one of the first carbon-neutral cross-laminated timber buildings in North America. Although Green insists that's a secondary story.
A community garden is tended by residents and master gardeners with a pop-up farmers market on the weekends for families to pick produce to use in meals. Staff tell stories of children beaming with pride as they clutch a handful of carrots; "They just taste better," one girl exclaimed as she ate her oatmeal with raspberries she had picked herself.
All of the painstakingly considered details of the house—the gym for parents outfitted with a picture window overlooking a play area, the mini outdoor amphitheatre that hosts live music and performances for children, the Lego lounge, games room, art and music therapy rooms—everything was forced to temporarily close, cutting off much of the comfort, hope, and joy the place is known for among its residents and staff.
The house's message is one of connection; families who would otherwise be strangers are bonded by a shared experience. "There's a unique environment of positivity here," says Pass, who sees families comparing medical stories and offering words of encouragement. The atmosphere is usually quietly optimistic, he says. "There are the stories of those who have stayed and are now adults and doing really well," he notes. "It's those things that really get you through the day."
---
Photos Courtesy of Ronald Mcdonald House Bc & Yukon. Read more from our Autumn 2021 issue.