In her car on the way downtown, Marie Hui goes through a pregame ritual. She vibrates her lips while humming scales and sings "The Star-Spangled Banner," now more than two centuries old. It is a brief warmup, leaving plenty of time for jitters. At Rogers Arena in Vancouver, she checks in with one of the arena's event organizers, then waits for the hockey players to skate out to be introduced.
Now it is her turn: the public-address announcer asks the 18,000 buzzing fans to rise and remove their hats.
"I have to walk down the carpet over the ice and stand where I need to stand," she says. "When I'm on the ice, I need to look into the camera. I make sure I'm smiling. All eyes and ears on me is nerve-racking. Adrenaline just pumps through my veins."
Anthems are stirring, bombastic, patriotic, sometimes even a call to arms. (Looking at you, France.) They are meant to rouse a mob, an army, or a crowd of citizens. In our age, the anthem is most often heard at sporting events, agitating nothing more sinister than an audience of sports fans.
Whether standing before a buzzing crowd of tens of thousands of excited spectators or performing for the unblinking eye of a camera, Hui has won a devoted following for her heartfelt renditions of the familiar Canadian and American national anthems.
Away from the arena, she is a rhythm-and-blues singer who dips into jazz, a belter capable of covering Mariah Carey ("All I Want for Christmas Is You") and Whitney Houston ("You Give Good Love").
She puts so much heart into "O Canada," you feel the song should be called "Soul Canada."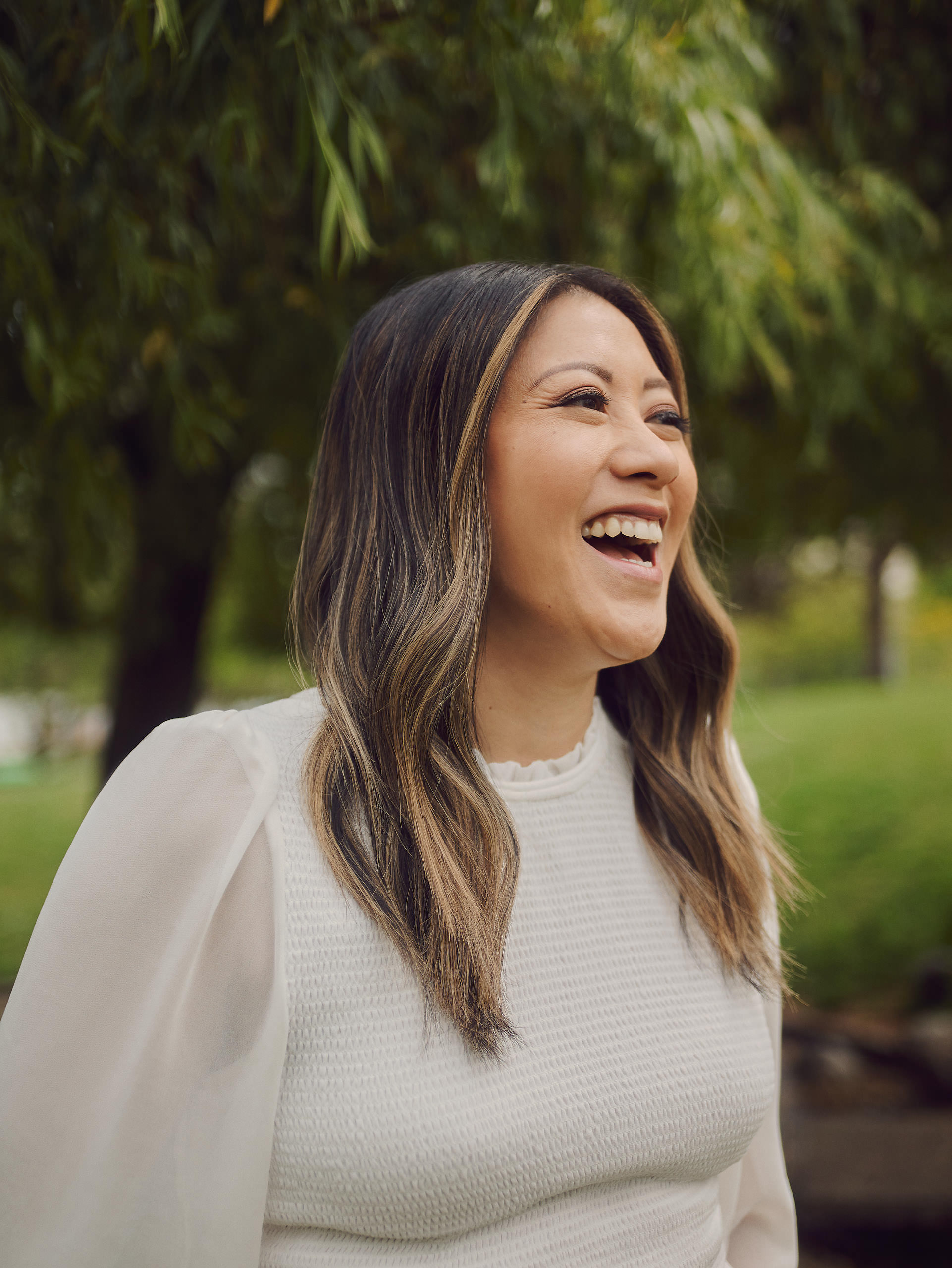 To be a public performer in the midst of a health crisis is to be a performer in search of a public. No nightspot gigs. No stage appearances. No New Year's Eve party. No corporate dates. No stepping out onto the blue carpet at Rogers Arena before a national television audience.
The unanticipated interruption of a burgeoning singing career offers other opportunities. Hui (pronounced "Hughie") and her partner, Chris Won, are the parents of daughter Rogue, born last fall, and two-year-old son Ronin. Both children have accompanied their mother to Vancouver Canucks hockey games, and Ronin knows the lyrics to our anthem by heart.
"I'm trying to cherish as many moments as I can," Hui says. She is speaking by telephone from the family car parked outside her home in the Hastings-Sunrise neighbourhood. A singer appreciates a parked car's offer of temporary respite from unwanted noise, like a sound studio with seatbelts. It also means her interview will not disturb bedtime routines following a meal of homemade pizza.
A year of isolation with masked forays outdoors has also made possible another opportunity. A long-time anthem singer for the Canucks, the opera singer Mark Donnelly, was publicly dismissed by the team owner after singing the anthem at an antimask rally. On Twitter, the immediate reaction was a call by Hui's many fans to make her the team's official anthem performer.
Tom Mayenknecht, a brand management consultant who hosts The Sport Market on BNN Bloomberg Radio and TSN Radio across Canada, thinks Hui represents a tremendous opportunity for the Canucks and other Vancouver teams.
"Her career trajectory is so organic, based on a savvy, one-two punch of talent and hard work," he says. The passion she shows in performance connects her to the fans, he notes, because she comes across as genuinely passionate about the material. The city's role as a Pacific gateway and the massive change in demographics over the past half-century make her an exemplar. "She's a shining beacon of the new British Columbia," he adds.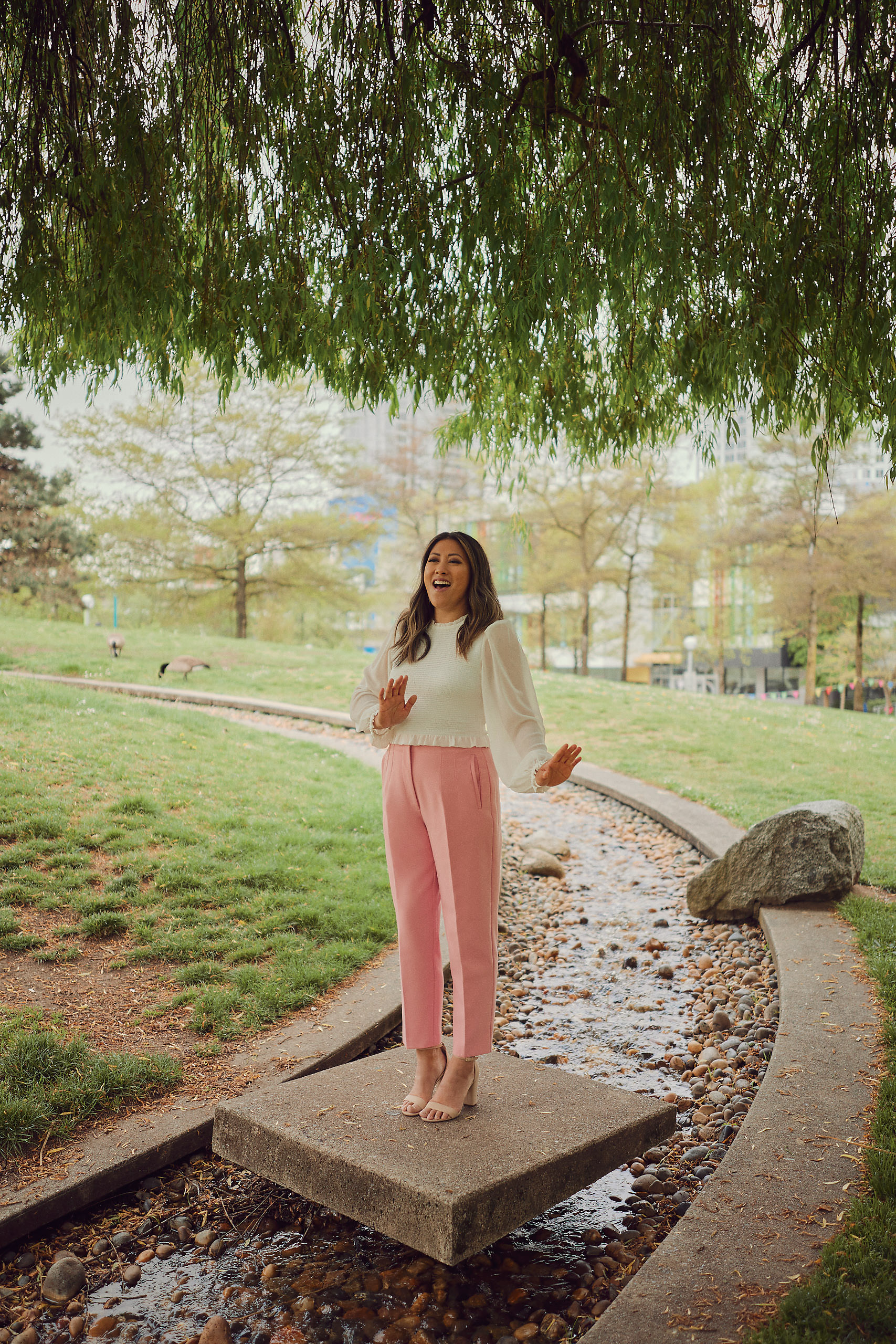 Hui has a lively social media presence on Twitter, Instagram, and YouTube, where you can find playful music videos she has made with friends Clayton Imoo and Arielle Tuliao. Their "Soar," a clever parody of Katy Perry's "Roar," led to an invitation to sing the anthems before a Seattle Seahawks football game. She has also helped create videos saluting the Canucks, including a tribute to goaltender Roberto Luongo written by Harrison Mooney. "Someone Like Lu" was a parody of Adele's "Someone Like You."
Sports have long been a passion. She's a kickboxer and plays for a women's flag football team. She rides a Moto Guzzi V7 Stone motorcycle for kicks. At her suburban high school, she played volleyball and was a small forward for the McNair Secondary Marlins basketball team.
Anthem singing was not on her radar growing up, and her success is all the more remarkable without formal vocal training. Born and raised in Richmond to immigrant parents from Hong Kong, Hui is a middle child with two brothers. Her mother was a schoolteacher and her father a general contractor. As a girl, she sang at family gatherings on a karaoke machine. In the car, she crooned along to Celine Dion and Elton John while listening to her mother's cassette tapes. She learned to sing harmony over six years with a church choir.
Growing up, she dreamed of being Mariah Carey or Whitney Houston. After graduating from the B.C. Institute of Technology with a business degree, she accepted an offer to perform as a singer with a live band in Asia, including a run in Macao. She fell in love with performing, but on her return home she became a real estate marketer.
Her big break came a decade ago after she belted out "O Canada" in an empty stadium.
The venue: Empire Field on the site of old Empire Stadium in Vancouver. The audience: four judges tasked with finding an anthem singer for home games of a new professional soccer team. The contest: Whitecaps Idol. The competition: three rival singers.
Every anthem singer is one blown note, one forgotten lyric, one brain freeze away from going viral.
It was a cold March day in 2011. Hui stood on the pitch at the halfway line, wearing boots and a bomber jacket, a cordless microphone clutched in a gloved right hand. She shivered as she sang the American and Canadian national anthems, her voice echoing as it reverberated off empty metal seats.
She was one of 241 singers—some goofy, most serious—who submitted tapes. It was her first audition. The contestants were whittled down to 13 who were invited to the temporary stadium at Hastings Park. Each was invited to sing before four judges, including radio DJ Kid Carson and band manager Bruce Allen. The semifinalists waited in a chilly portable building before being ushered into another portable to sing.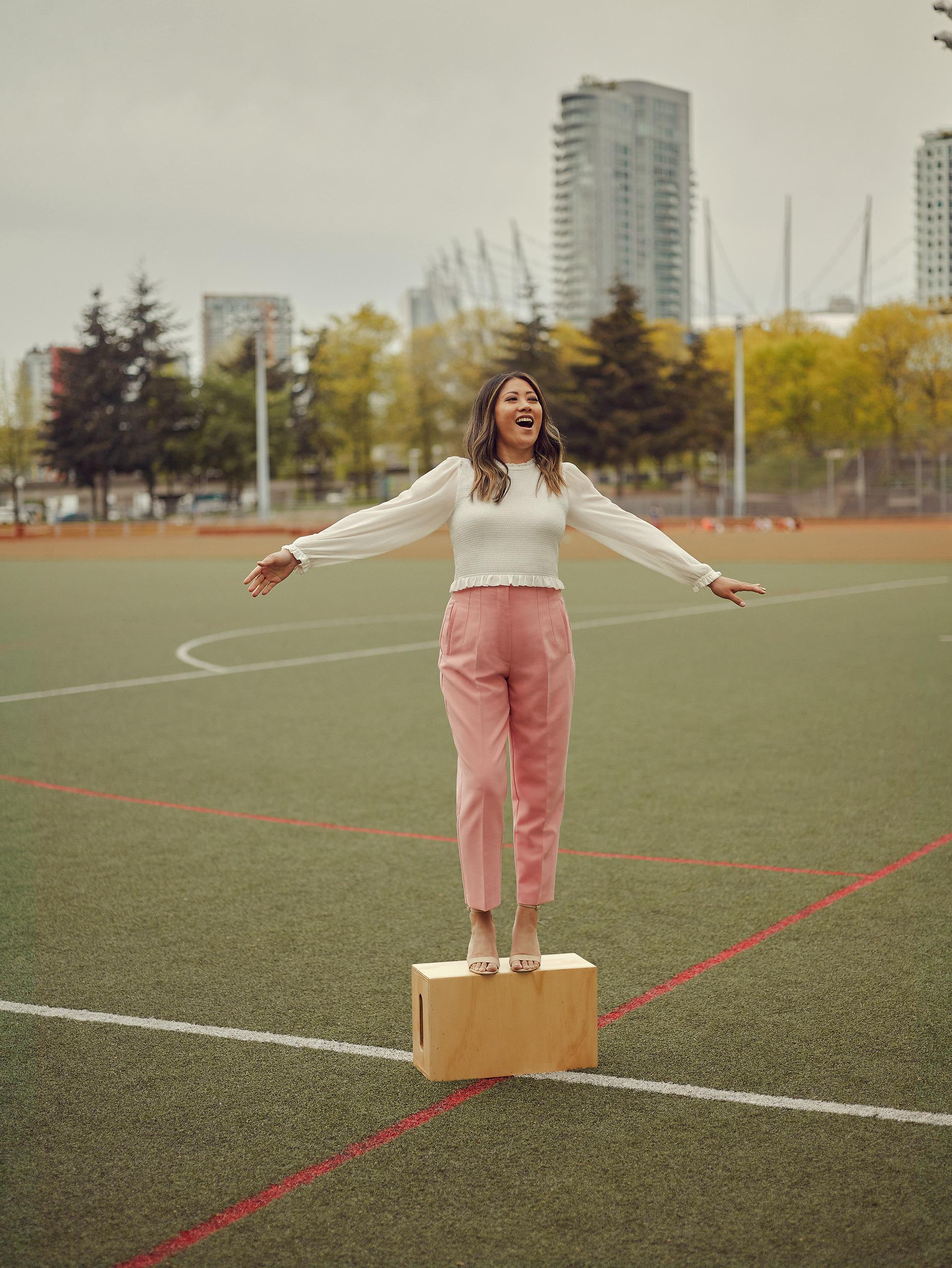 "Everyone was so nervous," Hui recalls. "You could taste the nervousness in the air." They were rated on singing ability, performance, and their look. The judges then whittled the contest down to four finalists—a young man and three women—who each delivered a solo a cappella turn on "O Canada."
"All I feel is Kid Carson's eyes staring at me," she says. "No expression on his face."
The final four were ushered into a semicircle on the pitch as the judges announced their decision. "The national anthem is of one of the toughest songs there is to sing, especially the American national anthem," Bruce Allen told them. "I've managed artists who don't sing it at all. Who don't even want to attempt it."
In his arms was a Whitecaps jersey to be presented to the winner. "Marie," he said, "we're going to see you Opening Night."
She staggered backward, clutching her gloved hands to her face, before hugging the other contestants. (One of them, Donna Benedicto, an accomplished singer and actor, remains in contact.) And, just nine days later, Hui made her Whitecaps anthem debut before a sold-out crowd of 22,592, including the premier of British Columbia and the team's co-owner, basketball star Steve Nash. Two years later, the Canucks came calling.
In 2014, she performed Canada's anthem and "The Star-Spangled Banner" before 67,000 frenzied Seattle Seahawks fans at a National Football League game.
The Canadian anthem ("a beautiful song," she says) is the less tricky of the two. "The American anthem can be more daunting," she said of a song notorious for a demanding 19 semitones. "Lots of changes, high notes and low notes. If you're not careful where you start from, you may have to go too high for your voice."
Every anthem singer is one blown note, one forgotten lyric, one brain freeze away from going viral. Happily for Hui, she has never faltered, though she once spotted an old friend in the crowd and for just a moment feared losing her place.
Hockey fans have strong allegiances to anthem singers, who come to represent an image of their team, even their city. But for all the fame, an anthem singer holds a precarious gig. It pays in exposure, not cash. It is a job without any protections. Earlier this year, the Canucks held a contest where singers could try out for a spot as an anthem singer at a game to be played in April.
Hui takes it in stride. All she can do is promise to be at her best when asked to perform. With glowing hearts, we see her sing.
---
Hair and makeup by Melanie Neufeld. More from the Summer 2021 issue.