At first glance, the legendary Porsche GT2 RS (last released in 2019) most resembles a standard 911, albeit dressed up for a Halloween party after an insane weight-loss program. Instead of traditional handles, lightweight cloth pull loops open the doors. It forgoes power seats and sheds the standard 911 back seats so there's just an empty void where wee children might sit. The soundproofing has also been largely removed, and the hood lacks the hydraulic assist that would be standard on a $15,000 Hyundai Accent—it locks in place with an old-school widget. And in a final act of weight shedding, the metal front badge signifying this is in fact a Porsche has been replaced with a sticker.
For all these things you don't get, you're asked to pay a starting price of $334,000, or approximately $223,000 more than the 911 Carrera that comes intact. The Carrera doesn't, however, come with the GT2 RS's blistering 700-horsepower engine, the yards of carbon-fibre panels, a rear wing so massive it would impress Howard Hughes, or the gauge that shows how much g-force is produced as you toss this beast into a corner. You see, the GT2 RS is the poster child for a modern phenomenon: a race car you can drive to the grocery store.
The trend isn't exactly new. Porsche's Clubsport line, which also includes the current models GT3 and GT4, has been making track-ready cars you can drive on the street for decades. And several other companies, from Mercedes (AMG GT R Pro) to Chevrolet (Camaro ZL1 1LE) and even staid Bentley (Continental GT3), are producing cars geared toward the track rather than the daily commute. They often increase aerodynamics, lower weight, and beef up tires and brakes to go with their rip-roaring, powerful engines. There's been a huge uptick in people buying these limited-production, high-priced investments and actually using them for their intended purpose.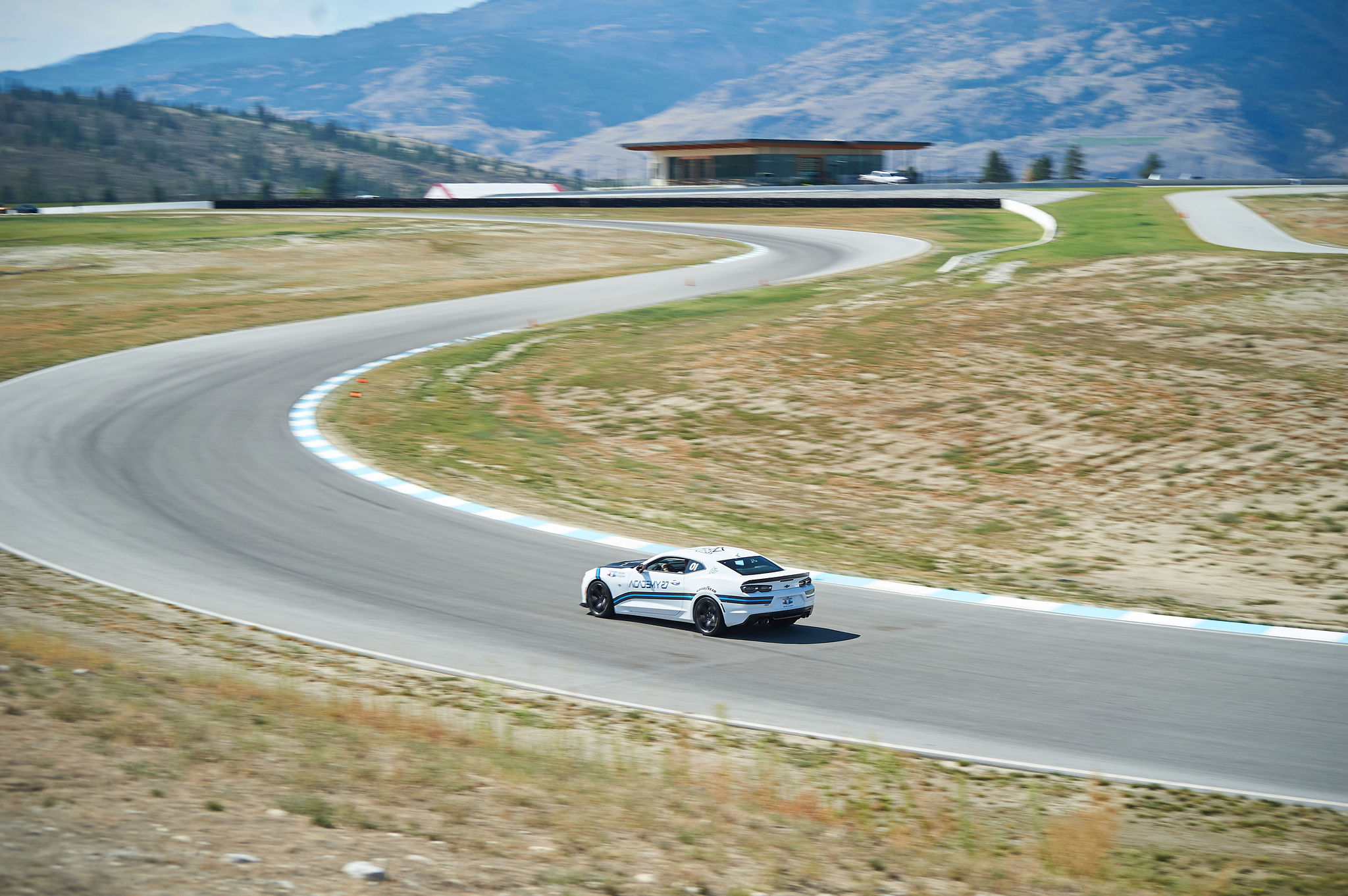 There has also been an uptick in the number of legitimate tracks for part-timers to try their luck on. As little as two decades ago, the local track was a hardscrabble destination for hardcore gearheads who worked on their own cars. But the new tracks have a broader vision—and welcome, even encourage, the well-heeled owners of elite cars to join the squealing-tires community. One of them is Area 27 near Oliver, launched in 2016. A little more than a decade ago, it was a mere idea in Bill Drossos' mind. He had spent plenty of time around tracks from B.C. to Ontario as a driver in the 1980s and '90s, but as he stepped away from full-time racing, he couldn't help thinking there was an untapped market of enthusiasts who weren't pros but still wanted the rush of adrenaline that comes from pushing their sports cars to the limit. He cobbled together a partnership group, brought in legendary race car driver Jacques Villeneuve to design the track—and waited.
It wasn't an overnight success. The business model required people to purchase memberships, a big step for a new sport. But when dealers—especially the OpenRoad group, which sells Mercedes, BMW, and Audi, along with Lamborghini Vancouver and Porsche Centre Langley—began inviting customers to try the track, Drossos won converts. Today the memberships are long sold out, and the wait list is a healthy 60 people.
One of those early members was Ben Hsu, who personifies the new breed of track enthusiast: "When I was young, I had the best Hot Wheels collection of any kid in the neighbourhood." He channelled that early passion into motorsport and a successful automotive shop but took a 20-year break from racing while raising a family and training for triathlons. In 2013 he got back into autocross, buying his first car made with the track in mind: a Corvette C6 Z06, replaced two years later with a C7 Z06 after he returned to track driving. As part of his purchase, GM sent him to a professional track outside Las Vegas, and after a few days of professional training, he'd found what would be his new passion in retirement. He sold the Corvette for a track-ready Dodge Viper ACR before being lured into the world of Porsche: a 991 GT3 led to a more extreme 991 GT3 RS, which will soon be traded in for the new version of the GT3, arriving soon.
Hsu knows how lucky he is to be getting the new car at all, which underscores another aspect of the burgeoning sport: availability. Porsche makes far fewer GT2s and GT3s than there is demand for, so securing one requires becoming a friend of the brand. That means showing a continued commitment as Hsu does; he is trading in his old model for a new one even though he could flip it for more on the open market.
Ahmed Abou-Shaaban, the general manager at Porsche Langley, deals first-hand with low supply and high demand, often from customers unused to having to wait. VIP customers, especially those like Hsu who are trading in older GT models, get priority. In Vancouver, Dean Rideout has the same problem at Mercedes: he has two AMG GT Black Editions coming in, and even at a price tag of $379,990, he has more buyers than cars. "We have to vet people very carefully," he says. "They're essentially buying a commodity that they could, in theory, immediately resell for a handsome profit the second they drive it off the lot."
And while there's undoubtedly a prestige component to these cars, the practical aspect is key. Drossos says even famed supercars can show their limitations on the track, and the toll it takes on their brakes and tires often surprises the owner. Rideout points to the advanced and aerodynamic modifications that come with track cars as critical: "Anyone driving one of these cars at speed quickly comes to realize how important downforce is to stability and performance." So while that big rear wing may have once signified financial success, these days its most important function is to keep its owner—and their prized track car—planted firmly on the ground.
Read more from our Autumn 2021 issue.