It's wet. Really wet. Water is pouring in from all angles: the roof, the windows, and—astonishingly—up through the floor.
I'm told it hardly ever rains here, but the entire annual precipitation is dumped during two of the three days I'm on the Big Island of Hawaii. Purpose of my trip? To drive vintage and new Porsche convertibles around every corner and bend of this spectacular place. There are 10 models and two full days of driving. I have a preprogrammed route in my phone, and after an hour or so in one car, I stop and switch to another. Today, the weather may not be playing nice, but I live in Vancouver. As my father (a Glaswegian who survived his own fair share of atmospheric rivers) used to say, "You're nae sugar; you'll nae melt."
And anyway, who could resist the chance to rip around in the cutest car on the docket: a bright red 1956 Porsche 356 Speedster. Honestly, only having the same era Paul Newman in the seat next to me could make the ride any more glamorous. Armed with a foot-high pile of plush towels wadded between me and the endless points of watery ingress, I set off fully immersed in my own classic Hollywood romance.
The 356 Speedster is iconic. James Dean drove one. As did Steve McQueen and Janis Joplin. Still, in the movies, it rarely plays itself: remember Tom Cruise chasing after Kelly McGillis in her little black number in Top Gun? That car was a replica.
"The movie guys do not treat the cars very well," Porsche's Alexander Klein explains with a sigh. "If they need a camera on the dashboard, they just drill one in." I am mid-gasp at the thought of such abject disrespect when Klein—the Porsche museum's head of vehicle management and heritage experience—adds that even so, a Porsche 924 with its stunning Pasha upholstery was loaned to Ridley Scott's House of Gucci for the character of Paolo Gucci (played by Jared Leto).
Klein is responsible for keeping the vintage car collection maintained—something that takes a great deal more than a lick of polish and the engine turning over from time to time. Heritage to Porsche, Klein argues, is not simply about keeping a record of their various models and innovations. His job, he explains, is to figure out ways to share that pride, knowledge, and history in a way that not only makes sense within the company but also translates to something meaningful beyond its doors.
"We run our own workshop at the museum," Klein notes of the 770-plus collection that includes not only vintage and contemporary commercial vehicles, but also some 200 racing and rally cars and the developing Taycan electric models. There is even, Klein tells me, a car in the collection that came from Honolulu (the Hawaii Porsche club, he says, was founded in 1959).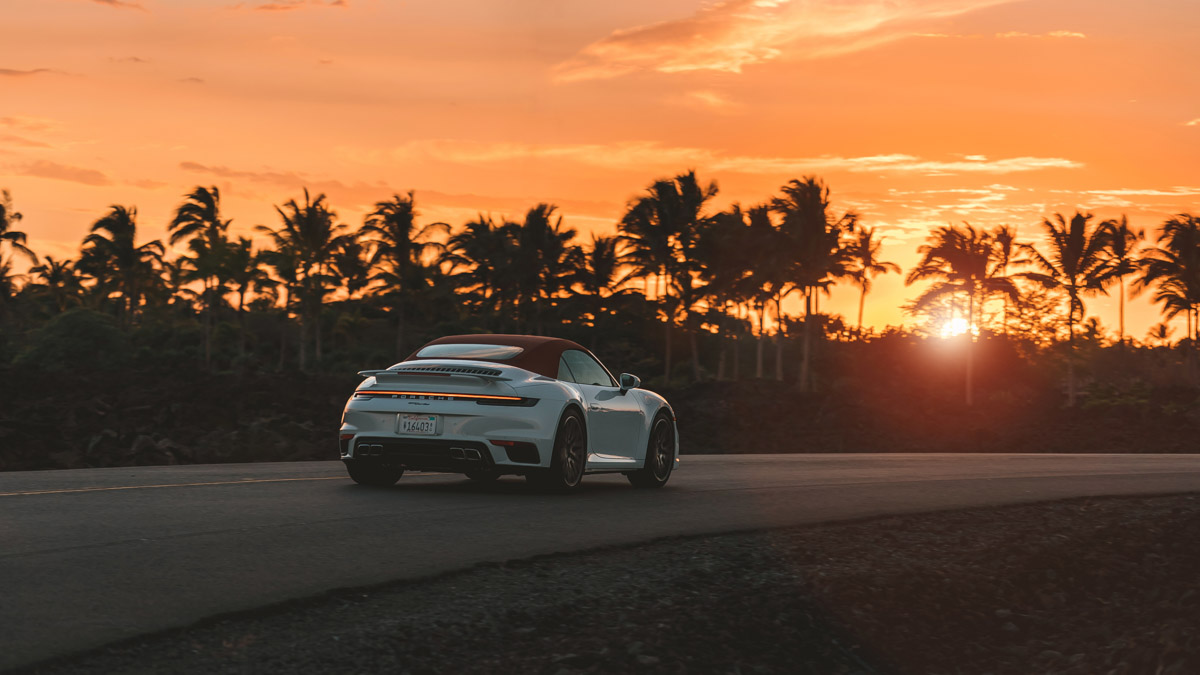 "We collect everything from the blueprints to the show car to the prototype to the finished car," he adds. "Our stock runs at about 2.5 million spare parts." The idea is to keep the knowledge and craftmanship within the company, he explains. "Our youngest mechanic is currently working on the oldest cars, and our oldest guys are working on the latest cars." He adds that this is what makes their operation unique: "We are able to rebuild and to repair our cars ourselves."
Just the night before, waiting in a parking lot for a shuttle to take us up Mauna Kea (the dormant volcano that stands as the State of Hawaii's highest peak), I saw this in action. We could hear the 914/6 coming from a distance, heaving and spluttering, emitting a grinding whine and a puff of dark smoke as it came into sight. The Porsche mechanics were prepared, two of them jumping into overalls as the car approached. No sooner had it stopped, one started jacking up the chassis, while the other lay on a mechanic's creeper and wheeled himself underneath. The entire repair took less than 10 minutes.
That day ended with stargazing, picking out constellations with the naked eye. The Milky Way looked close enough to touch. Jupiter and Saturn were visible, and with a small telescope, I counted the former's moons and the latter's rings. But even this magical space (a sacred Indigenous site) is not without its pain; the fight to protect it from a project to build the more than $2 billion (U.S.) Thirty Meter Telescope here is ongoing.
I was reminded of this clash between past and present, the protection of culture and the pursuit of knowledge at a pit stop at the Keahole Center for Sustainability, on the same site as a charter school—West Hawaii Explorations Academy. Here students work on science projects they choose themselves. The kids—as kids who are allowed to run with their interests and imaginations tend to be—are passionate and wonderful. One class, busy programming and building robots, are also thrilled by the row of Porches parked outside. They are given permission to investigate.
"I'm really excited about where you are taking the Taycan," says a bright 15-year-old, even as he rhapsodizes over the classic gas-fuelled models.
Back in the Speedster, I turn off the windshield wiper. Its efforts are futile in the face of such a deluge. All I can do is let the water wash over me, stay alert to what may be around the next bend, and trust I will know what to do, whatever comes my way.
---
Read more Transportation stories.