At Langley's Thunderbird Show Park, a team of five workers move busily around the field. They hoist bits and pieces of fence over their shoulders, rearrange massive flower pots, and remove the occasional pile of horse droppings. Four wear TBird's orange uniform. The fifth—the man in charge—is wearing a pale-pink dress shirt tucked into brown chinos. Black sunglasses hide his eyes and a baseball cap covers his head. Aside from a cheerful nod hello, he doesn't interrupt his stream of instructions.
"One-40," he calls out, extending a tape measure—the smaller of the two he always carries about his person—to the ground. He pauses to briefly consult a scrap of paper in his hand, gestures to his crew, and then strides off to set the next jump.
Joseph "Joey" Rycroft has been doing this job—designing competitive show jumping courses—for 15 years. Originally from Maple Ridge, B.C., he is one of the founders of Pacific Equine Sport, based in Calgary, which organizes equestrian events, designs courses, and provides jumping equipment across North America.
Today, each obstacle placed on the ground holds his complete attention. He mutters to himself, moves a fence, moves it back, walks off to puzzle over it, and returns with renewed focus—creative thought at work. His remit: to design a course that will breed healthy competition, exercise creativity, and most importantly, keep the horses safe.
It's a tall order, and competition days of 12 hours or more are the norm.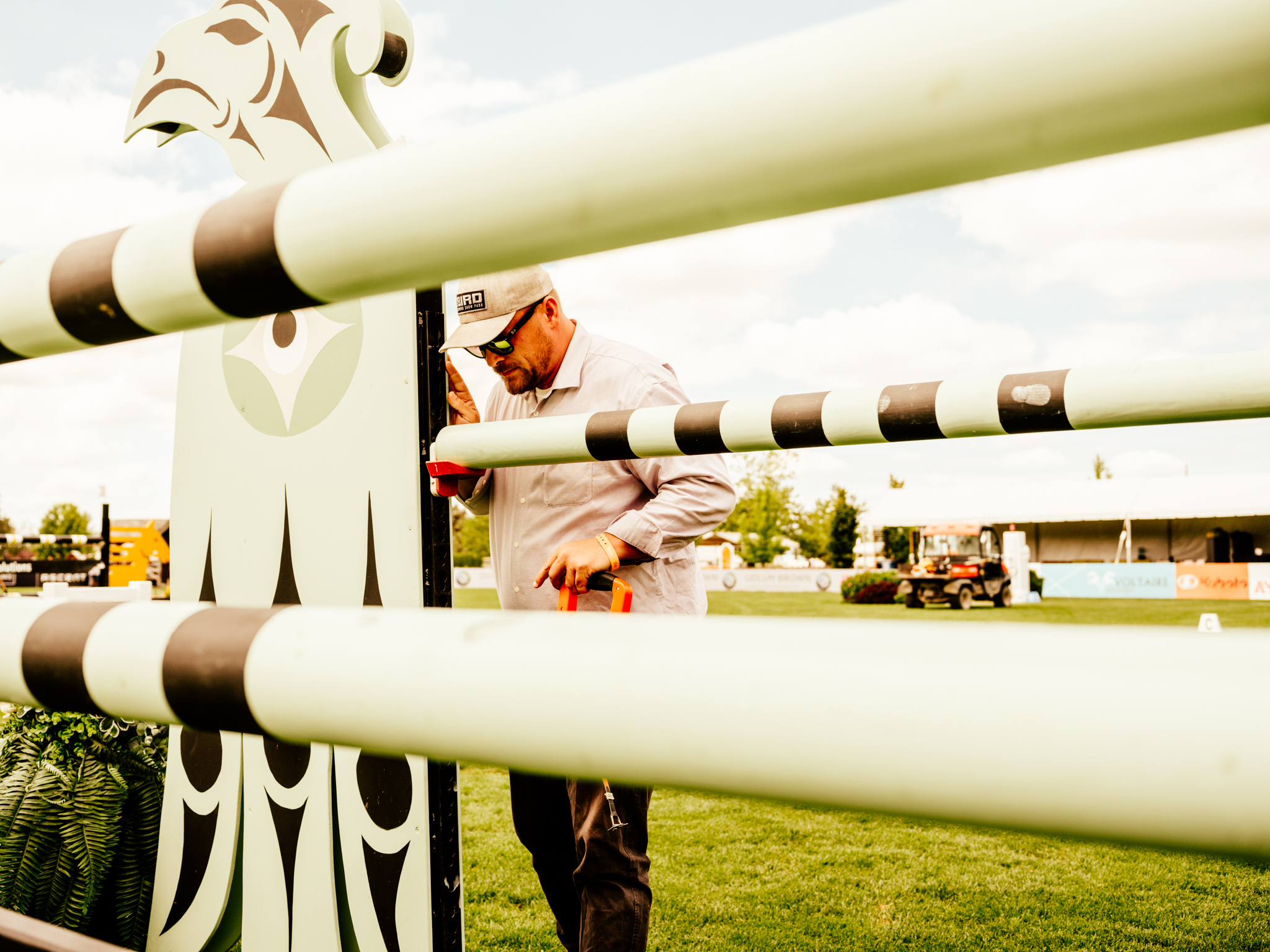 Done well, his role is invisible. Spectators come to watch the riders jump their horses, gasping and sighing when the animals knock over fences or shy away from ditches—oblivious that the architect of this drama is Rycroft. "The irony is," he tells me with a shrug, "no one knows how much work I put into this. Here—" He pushes his crumpled paper toward me, revealing a map of curving lines bisected by little rectangles. The most important thing is the line, he explains. It's the flow, the path the horse will take around the ring. Without a good line, you don't have a good course.
How does he come up with these lines? He pulls out his phone and searches—of all things—Picasso. "His work inspires me." He shows me the artist's famous single line drawings. "There can't be a break in the course. At no point is the horse allowed to stop."
A show jumping event is a test of speed and agility. Each course is timed, and a rider who exceeds the limit accrues penalties (faults). Jumps must also be cleared without dislodging bars, touching the water, disobeying, or falling—all incur more penalties. The rider with the best time and fewest faults wins. The heights of the jumps are set by an international regulatory body, the Fédération Équestre Internationale. Here in Langley, at today's Odlum Brown Ltd. Grand Prix, the maximum is 1.40 metres.
The types of jumps also play a role: the easiest is often a solid wall, the most intimidating a water jump, as horses can't tell how deep it is. Through the configuration of time, space, height, and type of obstacle, Rycroft can push horses to the limits of their skill.
The sport wasn't always as sophisticated. Horses have always jumped over natural obstacles, but show jumping evolved from hunting. In the 18th century, when British fields began to be enclosed with fences, horses were forced to chase the hounds over walls and hedges built across previously open land. When equestrian events were first included in the Olympics in 1900, they involved grand prix jumping, high jump, long jump, and polo. The modern format of show jumping, dressage, and eventing (a triathlon comprising dressage, cross country, and show jumping) was introduced at the 1912 Stockholm Olympics.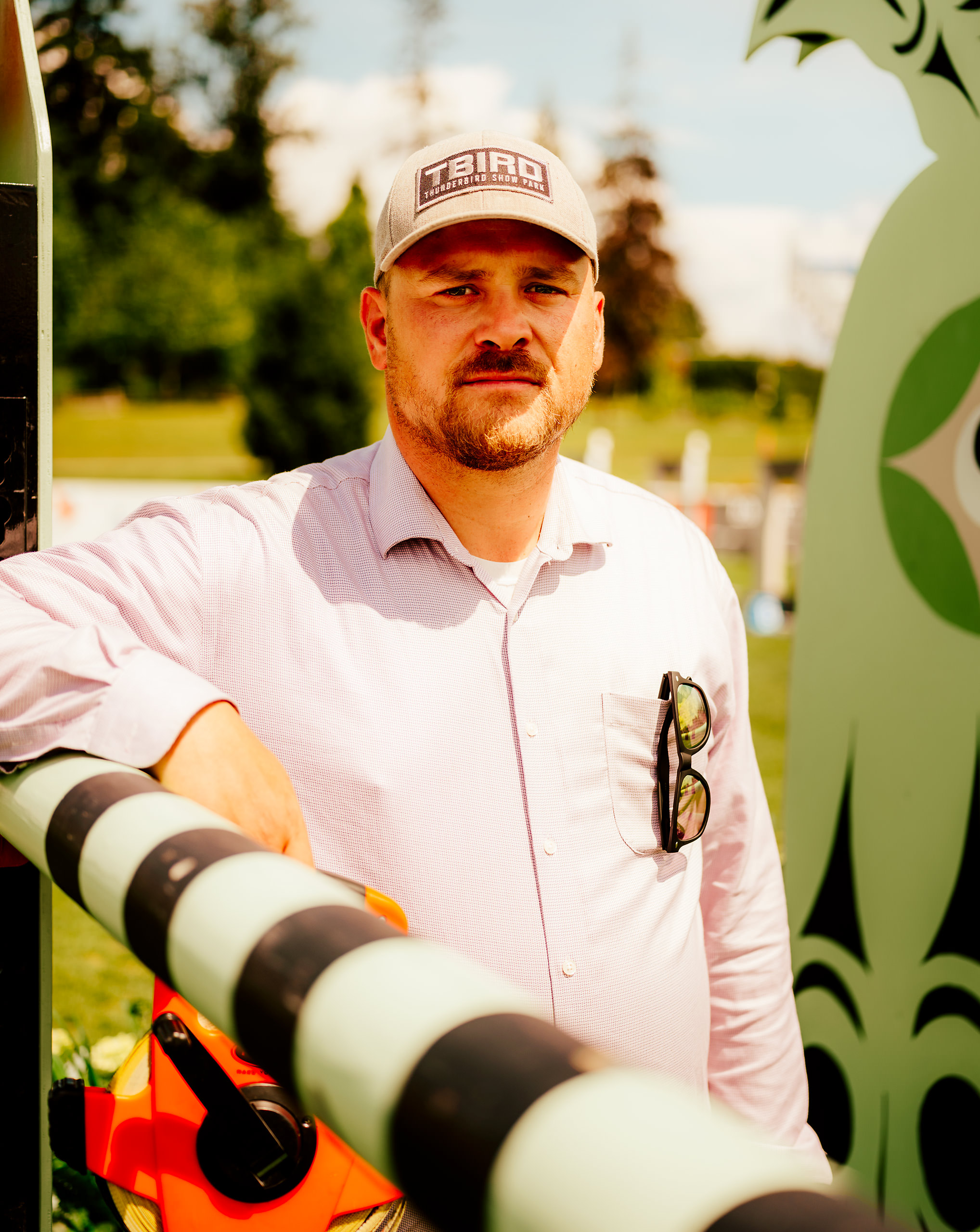 Christopher Edwards-Jones, another course designer at Thunderbird and a long-time friend of Rycroft, describes the early decades of show jumping as having a "no guts, no glory" attitude, involving towering fences with rails that didn't fall away (which could cause a horse to somersault forward) and poor safety standards for both animal and rider. Horses would jump over seven feet—the world record was set at 8.125 feet by Captain Alberto Larraguibel Morales in 1949. Today, contemporary course designers are turning away from manufacturing dangerous theatrics.
"People have talked about raising the maximum height," Edwards-Jones explains, "but for us doing a top-level sport, we don't feel it's necessary. There's so much you can do now with the distances between the fences, the time allowed."
Rycroft, who likes adding subtle tricks instead of the obvious challenges of a big jump, uses every tool in his arsenal to make his courses difficult but not dangerous. The grand prix he's designed today seems straightforward. The hardest bit, at first glance, appears to be two successive jumps placed toward the end—surely not an issue for these experienced competitors. Having watched him put a variant of a water jump—a Liverpool—in the previous day's course for less-experienced riders, I'm confused. Am I missing something?
His grins at me. "The time."
Later, when the first competitor at the grand prix clears his course well under the time allowed and with zero faults, I begin to wonder if he's made a mistake. I'm not alone. The trainer of the next rider calls out with brimming confidence, "Time allowed is 88 seconds. You should be fine."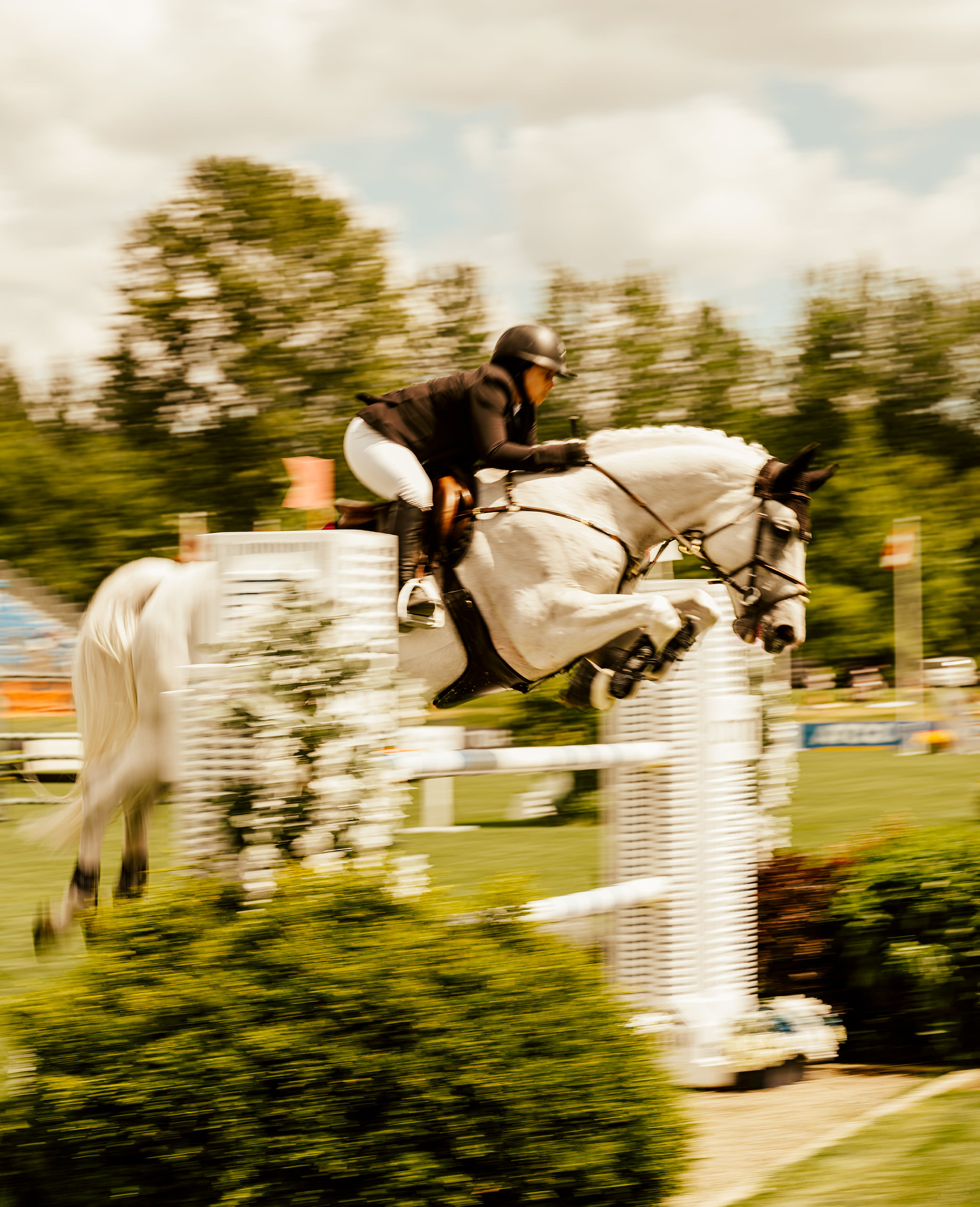 The rider is not fine, going over time and picking up faults to boot. And the next encounters the same fate. As does the next. Kyle King, an American now living in Langley and one of the more experienced competitors today, offers an explanation. The course has elements of a "derby," he tells me. "There wasn't a lot of technical riding, but it was a lot of galloping long distances."
It takes another four riders until someone else completes the course within 88 seconds, and aside from a few knocked-down fences, there's no big scare or horses refusing a jump. Rycroft is pleased by both the level of competition he's engineered and particularly that the horses are doing okay. "The horse," he notes sincerely, "doesn't choose to be here."
I'm transported back 24 hours, to a lower-level competition I watched Rycroft design. A horse came to a full stop before a jump, pitched the rider off, and galloped for the entrance gate. The rider later mentioned the horse had reacted the same way at a similar jump two years previously. According to Rycroft, a bad enough experience with a fence can stick in a horse's memory. Refusing a jump is not uncommon: at the 2022 Longines FEI Jumping Nations Cup I attended here in June, an Israeli competitor's horse balked at a Liverpool, despite increasingly frustrated orders from the rider, and was disqualified.
In both incidents the animals' distress was palpable: nostrils flaring, rear feet stomping in protest. It's why Rycroft takes into account the psychological state and emotional equilibrium of the horses in his course design. "I don't like to see them leave with their head hanging down," he says. "Even if they haven't done well, they shouldn't leave scared or sad."
Rycroft's empathy for horses began when he was just 10 years old. He was suspended from school for fighting with a boy who mocked him about his parents' divorce. His father, not about to let him sit around at home, found him a job cleaning stalls at a nearby stable. It changed the direction of his life: a few years later he started show jumping and eventually moved on to course designing.
During his years competing, Rycroft was involved in an accident himself. A simple oversight in course design caused his horse to flip over. The memory keeps him vigilant. It's why he fiddles with his jumps three times before moving on. The physical safety and emotional well-being of the horses is always top of mind.
"When I see how successful they become over the years, it makes me so proud," he confesses. "I helped them get there. I contributed to that."
---
Read more from our Autumn 2022 issue.