Renowned Vancouver textile artist Joanna Staniszkis first fell in love with the south of France in 1981. Just 37 and already a recognized tapestry artist in Canada with large corporate commissions and a prestigious national award to her credit, she secured a sabbatical from the University of British Columbia, where she taught textile design courses. With her then husband and school-age son in tow, she travelled to France, where the trio shared a large house in Lambesc not far from Aix-en-Provence.
While sophisticated Aix, with its Roman roots, abundant fountains, elegant 17th- and 18th-century residential architecture, fine university, and enough posh shops and Michelin-starred restaurants to satisfy snooty Parisians, was a quick trip south, Staniszkis found her heart's true calling an hour's drive north of Lambesc in the Luberon. Its rustic landscape includes both a spectacular Prealps massif and storybook visuals: ancient hilltop villages and castles, Roman remnants, lavender fields, limestone and ochre quarries, and intimate vineyards.
Staniszkis spent every free moment of her sabbatical exploring the Luberon's craggy countryside, drinking in its rich history, culture, and beauty. This initial study leave marked the beginning of ritual returns to the area whenever school breaks and art projects permitted.
In 1996, after more than a decade spent poking around, Staniszkis fell hard for her first ruin. The ancient stone building missing half its roof was sandwiched between a 10th-century Romanesque chapel and the remnants of a medieval castle at the very peak of the hilltop village of Saignon. "An artist can only go so long without needing to splash paint," she says of her decision to purchase the tumbledown structure and dive into a serious restoration that would require more than cosmetic brush strokes.
Even for a woman of Staniszkis' energy and fortitude, obtaining the required building permits proved a decade-long struggle. On the eve of her retirement from UBC in 2007, she stopped work on the project. She planned to permanently divide her time between Vancouver and the Luberon, and "Saignon felt like it was not going to happen in my lifetime," she says. She needed a place she could actually move into, with enough workshop space to begin her second life as a clothing designer.
She found it in picture-perfect Bonnieux—a 12th-century multilevel stone house snugged into and stepped down the hilltop rock. Compared to the heavy lifting in Saignon, upgrading this house, which once belonged to New York gallerist Julien Levy (credited with fostering the careers of many giants of 20th-century art, including Frida Kahlo, Salvador Dali, Man Ray, and Henri Cartier-Bresson), was a piece of cake.
Staniszkis removed the outmoded alarm system (one can only imagine what must have hung on Levy's walls); made requisite updates to the kitchen and bathrooms; repointed, parged, and painted some of the deep stone walls; and improved, where she could, the home's awkwardly narrow and uneven-stone staircases, treating one particularly steep spiral to a marine-rope-and-eyelet handrail.
All of this was merely prologue, it turned out, to the artist's biggest architectural adventure, the restoration of not one, but two unusually voluminous caves she discovered underneath her medieval dwelling and the one next to it.
How is it possible, one might reasonably ask, to live above cathedral-like caverns rich in Romanesque detail and be unaware of their presence? While Staniszkis understood there could be a cave under her home (there are a number of prosaic ones of modest height carved into the limestone along her side of Bonnieux's hilltop), she did not own the underground space and had never seen its interior. Then, on a bright morning in 2012, Staniszkis walked across the public square in front of her house, noticed the normally closed high wooden doors on the property next door were propped open, and popped inside.
What she saw was an astonishing architectural treasure. "The main cave was deep and dark, with a dirt floor," she recalls, "and bats were hanging from the rafters." The previous owner had kept his donkey there, so the space was littered with piles of straw, and broken wooden carts and barrels. But its grand size, unusual height, rounded arches, and barrel-vaulted ceilings reminded her of a cathedral. A second, skinny cave connected to it sat directly under her house. It did not take much for the artist to imagine this setup as both a jaw-dropping home and exhibition platform. "My friends thought I was crazy," she laughs, "but I needed this cave to be mine."
When it became available, she bought it.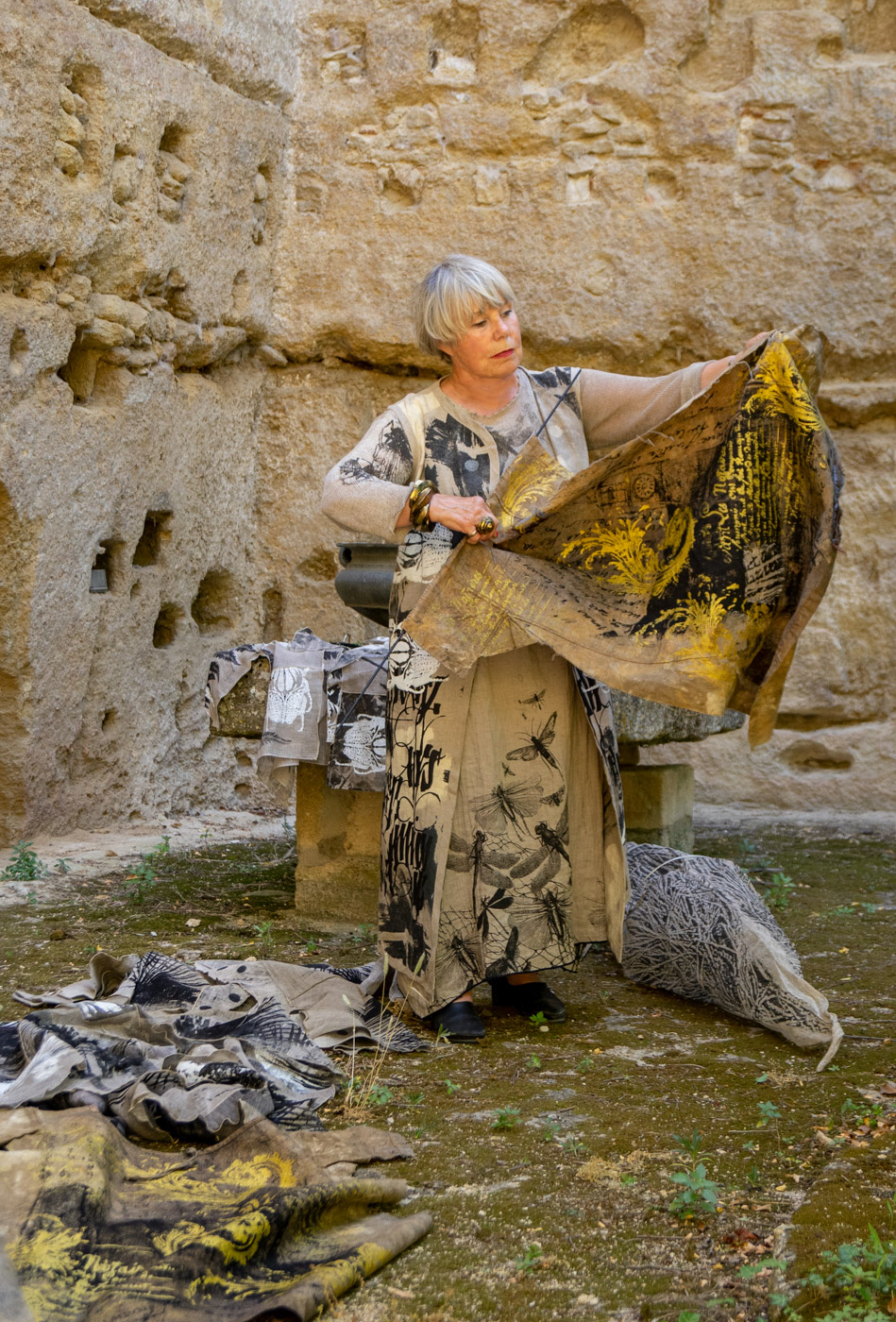 What took place over the succeeding three years was, she says, "probably the most challenging project I have undertaken in my life." If the sheer size and volume of space weren't daunting enough, every stone had to be inspected, then replaced or reset, every arch repaired and reinforced. At one point, the ancient vaulted ceiling of a new bedroom and bathroom in the skinny cave, created by adding a second floor inside its volume, looked as if it might collapse before workers could shore it up by reaching its peak through the dining room floor overhead.
Limestone caves can be damp. Staniszkis was lucky hers was not. Even so, as extra insurance she installed a radiant-heat concrete floor, inventively keeping its edges away from the walls in some places with a track filled with pebbles to trap even the slightest hint of condensation.
Two years ago, at 75, Staniszkis left her five-storey steep-staired domicile and cave in Bonnieux for yet another ancient structure, an easy-to-navigate 14th-century stone house on two levels built into a quarry in Les Talliades. A meticulous renovation by the previous owner has freed the artist to use her time making a garden and inventing new, unmatched art garments out of her core textiles, linen and silk. She is also preparing for an installation that will celebrate the rich history of silk production in France. It will kick off in June and run through the summer in multiple rooms at the Dora Maar House in Ménerbes.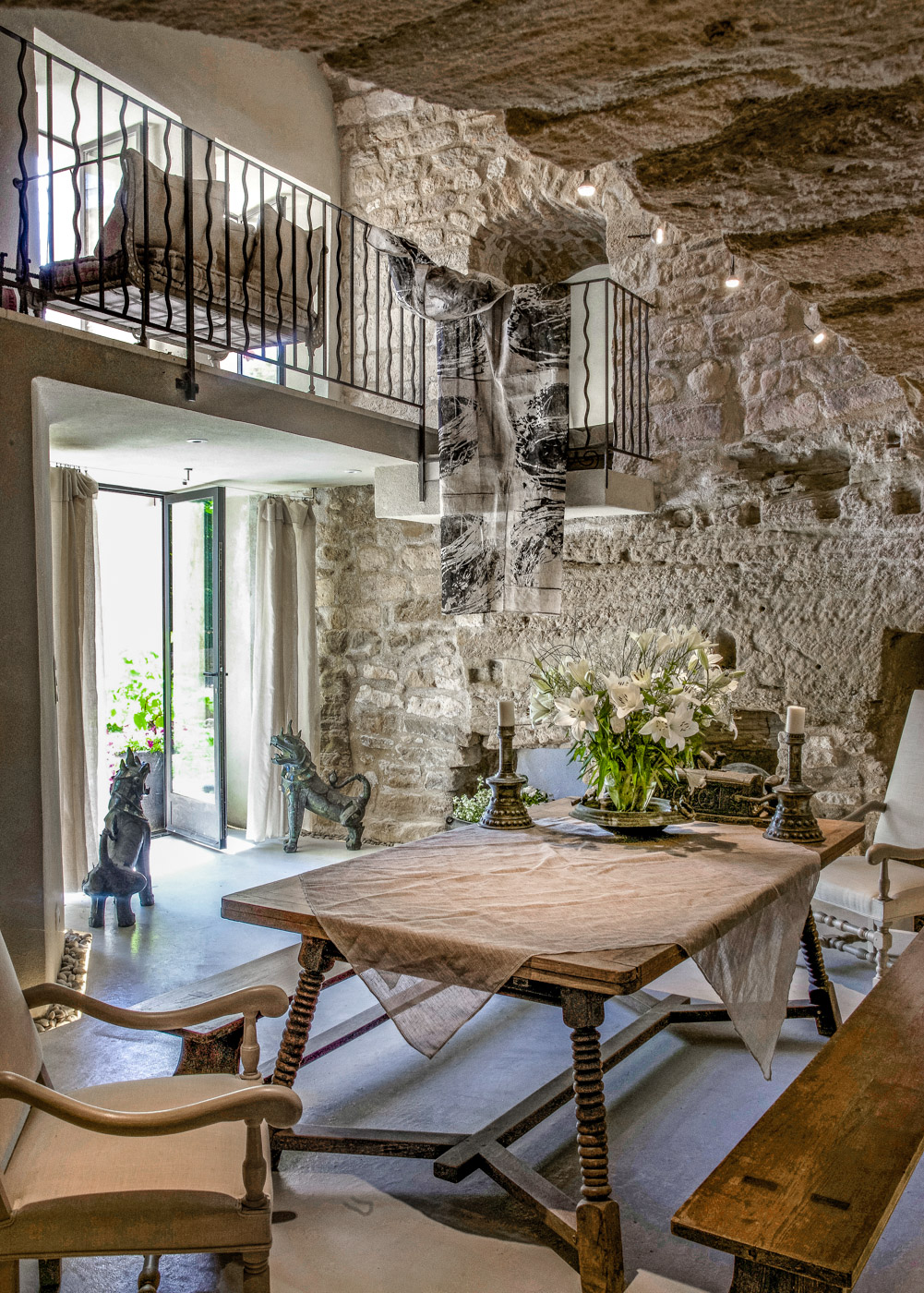 There can be few textile scholars more knowledgeable than Staniszkis on the history and ecology of silk. She has explored the fibre in all the ways it can exist. She has raised her own silkworms on the leaves of ancient local mulberry trees and, for an exposition in 2016, seeded them among the tangle of dried ivy vines that feature prominently on one wall of her cave, allowing them to form cocoons, emerge as moths, mate, lay eggs, and then die, leaving their coveted casings behind.
Nature, along with historical storytelling, informs all of Staniszkis' artwork. It helps explain why she loves living in ancient stone dwellings. "I think that it has to do with their textured surfaces," she notes. "The play of dark and light, the linear patterns of the strata deposited in layers, the variety of their warm tones in the Luberon—all of the elements I try to create in my textile art."
---
Read more from our Spring 2022 issue.