At half past noon, the bus parks behind the Sahali Mall in Kamloops. Tom Eustache is there waiting by a Ford pickup. He's a member of the Simpcw First Nation, the community's manager of public works, and on the board of the Indigenous Youth Mountain Bike Program.
The IYMBP is a nonprofit organization that has collaborated with First Nation communities such as Gitlaxt'aamiks, Nisga'a Nation, and Mount Ozzard, Ucluelet First Nation, to develop, construct, and maintain 150 kilometres of mountain biking trails and riding features. Today, though, Eustache wants to show me his project, a network of runs and paths he has been building and maintaining for 15 years.
Not because it's gnarly, nor because there's a route so perilous it's impossible to walk (one can only navigate it on two wheels and a good dose of naturally produced endorphins). It may be all those things, but no, we're here because the Simpcw network of 18 runs has become part of the Indigenous communities' efforts to assert sovereignty through trail building in British Columbia.
Eustache has a medium frame, dark medium-length hair with a touch of grey, and a light beard. When I disembark, he smiles and takes a few steps from his truck with an open, easygoing demeanour. We shake hands, and we're off.
The drive at first is dusty and hot. The hills around the town are near-bald semideserts, beige exposures dotted with bits of green. The truck skirts south around the city centre. As Eustache signals to turn north onto the Yellowhead Highway, he explains that the Simpcw First Nation works with Recreation Sites and Trails B.C. "Everybody else, they tell them where they can build trails, and for us, I just let them know: it's out in the back of our community. If we go off the reserve boundary, I'll let you know, but I'm not going to ask for your permission. It's our territory."
We cross the South Thompson River and pass a large brick building looming on the right. It's a landmark that elicits curiosity, but our conversation drifts onto the topic of how Eustache's consciousness around the politics and reconciliation aspects of mountain biking has grown over time.
When he first started, the obsession with the sport was personal. He describes the first bicycle he ever owned. It was a blue bike with a banana seat. The muscle bike, Eustache says, "might have been from Sears or somewhere like that."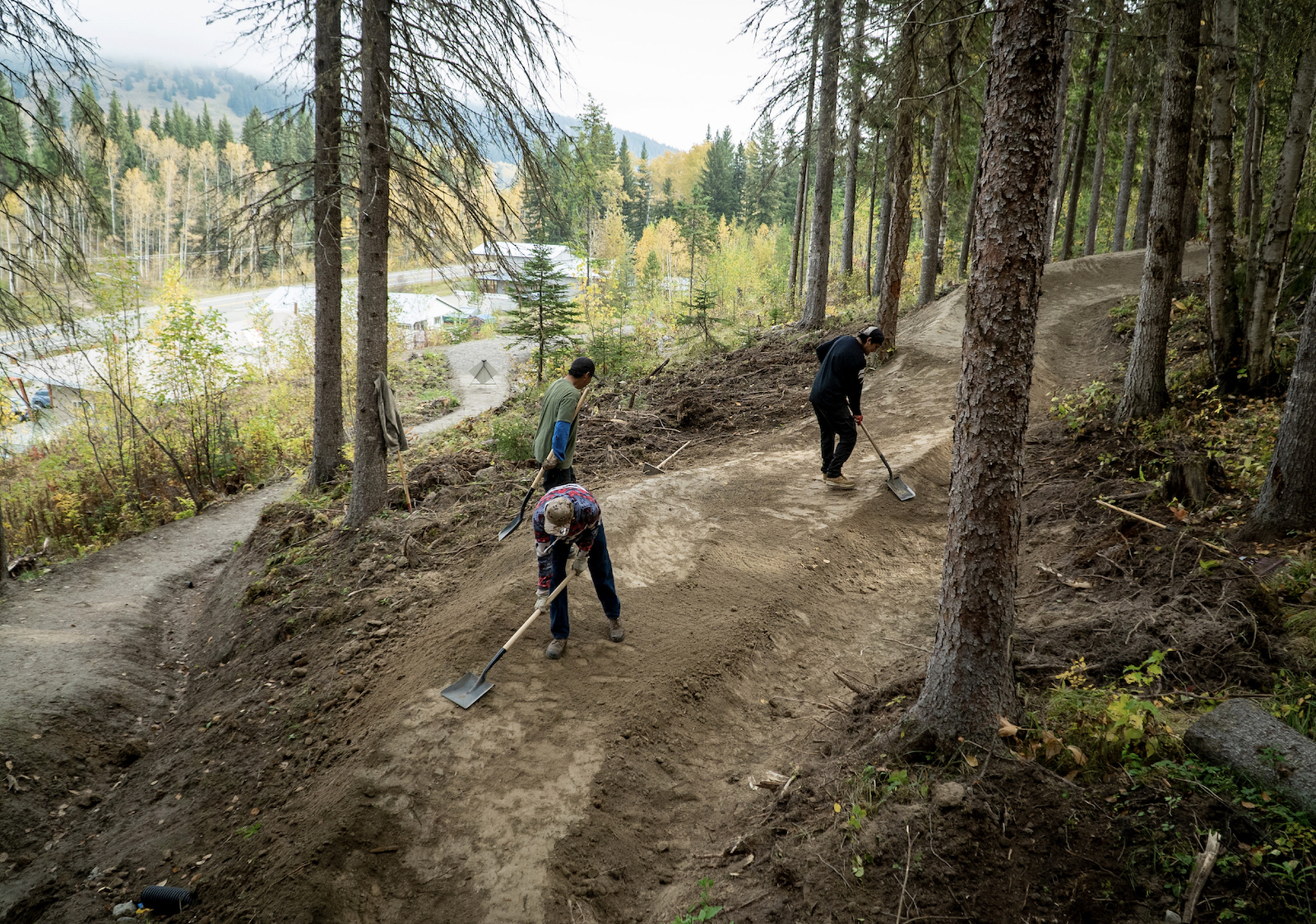 His father bought it for him in the '70s. At the time, he was living near Little Fort on a tiny, isolated reserve with only three houses. "There was one street light down by the river, and that's where me and my friends and some of my cousins would hang out down there in the evenings," he says. "We built a jump. The bikes weren't meant for jumping, but we were jumping them anyhow."
As an adult, Eustache became a casual rider. He explains, "As I grew and finished high school and stuff, the bike got put away. I didn't ride bikes anymore after that. Until my kids were getting old enough to ride, so we bought bikes. They weren't mountain bikes or anything…. They were the first Canadian Tire-type bikes that you could ride off-road."
Mountain biking rolled into Eustache's life with the early days of YouTube. He became fascinated with trail-riding footage. He had a vision of experiencing those rides and started picking up magazines about the sport. Some of the riders featured were from Kamloops. In 2009, Eustache found in the pages of the local Buy & Sell a used Norco Rage, a heavy full-suspension rig built for downhill runs. And so began his abiding love of mountain biking and trail building, which is why we are headed to the network in Chu Chua, Simpcw First Nation.
We pass the Rayleigh neighbourhood of Kamloops. There the North Thompson River makes a small hitch, then runs up a narrowing valley. Somewhere along the road, a threshold is crossed. The air cools, the hills grow greener, everything feels softer, pastoral, as if we've entered another biome. I hear myself exclaiming, "Wow."
For Eustache, it's familiar territory. I ask about a remarkably flat-topped hill. Eustache says, "My nephew had a theory that a meteorite struck the top of it."
At some point along the drive, he points west, to where his house burned down in the McLure wildfire of 2003. "Only two houses on the reserve down there survived," he says. "The day that we left, I think it was 40 degrees. It was so hot."
On cue, another truck approaches. Eustache stops and rolls down his window. He introduces Earl Celesta, a member of the public works team. Today, Celesta is pre-positioning water reservoirs to fight wildfires. They talk about placing some water tanks to protect the trail. The trail matters.
The community came to see trail building as a means to provide youth with skills, training, and another way to connect to the land.
When Eustache began hacking away on the slopes above Chu Chua, he thought about what then-chief Nathan Matthew had to say about making paths. "He said to document it somehow. Say you were in this area so we can prove our use of the land. This is our whole territory." As he says this, Eustache lifts his hand from the wheel to indicate beyond the boundaries of the reservation.
In 2014, he met Patrick Lucas, the non-Indigenous ally who founded the IYMBP, and invited him to see the Simpcw trails. Eustache says Lucas visiting was important. "When he came to our community, he was a saviour-type person. 'Help you guys out. Make you look better.' But he didn't even know what my life was like."
The pair rode. They hit it off. Soon they were consulting with communities up and down the North Thompson River valley. They discovered Eustache's pet project had meaning beyond the personal. Others believed in the endeavour. Eustache was no longer "the crazy mountain bike guy who throws himself off the tops of mountains."
Instead, the community came to see trail building as a means to provide youth with skills, training, and another way to connect to the land. The network trails brought non-Indigenous people to the valley who could see for themselves that it "is an amazing place."
He adds, "That's the only way we're ever going to get control of making sure things go properly in this valley. Not just saying we are the caretakers of this land but actually being caretakers of the land."
Eustache turns right and pulls into the entrance of an unpaved parking lot. There's a sign with a map that shows the network. Green lines, blue lines, and black lines. Easy, intermediate, and hard. The funny thing is, we sit there for a few minutes, just admiring it. The map, the marking, is nearly as important as the trail itself. It declares this is Simpcwúl'ecw—which is the name of the land itself.
Eustache laughs. He doesn't need a map. He says, "It's all in my head."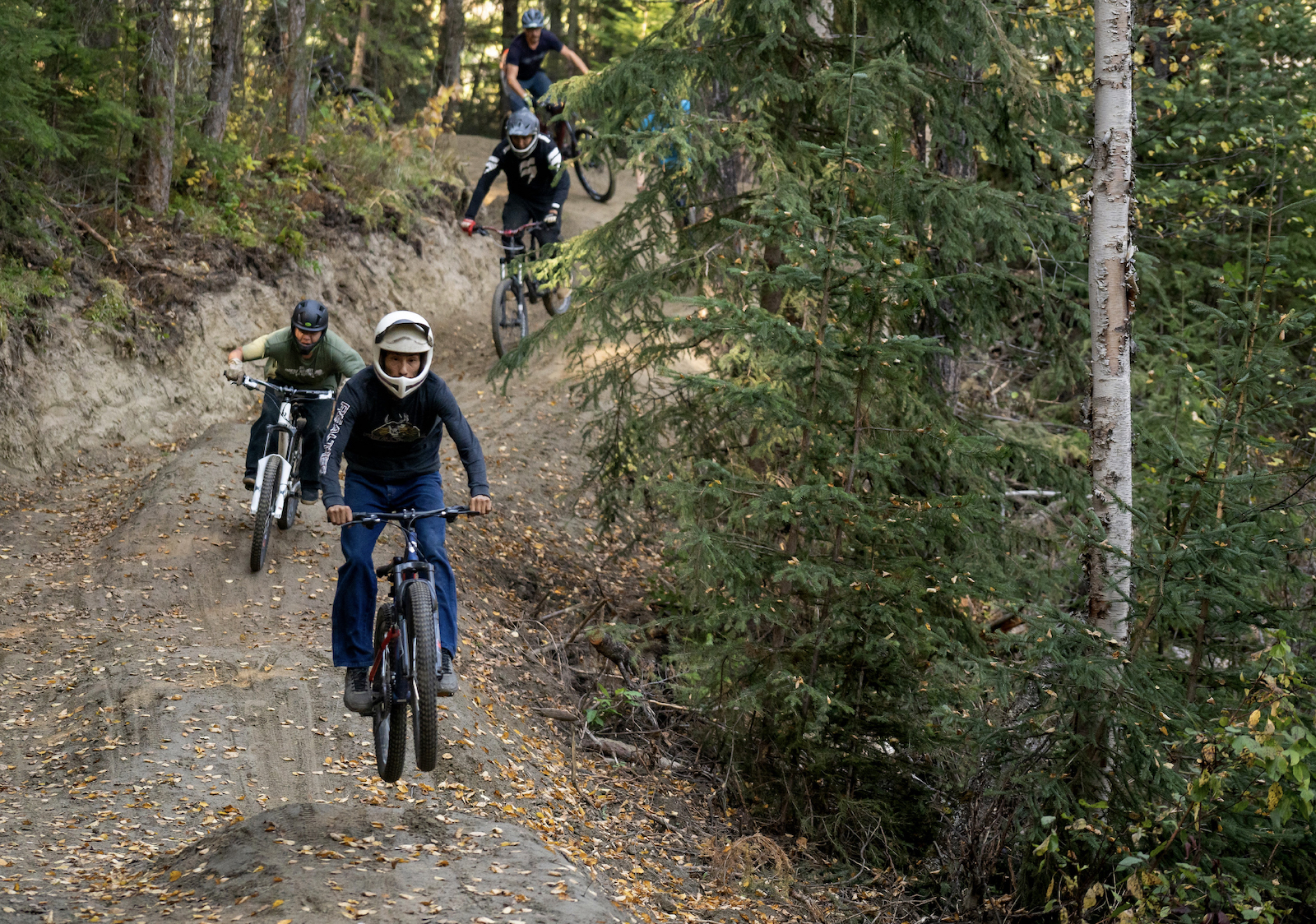 We climb out of the truck. The network sits in a forest of young pine, fir, poplar, and birch. Eustache leads me on foot up the most difficult trail, Step It Up. It's a 1.4-kilometre rollercoaster-like route that takes 12 minutes to ride.
He brings me to a large feature, which stops me in my tracks. A slatted wooden platform flies between the split trunks of a fir. It then angles down, into a near vertical. I don't dare descend it. "Oh," I say. "So this is a down-only."
Eustache laughs again. He tells me that the trails are an expression of himself. "I have a vision of what it feels like, and really what we enjoy is what we really try to build.
"I want people to know what I'm feeling when we built it, when I ride it. I want them to have that. So when they ride that and they come down and they say, 'That was so cool, ripping through the trees, only this far apart at high speed, that was the best feeling.' My intention was felt. That's the reward."
It's time to head back. My bus home leaves at 4:30. We get in the truck and take the road south, past the flat-topped hill, past the bend in the river. Again, we pass the looming brick complex.
I find out later the brick landmark was at one time the Kamloops Indian Residential School. It leapt into non-Indigenous consciousness in 2021 when the Tk'emlúps te Secwépemc Nation announced there were 215 unmarked graves on the property. Most of the buried are believed to be students.
But Eustache never mentions it. His eyes stay fixed on the road ahead. I apologize for not being able to stay longer. Eustache shrugs it off. "At least you got to see."
---
Read more from our Autumn 2023 issue.