Naramata, on the east side of Okanagan Lake, is renowned for tidy orchards and vineyards that spill down to the lakeshore, intimate wineries with informal tasting rooms, and scrumptious spots to eat. It is British Columbia's amiable response to Napa Valley.
Above this sprawling benchland, Naramata's landscape quickly turns to wilderness. This is the domain of outdoor adventurers and backcountry denizens who prefer the wild and remote places to the manicured and populated. Here, in Naramata's hinterlands, at the southernmost edge of rugged Okanagan Mountain Park, an engineering geologist and his wife built a startling steel home.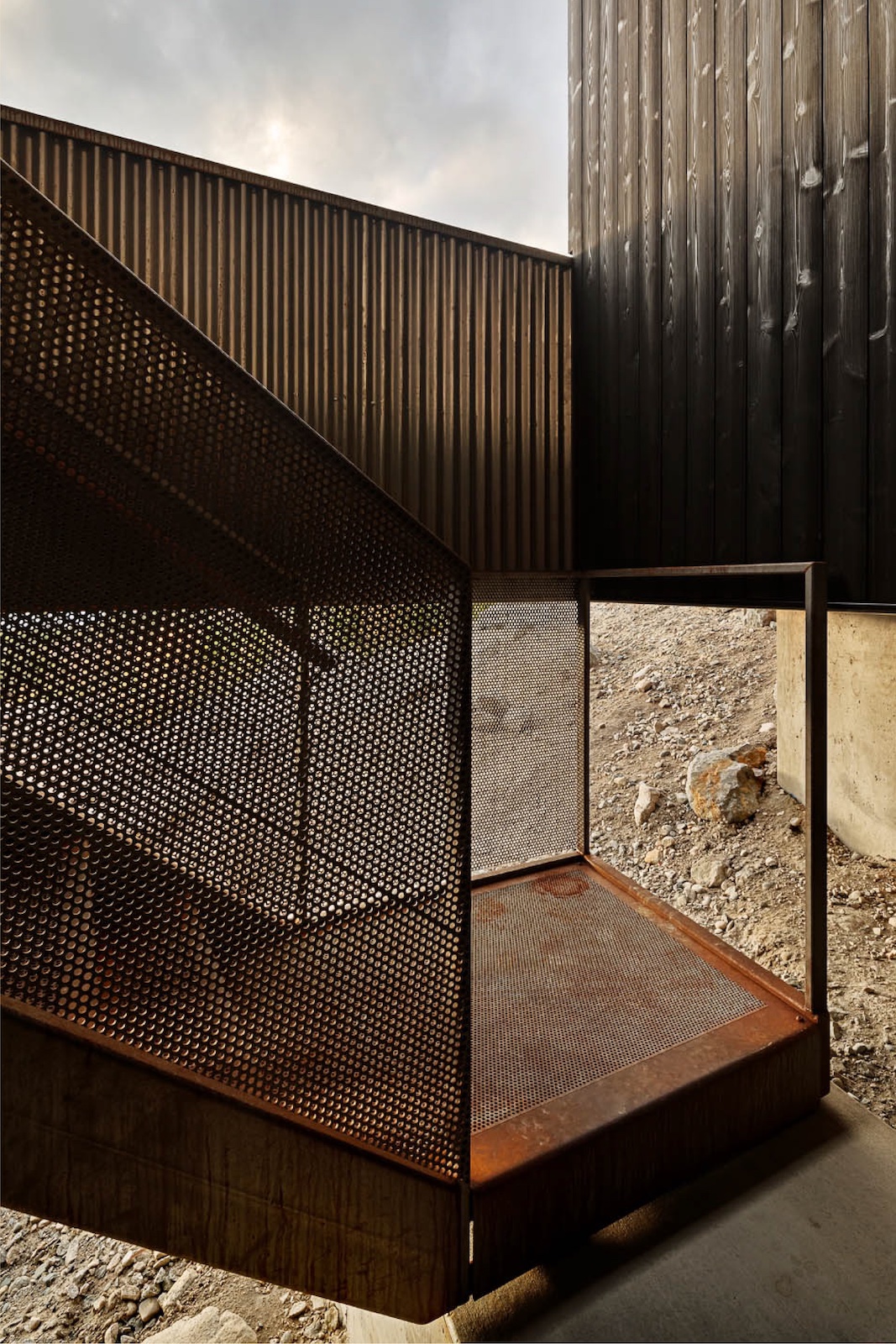 With an arresting shape inspired by the resilient mountain pine beetle, the house boasts a panoramic outlook with cinematic views. The structure sits on a scrubby hump of dry land that backs onto the provincial park's folds of glacier-etched bedrock. Forests of ponderosa pine and Douglas fir are visible in the distance. So are blackened snags, the lingering record of the lightning strike that 20 years ago triggered a 250-square-kilometre firestorm that destroyed most of the park's timber, an inescapable reminder that fire comes with this terrain.
Omar Gandhi, a Nova Scotian by way of Ontario who, with his team of creatives, designed this home, is a Canadian architectural star in the making. His projects, favourites of the international design press since he established his own practice 13 years ago, have been honoured nationally with prestigious awards and prizes. Indeed, it was a magazine article on his approach to design that led this B.C. couple to Gandhi's Halifax doorstep. "I think they just fell in love with the way we think about land," Gandhi suggests, a philosophy that is easy to read in his firm's widely celebrated residential work in rural Nova Scotia.
"I think the whole thing started as a far-fetched idea, hiring a bunch of Halifax architects to do something in the Okanagan."
It is work that displays a reverence for the natural landscape and an intention, wherever possible, to let nature do its own thing. Although every house in the studio's portfolio is unique, the form is always distinctively Gandhi, simple and sculptural, elegant but muscular. Each alludes to something specific to the area in an unconventional way. The materials used in construction and the shapes and details reflect local preferences and respond to climatic constraints.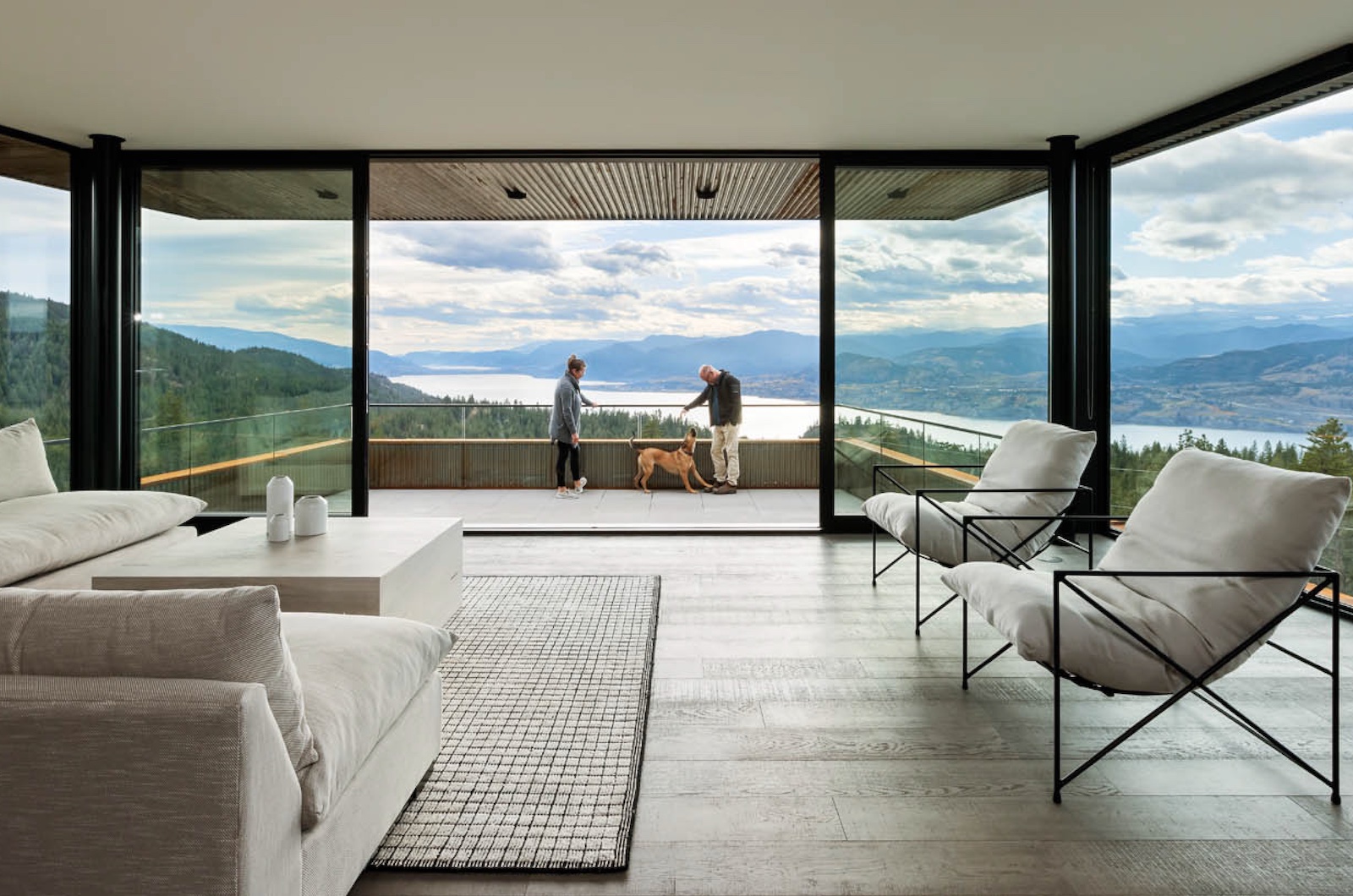 Many architects pay lip service to site-sensitive design, but not Gandhi. His work is so tightly choreographed and connected to its surroundings that it is impossible to imagine it anywhere other than in its location. It was a revelation to the earth scientist and his partner, who loved their exposed, rugged, rockbound land with thin soil and scant vegetation. The pair were looking for someone who could design a house in sync with its austerity, and Gandhi felt like an ideal fit.
"For them, I think the whole thing started as a far-fetched idea, hiring a bunch of Halifax architects to do something in the Okanagan," Gandhi says. "We're no strangers to rolling hills, but this would be our first project on the side of a mountain, in a susceptible environment, overlooking a gigantic lake—and it got all of us excited." Though the pandemic disrupted in-person meetings, "in the end, it turned out amazing."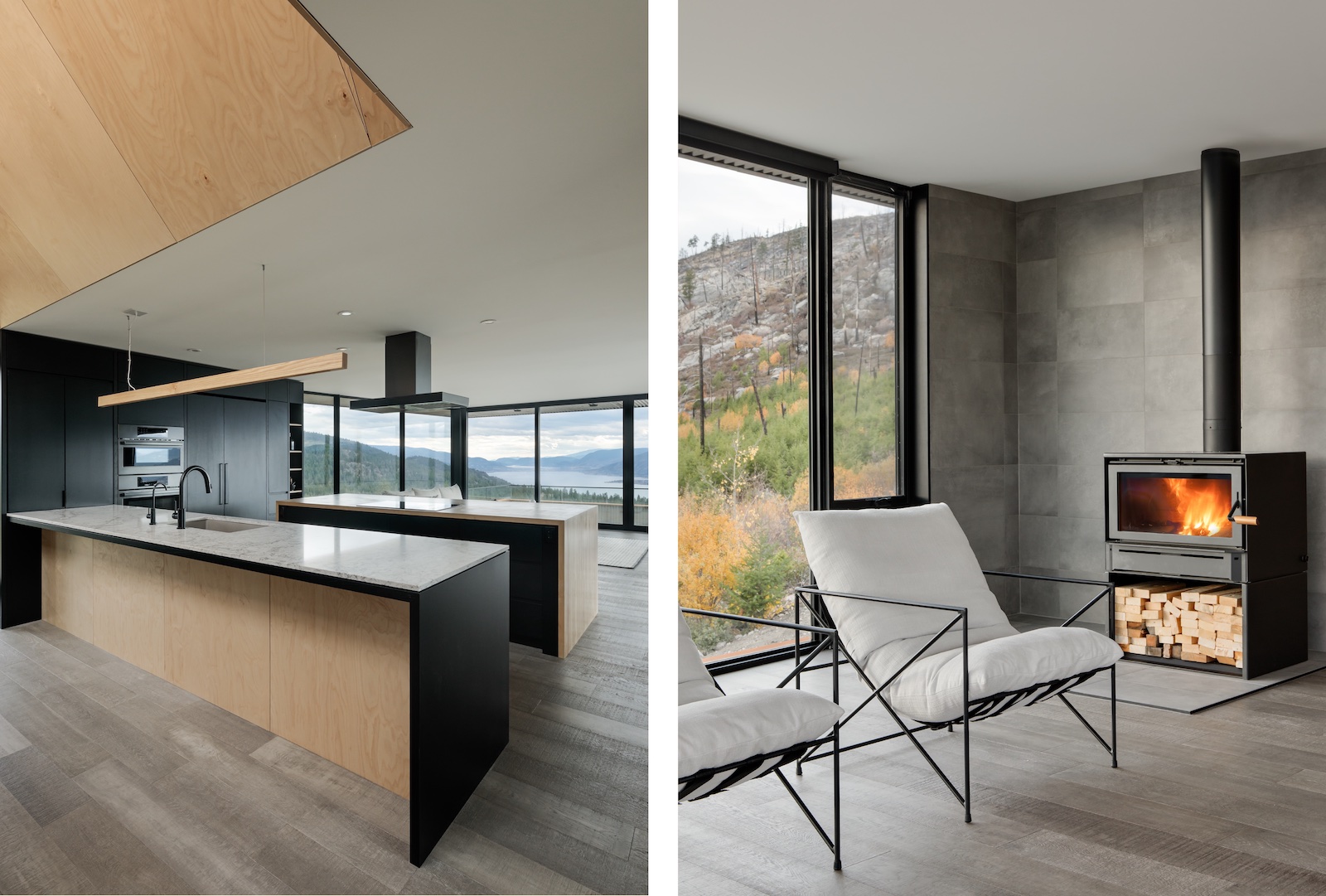 The Mountain Beetle is an outpost and a wonder. Its namesake, the pernicious mountain pine beetle responsible for making tinder of trees in the region, was the design fuel that led to the exaggerated lines of the roof. Viewed from above, its form suggests abstract beetle body parts. Squint, and the side segments look like wings.
Beetles have an impact-resistant armour called a carapace. This manmade homage also has a hard shell, not to protect it from the crush of falling trees or rolling boulders, but as a shield against fire. The exterior is clad almost entirely in corrugated fire-resistant corten steel, the remainder either windows or beautiful shou sugi ban—cedar board charred using a traditional Japanese burning technique that makes it fire and weather resistant. The entire outer casing hovers above the earth as protection from groundfire.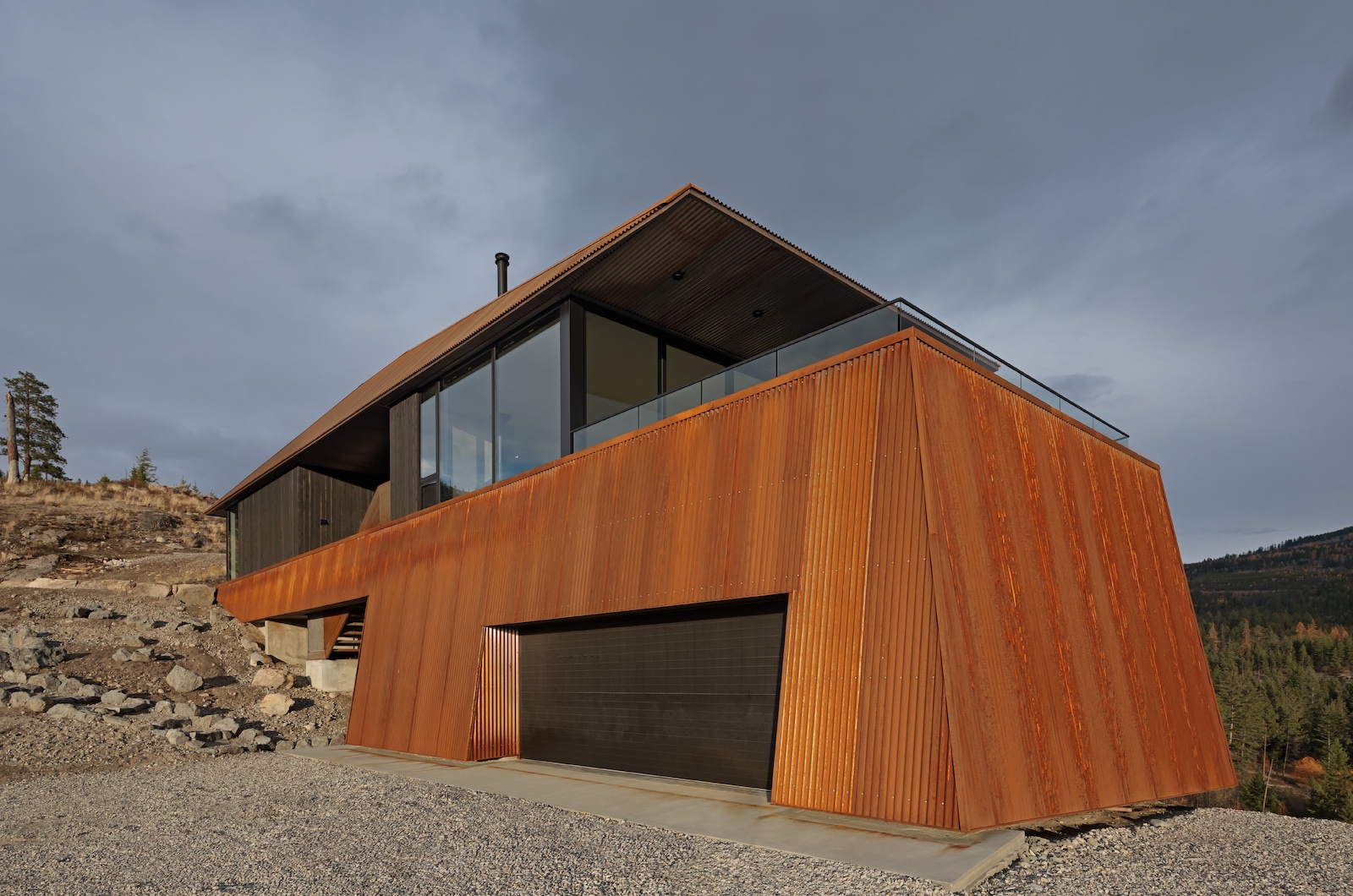 Some people will look at this beautiful, aerodynamic, impenetrable fortress fused to its hardscrabble perch and wonder why the owners haven't done more to soften the surroundings. The project builder, Nicholas Hill of Ritchie Custom Homes in Penticton, says that was never the owners' concept. Leaving the landscape as nature intended and building where fire has previously cleared any brushwood or timber that could spark flames again is also, he says, a smart choice.
"The owners have done a little rock work and some cleanup but otherwise left the site pretty much the way they found it," Hill notes. "They love it raw like it is."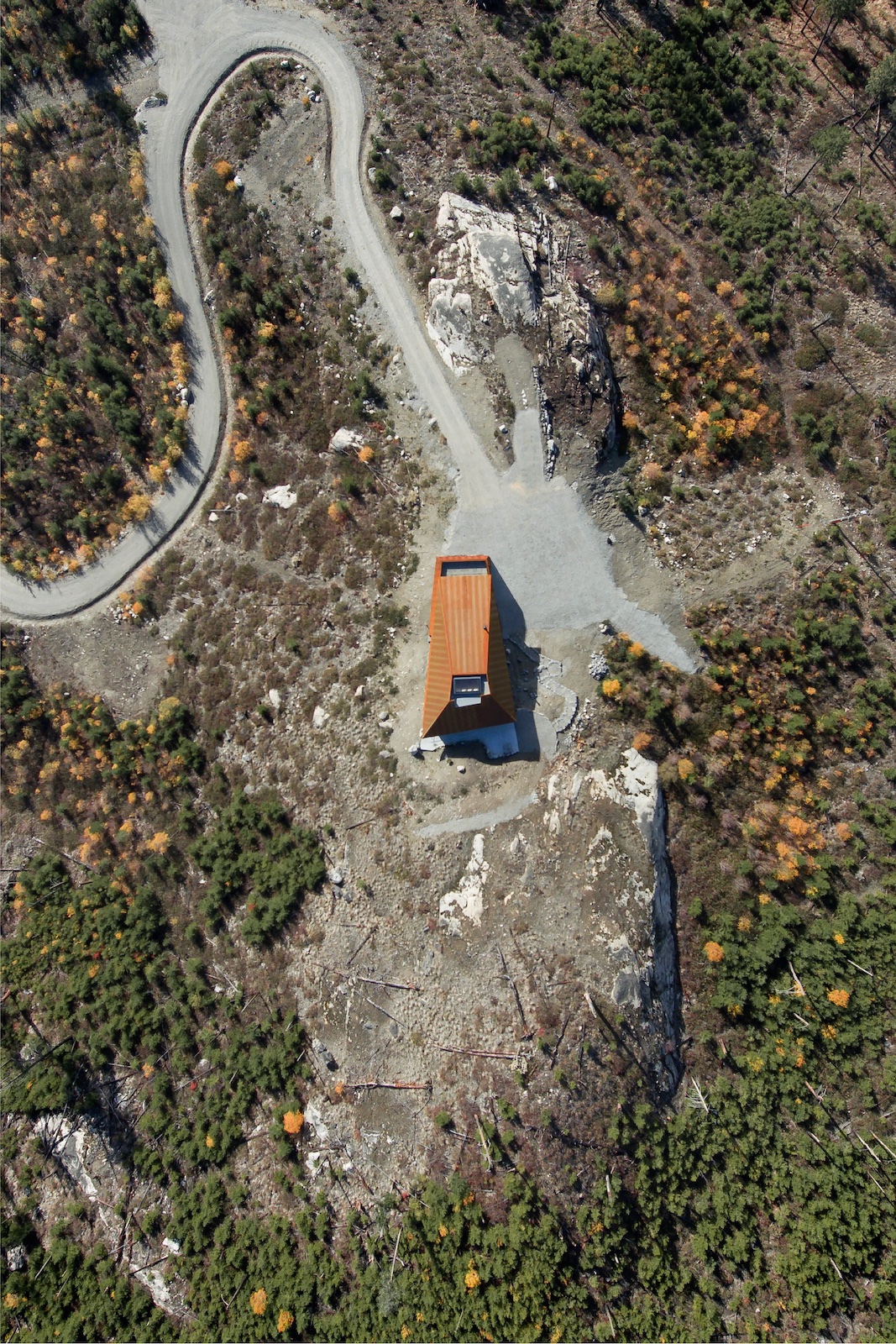 Instead of using landscape design to mitigate the fierce heat and lingering snow typical in the region, Ghandi was tasked with finding an architectural solution to make outdoor enjoyment possible year round. Unusually deep overhangs reduce the full intensity of the sun and partially cover the walkways and deck spaces, making them usable both in the peak of summer and through protracted winter conditions.
"We designed a building that looks and feels and is impenetrable with its hard steel shell," Ghandi explains. "It's meant to feel like a small rock outcropping attached to a rocky landscape."
---
Read more from our Spring 2023 issue.