On the Pacific Rim highway, an ominous sign blinks overhead. "Warning," it cautions. "Poor Visibility." Earlier today, we sailed from Vancouver to Nanaimo in clear weather, if not quite sunshine, and happily lunched on a patio in Port Alberni. It's a shock to drive from dry to downpour to blizzard in what feels like seconds.
It makes this stretch of Highway 4 slow going, and we pass more than one vehicle stuck in the ditch, but we have snow tires, and despite the nerves the conditions demand, there is a road-hugging confidence about the apple-green Porsche in which we are travelling.
Next to me is Sacha, my 17-year-old son. It's spring break—our last before he heads to Montreal for school in the fall. Our destination is The Wickaninnish Inn in Tofino. Sacha doesn't remember the last time he stayed there, and why would he? It was 18 years ago, and I was pregnant. There is a photo of me on the grand expanse of Chesterman Beach with my older son playing in the sand, Sacha only visible as a growing belly bump.
Now he's sitting next to me, phone out, videoing the deepening whiteout, Kaytranada cranked high on the car speakers. It's crazy and intense and somehow perfect.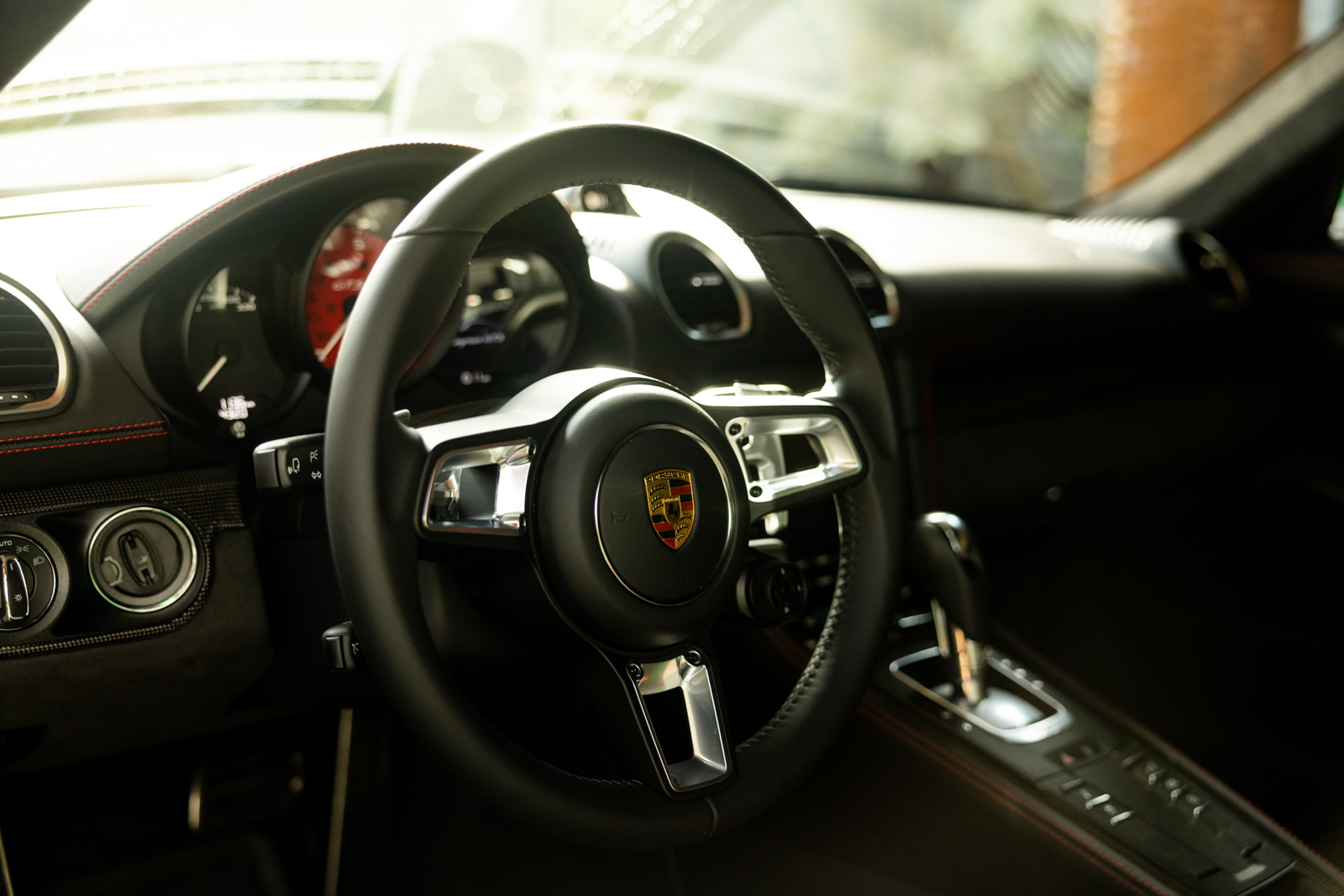 As we begin our descent of Kennedy Hill, along the multimillion-dollar upgraded stretch of road that's almost complete, the storm recedes as quickly as it arrived. I am relieved to see the waters of Kennedy Lake glisten in the sunshine. Finally, I can give the car—a 718 Cayman 4.0 GTS—more throttle.
The Cayman is all about performance, not amenities: two modest hand-luggage-sized suitcases and a small backpack fill the trunk and hood storage. Inside, the cup holders (which took searching for) are flimsy, my phone balances precariously by the gearshift, and the door pockets are too slim for a standard water bottle. The stiff bucket seats may keep you firmly positioned but make getting in and out laborious, even for a skinny, agile 17-year-old. This is a car that screams "serious driver on board."
And on that front—indubitably the most important—it is completely successful. With a top speed of 293 kilometres an hour (no, I did not test that), it's not only a fun drive but smooth and tight, incredibly responsive, and easy to handle. I feel totally in control.
Today's drive is a reminder that this remains a highway constructed through a mountain pass—and not one to be taken for granted.
Before we set off, I listened to an episode of The Wickaninnish Inn's podcast in which Charles McDiarmid, managing director and president of the Relais & Châteaux property, recalled his childhood experience of this very same road between Port Alberni and Tofino. His family moved to Tofino in 1955, four years before Highway 4 was built, when his physician father took a job in the tiny town. Once there was pavement laid between the two communities, the family would make half a dozen trips a year for provisions, navigating switchbacks and potholes, the kids bouncing about in the seatbelt-less back seats. The road, McDiarmid recalls, was unbelievably dusty, strewn with car parts shaken off and abandoned along the way. Despite the decades of updates and improvements that have since straightened and smoothed it, today's drive is a reminder that this remains a highway constructed through a mountain pass—and not one to be taken for granted.
We arrive at the The Wick mercifully intact. When we walk into our room, with its floor-to-ceiling picture window, the stress of the journey is washed away by the vast, all-encompassing beauty of the rolling Pacific surf. One of the guiding principles of the hotel, McDiarmid tells us later, is to bring the outside in, but it's only when he articulates it that the details begin to make themselves apparent.
The pattern of the carpet mirrors the striations on the sand; the cushions pick up natural colour notes with earthy textiles. Even the stunning cedar millwork ripples with a smooth, undulating pattern painstakingly adzed by the late master carver Henry Nolla, who worked out of a shed (still in operation) on the beach outside. And then there's the art—much of it Indigenous—lovingly curated and collected by McDiarmid since The Wick opened in 1996.
In the library, a framed first-edition print charting part of the Vancouver Island coast with each tiny inlet mapped by Captain George Vancouver and his Spanish counterpart Juan Francisco de la Bodega y Quadra hangs on the wall. Voyage of Discovery, the precious book containing the rest of the coastal maps, is locked behind glass. Nearby, a squat soapstone octopus carved by Vancouver Island artist Craig Benson invites hands to run across its substantial body. It's been there awhile, and although much of the art on display is available for purchase, this sculpture (among a few other favourite works around the property, McDiarmid admits) gives him too much pleasure to let it go.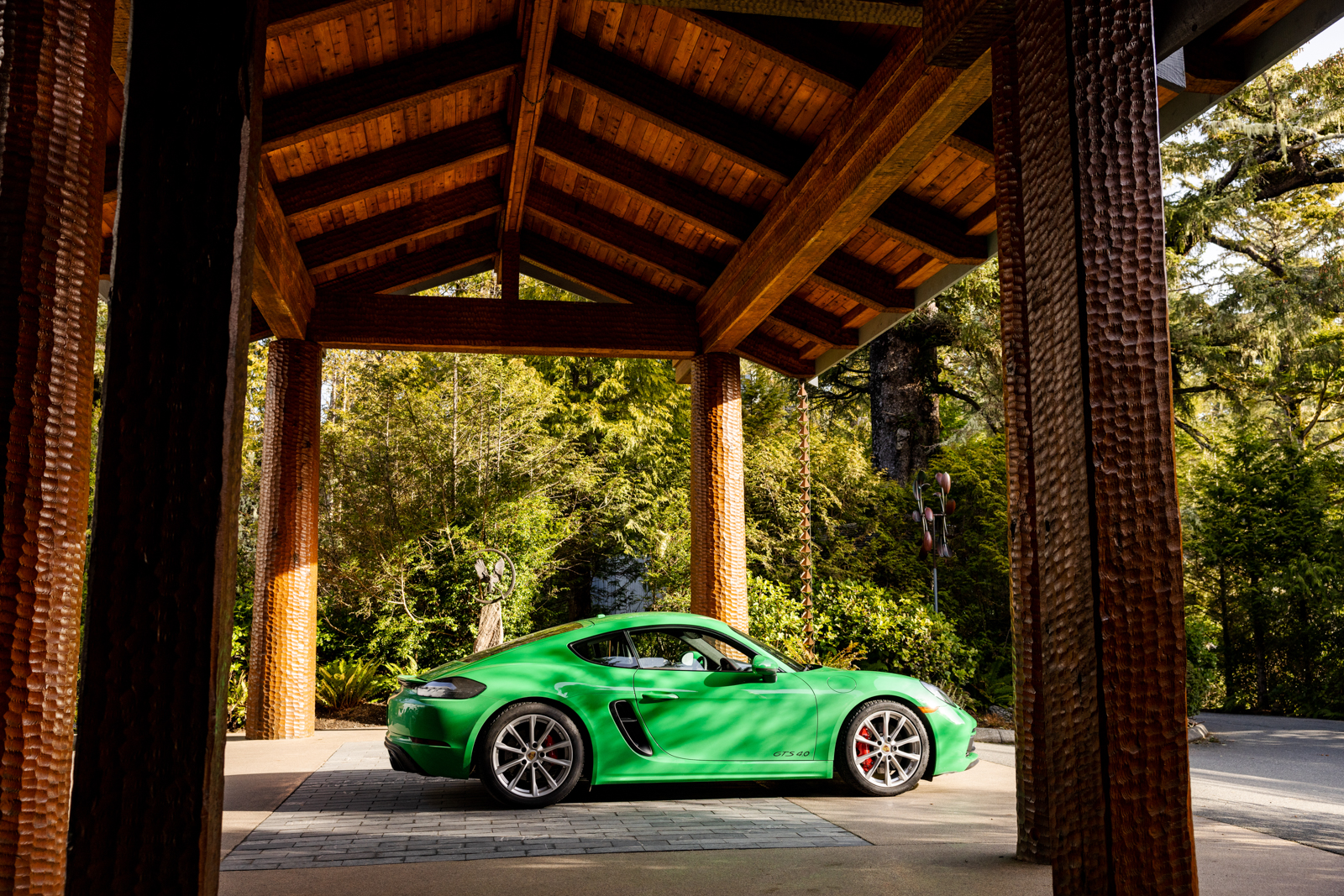 He takes us downstairs to a small art gallery where, displayed on a plinth in a plexiglass box, is Henry Nolla's adze. After Nolla's death in 2004, one of his proteges, Robinson Cook, was employed to do millwork around the hotel and, unsure what type of adze would be best for the job, brought two or three expensive models. When these shiny new tools proved less than ideal, McDiarmid offered Nolla's beloved handcrafted adze as an alternative, and work commenced.
It isn't much of a surprise when we hear this rough-and-ready implement was designed and forged by Nolla himself. But from what? He used, McDiarmid explains, found materials, including a car's steel leaf spring picked up at a scrapyard. Sacha and I lock eyes and grin. This adze, this road, this journey—connections are everywhere.
Nolla's adze comes to mind a couple of days later as we make our way back to Vancouver. It's a beautiful day, and the Cayman makes easy work of the dry, peaceful highway. I can feel its power, a constant reminder of my presence on the tarmac, the precision response embracing each turn and twist.
I think about the cars we saw on the side of the highway in the snow, the mufflers and assorted detritus this road once shook from the frames of vehicles driven by those far more intrepid than I. And then, of course, an abandoned car part found new life in the stunning post-and-beam construction of The Wick.
The sun comes out, Sacha turns up the music, and I put my foot on the gas.
---
Read more from our Summer 2023 issue.