It only stands to reason that a company best known for something as commonplace as sweatshirts would be headquartered in a glaringly nondescript building. But in fashion, as in life—but especially in fashion—appearances can be deceiving.
Much like Chanel's iconic Rue Cambon atelier is a physical manifestation of that label's aesthetic, so too this unremarkable building on a featureless street embodies the spirit of Vancouver-based menswear brand wings+horns. Step inside and the space suddenly vaults, with polished cement floors, refurbished wooden beams, and glass walls that refine a common industrial space into a minimalist art gallery. Yes, they make sweatshirts, but wings+horns does so with an attention to design and craftsmanship that has elevated an otherwise humble garment to almost mythic status with young fashionphiles across the globe. Here and in its nearby production facility, fit, fabric, and construction transform seemingly simple, straightforward garments such as chinos and shirts into machine-age manifestos wherein workwear meets sumptuousness and streetwear finds splendour.
"wings+horns was a creative outlet for me," says Craig Atkinson, CEO of CYC Design Corporation. It is the parent company of wings+horns, as well as a garment manufacturer whose client roster includes performance outerwear label Arc'teryx and New York–based streetwear line Supreme. "We were building so much product for other people, and there was a creative energy that I needed to express," he explains.
"What we want to do is design clothes and make clothes that people want to wear," says head designer Davidson Manaloto, with the practised pragmatism one would expect to hear from his boss, Atkinson, seated next to him. "That's what we try to find—that balance of design between aesthetic and functionality." Creativity and commercialism, form and function, an artistic CEO, and a business-minded designer: these apparent contradictions and many others played critical roles in the development of a fashion brand whose very name calls out the divide between the divine and the damned.
Another duality? Although Atkinson launched the label in 2004 as a quintessentially "North American–style fashion house," his target market wasn't on this continent. It was in Japan, where he'd spent seven years, much of that time importing North American vintage clothing for the Japanese market. That country's economic crisis in the late 1990s prompted his return to Canada, where he eventually turned to manufacturing, specifically production management for Japanese clothing companies. "Japan was a market I really understood," Atkinson remembers. "I knew what they were hungry for. It was so seamless to talk to them about what we were doing and our concept." The wings+horns concept was to marry Canadian design with Japanese attention to detail. "In Japan, when someone brings you an idea, you don't just knock it off for them, you try to make it better," Atkinson explains. "They give you an eight out of 10, you give them back a 10 out of 10. That exposure I had in Japan really set the foundation. That became the norm for me." Although 90 per cent of wings+horns garments are manufactured in Vancouver at CYC's factory, Atkinson's exacting standards have made him a self-professed "pain-in-the-ass customer" for the factories to which they tender the remaining 10 per cent. But that, he says, is just the way it has to be.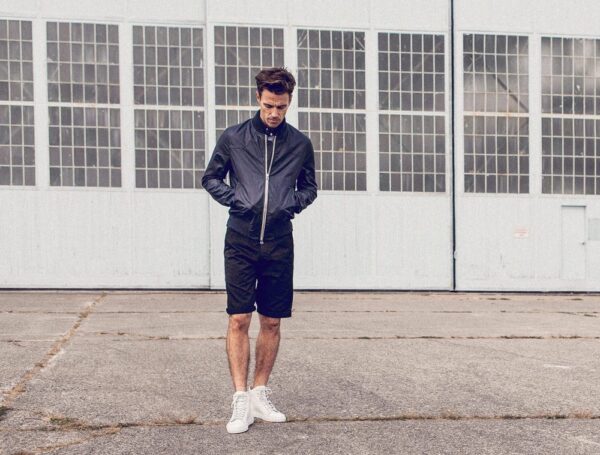 The East-meets-West idea was a success in Japan and eventually led to a foothold in the United States. "Oddly enough, Canada was the last market we were able to sell on the brand," Atkinson says. Canada not embracing its own artists until enough people abroad have is perhaps the only paradox wings+horns has yet to face that isn't of its own making.
Consider another unusual dichotomy: Manaloto—an artist with the business acumen of a corporate raider—spent two years designing pipeline supports for compressor stations. Fashion is a second career for the Calgary native, who holds a B.Sc. in mechanical engineering and is known to wear his brass ring on a chain next to the gold bobbin he was awarded in fashion school. (The chain broke on the day of our interview.) "It's almost the same," Manaloto says of engineering and fashion design, "you just need to be detail oriented."
"It was the engineering. That's what interested me in Dave," says Atkinson of his decision to hire Manaloto three years ago. "It sort of really fits the brand because we have a very industrial aesthetic."
"wings+horns definitely has a brand aesthetic and I want to stay with it, but I always try to move it a little forward," counters Manaloto. He readily admits to pushing the envelope, and credits Atkinson for reining him in on occasion—although one is hard-pressed to imagine flights of fancy from the sort of person who regularly utters practical-minded statements such as, "In menswear, you have to be mindful of what sells" and "We're not in a designer market" and "We can't just make insane silhouettes or crazy design details." Thus, the brand's evolution has been carefully groomed over the past four collections, slowly moving away from previous designer Brian Mendoza's Canadian heritage themes in a more fashion-forward direction. Manaloto has introduced suiting and texture in the most recent (fall 2012) collection, with an impeccably tailored wool flannel military service jacket and pant and a series of chunky, hand-knit sweaters. And in a first for the occasionally muted black and tan brand, wings+horns will be exploring colour, pattern, and print with its spring 2013 collection. "Dave spent a lot of time this year making tartans, and design effort was spent on materials as well as the other garments in the collection. And that hard work will pay off," Atkinson says.
In keeping with their apparent role reversal, while Atkinson is practically giddy, Manaloto is more circumspect. "When our collections are presented, people are more drawn to the greys and the blacks," he says. "It's like we're not known for colour so people aren't drawn to it. I'll be curious to see what the sell-through is. I don't know what to expect." If there's one thing to expect from wings+horns, it's the unexpected.
Photos: Alan Chan Photography.