Even at the crack of dawn, after nearly 24 hours of flying and little to no sleep, it is hard not to perk up at the sight of the JW Marriott El Convento Cusco in Peru. A cobblestoned courtyard leads to the lobby, glowing with golden light and a show-stopping Swarovski installation that, with over 60,000 crystals, sparkles elegantly from behind the front desk. There is something to be said for arriving here in the early morning hours; the streets are silent and dark, and the hotel beckons with a warm radiance.
This stunning property, located on the aptly-named Ruinas (Spanish for ruins) street, was once the site of a 16th-century convent called San Augustin. Built over a span of 80 years by Augustinian priests who arrived in Cusco in 1559, the monastery reflected the traditional Spanish Baroque style in its cloisters and courtyards. But when the Augustinians were expelled from Peru in 1825, the monastery was deserted; after decades spent ignored and in a state of disarray, it was purchased by JW Marriott and then underwent a detailed, delicate three-year prospecting process before construction began in 2009 (the hotel opened in 2012). What gives the property its magic is the sensitive ways in which Marriott has preserved and honoured the convent, the remains of which were restored completely by hand.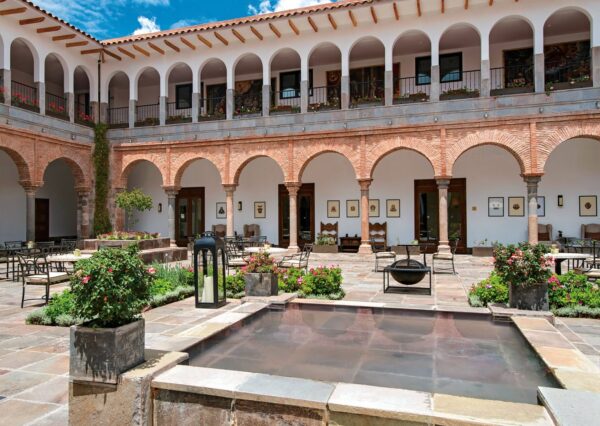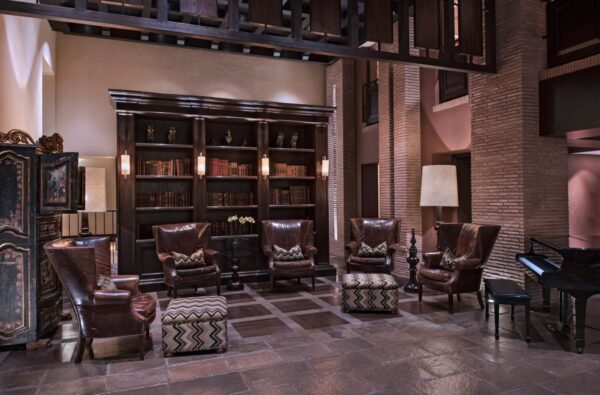 A plaque in the entrance courtyard marks the spot where a massive cross once stood; a square of the convent's original floor is located in the foyer, right next to the hip Qespi bar (order a Peruvian classic: the pisco sour); and some of the lobby's archway is made up of the ancient stones. In the beautiful outdoor courtyard, original columns stand proudly in the exact same places they were in the convent (during construction, each brick was individually handled and labelled so that it could return to its exact same formation). And below the main level exists the Cusco Room, in which ruins from the Killke time period—predating the Incas—are showcased in protected glass displays. Those who wish to learn more details can participate in a free tour that takes guests to all of the major historic points of the property. Indeed, as one cheerful guide says, "This is not like another hotel—this hotel is special."
But before revelling in the stories of this place, it is time to rest—and not just due to the lack of sleep. Because Cusco sits at 11,200 feet above sea level, an adjustment period should be taken to avoid altitude sickness. Thus, awaiting guests in-room is a pot of coca leaf tea, known to help with the height change, along with a warm cup of light soup (every room at the hotel is also oxygen-regulated to help with acclimatization). Have a few bites and then crawl into a deliciously plush bed to nap before lunch.
The main culinary offering at El Convento is Qespi Restaurant, with a menu created by former executive chef Thais Rodriguez (she has since accepted a larger role within Marriott, relocating to New York to oversee the food and beverage programs for many of the company's hotels globally). Any meal at any time here is gush-worthy, with lunch featuring fresh salads and notable guacamole with plantain chips. A dinner tasting menu may include flowers with wine-poached apples, goat cheese, teardrop peppers, and walnuts; potatoes (a frequent Peruvian ingredient) with sorrel, arugula, and herbed Andean cheese; beef with native potatoes, corn, and aji panca (a Peruvian red pepper); and guinea pig (no, not the kind we have as pets at home) with parmesan, and sauce made from the huacatay herb. Rodriguez's vision shines through in every bite: she hones in on local ingredients but comes at them with an international angle, mixing native and international flavours. For breakfast, order the waffles made from a local grain called kaniwa or the healthy breakfast bowl with egg whites, yams, avocado, and kale—both filling and incredibly delicious.
El Convento is centrally located, just a short walk from the historic Convent of San Domingo, the lively Haucaypata main square, and the ornate Church of the Company of Jesus. Also a short walk away is the Mercado San Pedro, a sensory-overload local market hawking everything from fresh exotic fruit, such as the custard apple and the pakai, to hot soup and bulk bags of quinoa. "Every time I go to the market I learn something new," Rodriguez says while walking there from the hotel (tours of the market are offered to all guests). "That's what's so cool about this city: you are transported back in time."
For venturing further off-property, a local guide—such as the knowledgeable and passionate Rosa Alegria Gonzales—can be hired for a few days; she will meet groups right at the hotel and tour through an array of interesting spots both in Cusco and in its surrounding areas. One distinguished stop is Maras, a huge and surprisingly beautiful site of man-made salt pools where workers yield delicious crystals of pink salt. Of course, Cusco is the jumping point from which travellers reach Machu Picchu, the world-famous Inca ruins that are considered one of the great wonders of the world. Aguas Calientes, the village at the base of the site, is a three-hour train ride away, and then it's another 20 minutes up the mountain to the entrance (tickets should be booked well in advance, as only a certain number of visitors are allowed per day, and those looking for a more relaxed trip should consider spending a night in the village before making the journey back to El Convento). Machu Picchu really is an engineering and agricultural marvel, although so is the lesser-known ruins site of Moray, only an hour's drive from the city.
Cusco is a place of history, a textured depiction of traditional Peruvian life. Within that, El Convento offers a layered, enveloping look at a culture rich with stories to tell. Guests will undoubtedly return home with more than a few of their own.
---
Take a look at hotels across the world.