Less is more: it's a common theme in interior design, as many prefer a more streamlined, minimalistic ambience over a wealth of extravagance and boldness. But not all minimalistic spaces are created equal. There are plenty of interiors that are conventionally chic, with their white walls and gleaming floors and clean lines. These sorts of spaces, while practical, are everywhere, and are neither visually nor intellectually stimulating. But then there are those fascinating interiors that seem simple at first glance, yet carry a sense of serenity, elegance, and creative nuance that is not always easy to characterize.
So what marks the difference between standard minimalist flair, and something finer and more profound? Perhaps the answer is in the details—literally.
Because minimalistic interior design, contrary to popular belief, doesn't have to skimp on detail. Actually, detail can be abundant, but it has to be discreet, tasteful, and skillfully done. It has to be worked into the harmony of shapes and tones, the quality of woods and stones. It has to show a high level of craftsmanship, simultaneously conveying the meticulousness of a master's hand and the small flaws of the human touch.
Koichiro Ikebuchi has built a career on understanding this difference—on striking this uncommon balance between simplicity and complexity, sumptuousness and asceticism. His internationally-renowned portfolio spans the Asia Pacific region—from resort hotels, to luxury residences, to bespoke offices. Each space he envisions is unique unto itself, yet inflected with his signature aesthetic, which might best be summed up as a graceful, understated blend of modesty and majesty.
Intricate consideration is given to the materials used and the geometries created in the interplay of floors, ceilings, lighting, fixtures, and furnishings. In the end, the subdued colours and subtle textures come together in a way that is both soothing and enthralling, lulling the body into a state of serenity and calm while awakening the mind's curiosity and imagination.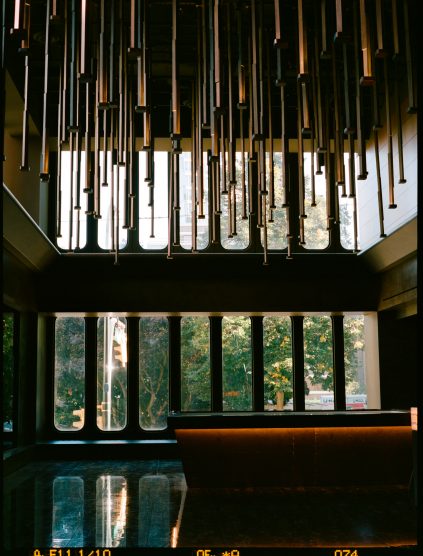 And now Ikebuchi is bringing his practice to North America for the first time. The Empire Landmark Hotel, a prominent presence on Vancouver's Robson Street, is soon to be replaced by a new residential development, and Ikebuchi has been tasked with designing the interiors. The whole Landmark on Robson development will bear his fastidious touch, from the custom-created built-ins in the individual condos, to the different common areas accessible to the building's residents.
Ikebuchi is taking care of every part of the project down to the last detail—even its Presentation Centre, complete with custom-made floor lamps and model tables. He inspects the display suites, which showcase two different condo layouts and colour schemes. He decides on the flooring, which transitions from Italian-made tile, to wood, to a woven carpet in the lounge area.
While overseeing the completion of the Presentation Centre on his latest visit to Vancouver, Ikebuchi moves through the corridors purposefully, but with a soft and unobtrusive step. The whole place is still under construction, but his mellow presence seems to mute the ubiquitous buzzing of saws and bludgeoning of hammers.
He's a slightly mysterious character. He has one of those smiles that manages to be both benevolent and sly, and it's clear he always knows and notices much more than he lets on. He impresses, but he never imposes. He is gracious, soft-spoken, and has a self-deprecating sense of humour; but he's aware, beyond a shadow of a doubt, that he is great at what he does, and that whatever he says goes.
Nothing in his work is ostentatious, nothing is overwrought. In fact, when standing in one of the display suites, it may not be obvious at first glance just how much vision and skill has gone into conceiving the space. Ikebuchi is a designer, not a decorator—too often, the difference is forgotten—and his interiors reveal themselves through their inconspicuous richness and intrinsic finery. The choice of light fixtures, the unconventional handles on the doors, the grain of the wood on floors and closets; the furnishings on the balcony, the gradient of the marble in the bathrooms, the unusual curve of the cabinetry below the sinks. It is all consciously thoughtful and novel, without being convoluted or contrived.
"I don't want a 'wow' factor," explains Ikebuchi. "It's more elegant, calm, and relaxed, so that every day you can feel very happy in this space." This encapsulates his theory of good design. He believes that even the ritziest of residences will eventually become tiring and boring as trends come and go. The spaces that continue to enchant and inspire decade after decade are the ones designed with intention and restraint. "I hope that Landmark on Robson can be appreciated for a long time," he states. "And that this will still be one of the best many years from now."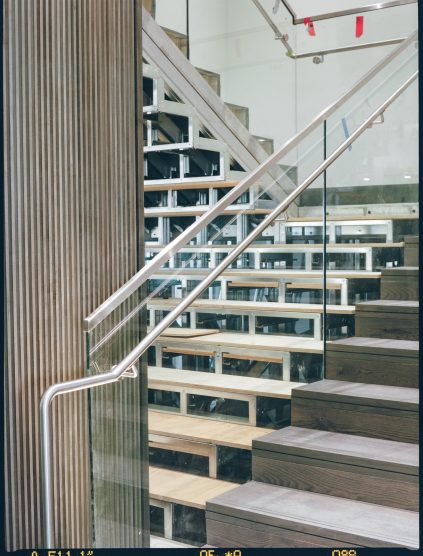 There's something in the refined, controlled sensibility of Ikebuchi's work that is reminiscent of traditional Japanese design—which isn't a surprise. He was born and raised in Japan, and because of his father's job, he relocated around the country several times throughout his childhood. During these travels, he gained a distinct appreciation for the diversity of his nation's customs and architectural styles. And yet, two of his homes stand out in his mind above all the others: the house in Osaka he shared with his grandparents when he was only a child, which incorporated Japanese traditional and Taisho modern elements; and later, his house in Nara, a small city of natural landscapes and ancient shrines that was the capital of Japan in the eighth century.
As a young adult, he returned to Osaka to attend the renowned Osaka Institute of Technology. "I studied architecture, but my practice is for interior works," he says. After graduating, the company he worked for gave him an opportunity to work at its Singapore office. This placed Ikebuchi squarely in the cosmopolitan hub of trade, industry, and design in the Asia Pacific region. And so, when it came time for him branch out and start his own business, he chose Singapore as his home base, explaining that it is "very open and connected to the surrounding countries."
Since founding Atelier Ikebuchi in 2004, Ikebuchi has become one of the foremost names in modern interior design, lauded for both his technical precision and his intuitive process. This process, by virtue of being so natural, is hard for Ikebuchi to put into words. "Designing is not only function—we aim for something above that. Something that encompasses poetry and imagination and artistry, which I can't explain…" He pauses for a second. "When you have two products that work the same, you like one more than the other for some reason besides function; sometimes it's shape, or colour, or texture, or something just touches your heart."
---
Read more in Design.