It is a grey afternoon the day I knock on Monika Deol's door. When she appears, kindly inviting me into her home overlooking the beautiful autumn colours of Stanley Park, things begin to brighten.
For one thing, her lips are shimmering. The beautiful deep red radiates in the light; it's a metallic glow that could captivate anyone, and that certainly is the aim. Deol would know: she is the woman behind this very Stardust Lip powder, which is part of her Canadian-made makeup line Stellar Beauty. Her face looks effortless, presumably at least partially thanks to a Stellar foundation that perfectly matches her skin.
Launched in March 2017, Stellar has become one of the beauty industry's fastest-growing brands. The beginnings of the Vancouver-based cosmetics line grew from a simple question: where were the foundation options for women with medium skin tones? In the two and a half years since Deol began creating the answer, Stellar has blossomed from an idea into a full-fledged company that is sold exclusively at Sephora stores across North America.
As I move through Deol's home, I can't help but notice the disco-funk music playing over the speakers. It is a faint glimpse into her past; in the late 1980s, she became a household name as host of MuchMusic's dance show Electric Circus. Every Friday night for 15 years, Electric Circus entertained Canadians with its vibrant dose of electronic music and live dancing. It was a time that brought everyone to the dancefloor, no matter their gender, race, or sexuality. The show was a true celebration of dance culture and the individuality and self-expression that it promotes. Deol quickly became the woman many turned to for beauty advice, recalling now that after many shows, she would receive letters from viewers asking what lipstick she was wearing during the most recent broadcast.
Deol signed off in Toronto in 1996, moving to Vancouver to raise four children. More than 20 years later, nostalgia showers over her as she notes the parallels between her days on the club set and her days creating Stellar, both of which connect to a sense of belonging. "I lived my life as an outsider," Deol, who immigrated to Canada from India with her family when she was three years old, says. "I was never in." Evident from her days on Electric Circus, beauty was integral to Deol's identity. The dancefloor worshipped those who commemorated diversity and praised those who came exactly as they were. For the first time in her life, Deol experienced a sense of community. "The first time I walked into Sephora America," she recalls with a smile, "it was the exact same feeling."
Stellar was born out of necessity, and has grown into a service for those the beauty industry had left behind for many years.
On this particular afternoon, Deol invites me to sit in on a call she is having with beauty advisors situated across the States. The intention is to educate them on Stellar products, including the 22 foundations (17 of which cater to medium skin tones) in the line, giving them the tools they need to go into Sephora stores and become champions of the brand.
Getting into the hands of American beauty consumers was not something Deol had wanted immediately. She imagined growing her company on Canadian soil, eventually branching out to other markets in Dubai and India. But after a twist of fate and the help of her past, Deol was given the opportunity to take her diverse range of cosmetics to Sephora's American headquarters in San Francisco. The man she was meeting with was a Toronto expat, and grew up watching Deol on Electric Circus. He knew exactly who she was and understood why Stellar needed to be in the American market.
At the very beginning, the representation of Stellar was entirely on Deol's shoulders. She oversaw the company's research and development, product formulation, and education, poring over every detail, big or small. When Sephora informed Deol that company founders do not usually go on the road, conduct product knowledge with associates, or sell in stores, she decided to do just that.
"If we were going to go into America as a completely unknown brand, we felt the best way to forge some kind of presence in a very crowded market was for us to be there and for us to be authentic," Deol explains. She credits that genuineness as one of the biggest successes the collection had during its first six months. She made personal connections with her consumers and stayed for hours in stores to help build brand awareness.
Stellar's creation was personal for Deol. On the set of Electric Circus, she would sit in the makeup chair for hours having to endure the difficult feat of mixing and matching foundation shades in order to find the one nearest to her skin tone. Noticing how her daughters were going through the same troubles years later, Deol took matters into her own hands. In order to prove there was a market for medium skin tones, which make up two-thirds of the world's population and are the fastest the fastest-growing demographic in North America, Deol began researching what was currently available. What she discovered was a lack of makeup targeted to Hispanic, Asian, and Indian women. Stellar was born out of necessity, and has grown into a service for those the beauty industry had left behind for many years.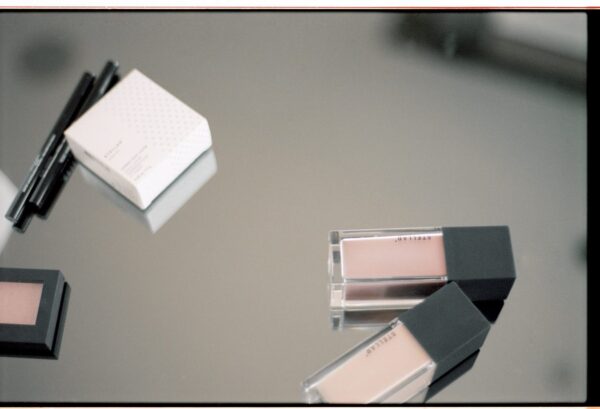 After moving to Vancouver, Deol anchored the six o'clock news for CTV, and then moved to CityTV, where she took on the 11 p.m. slot. But despite her professional successes, family has always come first. "I eventually stopped because I wanted to give my family 110 per cent," she says. Now with Stellar, everyone is involved—even her daughters, who help out with the brand in their spare time. "I couldn't have got through the things I did without [my family's] talents," Deol says. Her passion and dedication to both her company and her family are truly a pleasure to take in. I can't help but think of her as a kind of Wonder Woman.
Stellar celebrates universal beauty while at the same time advocating for each woman's differences. The dot in the brand's logo is a beauty mark that represents the North Star—a guiding light that Deol has taken inspiration from her whole life. As such, she wants Stellar to be a guiding force that all beauty consumers can trust. "I'm a woman's woman," she says.
If beauty is energy, Deol certainly embodies it. She is a forcefield, drawing all those around her in with an enchanting magnetism. Undeniably, her lucky stars have lined up beautifully. Perhaps it was the North Star that always steered her through, allowing her to find her place in the never-ending sky. But something tells me she's always known how to shine.
---
Read more in Beauty.