Eulalie Hermand is bending over a stainless steel work bench, concentration evident on her face, piping bag in hand. In front of her is a disc of pink meringue. In a matter of moments, this simple confection is transformed: a pillow of rose-petal cream is surrounded by fresh raspberries, each one uniform in size and colour, a piece of lychee is added, then more rose cream and another disc of meringue. A fresh red rose petal completes one of Ladurée's signature pastries, the Ispahan.
Originally from Strasbourg, Hermand joined the esteemed French pastry house, famed for its macarons, in 2017 to train in the flagship Ladurée Pastry Laboratory outside Paris. She moved swiftly from junior pastry chef to sous chef before coming to Ladurée Canada in Vancouver in November 2019, taking over as executive pastry chef in February.
"And then the lockdown happened," she says with a shrug, "and things changed immediately."
With the Robson Street store closed, focus shifted to home orders. A website that had been under development was rushed to launch, and—with a skeleton staff of one sous chef—Hermand got to work.
"I didn't expect to start like this," she smiles. "It has been challenging to try to meet the demand. It was a lot of work and pretty crazy at times. Now, the store has reopened, and we are back to four staff to help us prepare for Christmas. Hopefully it will go smoothly."
At the Burnaby-based Vancouver lab, Hermand and her team start their day at 6:30 a.m., baking croissants and bread, putting the finishing decorations on the cakes and pastries (the macarons are flown in from Ladurée Paris's production facility in Switzerland). Once the delivery van has left for the store two hours later, the team gets on with producing another batch of cakes, cookies, and croissants. The laminating machine (where dough and puff pastry are passed back and forth to create the multiple layers essential to both) is rarely switched off. The mixer is big enough to whisk 10 kilos of pastry cream at a time. It's needed: they produce 50 to 70 individual cakes, plus bread, croissants, cookies, and 15 to 20 large cakes per day. They also make financiers, madeleines, and other pastries to ship to Ladurée Toronto. Each one is baked to an exacting French recipe and exquisitely decorated.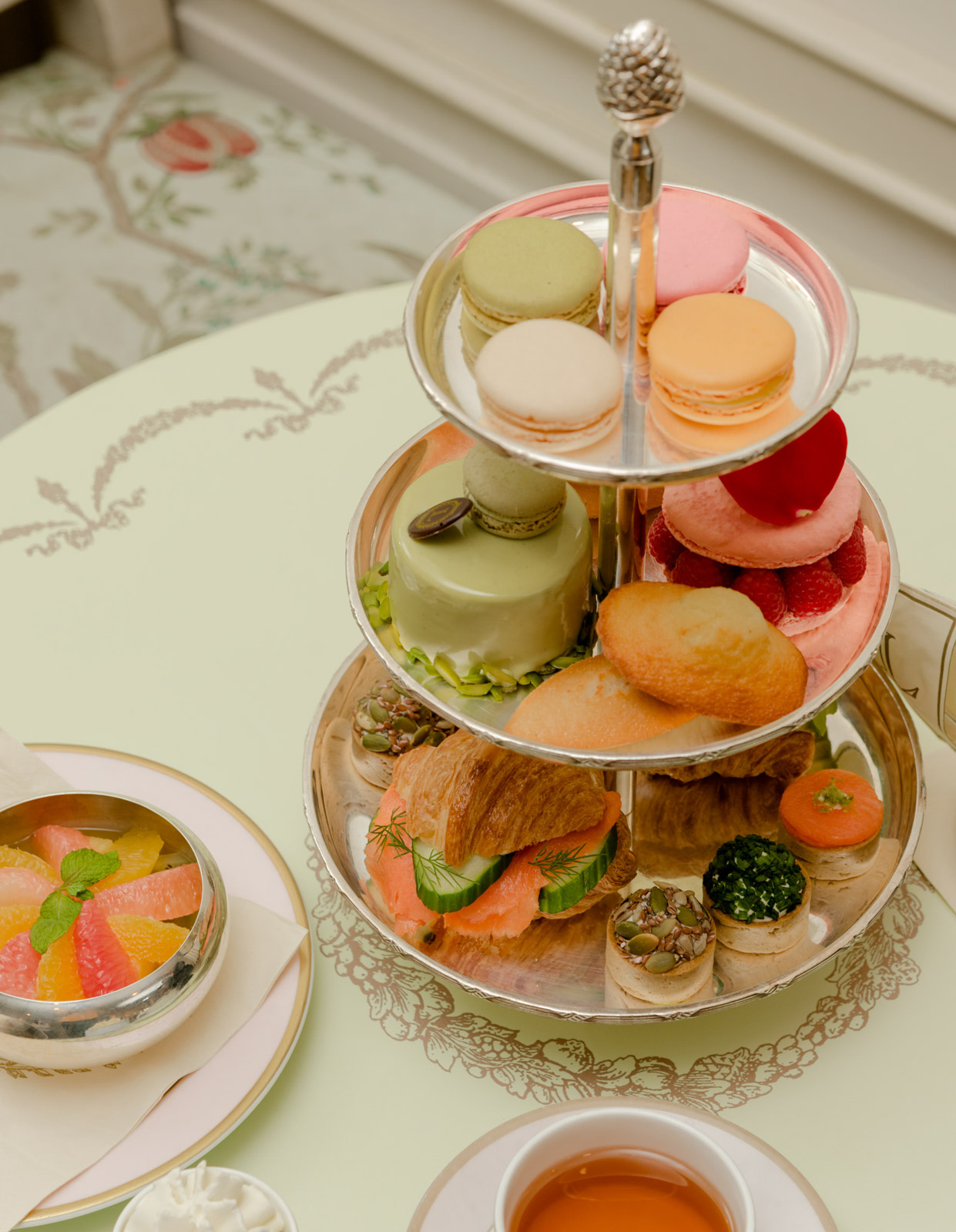 Luckily, Hermand learned how to work fast in the Parisian lab. "There are almost 100 people working there," she notes. "Ten stations of roughly 10, and I might produce biscuits and mousses for six months, and the six months after that I would glaze every day and do the cream. You have to be prepared to do repetitive tasks, but at the same time it allows you to be super efficient.
"We were taught to be very fast and very precise," she adds. "It's about being rigorous and careful with everything we do. It's very technical, so we learn all the chemistry involved so we can avoid mistakes and waste. In Paris, they really pushed us to learn everything: Why did this rise this way? What can you do if it doesn't rise? And so, when you come to train and manage your own staff, you really know what they need to know to make things run smoothly.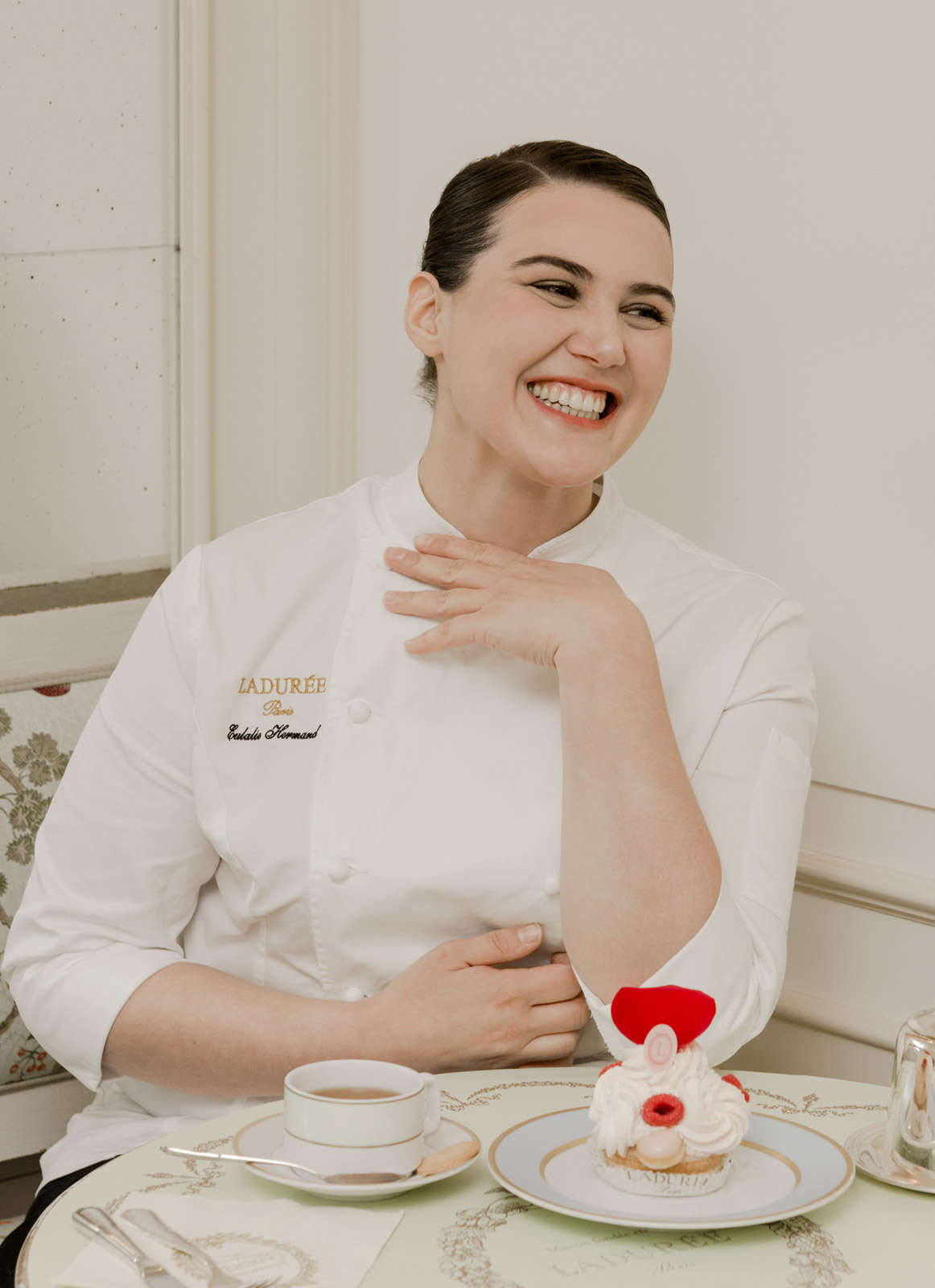 "In Paris I managed and trained 10 people, but in my area. Here, I have to train across each stage, from ingredient to finished pastry. It has been very interesting—I love to be with my staff all day and teach them how to be precise and efficient without it being stressful.
"I love to see someone learn," she says, beaming. "I love it when they know they have made a perfect croissant."
---
This article is from our Winter 2020 issue. Read more Food and Drink stories.