Exploring Santa Fe under a palette of pure-blue sky, I wonder if there is a word that distills this city to its essence. The answer comes easily: adobe. A noble trinity composed of earth, water, and straw, it's the foundation on which New Mexico's eventual capital city was conceived, where the rust-coloured contours of low-slung buildings circumscribe past and present.
For millennia, these architectural elements and hardscrabble terrain have been lifeblood and muse to the area's Indigenous peoples, Spanish colonists, and creatives who've visited or settled in the area, including D. H. Lawrence and Georgia O'Keeffe. Santa Fe became emblematic as a cinematic backdrop for movies—The Man From Laramie (1955), Young Guns (1988), filmed at the nearby Tesuque Pueblo, as well as the TV series Longmire (2012–2017).
The entertainment industry, however, is rethinking Wild West tropes and reframing its storytelling with Indigenous identity at the forefront. For instance, the late Tony Hillerman's novels featuring Navajo detectives are being adapted as Dark Winds. Filming for the first season of the six-episode TV series, produced in collaboration with the Navajo Nation and based at Indigenous-owned Camel Rock Studios in Tesuque, is already underway. Backed by AMC, with Robert Redford, Game of Thrones' George R. R. Martin (a Santa Fe resident and fan of Hillerman's books), and Chris Eyre (Smoke Signals) serving as executive producers, Dark Winds centres on two Navajo tribal police officers, played by Indigenous actors Zahn McClarnon (also an executive producer) and Kiowa Gordon. The series is staffed entirely with Indigenous writers.
It's easy to understand why these landscapes ignite the imagination. At O'Keeffe's museum, her paintings of stark skulls and macro flowers amplify the prosaic. Her work also includes the 1929 painting The Lawrence Tree, named for a ponderosa pine on the author's ranch, which O'Keeffe visited on her first foray to New Mexico. In his essay "New Mexico," Lawrence wrote, "the moment I saw the brilliant, proud morning shine high up over the deserts of Santa Fe, something stood still in my soul."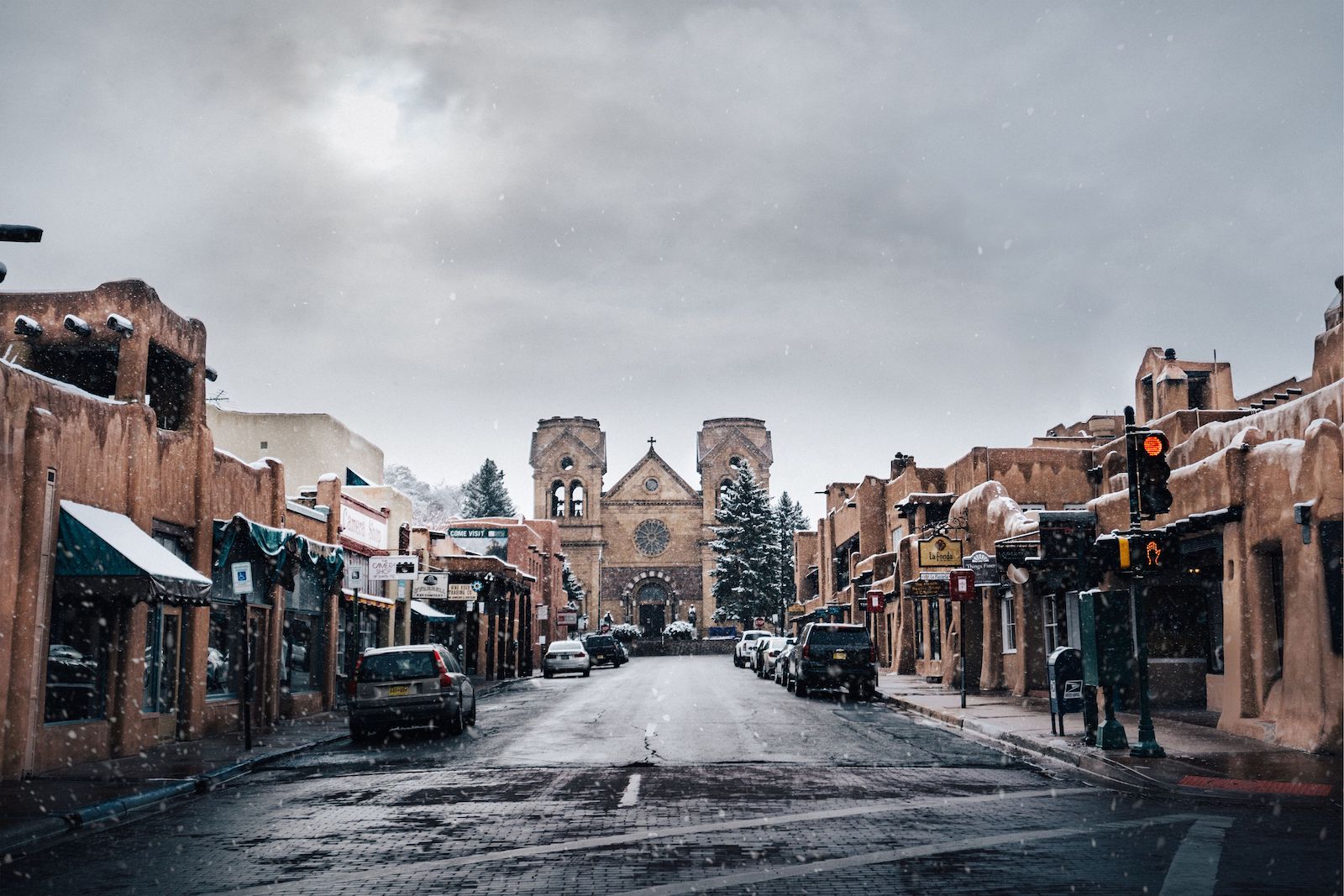 At first take, Santa Fe feels like a museum exhibit: an outsized adobe artifact adorned with strings of red chiles called ristras, its earth tones elevated by bright-blue window frames and doors. But the history of these buildings is compelling, especially in Santa Fe's Barrio de Analco Historic District. A National Historic Landmark, it reflects the city's evolution of culture and architectural styles, from Spanish pueblo to territorial.
I pause at the imposing San Miguel Chapel, the country's oldest church according to oral history. Spanish-allied Tlaxcala settlers from Mexico began building the adobe structure around 1610 (when the city was founded as the Spanish colony's second capital and the country's oldest). But I'm more interested in the workmanlike adobe building across the street, said to be the oldest standing house in the country (circa 1646), now a museum. I peek inside at original elements—dirt floors, a fireplace, and wooden beams called vigas extending beyond the roofline. Archeologists believe a pueblo founded between the 11th and 12th centuries predates the early structures and was abandoned two centuries before the Spanish arrived.
Nearby in tree-lined Santa Fe Plaza is another 1610 landmark, the Palace of the Governors (also built by the Spanish), the oldest public building in continuous use in the U.S. I stroll along the palace's block-long portal to browse the handiwork by Indigenous artisans for sale. But this adobe treasure, among others in Santa Fe, has seen its share of upheaval, namely the 1680 Pueblo Revolt, when the Indigenous inhabitants overthrew the Spanish colonizers.
History blurs together in Santa Fe, but the picture isn't always pretty. The city is in a modern-day battle with its controversial past, one that has been cemented in situ, whether through ancient adobe edifices or more recently erected monuments. In June 2020, the mayor of Santa Fe called for the removal of two statues—one of Don Diego de Vargas, who led the Spanish reconquest of the territory in 1692, the other a tribute to frontiersman Christopher "Kit" Carson—and an obelisk honouring soldiers touted as "heroes" who fought "savage Indians." The mayor said, "Rather than shrink in fear from this moment we need to embrace it. We've been called to do it by Native American and Hispanic community leaders, leaders of faith groups, friends, and family members. It is long overdue." For some Santa Feans, these are steps to reconcile with the past. Others say they erase Hispanic history and culture.
The City has remained steadfast, proposing a new initiative called CHART: Culture, History, Art, Reconciliation, and Truth to review such monuments and art as "the beginning of an ongoing effort to learn and understand our complex histories and stories, and to promote truth, healing, and reconciliation for a future of peace and justice."
It's one example of how America's inaugural UNESCO Creative City continues to be an incubator for the arts while supporting Indigenous peoples, including those living nearby in the adobe pueblos from which Santa Fe's original vernacular buildings are derived. Nambé Pueblo, one of Northern New Mexico's eight sovereign Indigenous nations, sits in the foothills of the Sangre de Cristo Mountains on the city's outskirts. Its Tewa-speaking tribe has lived here since the 14th century, and the community of fewer than 2,000 is celebrated for its traditional textiles and pottery.
Pueblo pottery, as well as Navajo textiles and Zuni fetishes, can be found at the venerable Nambe Trading Post. In 2014, the shop was rescued from closure by Cathy A. Smith, an artist, historian, and costume designer who co-owns it with her daughter, Jennifer Jesse Smith, a jeweller. Smith recently opened the Museum of Western Film & Costume inside the trading post, featuring costumes and props she created for 20 productions, including Dances With Wolves, Geronimo: An American Legend, and Son of the Morning Star, a miniseries for which Smith won an Emmy for outstanding achievement in costuming.
"I grew up on the border of Cheyenne River Sioux," says Smith, who is related to the Cheyenne River Sioux on her mother's side. When she initially read the script for Dances With Wolves, she discovered it contained historical errors because it was originally written about the Comanche. Smith corrected it to fit the Sioux and the new location, serendipitously becoming cultural technical adviser and a bridge between Hollywood and her Lakota relatives, many of whom were in the movie.
"Dances With Wolves was the first film ever to show Native Americans as human beings, their feelings … not as a backdrop," she says. "The sets and the props and the language were all authentic. It was the first time [Indigenous] language was used in a film. Dances With Wolves really set the standards."
Smith is now working on Y:1883, the upcoming prequel to the Kevin Costner Yellowstone TV series. She is crafting 20 replica bow and quiver cases for Y:1883, based on historical museum pieces and made with leather hand-tanned in traditional Indigenous methods and original glass bead stock (historically traded with Indigenous peoples) sourced from Venetian factories.
"Everything is made exactly the same as it was made 200 years ago," Smith says. "I have an audio tour [in the museum] that tells what a war shirt is and what it means. Then I tell the story of the movie, the Custer battle, and Geronimo. That's what I'm about. Educating the masses."
Smith's work both faithfully preserves and amplifies Indigenous culture; she's already supplied Dark Winds with pieces for its set decoration. "Native people are alive and well," Smith says. "People watching TV or a movie—they believe what they see. So filmmakers have a big responsibility to portray a culture as authentically as possible." She adds that more young Indigenous people are reviving beadwork, evolving the traditional art form into one that's more contemporary, and productions like Y:1883 and Dark Winds are bringing more Indigenous stories into the mainstream.
These living stories—whether bolstered by Smith's costumes and props, Hollywood producers, Santa Fe's ancient buildings, or O'Keeffe and Lawrence's imagery and words—all connect back to the land. Adobe. The earth, water and straw, which when shaped by human hands, creates the alchemy that is Santa Fe.
---
Read more from the Winter 2021 issue.