Lyndon Cormack—who, with his brother, Jamie, built the successful retro-inspired Vancouver accessories brand Herschel Supply Co.—was looking for a Whistler property that wasn't a hey-look-at-me holiday home or slicked-up city digs. He knew exactly what he wanted: a log home, "one that was quintessentially Canadian mountain style."
He found it at the top of Blueberry Hill, surrounded by epic scenery. Made of western red cedar and radiating authentic mountain character, this was the perfect place to create a bolthole to share with his partner and their two teenage daughters.
Cormack's log structure is beautiful-but-ordinary on the outside. It was impeccably built 30 years ago, before architects thought much about pulling apart and playing around with these old-school constructions, and when vacation-home builders did not routinely supersize the way they do now.
Clean-lined full-scribe log homes are attractive and amazingly energy efficient. They are an alternative to the earlier chink style that requires occasional recaulking in the spaces between logs to prevent drafts and rot. In this case, each log has a long groove cut into its underside to allow for precise and secure placement on the log below. The corner joints are interlocked tightly with saddle notching, ensuring the structure remains stable.
Given his business backstory, Cormack's decision to revamp and punch up an archetypal mountain retreat in its rightful setting seems fitting. "Herschel is classic with a modern twist. That's what we are, bottom line," he says. "As a brand, we say we always look back before we leap forward, so we do take a nostalgic approach."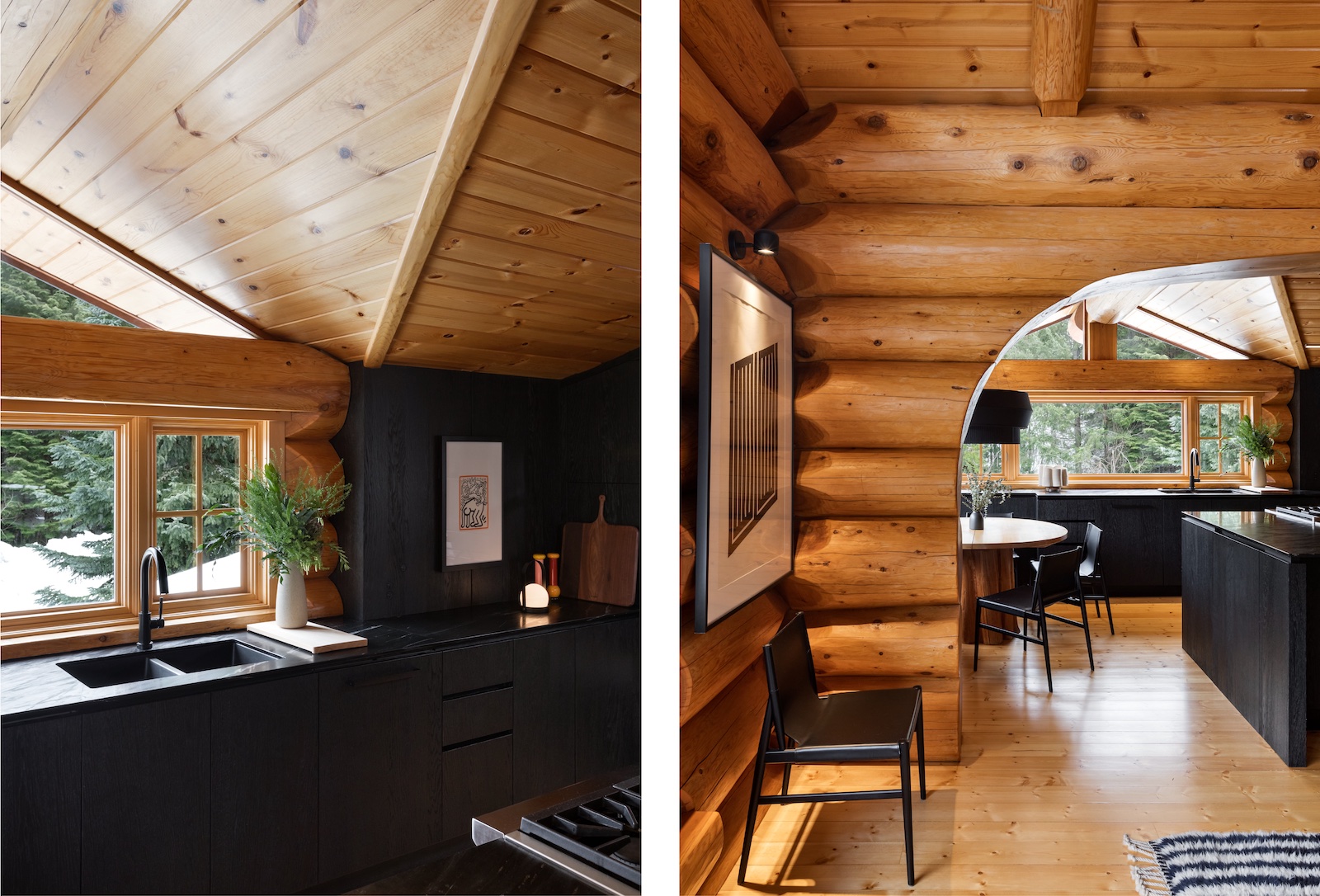 Remaking a classic is exactly what he and his gimlet-eyed friend and collaborator, architect Mark Burkart of Little Giant Architecture and Interiors in Calgary, had in mind as they injected visual tension, modernity, and playfulness into a staid and religiously rustic structure.
Cormack and Burkart were friends before working together. Growing up in Calgary, Cormack had long admired Burkart's inventive interiors for restaurants and bars around the city. "I'm a design enthusiast at heart," Cormack explains. "I'm very into this stuff, and so is he." This shared affinity has led to an alliance whereby "he allows me to play, and I allow him to play. And I think that's what a true collaboration is."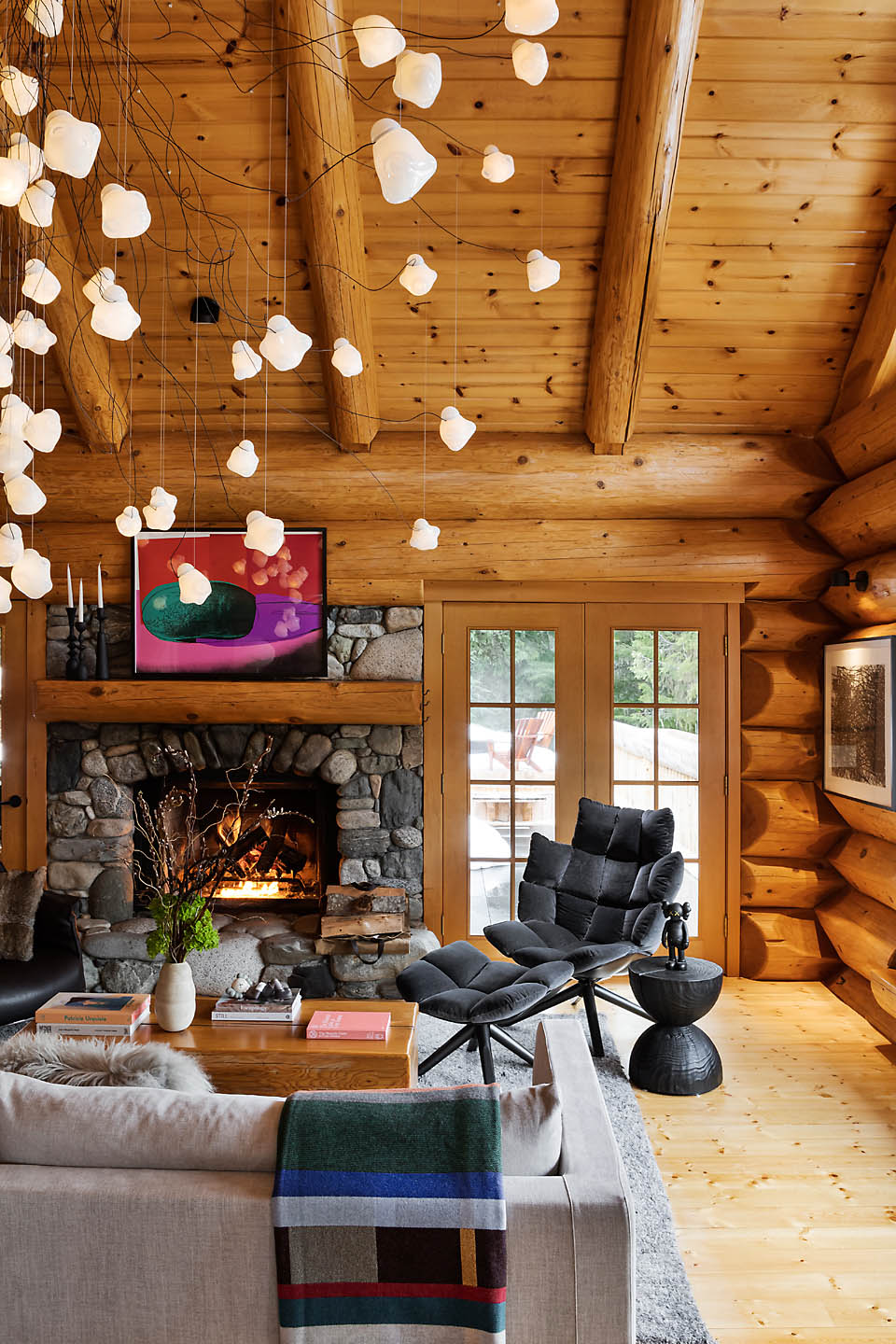 For his part, Burkart admires Cormack's eagerness to experiment. "Lyndon loves interesting traditional buildings that are authentic and real and of the place," Burkart says. "He also loves beautiful, modern, crazy avant-garde design." He calls Cormack "a modernist at heart" who saw his adventure base camp as an opportunity to "play with the full spectrum of his design interests." The interior of his house was never going to look like a prototypical Adirondack Great Camp with buffalo plaid accessories and antler chandeliers.
Ever respectful of the evocative, unalterable log walls, the two were keen to combine them with disparate design elements in sharp yet harmonious ways. "I love juxtaposition in any form," Burkart says, "and I know that Lyndon loves the same thing."
Unexpected and well-resolved juxtapositions are a highlight of this home, as are extravagant surprises.
Their shared passion is easily seen with the placement of urbane, precisely machined, wire-brushed V-groove oak, stained deepest charcoal, in proximity to rustic, irregular golden-red logs with their random knots and naturally occurring cracks. To make the transition between these materials feel seamless, Burkart worked the margins.
In some places, such as in the new kitchen, this meant scalloping the edges of the oak so it sits tight to the logs. In others, it meant pulling the oak away from the undulating walls altogether. For example, Burkart designed a mammoth, modernish free-standing cabinet in the new library loft with both closed and open storage that fills the far end of the space. Floating away from the walls and ceiling, it is a beautiful, dark piece of furniture. Unexpected vertical slats at the top of the unit allow light from the gable window behind to stream in and permit glimpses of a king post roof truss.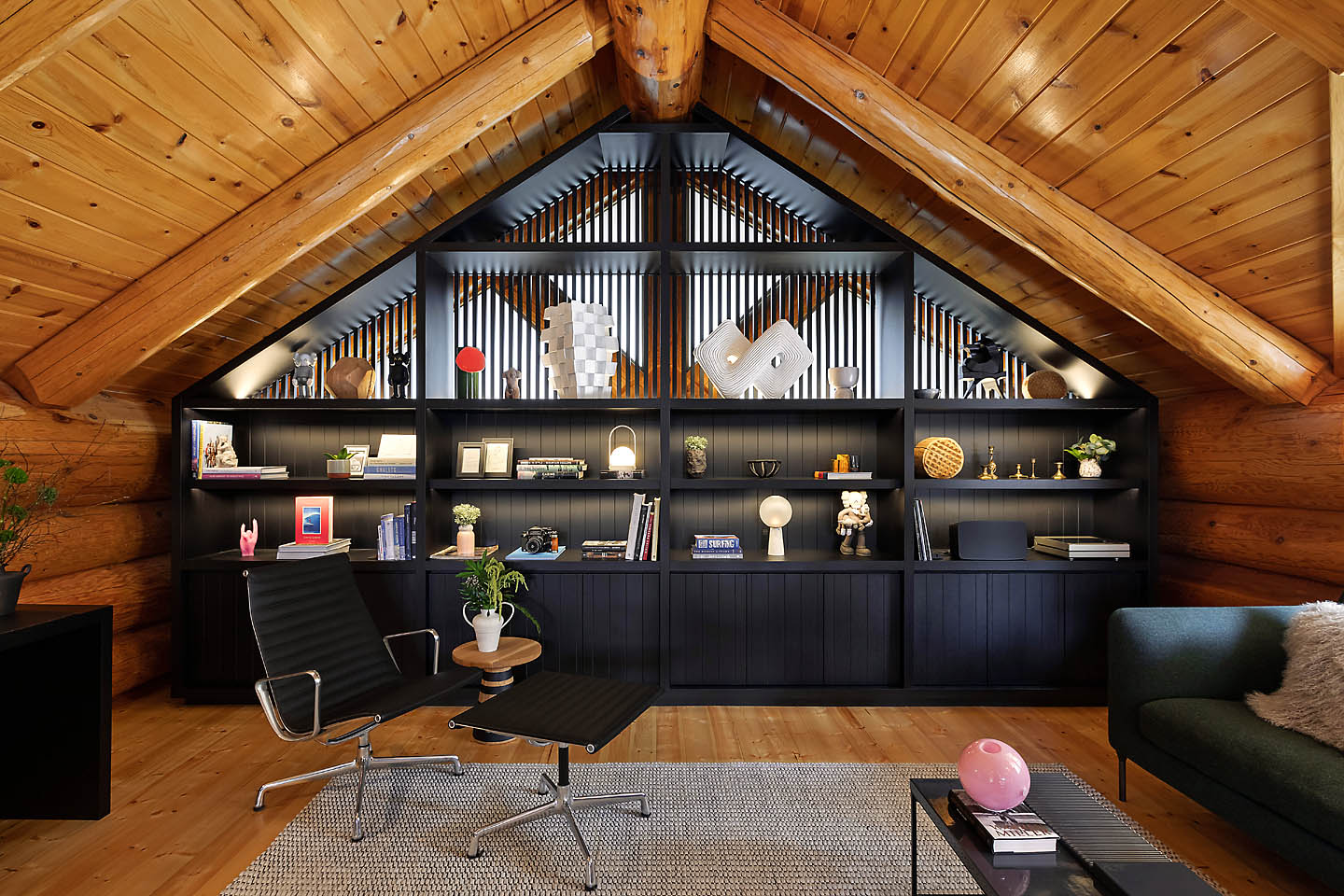 Unexpected and well-resolved juxtapositions are a highlight of this home, as are extravagant surprises. Memorable among these are a cavernous, glitzy mudroom and gear gallery that the architect likens to a Wayne Manor mountain-style Batcave, and a knockout, throwback rumpus room dubbed "the hideout."
"Mark nailed the hideout," Cormack says of the space where his teenage daughters and their friends like to chill. "The minute I saw it, I just loved it."
Burkart turned what was once an awkward-to-access workshop with a low ceiling into a rec room with a big personality. He clad the walls in high-texture cedar shingles; ran a 1950s-green carpet 18 inches up the walls, rounding it over the steps that lead to the deck outside; and mounted a charm offensive with a few semi-anthropomorphic modern furniture pieces, including a happy floor lamp with a Luxo Jr. vibe.
Cormack says his daughters "really do use" the precision McIntosh turntable, and why wouldn't they when the vinyl's supplied by streetwear veteran and former pro skater and New York DJ Jules Gayton? Gayton spent the last eight years putting his Stüssy Tribe credentials to work designing products for Herschel in Los Angeles before recently migrating over to the digital-first auction house Joopiter, where he heads up curation for owner Pharrell Williams.
When it comes to modern furniture, fixtures, and art, after 13 years at Herschel's helm, travelling the world and observing the best design everywhere, Cormack can pull together a sophisticated room like a seasoned interior designer, particularly one relaxed enough to let his homey side show.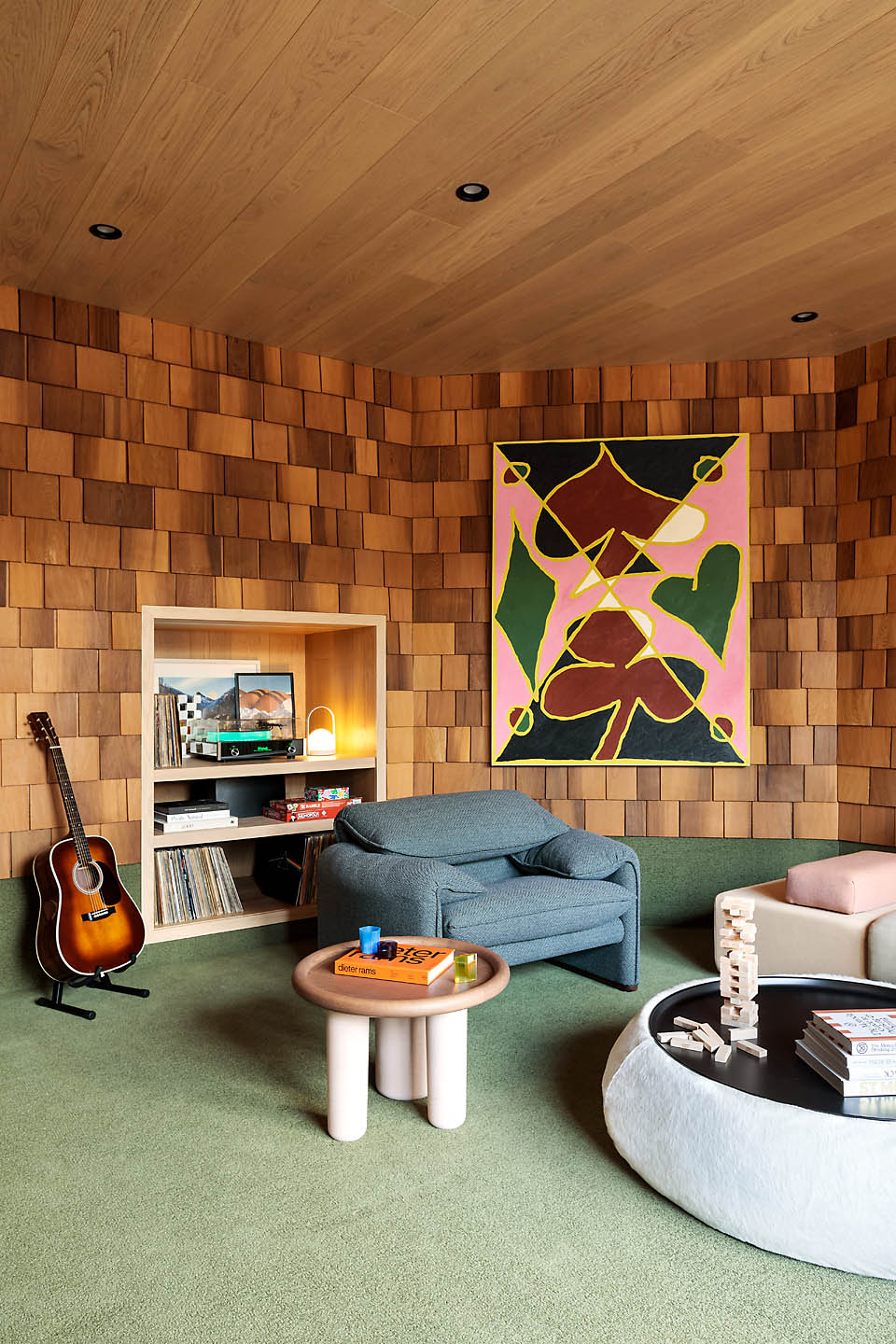 The living room is proof of this, particularly when it comes to using contrast and visual tension to create interest. He artfully paired Poltrona Frau's capacious, potbellied, nubbin-armed Archibald lounge chair with B&B Italia's pillow-pocketed, cocoonlike, high-backed Husk swivel seat. As a counterpoint to these attention-grabbers, he introduced a reserved sectional sofa, parking it under an airy tangle of 61 semi-rigid Bocci light pendants that evoke falling snow (or popcorn, depending on your perspective). These soft lights counterbalance the intensity of Andy Warhol's eye-popping Space Fruit: Watermelon FS II.199, casually positioned on the mantel.
This room is designed to be lounged in, Cormack says. "It's meant to create circles of conversation. I always enjoy conversations with my daughters, and some of my favourite conversations were here around the fire.
"Not cheesy, where it's like kumbaya stuff," he notes. "Just talking."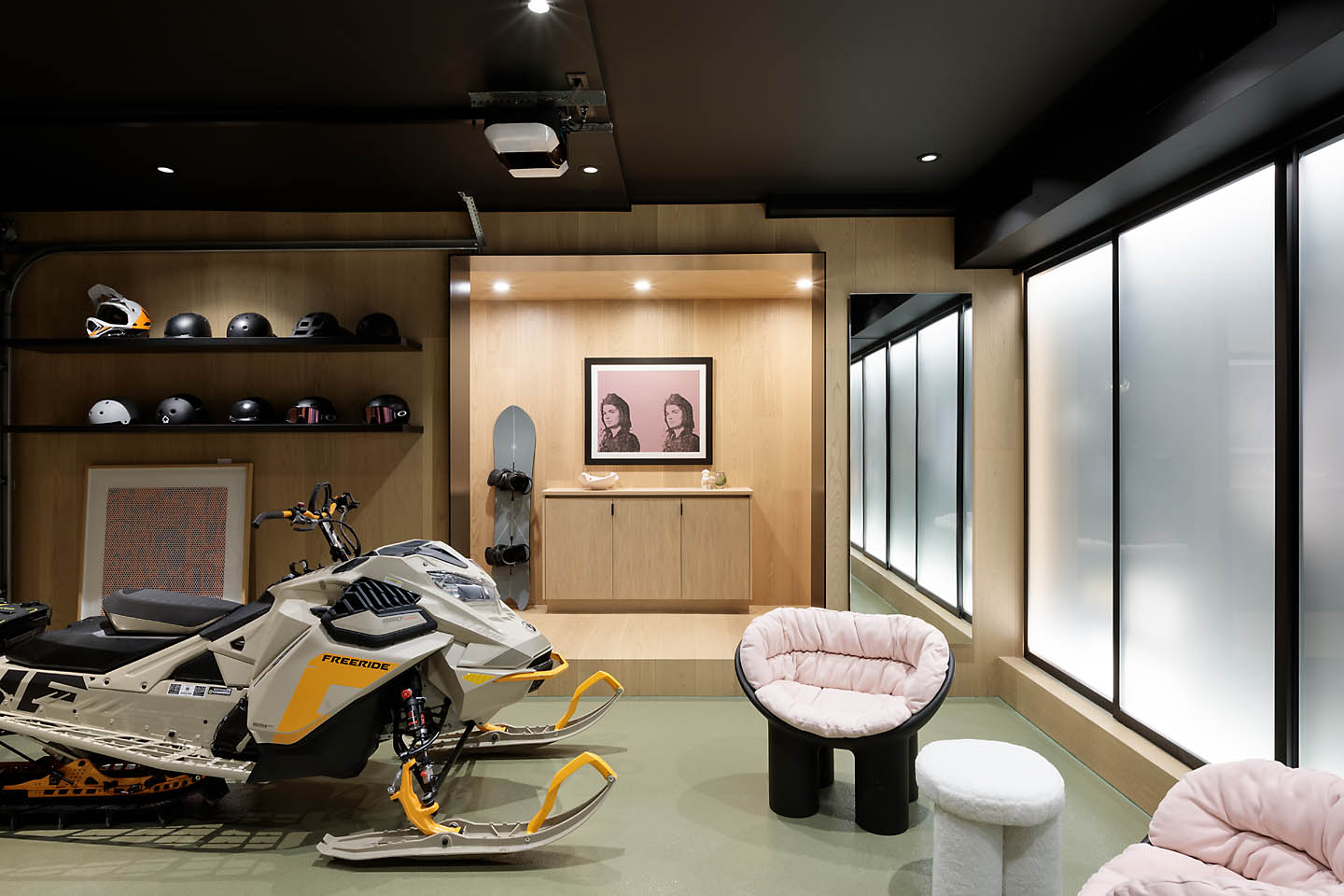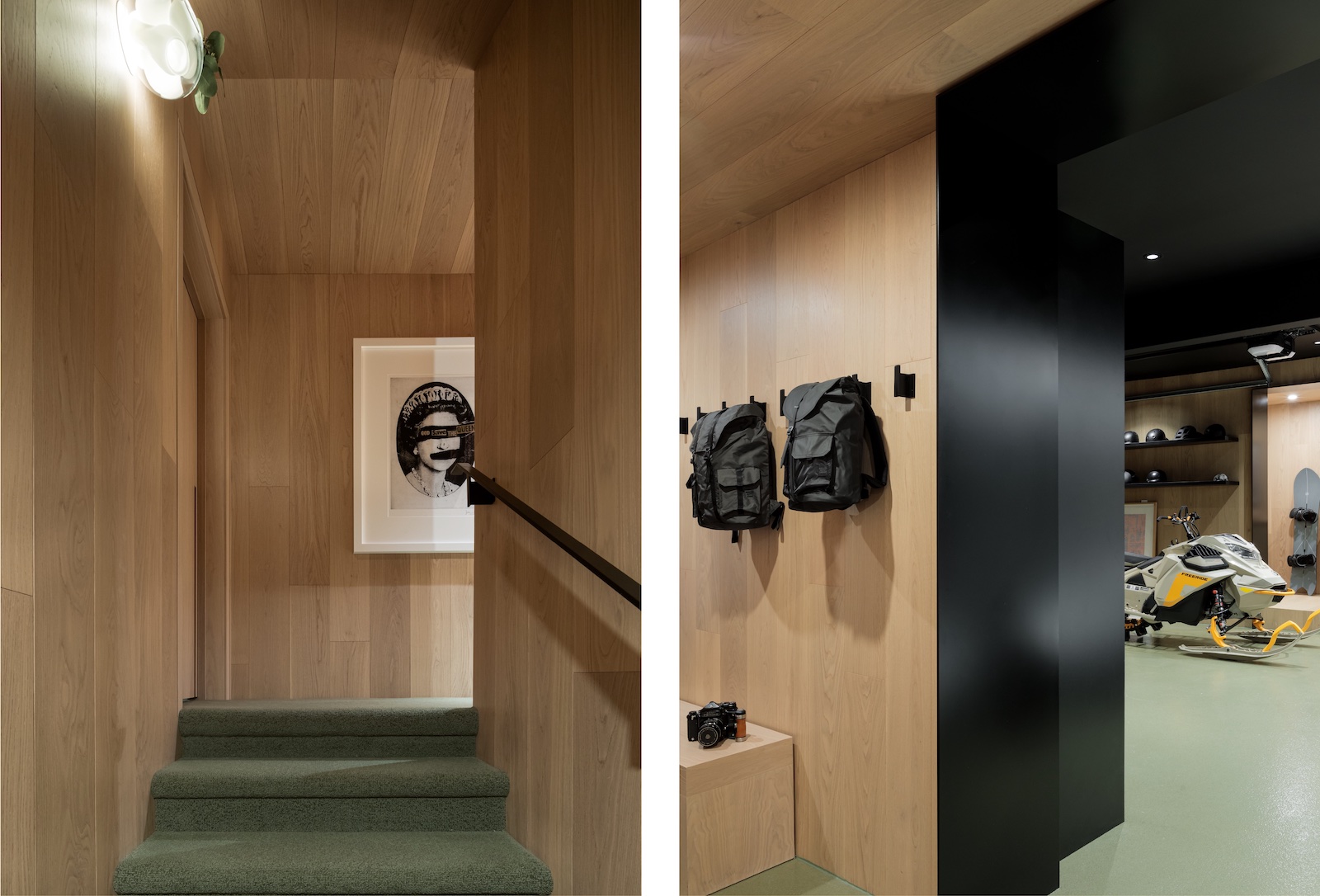 ---
Read more from our Winter 2022 issue.