With uncompromising flair, Dame Zandra Rhodes has dressed rock stars and royalty from Freddie Mercury to Princess Diana. Vibrant swirling shapes and "wiggles" pulse through her designs, on the orange-and-pink façade of her Fashion and Textile Museum on London's Bermondsey Street, and along the stairwell that leads to her rainbow penthouse flat. When she cheerfully answers the door, all the colours pop, from her vivid fuschia hair and lipstick to her acid-green trainers and fabulous socks (bearing an image of the late avant-garde drag queen, singer, and movie star Divine). She has described her signature style, first realized in the late 1960s, as "swirling, dramatic shapes with no concessions to the saleable, the acceptable, or the ordinary."
At 82, she continues to draw comparisons to a tropical butterfly or bird of paradise.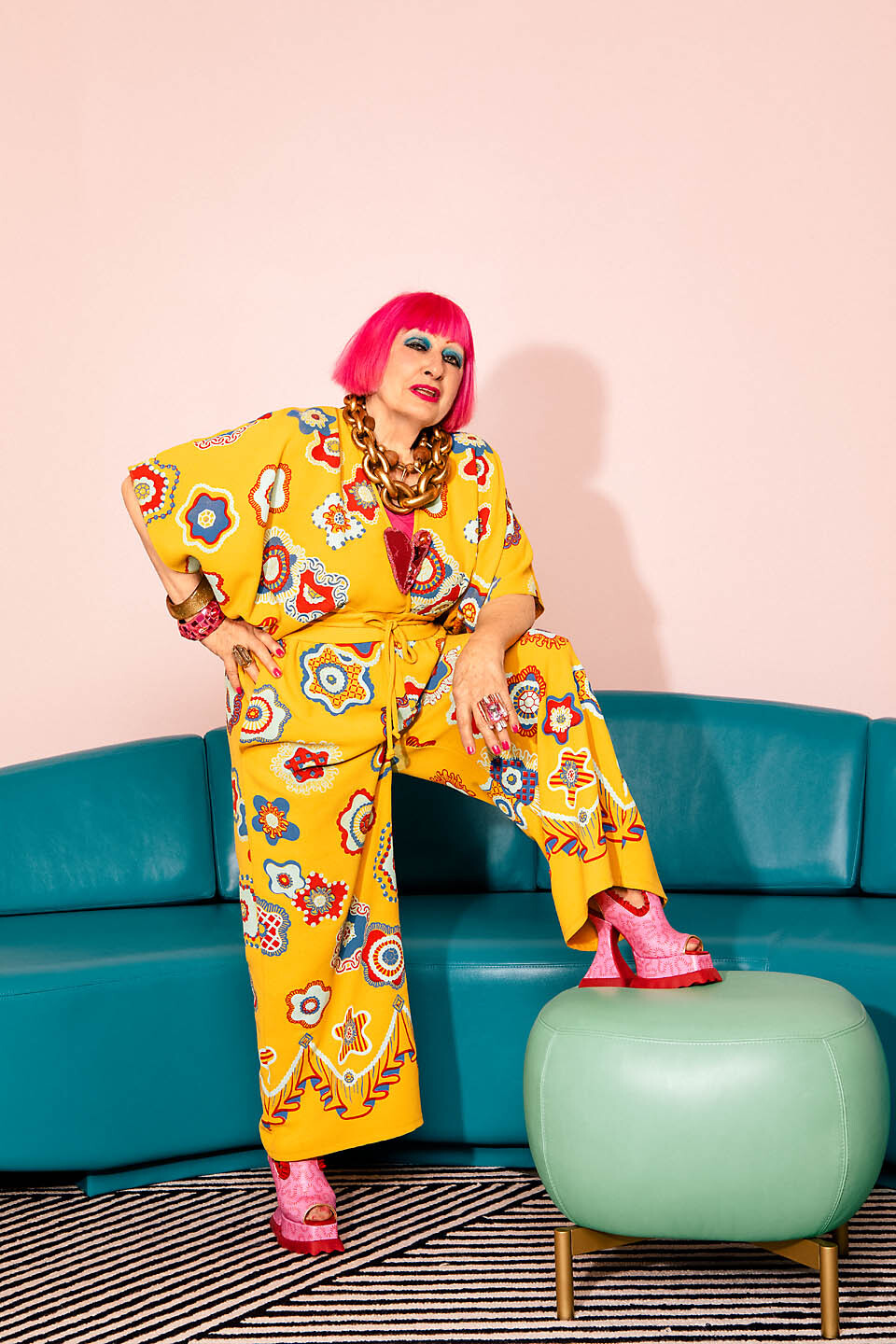 We sit at a funky circular table Rhodes made herself as a young art school graduate in the '60s. It has worn well and now functions as a spot to teach, work, and socialize in her open-plan living room. The space is packed with vibrancy: Rhodes-designed prints and jewellery; portraits with loved ones; her Transport for London poster artwork depicting The Magic River Thames Lady With Jewels; surreal life-sized cardboard cutouts of Rhodes; a chandelier designed by her friend, renowned sculptor Andrew Logan. On the table are two pairs of shoes from her recent collection with John Fluevog.
She was thrilled when Fluevog asked to collaborate, Rhodes says, scooping up the joyously flamboyant Ruffle Elektra platforms and daintily adjusting the buckle. "These are very much Fluevog classics with this heel. They look fabulous, and they've used all my prints on them."
There's a reciprocal fandom at play in this creative showdown. Fluevog has described being inspired by Rhodes' "energy, emotions, and feelings," while she recalls buying her first pair of Fluevog shoes years ago ("In green suede—I clomped around New York in them—which I adored"), before they were stolen during a break-in at her flat. The collaboration brought Rhodes to Vancouver, where she relished the fabulous parks and "the strange twisted modern high-rise buildup juxtaposed with the earthy landscape—such a beautiful city."
Rhodes blends a worldly air, and motifs inspired by global travel, with a distinctly British cocktail of eccentricity and stoicism. She has been candid about her health: she was diagnosed with cancer and underwent chemotherapy in 2020, and has since been in remission. She is also fervently focused and a self-professed workaholic, cataloguing her extensive collections to establish the Zandra Rhodes Charitable Foundation (which will complete her museum's permanent display and library) and working on multiranging new projects, including a homeware collection and wallpaper designs, throughout the pandemic.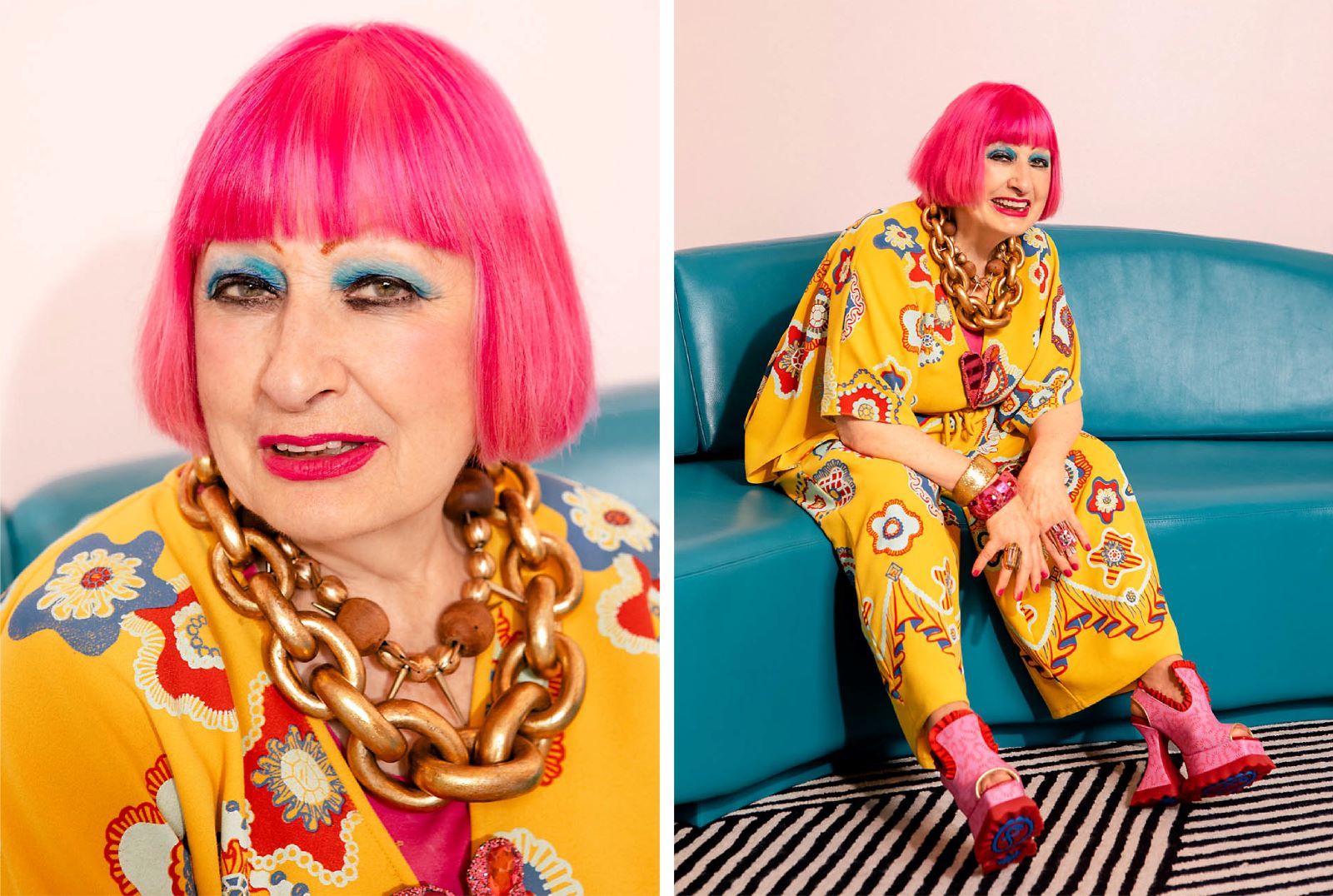 She credits her "very, very strong mother" (who had been a fitter at haute couture hot spot House of Worth and a lecturer at Medway College of Art, where Rhodes would also study) as a formative influence. While she launched her first London boutique in 1967 (with Sylvia Ayton), she explains that her career really took flight in the U.S., a '70s move prompted by her meeting with Ukrainian American models Oxana and Myroslawa Prystay: "They looked amazing, these girls. They were zipping along the Kings Road with floaty scarves, and they said to me, 'Zandra, come to America and make your fortune.' It was this faraway place."
She hired a machinist, assembled her solo collection, and took it to legendary U.S. Vogue editor Diana Vreeland, who photographed Rhodes' chiffon on Natalie Wood and placed the designer in the spotlight. Although initially American stars seemed most receptive to her creations, she remained based in London, where she would also earn a reputation for elaborate fashion shows.
"I never thought of living anywhere else," she says. "Although my boyfriend was American [Salah Hassanein, the former president of Warner Brothers, who died in 2019], so I ended up travelling backwards and forwards" between London and California for years. Later, when COVID was about to shut everything down, "I got myself pulled together. Everything I owned in America came back here, and everything got put up" in her home and museum.
Hassanein encouraged Rhodes to bring her dream of a fashion museum to fruition, suggesting they build and presell flats on top of the building (a former cash-and-carry warehouse) to fund its development.
"The concept really was to promote British fashion and textiles, because no one was taking notice of it," she explains. "I saved all my work and put it together." Although, she notes, "When I first got this building, people said, 'Are you sure you're even safe walking home?' because Bermondsey was a bit edgy. Opposite was a bomb site from the war until the '90s."
The neighbourhood has since become gentrified and self-consciously hip, but the Fashion and Textile Museum (which opened in 2003) remains the most vivacious landmark on the street—thanks in part to the unique design by Mexican architect Ricardo Legorreta, who was persuaded by Rhodes to create his first European project. "We thought we should make a statement," she says breezily. "I represent colour. He represents colour. And it worked out perfectly."
There is a distinct musicality to the rhythm and flow of her designs—and musicians have naturally gravitated toward her clothes. British blues pop vocalist Joe Cocker played a live gig at the launch of her first boutique. In the '70s, she dressed glam rock icon Marc Bolan in satin and "wiggle" appliqué, and she was called up by an emerging band called Queen.
Freddie Mercury and Brian May came to her shop in Porchester Road, in the evening when no one was around because it didn't have a changing room. "I got things from the rails, and Freddie would put them on and see how it felt," she recalls. "I probably made five or six outfits for them. Freddie was such a vision onstage in my pleated white cape."
Her visions have always spanned music genres. Diana Ross shopped at her London boutique, and Dame Shirley Bassey became a close friend, while Donna Summer wore a glamorous white Rhodes gown for her disco concept album Once Upon a Time (1977). Rhodes has soundtracked her catwalk shows with Kraftwerk's electronica and also designed costumes for 21st-century productions by the San Diego Opera and English National Opera. Admittedly, her fashion experiments haven't always struck an immediate chord. The 1977 Conceptual Chic collection was initially considered too extreme, with its torn textiles and embellished safety pins, but her punk wedding dress from that series is now owned by the Metropolitan Museum of New York, where it has been exhibited alongside Versace's famous safety pin dress, dated two decades later. Over the past few years, her free-flowing clothes have been flaunted by generations of music showstoppers, from Barbra Streisand to Luke Spiller of British rockers the Struts, who recently channelled Freddie Mercury, performing in an ultramarine pleated cape with gold accents.
Rhodes might not be rigidly tuned in ("It's instigated by whether my friends say, 'We're going to see so-and-so—can you come?" she says with a shrug, when I ask who she has caught live lately), but she has a keen ear as well as an eye for detail, and cites Billie Eilish and Lady Gaga as two contemporary stars she'd love to work with. She is drawn to strong personality and fearless originality. "We all need characteristics," she says. "And it's terrible, I think, if you just feel you have to obliterate those characteristics."
Rhodes' own characteristics—passion, playfulness, precision—continue to radiate brilliantly throughout her designs. She sets out a thrilling sense of legacy; she simultaneously seems very much in the moment.
"When I look back, it's like a fairy tale adventure that I can't believe," she says. "I say, 'Was it really like that? Did that really happen to me?' But it did."
---
Read more from our Winter 2022 issue.