When Julia Church crowdfunded her popular swimwear line Nettle's Tale into existence in 2014, she wanted people who grew up like her⁠—fashionable but not of the size modelled by big fashion labels⁠—to have more options. Today her newly expanded boutique on West Cordova sells everything from bikinis to loungewear in bright colours and floral patterns, in sizes XS to 4X. As big retailers drop more inclusive sizing from their collections, however, small merchants like Church may increasingly be the only option left for people who don't fit into a narrow range of sizes.
In June 2020, Reitmans, the parent company of size-inclusive retailer Addition Elle, announced it would be shuttering operations at all of its Canadian Addition Elle stores, in addition to its maternity chain Thyme, affecting 131 locations and 1,400 employees.
Although Reitmans' 106 Penningtons stores (another sizing-inclusive retailer) remain open, this move is a blow to Canada's plus-size retail landscape. As other mainstream brands reckon with decreasing profits⁠—Canadian retail sales dropped 1.5 per cent⁠—the axe often falls on plus-size lines, making it harder to find sizes and styles for any but a specific range of customers.
The challenges faced by consumers in the market are nothing short of discriminatory. Many call the higher prices for larger sizes a "fat tax" and complain about massive variations in sizing among brands. Inclusive lines don't receive the same kind of care and attention from many brands, which shows in the quality of the final products.
But as large chains leave the market, small independent designers are filling the gap, using e-commerce and lightning-fast feedback from customers. The year 2021 may be the best time to be a small plus-size designer—especially as Canadians prepare for a summer with some return to normalcy.
Church notes that even with the relative success of Nettle's Tale's newly expanded shop, in-person retail options are dwindling—especially for swimwear—giving way to a fully online market. Since starting her company, Church has noticed other e-commerce-based makers flourishing.
One such ambitious business owner is Jess Sternberg, who founded Free Label clothing in 2015. Much of Free Label's early growth came from wholesale, but Sternberg closed her last account three months before the pandemic. Now the brand uses an online-first model to serve customers interested in the sustainability and ethics of its fashion.
"The pandemic was a big catalyst for our business," Sternberg says. "I was very lucky to be positioned already as a comfy athleisure clothing brand that is completely online. We didn't face the same challenges as a lot of other brick-and-mortar businesses."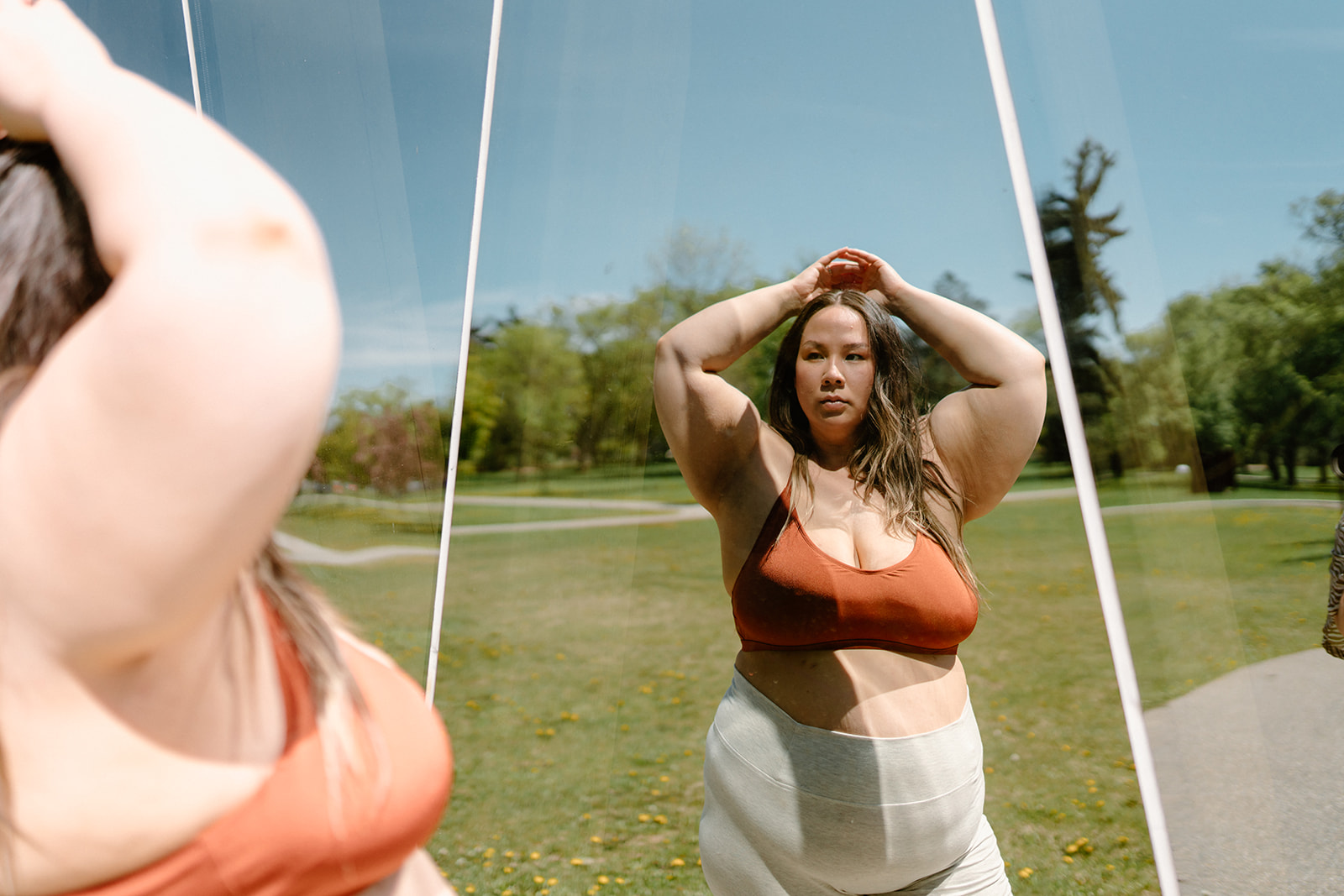 Free Label's local business model (clothing is manufactured in Vancouver with fabric produced in Toronto) and an active Instagram following meant the brand could adjust quickly when customers asked for sizes from XS to 4X (and Sternberg plans to offer 5X by next year). One of the best-selling pieces is a comfortable wireless elastic bra. The bra sells out quickly with ample feedback on what works and what doesn't for a wide range of customers.
Even though small shops like Free Label and Nettle's Tale are racing to serve all sizes, some customers still end up left out. Penningtons stores nationwide offer up to a size 6X, and Church mentions that there is always more demand for sizing in popular swimwear and clothing lines.
Sternberg says it can also be difficult to keep up with demand, but both point to manufacturing as an obstacle for expansion. The reality is that Vancouver's garment manufacturing industry workforce is reaching retirement age. Without skilled workers from other countries or investment in training programs locally, there will be even more pressure on independent brands to move offshore.
"Recycled workleisure" maker Lezé the Label has done just that, sourcing products from a reputable Taiwanese-Canadian business dedicated to the rights of its predominantly female workers.
Forging international business relationships can be tough even under perfect conditions—never mind in a world where COVID restrictions make factory visits impossible. Despite the challenges, the plus-size market is still booming. Word of mouth travels fast, and well-made, well-fitting clothing made in inclusive sizes becomes instantly popular.
The problem so many women face—finding clothing brands that listen and care—is being addressed, often by women such as Church who understand the struggle best. Never have so many nimble, motivated independent makers risen to the task.
---