Ceri Hoover doesn't mind if you touch everything. In fact, she encourages it.
Hoover's eponymous accessories label recently opened its very first flagship store (in Nashville's trendy 12 South neighbourhood), giving customers the opportunity to see her products in person, and to feel them all up until the perfect one is found. "It's all about the touch, all about the hands!" she says over the phone from Nashville, where the North Carolina native now lives. "I will walk through a tannery and I don't even look, I just walk through the aisles of leathers and feel them. And then I feel something that is so scrumptious that I can't walk away without. It truly is the feel of the leather; the texture is very important to me. You can feel quality."
Ceri Hoover the brand is primarily a collection of purses, handbags, and clutches featuring interesting geometric shapes and tasteful earth tones with playful accents. They are simplistic but thoughtful, with unique angles and movements within the different products and materials. There is the cute Kyle bag, a triangular shape with a structured bottom of accordion-like folds; or the chic Hadley, whose long, flat flap is always a different colour from its rectangle body (with a removable strap, it easily morphs from shoulder bag to clutch). Then there is the one that started it all: the Currey, a large sack-like clutch that zips at the top and folds over itself for a more dynamic look. It was about four-and-a-half years ago that Hoover, at the time working as an interior designer, stumbled onto what would become the bedrock of her collection. She was hand-making and wholesaling pillows (in itself a feat: she had only learned to sew a few years prior) when she absentmindedly threw down a cowhide pillowcase, and it folded over itself when it landed. "I was like, 'Well, you've got to be kiddin' me, there is a clutch!'" she says in a charming Southern accent. "So then I made a gazillion just so I could understand the construction and process and everything, and luckily people liked them, and they started moving more than my home décor products."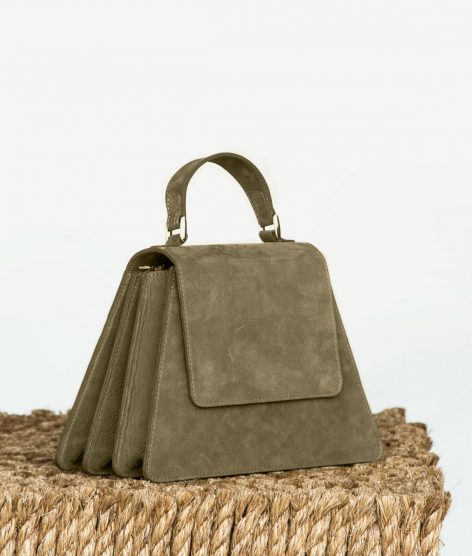 Since then, Hoover has expanded her bag collection, considerately updating and changing the staples each season instead of presenting an entirely new offering each time (though she does introduce new styles as well). Aside from that, she makes wallets and pouches, and has begun dabbling in clothing and shoe design, including a beautiful off-white long-sleeved dress and an unforgettable suede pump with a two-inch hand-carved heel. Furthering Ceri Hoover as a lifestyle brand is her first candle, created with a Tennessee company and sold in a locally made ceramic pot.
Hoover sources her leather from Italy and from a tannery in Tennessee (where she often creates custom materials), and all of her products are either made in Nashville or Los Angeles. "We get so many calls from people just thanking us for the quality of the material, going above and beyond in comparison to what they might have in their closet currently," says Hoover. "Every detail matters, even the stitch length on the handle attachments. And I know it's not easy for everyone to see that, but in the long run it will be there, and it will catch the right person's eye. And I just don't want to stop focusing on the smallest, tiniest details. People make fun of me for obsessing, but I feel like if I stop obsessing, my quality is just going to fail, and that would be detrimental." It certainly is the quality that stands out the most, as determined by a quick tour through her small but pretty store: sift through the minimalist rack of clothing, pick up a soft shoe, try on a supple bag. Unzip a wallet, caress a clutch, smell a candle. Good luck not leaving with anything.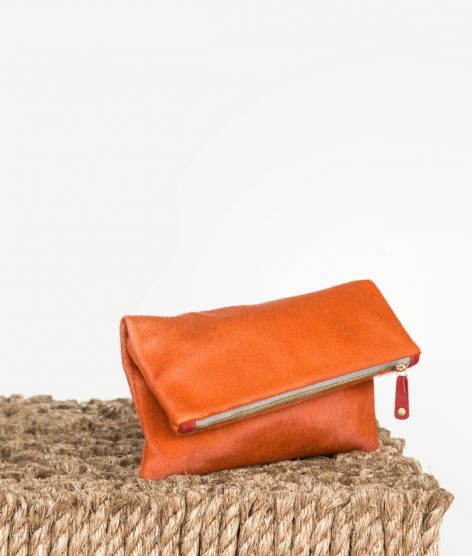 It is a testament to Hoover's natural talent that she has become such a success in a city that, in terms of fashion, is very much still finding its way. Nashville is of course world-famous for its music—both historical and current hit-makers—but other creative industries can find it hard to make a go at things. That, however, is all starting to change. "For a while, coming back to Nashville after being in LA, I would be so upset," Hoover recalls. "Coming back here, I struggled because it was so difficult as a designer. But in the last few years it has truly blossomed. It's unbelievable." Nashville is still a musician's town, and making the trip without seeing some of the historical sights and listening to some live music would be unwise, but Hoover represents a wave of the next creative generation. "The tourists that come here mostly are coming for 'Music City,' but it's very different once you get here," she says. "It's very different from the Nashville show, in a very good way! It's a very cool, hip town, and the food scene is insane—one of the main things that keeps me here long-term is the food scene, thank goodness. It's great. I will say it was a little tough, but I feel like everyone has really gravitated to the fact that design is a thing here in Nashville."
---