The innovative, versatile, and contemporary COS fashion show at this year's London Fashion Week was a theatrical experience of sorts, housed in Camden's Roundhouse. Global fashion elites descended upon the iconic music venue for the energetic final day of LFW, which had a different energy than years past (vaccine cards and face masks will do that).
Going into its 14th year, COS was making one thing clear: it's nobody's little sister—certainly not H&M's (the brand is part of the H&M Group's ever-growing portfolio, which also includes high-street labels Arket, Cheap Monday, and & Other Stories).
COS' fall winter collection marked a new era for the company, right down to a refreshed logo. Looks were more elevated, while staying true to design director Karin Gustafsson's minimal aesthetic.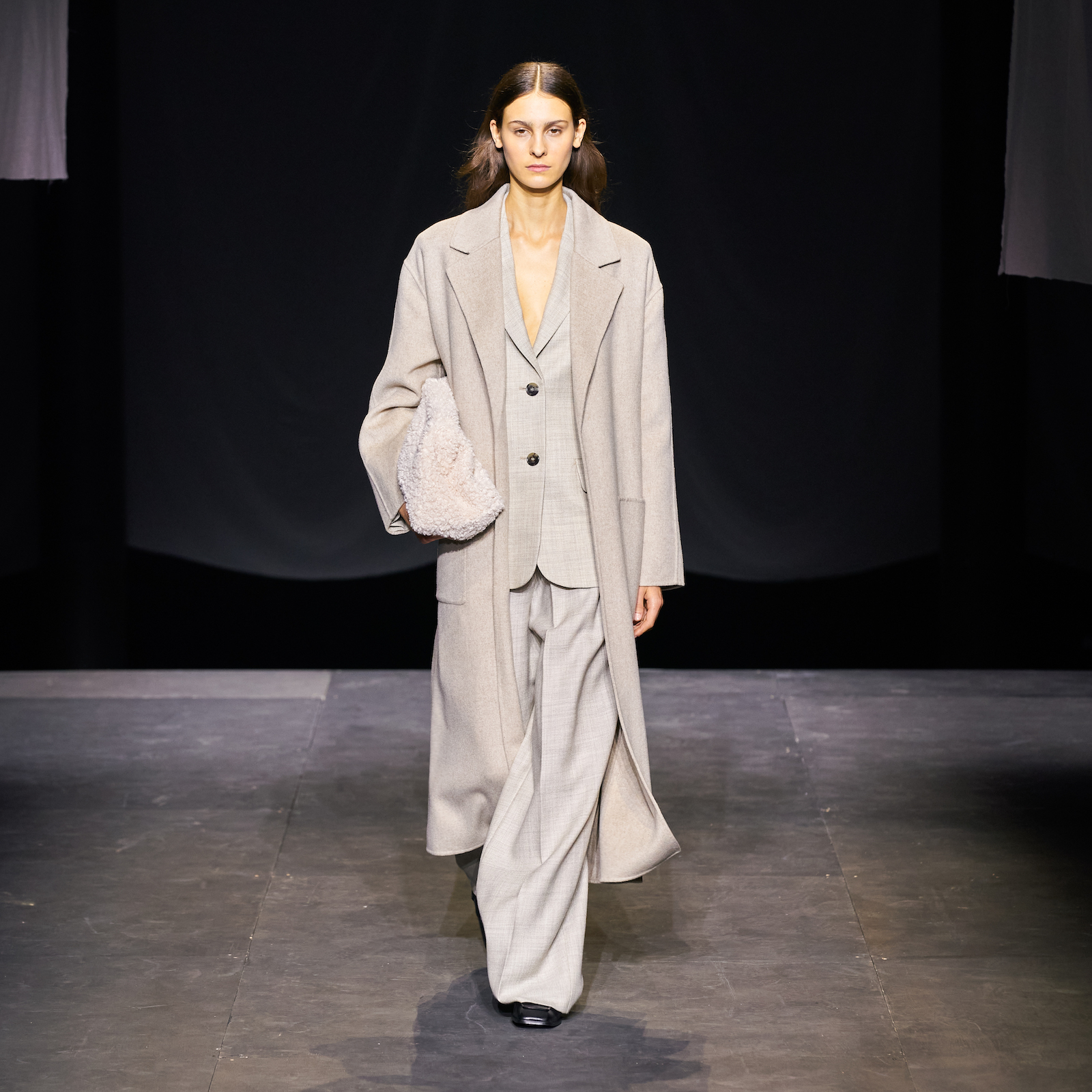 COS is undeniably a Scandinavian brand, but Gustafsson considers London to be its "home city": the retailer's design team has worked out of the U.K. atelier since the first collection debuted in 2007, so LFW was an easy decision for the label.
"Showing at London Fashion Week was a fantastic opportunity for us to display our new collection and celebrate our new brand direction," Gustafsson says.
"Our global head office has always been here, and when we first launched COS, we had our very first show at the Royal Academy. I like the idea of us starting a new journey as a brand but making a nod to our beginnings."
Gustafsson joined COS as an assistant designer in 2006, before the brand was fully conceptualized, then worked her way up to the coveted design director position. The brand appears to be evolving alongside the youthful 44-year-old, who evidently has a clear vision.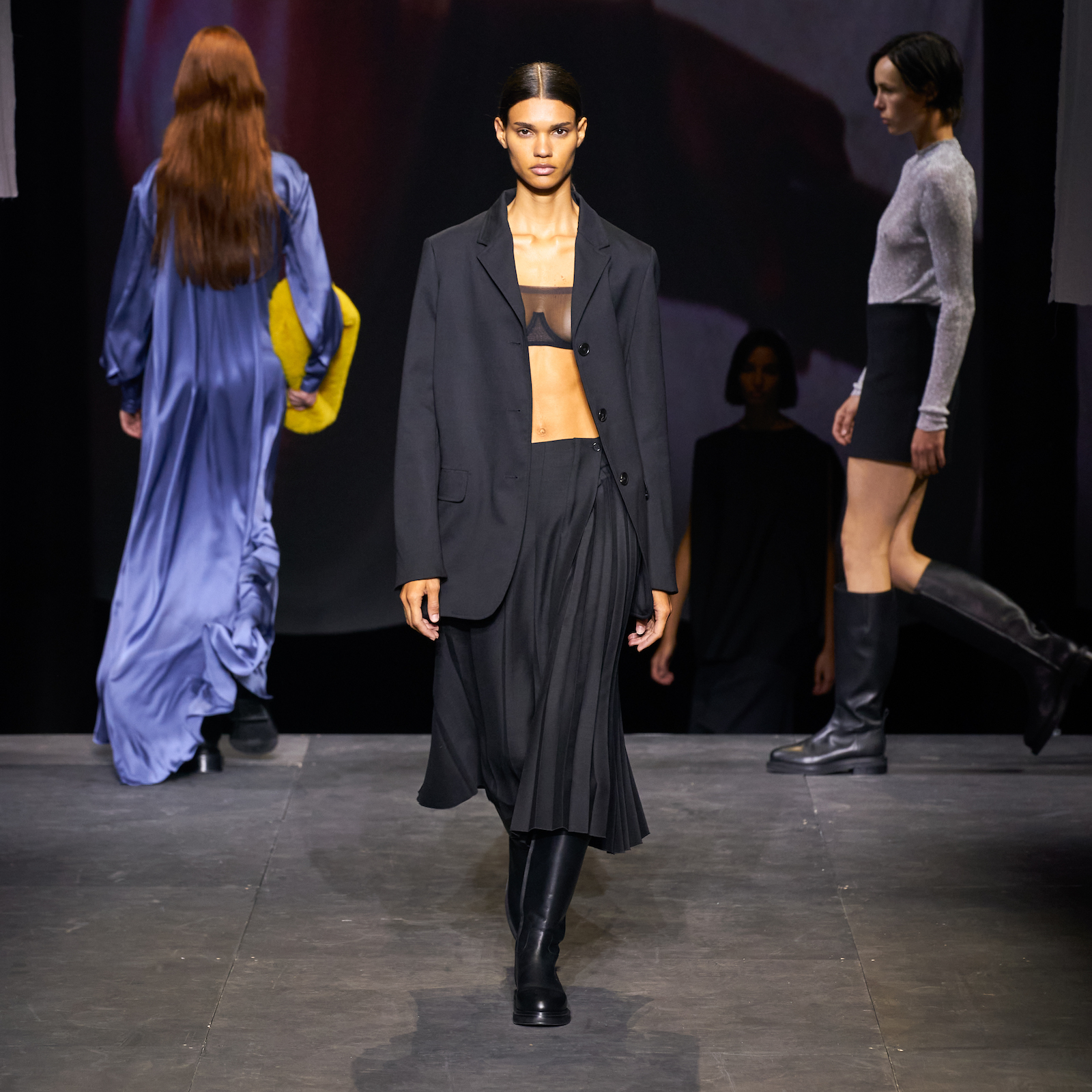 A muted, neutral palette made up most of the FW '21 colour story: blacks, beiges, and creams were front and centre, with unexpected pops of Ceylon blue, canary yellow, and a mulled burgundy. Think '90s but also '70s (and if you want to get technical with your history, the 1970s played a huge role in 1990s fashion the first time around.)
"We took inspiration from the imagined future and the echoes of the past. Looking to the past, there is a retro influence that runs through the collection. You can see this through enlarged collars and rounded sleeves in pieces such as our mulberry silk dress and a 1970s jacquard print," Gustafsson says. "We also took inspiration from the 1990s. Here you find slimmer proportions and minimalist tailoring with soft structure," she observes. The utilitarian and streetwear pieces were the most obvious nod to the decade, which has continued to dominate fashion trends in recent years.
The magic of COS, however, is the ability to make the basics anything but boring. Styling was an art form at the LFW show, which mixed androgynous leathers with feminine drapy silks, all accented with plush accessories. "The textures we've used add this wonderful tactual sensation, the soothing feeling you get from silk and the hug from the soft texture of the clutch bags is comforting but also fun and playful," Gustafsson notes.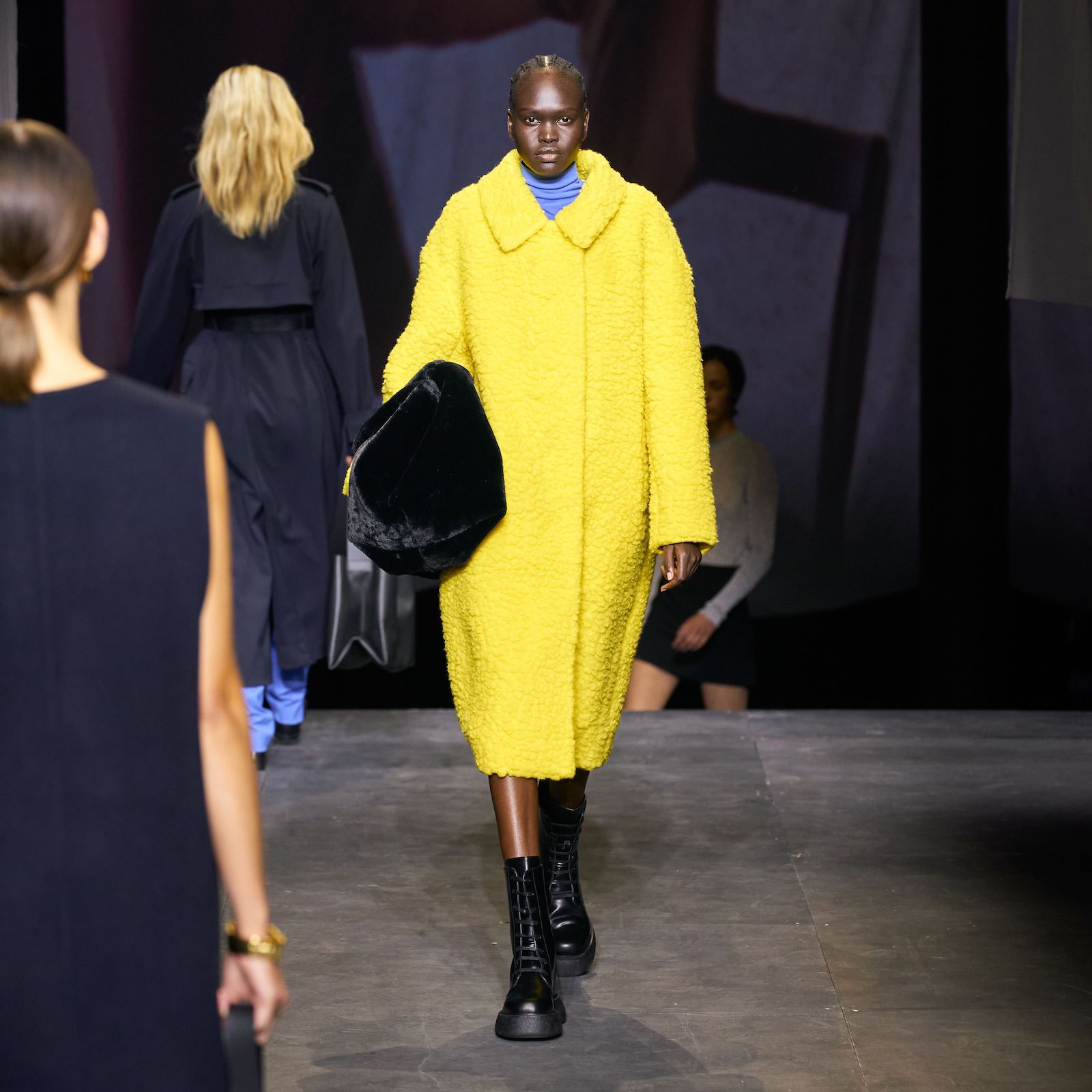 Wardrobe-building was at the core of what Gustafsson and her team put together while keeping things fresh and contemporary. "It's about being really considered from the beginning to the end [when styling a look]. The materials, the inside makings, and the way pieces perform and fall on the body are all so important," she explains, describing the collection in an architectural sort of way.
"Throughout the whole [design] process, we imagine how the wearer will feel when they wear each piece with the aim of creating a wardrobe of elevated essentials that make the wearer feel empowered," she adds.
Gustafsson designed the brand's most recent collection during the COVID-19 lockdown, which, she says, gave her a revitalized sense of purpose. "We are all emerging from a time of change," she says. "[We're] rethinking the future of fashion. While we continue to embrace timeless style over fashion, we also focus on ways to truly elevate our wardrobe icons for the now, redefining what is considered an everyday piece."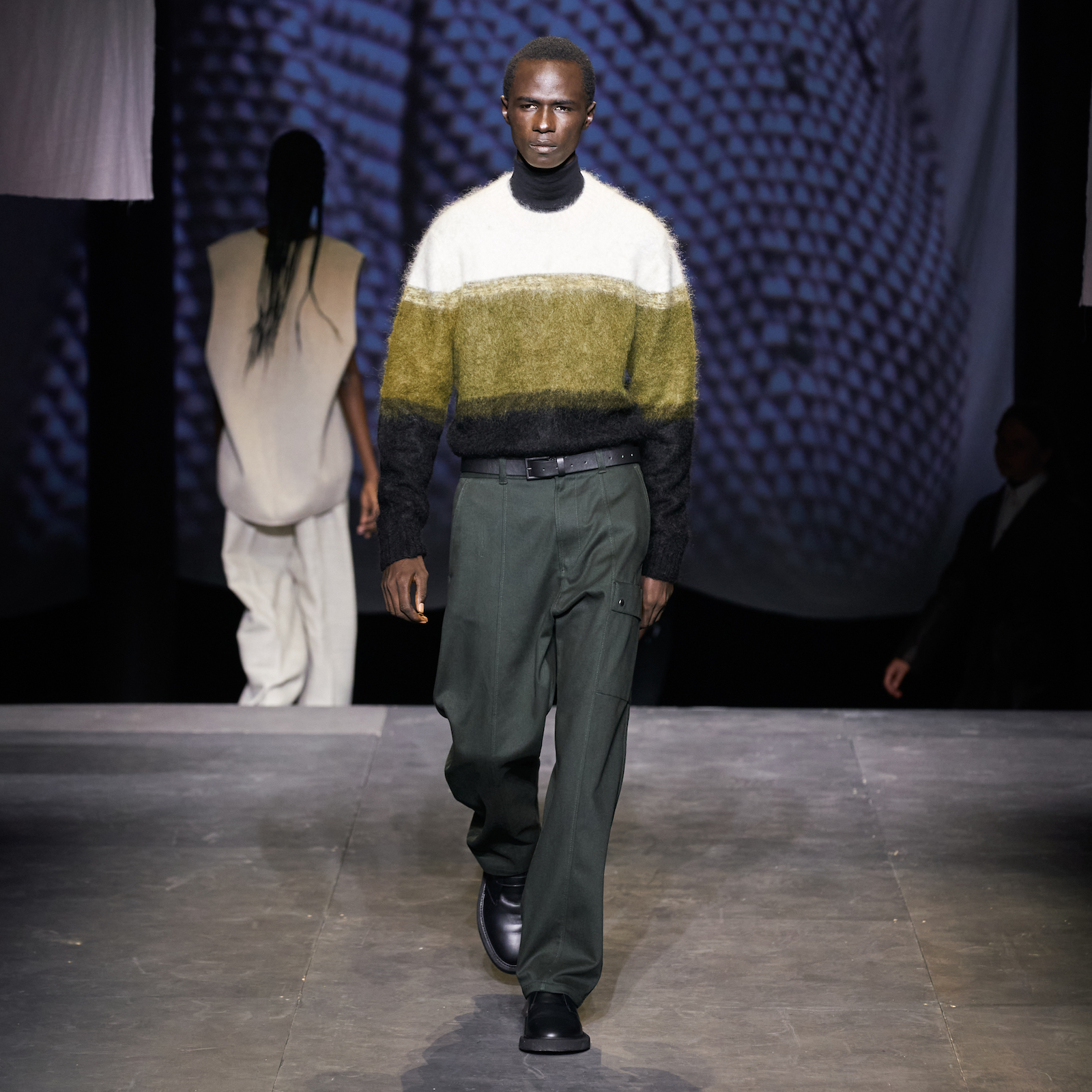 Sustainability remains core to the COS ethos, which was also reflected in the show's production by Bureau Betak: all set pieces were rented or will be donated, while the stage and curtains are going to the Event Cycle group, which works with local charities to use set items for fundraisers or other social gatherings.
This was reflected in the collection itself. Despite being under the H&M umbrella, COS is anything but fast fashion—it's a conscious company with an immensely strong design philosophy. "We've created garments using sustainable and innovative materials whilst never compromising quality—a sometimes timely process, but true to our own set of values," Gustafsson says, comparing the construction process to those used in luxury design houses. "Material innovation and long-lasting design concepts remain at COS' core as the brand continues to nurture its commitment to sustainability with a collection crafted towards circularity."
---
Photos courtesy of COS. Read more fashion stories.