I was 18 when I bought my first pair of Dr. Martens. Those iconic 1460 lace-up boots were so much more than the priciest purchase I'd ever saved up for; their smooth leather, grooved sides, and yellow stitching perfectly captured my teen rebellion in one tidy not-so-little shoebox. As sartorial sentinels, they beamed to the world that I really wanted to be enrolled anywhere but my hometown university, that my adolescent soul was steeped in angst, and my curfew was ridiculous.
But for all the pushback those Docs symbolized, they also pulled off something else. They gave me courage and confidence—they allowed me to believe I was doing my own thing when everyone around me expected me to conform. It might have been a small rallying cry, but it was enough to embolden me, even within the constraints of my hometown.
Those boots (the original DMs) got their initial start not as subversive footwear but as helpful, healing boots after the Second World War. Their German founder, Dr. Klaus Maertens, invented them when his army boots proved too painful after a skiing injury. With a little ingenuity and some rubber tires, he fashioned new footwear that cushioned in all the right places including the lug soles. Initially worn by housewives who favoured said comfy soles to better combat daily household drudgery, Dr. Martens were soon co-opted by the working class for their excellent quality and no-nonsense performance. By the 1960s, early skinheads took to them, then punks in the '70s, the grunge movement in the '90s, and, by the mid-aughts, the AirWair boot was added to the list of British design icons, which also happened to include the Aston Martin DB5 and the Jaguar E-Type.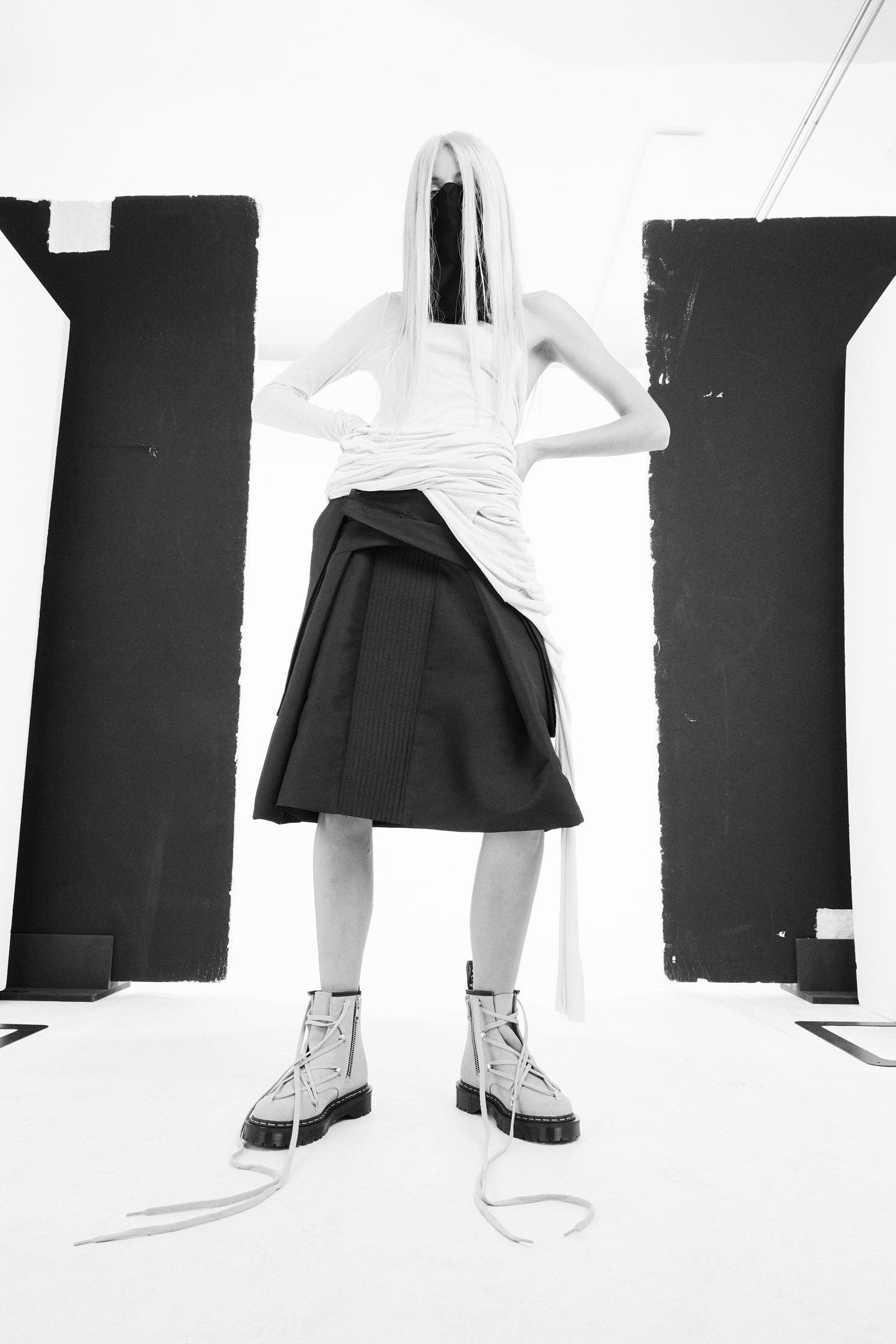 Fast-forward to today, and Dr. Martens is about to drop the second half of its collaboration with another equally subversive yet iconic like-mind. Brutalist-grunge designer Rick Owens—preternaturally adept at crafting high art that doubles as modern clothes—joins forces with the U.K.-based footwear brand for three new shoe designs that promise to disrupt even the most conformist among us.
There are reworked gender-neutral takes of the 1460 Bex and 1461 Bex plus the Gryphon sandal in this second collection (the first part of their collab sold out in March). The reimagined 1461 Bex platform, made in smooth black leather and stacked on a smoked sole, is discreetly debossed with Owens' Deeper Than a Mothers Tears motif, while the gladiator-inspired take on the Gryphon sandal is perfect for spring-lockdown warrior wear. But it's the classic 1460 Bex DS model that steals the show.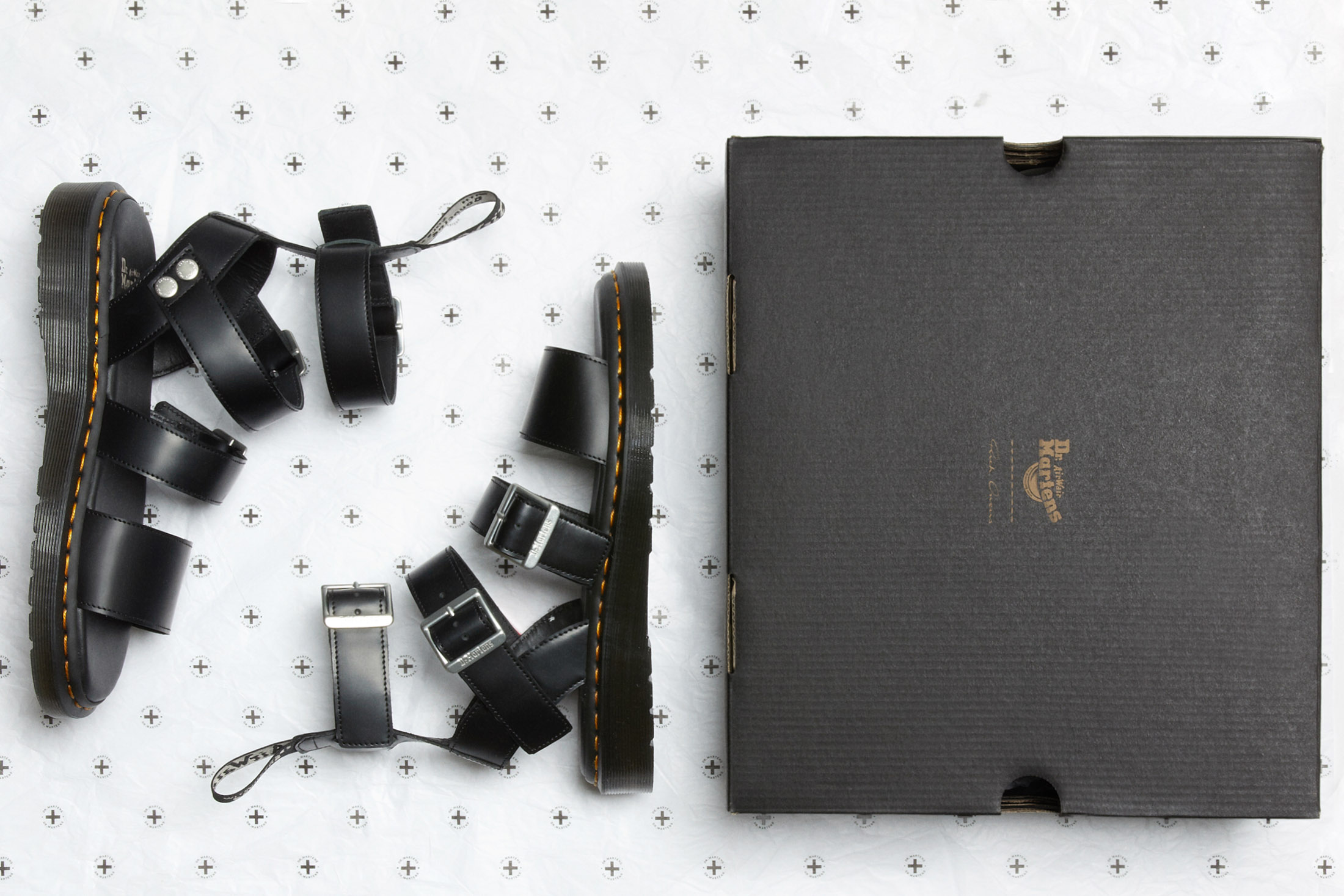 My daughters just asked me what I want for Mother's Day, and while I'm tempted to go with tried-and-true traditional crowd-pleasers—flowers, breakfast in bed, or a day at a COVID-friendly spa—I'm opting for Owens' reimagining of the 1460 Bex platform.
With its dramatic Pentagram lacing in Pearl Hi Suede, this new boot calls to mind the designer's signature dark-glam drapery and dovetails it with his primal, punk swagger—all with no-nonsense wearability thrown in for good measure. Sort of like saying, I know I'm a mom now, but I don't have to be home by curfew.
Available May 8 at Drmartens.com
---
Read more from Style stories.