"When I hear people talking about the garments, it's like they're talking about my kids," Lucian Matis says with a laugh, though one gets the sense that he is simultaneously being very serious. For the Toronto-based designer, fashion is really an extension of himself. For 10 years, Matis has been coddling his impossibly glamourous designs into one of Canada's leading eveningwear labels. Lean, simple silhouettes are often—but not always—rounded out with elaborate and opulent finishes. Tulip waists are unafraid to be paired with baroque patterning; full pleated skirts boldly align with single-sleeve tops; previous collections see a more pared-down look, finding their glamour in Balenciaga-inspired cocoon silhouettes in muted creams and greys.
Born in Romania, Matis has spent his entire life in fashion. "I grew up in my mom's studio surrounded by textiles and art," he says over the phone from Toronto. "But I developed a bit too much of an artistic side, where I didn't know what to embrace." Clothing design presented an opportunity for Matis to blend his various artistic pursuits and dilute them into a single vision. "I wanted to do everything, and fashion is the only field that offers that," Matis reflects. "Today, I design my own textiles, and do the shows and the music, so it has many facets to it."
Immigrating to Canada in 1999, Matis worked briefly for fashion companies as a buyer "learning the business side to understand how the system works, and you need that to be successful." And within the 10 years of his label, Matis has certainly had continually mounting success. Early donners of his work include Canadian pop royals like Nelly Furtado and Carly Rae Jepsen, as well as international icons the likes of Chanel Iman. Matis's designs work especially well for black tie and red carpet events, not just because of their show-stopping glamour, but because Matis knows what his customers want. "I would say the motto of the label is 'clothes with purpose' because we create things with clients and events in mind," he explains. "It's the lifestyle, so you need to know exactly who your client is."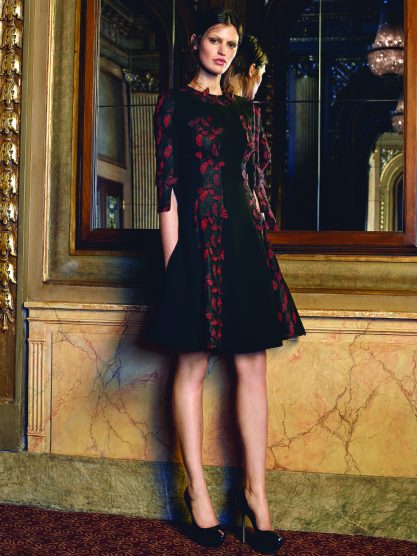 His name might be fresh on the minds of many Canadians, since Sophie Grégoire Trudeau wore two of his designs during the Trudeaus' visit to the White House—including the state dinner, which drew worldwide attention and accolades for Matis. "I can say it was one of my proudest moments," he says, recalling walking through downtown Toronto and seeing his purple gown and floral day dress covering seemingly every newspaper and magazine the morning after the dinner. Trudeau's favour of the designer's looks from his Spring/Summer 2016 collection led to a fury of calls—from the media and from buyers. "Actually, we just let our social media person go on vacation," Matis laughs. "The reaction was just so overwhelming and we didn't have the staff to keep up."
Keeping up and moving forward may mean expanding beyond Matis's current stockists, which currently only include select boutiques worldwide and Holt Renfrew in Toronto. But for now, Matis sees the most opportunity coming from his home base. "Toronto—despite the winter that I despise—is a really international small city," he says. "I love the access to so many cultures. I can go to Little India and get fabric or go to Chinatown for inspiration. It's a little jewel of the entire world." Though, Matis does have a small grievance: "One complaint that I have is that we don't have enough support from our government. We don't have enough seamstresses here," Matis states. Still, he respects that the problem is not Toronto's alone. "Those issues are kind of everywhere," he contends. "No one wants to be a sewer—everyone wants to be a superstar." Even so, he may just know a gal who could help him out.
---