Danny Kresnyak is holding up an alligator head about the size of his large, tattooed hand. "Genuine Louisiana gator," he explains. The eyes, skin, and teeth are still intact, but there's no body. "Usually in the swamp, all you can see is this, so swamp guys'll tell you, 'If you want to know how big a gator is, you take how long his head is in inches and that's how long he is in feet.'" Kresnyak puts the reptile back down into a rustic, gold basin. "He lives in a spittoon."
Kresnyak is part owner of the Rockin' Cowboy on West Broadway in Mount Pleasant. He met his co-owner, Dave Lawr in 2015 shopping at the Rockin' Cowboy after his house "exploded" in flames, and soon the pair were chatting for hours about old Western movies, music, and history. Kresnyak talks like he's reading from an encyclopedia; the Rockin' Cowboy feels as much like a museum as it does an apparel store.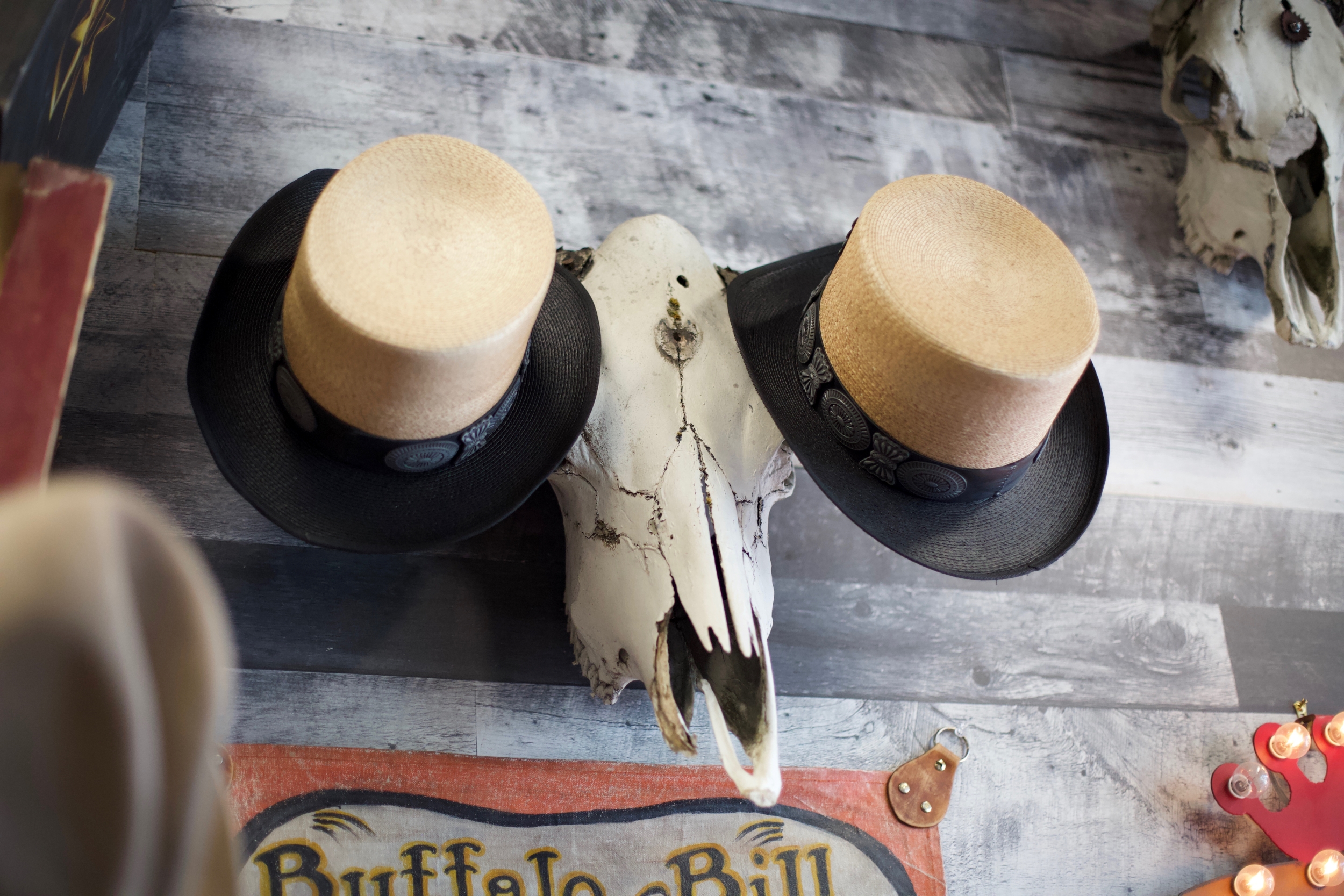 "It was the first place in Vancouver you could buy a Western boot. Prior to that, all we had was Dayton Boots—a great company on East Hastings; been there since '46," he tells me as we walk past footwear, hats, signed posters, and alligator hides. "Since 1971, this business has been in Mount Pleasant. It rebranded to Rockin' Cowboy in 1999. The original store burnt down in the mid '80s. We have a big file from the guy who gave it over when it sold. He wrote a song called '1,000 Soles' about how a thousand pairs of boots burned. That's S-O-L-E-S." We're looking at cowboy boots made with everything from frog to Amazonian pirarucu.
We walk up to a mat consisting of vintage denim Lee tags sewn together. It's worth a lot, but Lawr and Kresnyak use it for its intended purpose: to stand on. Kresnyak explains how, after years of working in journalism and corporate content writing, the store has become the focus of his attention. "I realized this was truly what I'm passionate about—this place. Every piece in here has history." He points to two skulls that have hats dangling from their horns. "Those skulls right there? They hung outside the old shop for 25 years. They look weathered because they experienced it—rain hit them and turned 'em into what they are now."
The apparel at the Rockin' Cowboy ranges from vintage to brand new, but besides items Lawr and Kresnyak personally hunt down—the pair visits the famed Rose Bowl Flea Market in Pasadena, California, yearly—they only bring in clothing from what Kresnyak describes as "small companies that have done big and amazing things." He holds up a cowboy shirt that's black with embroidered red roses and green trim. "For instance, this is Rockmount Ranch Wear out of Denver, Colorado. They're the first company to put a Western snap on a shirt." He tugs on it until it opens. "The reason for that is, if it gets caught on the saddle horn, it pops instead of taking off all your buttons."
Kresnyak asks me if I've heard of a man called Nudie the Rodeo Tailor. He points to a black and white photo. "That's him. [Russian] immigrant who worked out of North Hollywood." He explains that Nudie Cohn made all of the "really fabulous rhinestone suits" worn by Grand Ole Opry performers as well as jumpsuits for Elvis.
Motioning high up the wall to a Cohn shirt with a cowgirl on the tag, Kresnyak adds, "You can tell what era that one came from because she has clothes on." As he tells it, Cohn's tags originally featured a cowgirl sporting only a hat, boots, cuffs, and a whip. When Cohn remarried—to a Christian—she told her husband to put clothes on the cowgirl. The marriage only lasted two years, and then the clothes came off again. Who was the naked girl in the first place? "This came from a story about Nudie's first wife," Kresnyak says. "He came home one day, that's all she was wearing, and she said, 'Dress me, cowboy.' So that became his tag."
---
More stories on Style here.