Will Fosdick made his first apron on his kitchen table.
A friend working as a tattoo artist knew Fosdick had a knack for design and asked if he'd be able to put something together. Mitch Kirilo, who owns Gastown Tattoo Parlour, liked Fosdick's creation so much that he ordered a batch for the entire shop. Photos of those early aprons ended up on Instagram, and things, as they tend to do these days, took off from there. "People were just contacting me through Instagram, asking where they could get one," says Fosdick. "That was about the first six months: just me in the kitchen making aprons to order for almost exclusively tattoo artists."
That was in 2012. Within a year, Fosdick had quit his full-time job in retail and had incorporated Search and Rescue Denim Co.—named for his godfather, a 30-year North Shore Search and Rescue veteran. "I like the idea that everyone's looking for something in life, looking for that passion," the designer says. Search and Rescue crafts custom artisan aprons for creatives who get messy: bartenders, chefs, barbers, tattoo artists, butchers, metalsmiths, sculptors—basically anyone without a neat-and-tidy nine to five.
What sets Search and Rescue apart, Fosdick says, is the virtually endless supply of options for customization. The process begins with a core Search and Rescue design, but then clients can choose their fabric, liner, straps, hardware, stitching, and pockets—especially the pockets. Bottomless ones for a barber's shears. Loops for a bartender's cloth. Secret ones for a server's tips. If a client needs a place to stash their stuff, it can be stitched. And it's all done in-house.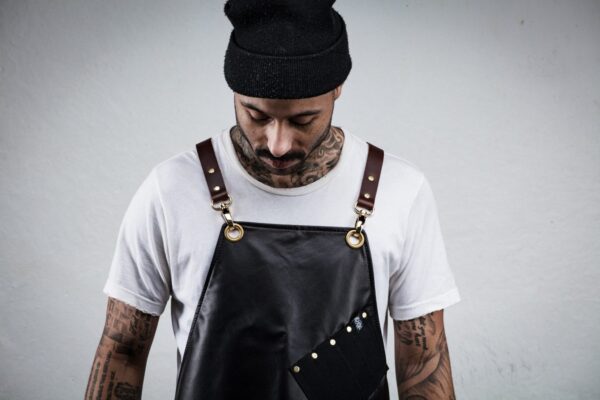 The capacity to fulfill a customer's needs exactly how they want is why Fosdick says his aprons are the best in the world. "People come to us and say, 'I really like the split-leg apron on your website, but I want the pockets from the bartender apron—and I want it in dark indigo denim with gold stitching, with the black leather straps…and I want it to be extra short and extra slim because I'm tiny,'" Fosdick explains. "One person even shipped us their grandfather's work shirt and we turned that into a liner for an apron."
Search and Rescue aprons are certainly popular in Vancouver—wrapping around the waists of bartenders and baristas at the likes of Juniper and 33 Acres—but have been popping up internationally, too. Clients range from celebrity chef Jamie Oliver all the way to a barbershop in France. The business grew steadily in its first years, but orders picked up even more after the operation moved into a flagship Granville Island store in 2016.
Passersby can physically walk through the shop, browsing aprons on the left and peeking over at the designers' workspace on the right. It was a change for the business that previously operated almost exclusively online; Fosdick says a physical storefront presented a new, welcome challenge for the team. "You really only get to see a customer once, and to make an impression on them the very first time so they can understand who we are and what we are within 30 seconds of getting into the store," he says. "I want them to see the quality and the thought that's gone into the individual design. We have thought about our end customer in every style we've created, so we want them to see that we're creating something for them and their trade."
The luxury apron market is one Fosdick admits he didn't even know existed, and it's something he never considered when he was a teenager with hopes of going to design school. "I had this grand dream of being a fashion designer when I was younger, so I would disassemble clothes and sew my own jeans and just make stuff out of my own," he recalls. "I had no idea I'd ever be running a custom apron company." Then he adds, "I think we created that niche for ourselves. We're here to do one thing: to make the best product we can."
---
Read more in Style.