Given the modest beginnings of My Sister's Closet, executive director of Battered Women's Support Services (BWSS) Angela Marie MacDougall is surprised but delighted that the social enterprise celebrates its 20th anniversary this year. "We're a women's organization doing front-line work for survivors; we're not a corporation that was thinking ahead and making a growth plan," MacDougall says.
BWSS is a Vancouver organization that provides education, advocacy, and support toward eliminating gender-based, sexualized, and domestic violence. In 2001, it noticed increased interest from its supporters to share clothing with the women accessing its services, but it lacked a physical location to collect and distribute donations.
Creating My Sister's Closet was a perfect solution. Donated clothing could be given directly to women in need or sold to generate revenue, funding charitable work. It's a discretionary stream of revenue that allows BWSS to respond more proactively and authentically to the needs of survivors, prioritizing based on what they see on the front lines. The first location opened on Commercial Drive, with a second in Yaletown in 2007. The storefront on the corner of Seymour and Helmcken was chosen because of its ties to the sex work community, and is also near the site where sex worker Elaine Allenbach went missing in 1986.
The goal for My Sister's Closet was to be a boutique thrift experience comparable to consignment shopping. Given that the stock is supplied by donation, curating a consistent selection might seem impossible, but the shop has built a strong brand. The donors are socially conscious and stylish, helping My Sister's Closet climb multiple best thrift store lists. In addition to a $5 rack for basics and fast fashion, it offers a range of designer, unique, vintage, and upcycled pieces, all well below retail price. Recently, a pair of Jesse Kamm Sailor Pants, the wide-leg trousers with a cult-like following and a $395 (U.S.) price tag, sold for $45 through the online shop.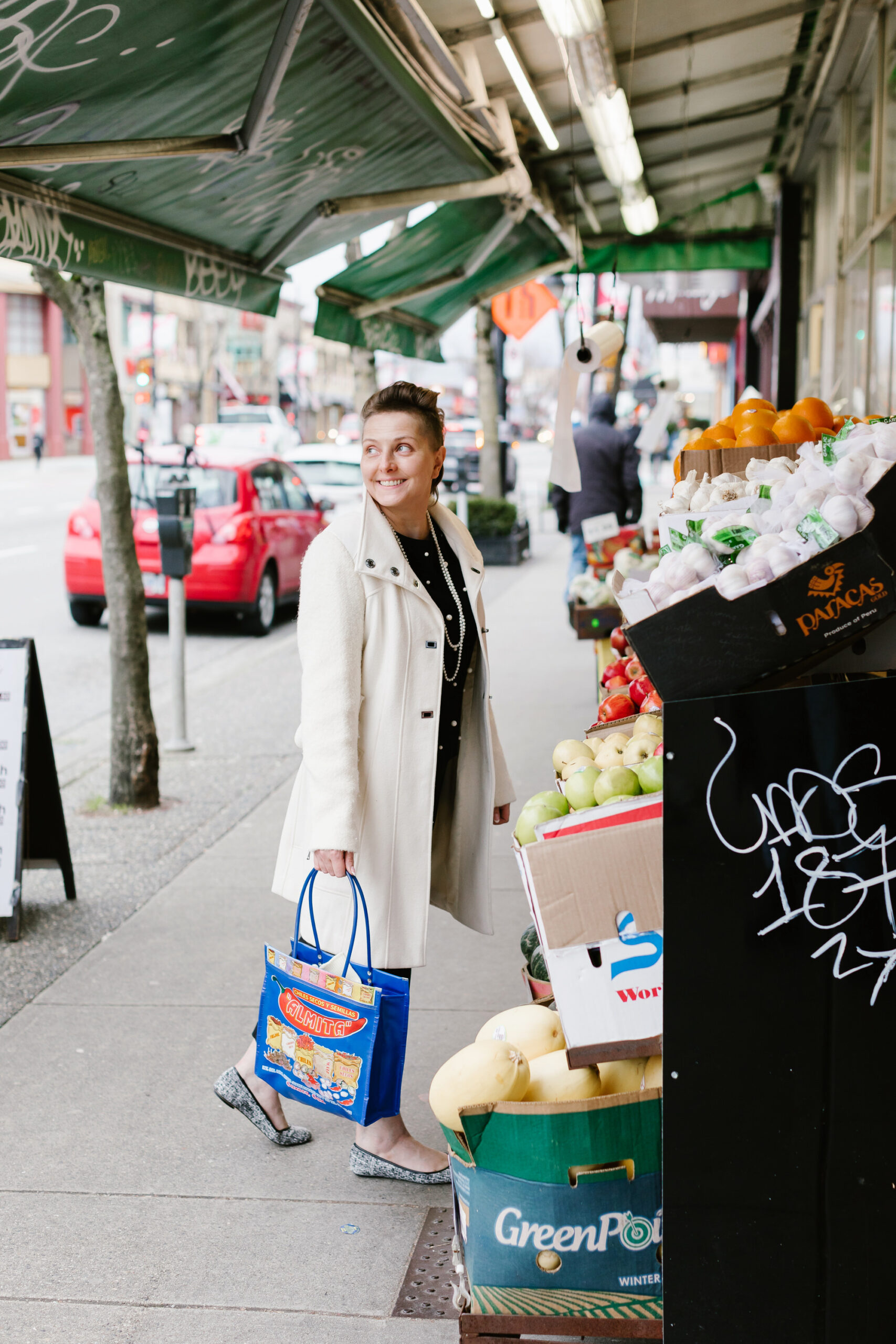 "We try to price things in a way that makes sense for what the item is, the quality of it, and what the original sales price might have been, and then also what feels reasonable for our community to afford," MacDougall explains. Donations are divided equally between the two locations, so each neighborhood has the same access to affordable essentials and brag-worthy finds. To round out the collection, My Sister's Closet also sells accessories and home goods made by local women artisans, with 60 per cent of profits going back to the artisan and the remaining 40 per cent to BWSS.
When the global pandemic forced My Sister's Closet to close the physical stores, it was an opportunity to branch into e-commerce. Plans for an online store had been in the works for years, but the loss of revenue paired with a sharp rise in requests for the service made it an essential move. BWSS reported that it responded to 32,000 requests for service in 2020, up from 18,000 the year before.
"We're still calculating numbers for 2021, but we're still exceeding by at least a third the requests we had in 2019," MacDougall says. "We could not have done what we did, turning our crisis line 24/7, responding to 32,000 requests, without My Sister's Closet. We were able to make that change right away. We're so proud of our ability to be there, running into the burning building."
Moving online also meant reaching a wider customer base across Canada and even internationally, and while MacDougall is thrilled with the continued support, she wants to assure everyone that My Sister's Closet is doing more than building loyal customers.
"We've gotten really focused on connecting what it means to make a purchase at MSC and how that directly funds services and programs," she says. "We always ask when people make a purchase, "Do you know what your purchases are supporting?" And if they don't know, we'll tell them: Your purchase is supporting our prevention programs, our intervention programs."
MacDougall hopes to create more programming that aims to shift the consciousness of shopping and call attention to the reality that fashion is a major polluter. "In our analysis of violence against women, it's all tied together. For us, these things aren't separate," she explains. A study published by the IUCN documents the extensive direct links between environmental pressures and gender-based violence.
One close to home example is how weather related disasters caused by climate change can lead to resource scarcity and damaged infrastructure, which can cause food insecurity, household stress and inter-communal conflict, which in turn can lead to intimate partner violence.
"We want to point out more effectively how fabric is one of the biggest polluters globally, second only to oil and gas," MacDougall says. My Sister's Closet "is a way for us to slow the flow of fabric to the landfill, it's a way to build a community of thrift shoppers, to support those people who are already appreciating thrift, and to convert people to thrift as a sustainability piece, to have a portion of their clothing come from thrift shopping rather than fast fashion."
---
Photos courtesy of My Sister's Closet. Read more style stories.